Cleeve Hill and Cleeve Common
Google Maps
Open Source Maps
| Statistics | |
| --- | --- |
| Start: Cleeve Hill Car Park | Distance: 4.6 miles (7.4 km) |
| Grid Ref: SO989271 | Time: 2-3 hours |
| Climbing: 285 metres | Rating: Moderate |
| GPX Route File | Google Earth File |
Ordnance Survey Explorer Map (1:25,000)
---
Summary: Cleeve Hill is the highest point both of the Cotswolds hill range and in the county of Gloucestershire, at 1,083 feet (330 m). It commands a clear view to the west, over Cheltenham and the racecourse, over the River Severn and into Wales; and to the north over Winchcombe. It is a conspicuous outcrop on the edge of the limestone escarpment, (sometimes called the "Cotswold Edge"). It is crossed by the Cotswold Way footpath. The summit, at 1,083 ft. (330 m), is a nondescript point marked by a trig point on the relatively flat common south of the Hill. Because of this, it does not offer particularly wide-ranging views. To the North by north-west, another summit at 1,033 ft. (315 m) high boasts a toposcope and a trig-point, offering far wider views. On an exceptionally clear day (for example a sunny day following a day of rain in spring or early summer), the view extends an impressive 90 miles (140 km) to Winsford Hill on Exmoor, Somerset.
---
The Walk: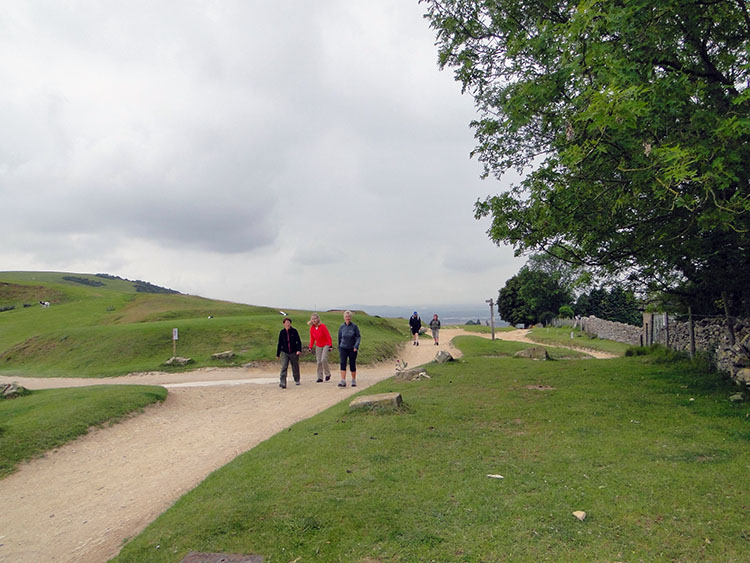 Walkers on Cleeve Hill
Cleeve Hill Golf Clubhouse
I could fit a walk for a couple of hours after a business meeting in Cheltenham so I looked out from the town to high ground and having organised myself with OS maps plotted into my GPS unit before I travelled south from Yorkshire I picked out Cleeve Hill for an exploration. While driving the short distance to Cleeve Hill my business mode retreated into my conscience and I assumed my walking identity. After parking and changing I was soon on my way, first passing small groups of walkers near to the clubhouse of Cleeve Hill Golf Club. They were not packing wet gear so must have been staying close to shelter for storms were brewing in the late afternoon.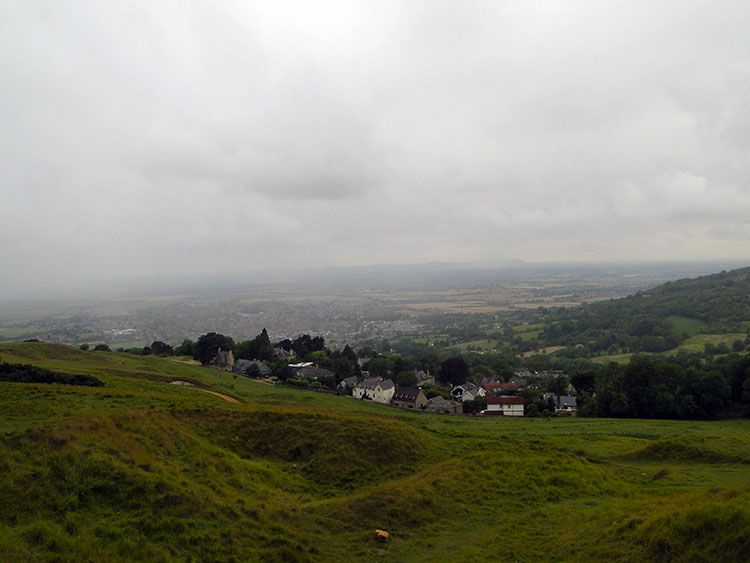 Cleeve Hill and Woodmancote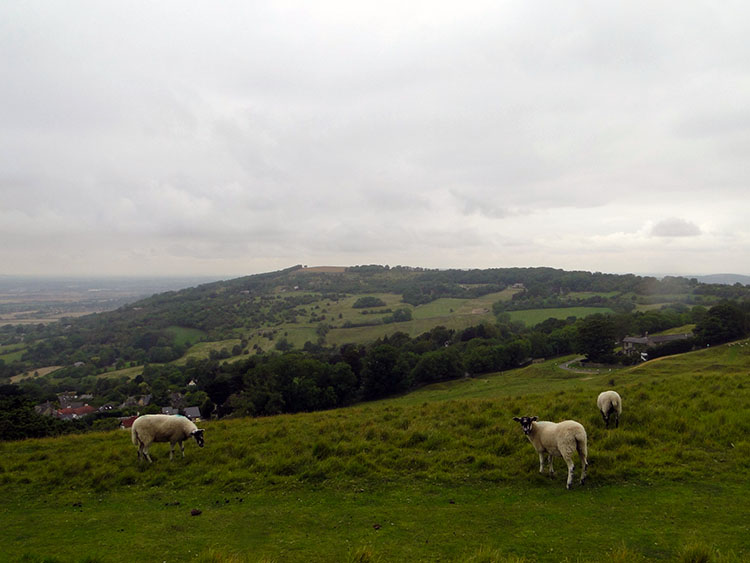 Looking across to Oxenton Hill
Cleeve Hill is a wide high expanse of moorland above Cheltenham. It is the highest point on the Cotswold Hills but from my starting point it took little effort to reach the highest plateau. I soon walked past the trig point and enjoyed looking out over the wide expanse of the Vale of Evesham (or Tolkein's Middle Earth as he used the vale as his template for the imaginary place). As I looked out to the west I could see a turbulent sky but as yet I remained dry. Paths were wide and plenty as I walked, erosion caused by many walkers had formed clear paths with new ones taking shape by the side of the central ones. Cleeve Hill is clearly a popular place to walk and with the open expanse and thrilling views it is clear why it is so much used.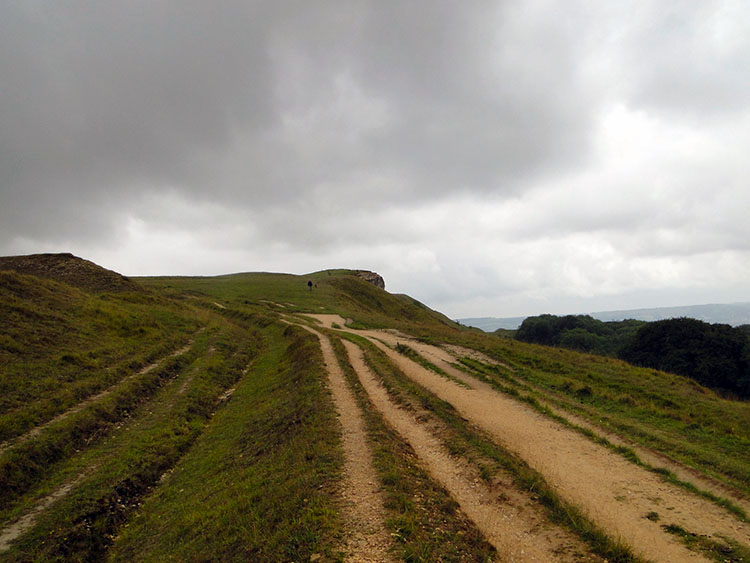 Rutted trackways on Cleeve Hill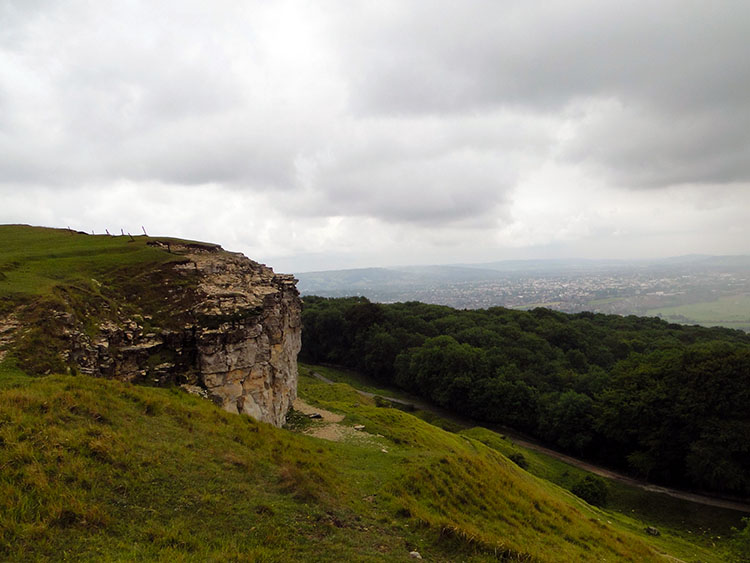 Ben's Tump
My eyes continued to be drawn to the south and west, the direction from which the weather was coming. I could see rainstorms hurrying over the country in squally bands. One was crossing Cheltenham and heading toward Woodmancote as I looked out and took the photograph seen above. As the storms marched over they seemed to wear themselves out, bucketing their rain down quickly before calming. As one died out another brewed further south and west to scuttle over and take its place. Never had I so much enjoyed watching storms which I did for some time before I hastily put the camera in its carrier. A storm had spotted my enjoyment and dropped its rain on me. It was time to move on.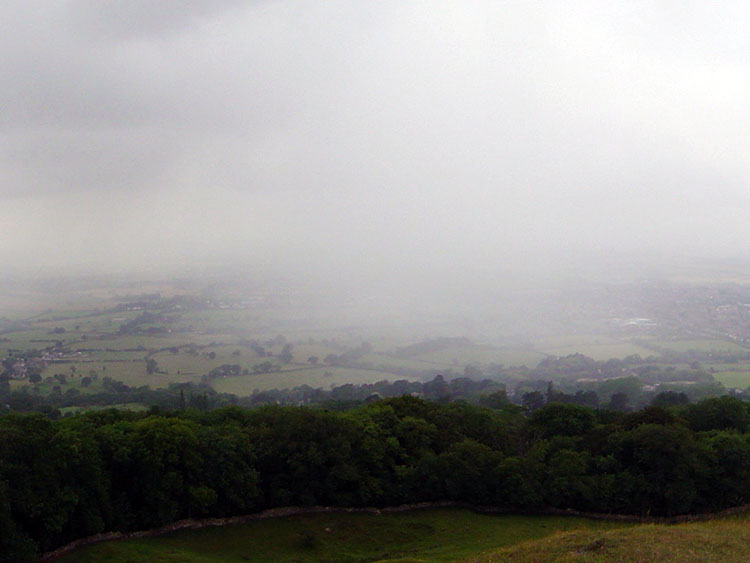 Storm sweeping across Gloucestershire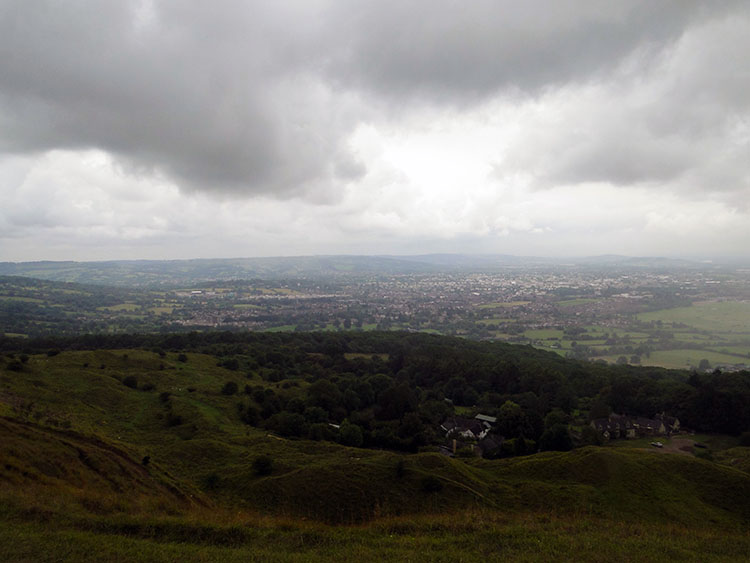 Cheltenham as seen from Cleeve Hill
I continued walking along the edge of the west escarpment and passed the site of an old fort near a Cotswold stone outcrop. The map on my GPS showed I was near Huddlestone's Table. I wondered who or what Huddlestone was. I later found the table is a stone block situated directly below the cliff. Legend has it that Huddlestone's Table marks the spot where Kenulf, the Saxon king of Mercia, bade farewell to several important guests, including the king of Kent, after dedicating the great Benedictine Abbey in Winchcombe in 811. I have to say one of the reasons I love walking so much is that it is a rich source of interest from which I find out all kinds of stimulating facts about the past.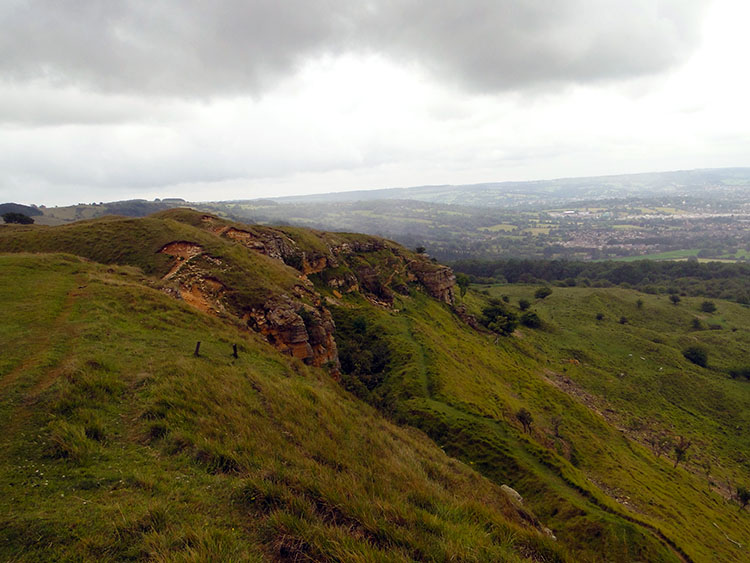 Site of old fort near Huddlestone's Table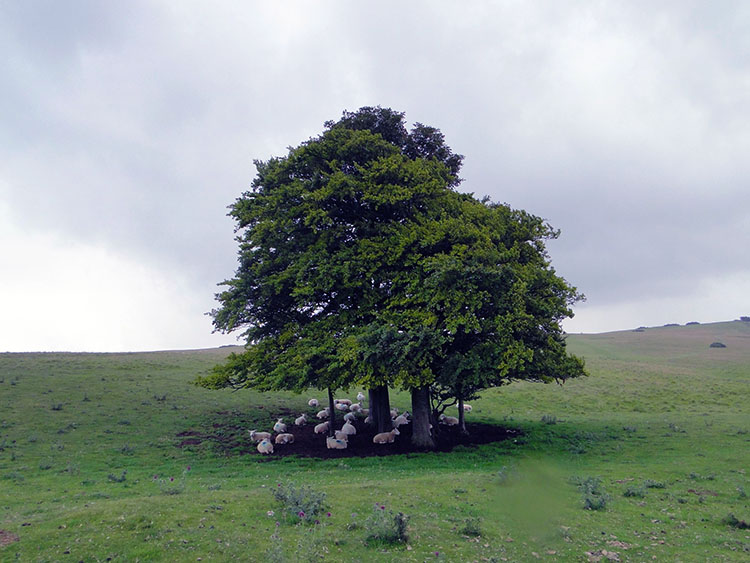 Sheep take shelter under an isolated tree
After passing the site of the old fort I walked to a series of radio transmitters. As I did so I saw the amusing but practical sight of a group of sheep all sheltered under a solitary tree on the hill. After passing the transmitters I walked east and then turned due north to cross Cleeve Common. As I was now away from the hill the views became enclosed. I was surrounded by green everywhere except in the sky above which remained ominously dark grey. Rain started to fall as I dropped down from Cleeve Common to some old quarries and from there I made a short but fairly steep climb back to the car park. I did not dwell, it was now raining quite heavily. Still I thoroughly enjoyed my exploration of Cleeve Hill, it was so interesting. It was a good job the business meeting finished on time though, I would have probably have given it a miss in the rain.
Copyright © 2003-2023 Walking Englishman. All rights reserved.