Dursley, Cam Long Down and Peaked Down
Google Maps
Open Source Maps
Ordnance Survey Explorer Map (1:25,000)
---
Summary: This is a popular walk from Dursley to two impressive Cotswolds hills. The hills Cam Long Down and Peaked Down are isolated from the dominant Cotswolds escarpment and their isolation allows them to provide excellent uninterrupted views of the local countryside and further afield too.
---
The Walk:
Dursley Market House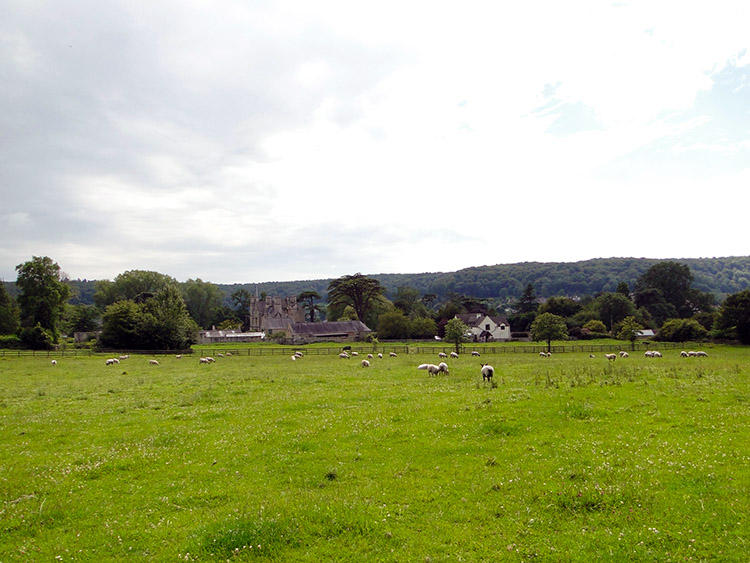 Gloucestershire countryside at Home Farm near Dursley
I come to some places for a walk and get the feeling of Deja-Vu. There is something that pricks the imagination and strikes me as familiar. The feeling happened on this walk, a walk in the Cotswold Hills which reminded me so much of a walk I had done in the Peak District. I will come to that moment of 'I have been her before' later. My walk today started in Dursley, a busy market town in Gloucestershire. Dursley is under the north east flank of Stinchcombe Hill which is part of the Cotswold Edge and about four miles south east of the River Severn. I would see the Severn Estuary closely on this walk. It was market day when I did my walk. Market traders were setting up stall when I left the town to begin my walk. I tracked from town by following the Cotswold Way past Home Farm and toward the Grove on the south edge of Peaked Down which with Cam Long Down were the attention of my walk. The walking along lanes and through fields was lovely with an abundance of meadow flowers to enjoy while I walked on a lovely summers day. It was set fair with the sun trying to break through obstinate cloud.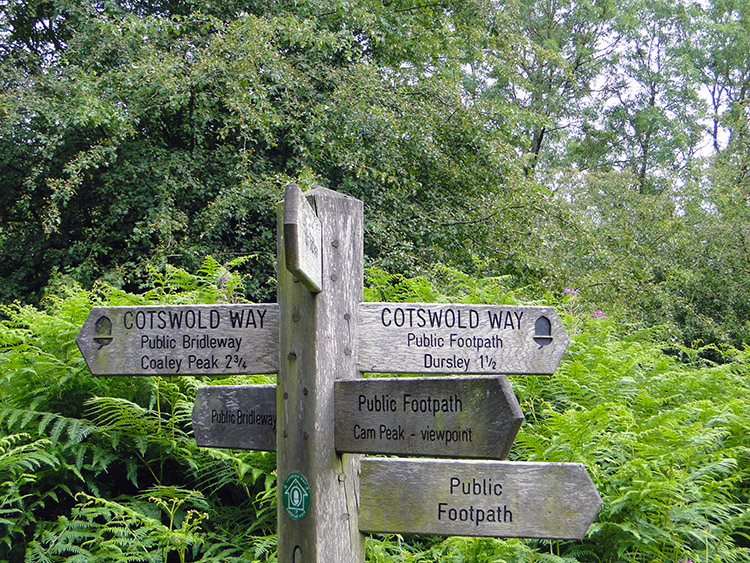 Paths in all directions near Coldharbour Farm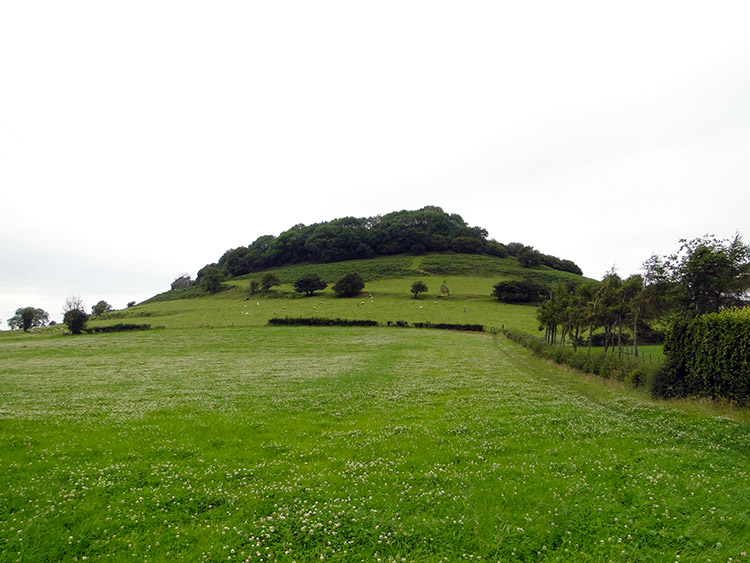 Climb to Cam Long Down from near Hodgecombe Farm
After half an hours gentle walking I came to the Grove. It was a junction of sorts with paths merging from all directions. A busy walkers signpost showed the ways to go. For my walk I followed the Coaley Peak one but that was not my goal. I would cut off near Hodgecombe Farm to ascent Cam Long Down on its east facing flank. I walked on down the lane and as I reached the intersection I met the farmer from Hodgecombe Farm. He was extremely pleasant and we both talked about our fortune to be enjoying such wonderful countryside. I thanked him for his courtesy and for his careful management of the land which was exemplified by a delicious field of grass and clover which I tracked through to scale Cam Long Down. The climb was steady across the field and followed by a steep scamper to the top, eighty metres ascended in one haul. Once on the summit of Cam Long Down the hard work was done and the rewards ready to be taken.

The view west from Cam Long Down across Dursley to Stinchcombe Hill
And what rewards they were on the summit ridge of Cam Long Down. I could see wonderful sights all around; north, south, east and west. To the north I could see the M5 motorway taking motorists towards Gloucester and the Midlands. Turning to the east I looked over the glorious Cotswolds Edge and to hills where I had enjoyed many walks. I reflected on some of them as I looked over them. Turning to the south I looked directly down to Dursley and beyond to Stinchcombe Hill, also part of the Cotswold Edge. Finally to the west I could see the huge expanse of the Severn Estuary and then by turning a little to the north and over the water to Wales and The Brecon Beacons and Black Mountain ranges. What an awesome view I had.

The view north from Cam Long Down to the Severn Estuary and Frocester Hill
It was on Cam Long Down I also got my sense of Deja-Vu. For Cam Long Down I thought Chrome Hill, a hill of very similar size and shape I had walked across in the Peak district some years ago. Chrome Hill did not have the wide ranging views, being closed in by lots of other Peak District hills but the characteristics are very much the same. Uncannily so when you compare Cam Long Down's neighbour Peaked Down with Chrome Hill's neighbour Parkhouse Hill. These two satellite peaks are all the more alike which made the reflection all the more remarkable. You could switch the two pairs around and it would be difficult to notice the difference.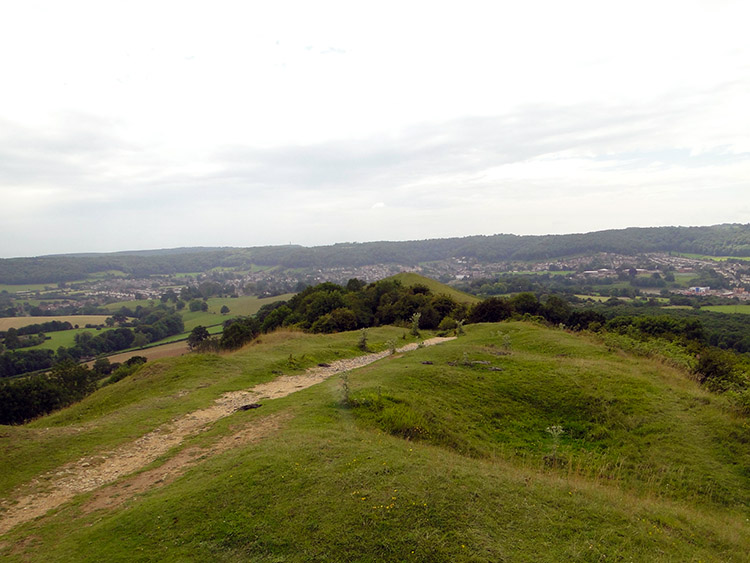 Walking along Cam Long Down to Peaked Down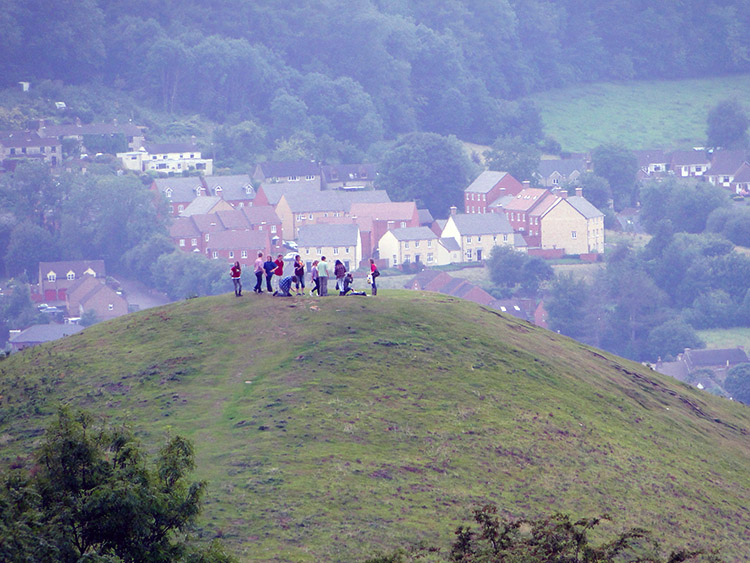 Youngsters enjoying the view from Peaked Down
From Cam Long Down's wonderful ridge which would entertain many walkers in playful revelry I looked across to Peaked Down and I was heartened to see a group of young people enjoying themselves on top of the rounded hill. Not wishing to intrude I sat and watched them for five minutes before they descended the hill en masse. At the same time they came down the hill I went up. It was only a short climb of thirty metres to reach the top which provided the perfect vantage point to sit and watch all the goings on in Dursley from above. I sat on the summit in quiet contemplation for ten minutes, watched over the town, mainly of traffic coming and going and then got up and walked off towards a road near to Downhouse Farm.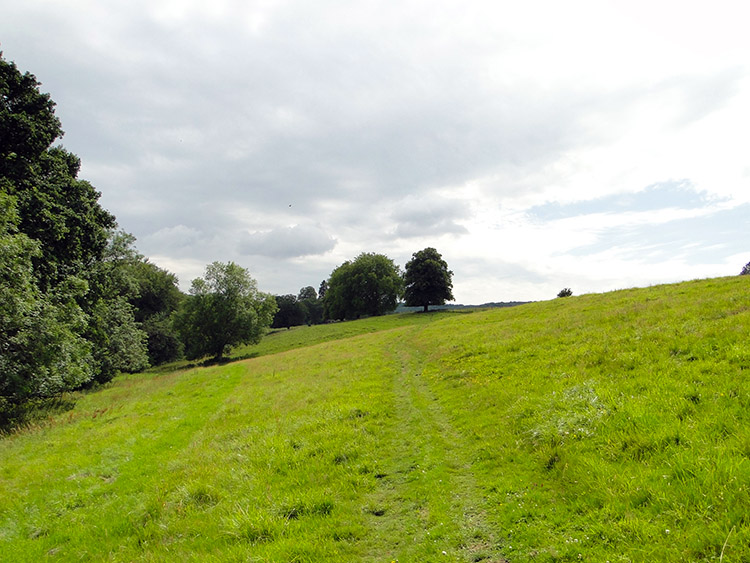 Walking back to Dursley from the Grove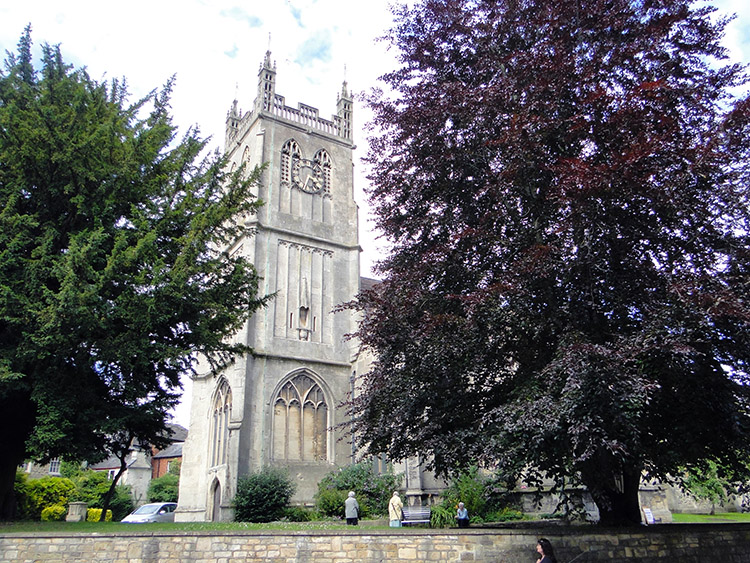 Dursley Church
From the road I walked casually along a mix of road, field path and lane until I came back to the path I had left Dursley on near Home Farm. I reflected on a walk which had the thrills of short climbs to hills of tremendous character which provided me with some really amazing views. Back in Dursley I enjoyed a coffee reflecting on the day and felt so good about all I had enjoyed.
Copyright © 2003-2023 Walking Englishman. All rights reserved.