Mill Gill Force and Whitfield Gill Force from Askrigg
Google Maps
Open Source Maps
Ordnance Survey Explorer Map (1:25,000)
---
Summary: Starting from the pretty village of Askrigg in the middle of Wensleydale this is a gem of a walk, short enough for a morning or summers evening stroll to two magnificent waterfalls.
---
The Walk: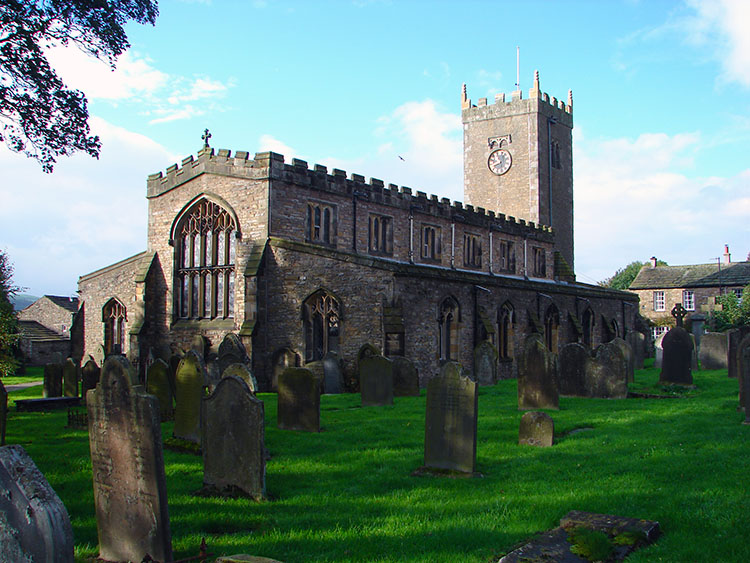 St Oswald's Parish Church in Askrigg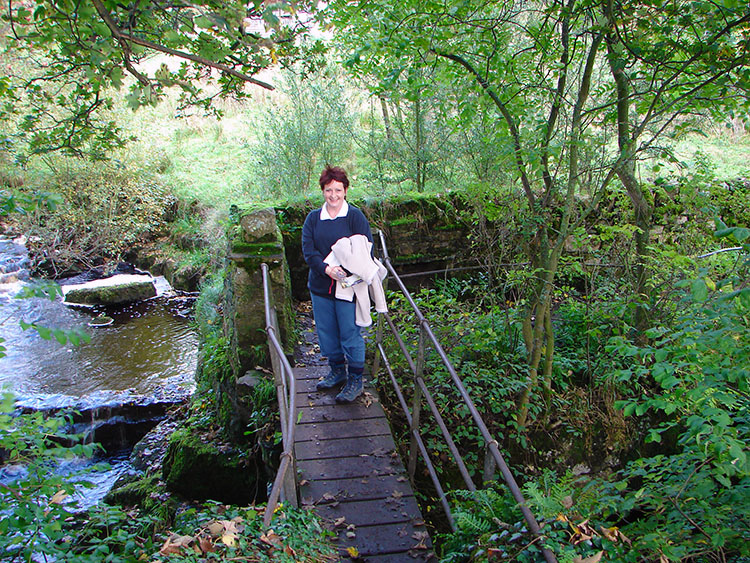 Crossing the wooden footbridge at Mill Dam
A long weekend in mid October was the opportunity in needed to take Lil for a short Dales walk. Which walk should I choose? It had to be reasonably short, conveniently placed to a village and yet full of spectacular moments. I am pleased to say I found such a walk and this is the story of our walk to two of Wensleydale's finest little known waterfalls. It was a reasonable Saturday morning for the time of year and the drive over to Askrigg from Harrogate had been taken in sunshine. Good although as I parked up in the village car park the first darkish clouds rolled over and spattered us with a light shower. As we prepared to walk another couple arrived in the car park. More on them later.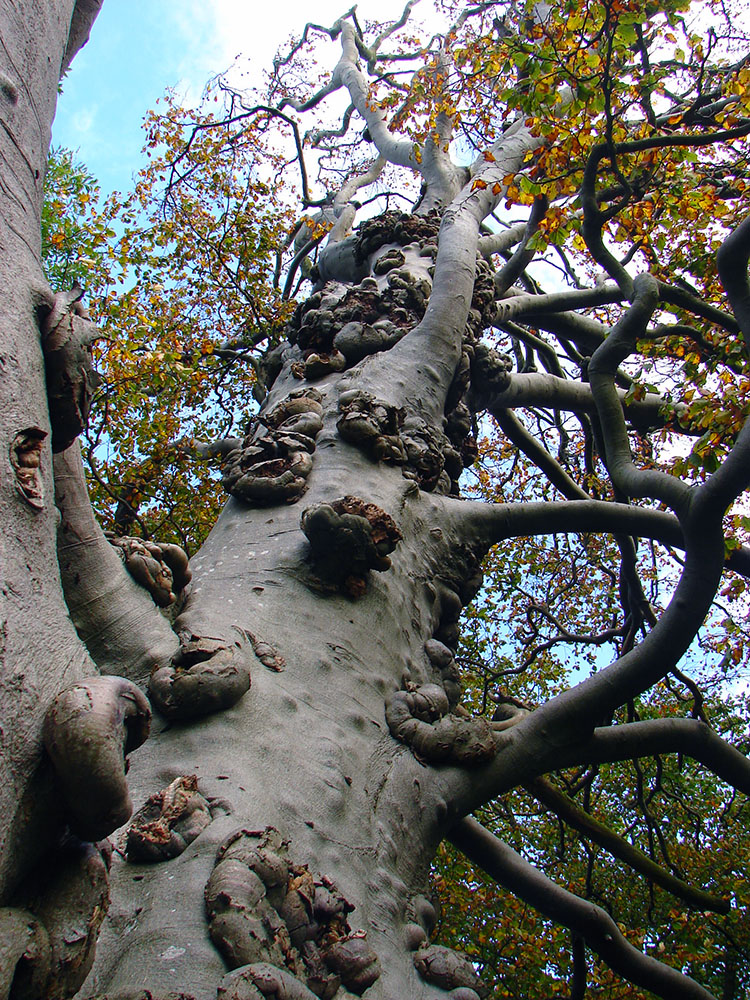 A very gnarled tree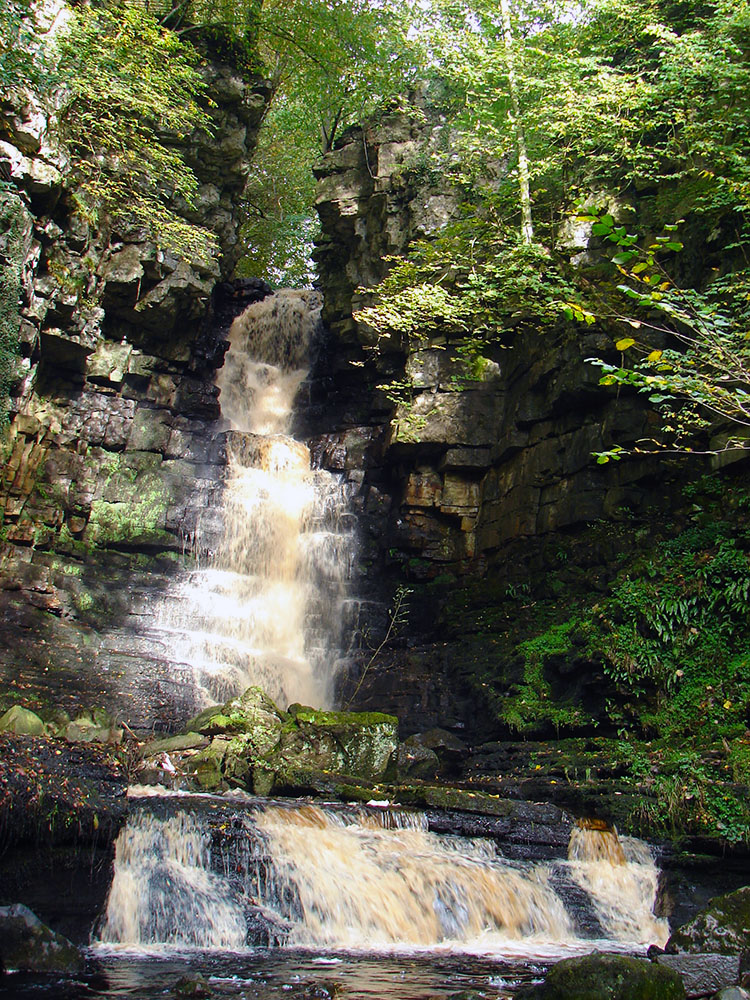 Mill Gill Force in spectacular flow
Soon after leaving the village via the impressive church we were into the woodland of Mill Gill. As it was mid October the native trees were displaying lovely autumnal colour. The path was well signed too and soon we were pointed down a ravine path to Mill Gill Force. Recent rains had made the falls impressive. An immediate wow factor overtook both Lil and I. It was well worth the visit that is for sure. We stayed for some time taking in the performance while taking still photographs and video. As we did so the couple we had met in the car park arrived. They were doing the same walk. She willingly, he reluctantly. We all chatted and the man and Lil agreed they should do less walks while the lady and I disagreed saying we should do more walks! No matter all four of us were doing this one and Lil had to admit she was enjoying this one. And she really was. We left ahead of the couple but it was not a final farewell.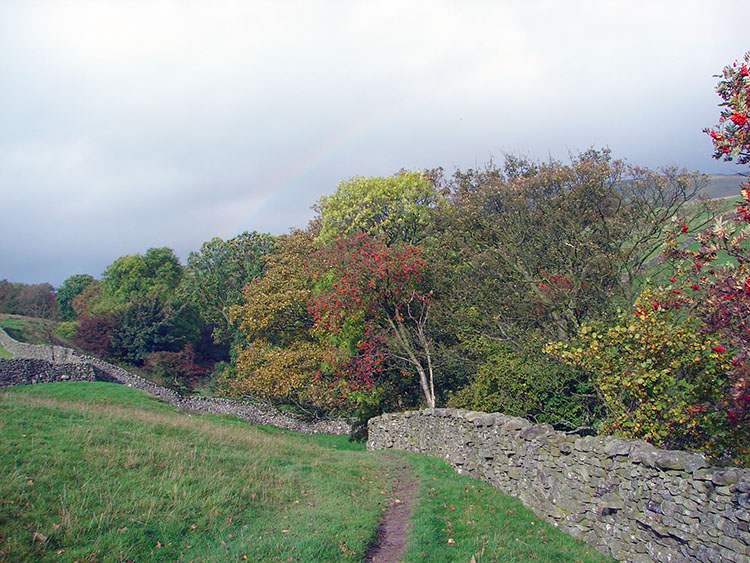 Autumn colour in woodland near Helm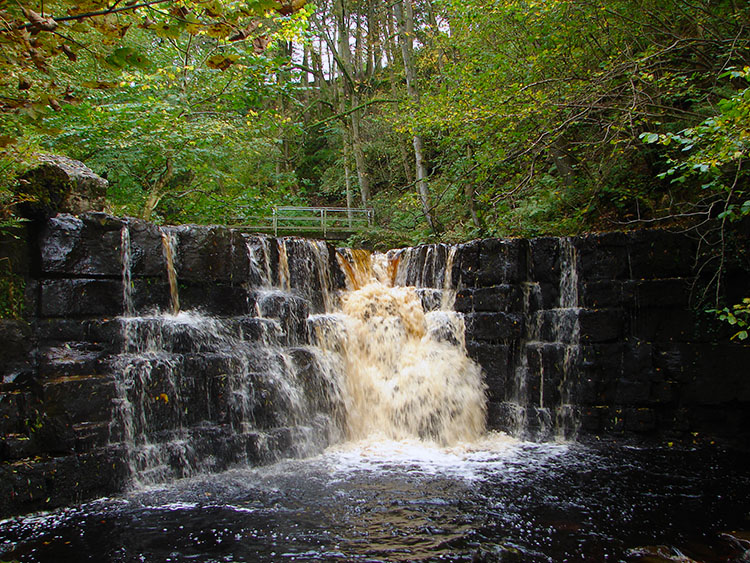 A small waterfall downstream of Whitfield Force
As Lil and I strode on from Mill Gill the path took us from the woodland across some fields. During this stage the only downside of the walk occured for to access one field from another we had to struggle through tiny slits in the walls with sprung wooden gates fixed. These 'wensleydale stiles' are awful to negotiate. Phah. Despite the inconvenience of the stiles we managed to cross the fields and re-enter the woodland near the village of Helm. Then we followed a marked track towards Whitfield Gill Force. Soon we came to a junction which marked one route at the edge of the wood indicating a dead end 400 yards on. Not the clearest direction but we took it and struggled at high level until eventually we saw the topmost drop of Whitfield Force. But no more than that for the banks were sheer drops and dangerous. We did not get a good clear look of the waterfall but it seemed spectacular. Anyway we tracked back and soon met up with the couple again. He was not enjoying himself. Beach holidays where you wave a flag for attention and service were his idea of a break, not traipsing though woodland to remote waterfalls. Hard luck this time then.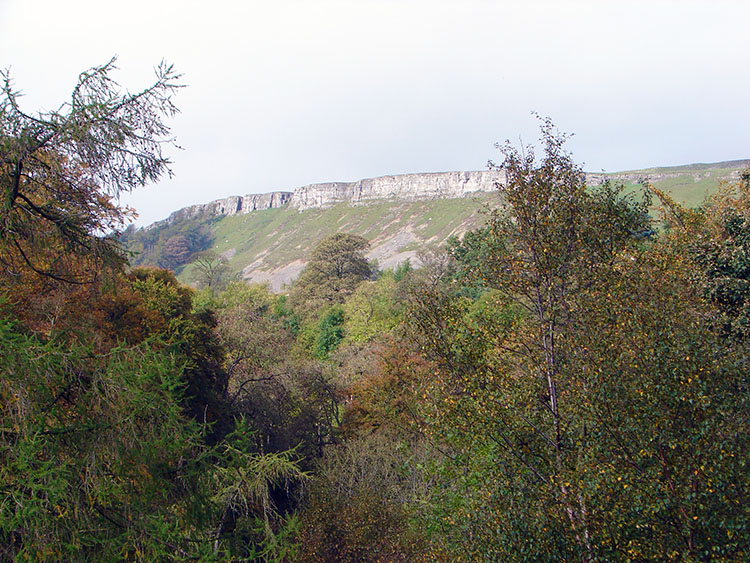 Looking north west to Whitfield Scar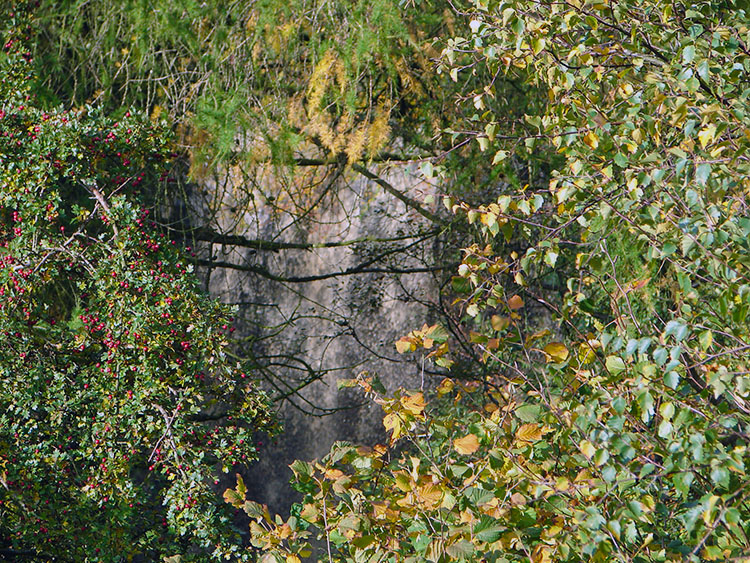 Secluded Whitfield Force just seen through the trees
A little disappointed at not getting a clear view of Whitfield Force we crossed the gill via a footbridge and up the other side of the ravine. Just momentarily we got a better view of the falls and so I took my picture. Not really close enough for the full spectacle though. Again on this northern side of the gully it was too steep to clamber down and their were too many leafed trees to see clearly. Better in winter to capture a decent picture no doubt. Thinking I could have tracked back down to the gill and followed it upstream. Awkward but possible. Not this time though as the dark clouds were now really rolling in and we did not want to get a soaking.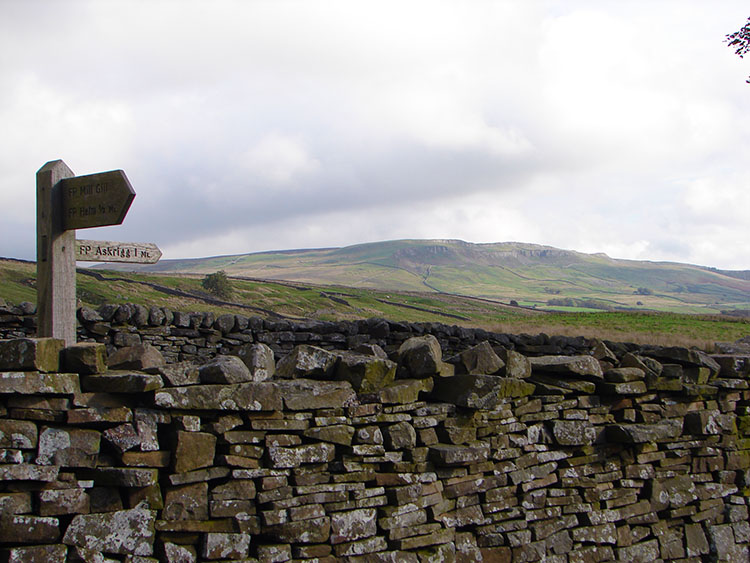 The way back to Askrigg is on Low Straights Lane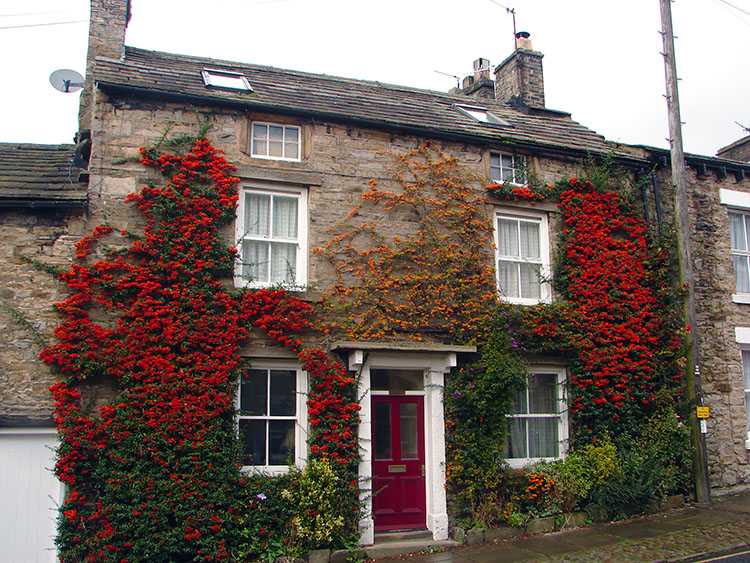 A beautiful house in Askrigg
After enjoying the fun and roar of the waterfalls we ambled back to Askrigg via Low Straights Lane. A super walk which I will incorporate into a longer one in the future. Then I will make a better effort to stand in front of Whitfield Force. Today was a walk short and breathtaking enough to capture Lil's enjoyment. It did.
Copyright © 2003-2023 Walking Englishman. All rights reserved.