Appletreewick, River Wharfe, Howgill, Skyreholme and Troller's Gill
Google Maps
Open Source Maps
| Statistics | |
| --- | --- |
| Start: Appletreewick | Grid Ref: SE 05038 60197 |
| Distance: 5.8 miles (9.3 km) | Climbing: 270 metres |
| Time: 3 hours | Rating: Moderate |
| GPX Route File | Google Earth File |
Ordnance Survey Explorer Map (1:25,000)
Summary: This walk which begins and ends in the pretty village of Appletreewick starts off with a walk following the River Wharfe downstream to Stangs Lane Bridge before making the first climb, one of sixty metres to Howgill before dropping down through fields to the remote hamlet of Skyreholme. From there an easy constant climb is made following Skyreholme Beck upstream in a closed valley and then through the narrow gorge of Troller's Gill. The climbing continues for another eighty metres of ascent after leaving Skyreholme Beck to reach Appletreewick Pasture. After topping out at around the 300 metres level a slow descent is made over fields to reach a finale down a steep walled access lane back into Appletreewick.
---
The Walk: I parked up near the end of the steep lane which Dave and I would descend at the end of the walk and after putting our boots on the two eldest Brockhurst brothers were on their way on another walk together. I am the eldest of our brood, fourteen months older than Dave and so was toddling off on short walks of our first home back yard first. He was not far behind though and we have been walking since. And for the last thirty years quite often together and sometimes with other friends now. Both well into our sixties and both flora and fauna enthusiasts we're still keen to get out into the countryside for a walk as much as possible.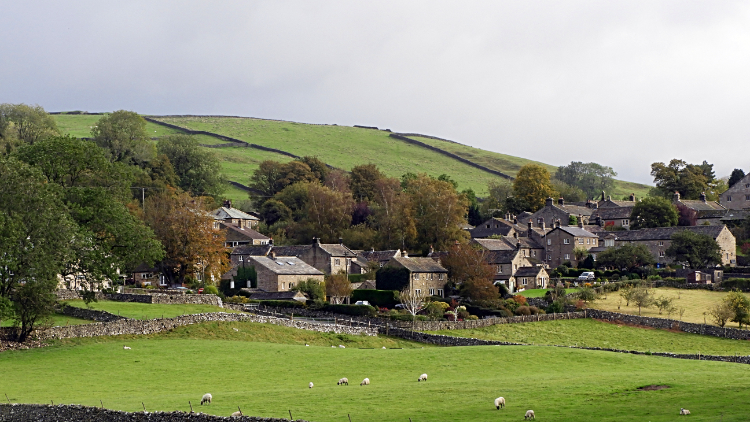 Appletreewick
River Wharfe rapids near Stangs Lane Bridge
From our starting point at the west end of the village of Appletreewick we walked three hundred metres along the road leading to the neighbouring village of Burnsall before turning left to head south down a lane adjacent to Mason's Campsite. I said to Dave "My word, how that has grown in size over the years we have been visiting Appletreewick". Fortunately the campsite which had been heaving two months earlier when I passed it with friends while walking the Dales Way was quiet now. It was the 7th October. Still, for the time of year it was very pleasant weather and with the mid autumnal sun on the rise and breaking free of early morning cloud as we arrived at the end of the lane to reach the River Wharfe our spirits brightened. We met a lady of Appletreewick walking her dog. She said "I come here rain or shine, hot or cold. Every day" Good for her. And why not it is a beautiful place. The Wharfe valley is narrow here as it passes Appletreewick with Appletreewick Pasture shielding the north side and Burnsall Fell the south. The village is set snugly between with just the one pasture field keeping it away from the river. Dave and I now set off walking along with the River Wharfe, following it downstream on first a gentle course and then on an accelerated hurry through a narrowing in the river which is popular with canoeists. None were about this early though half a dozen different coloured canoes were left marooned on the bank of the river. They must be trusting around here.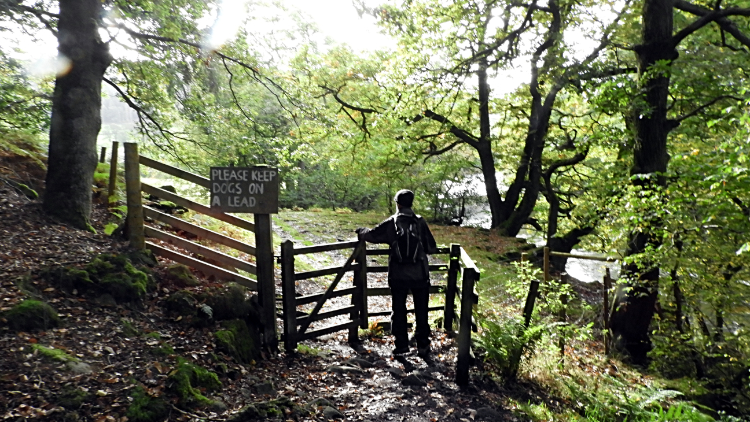 Following the River Wharfe to Stangs Lane Bridge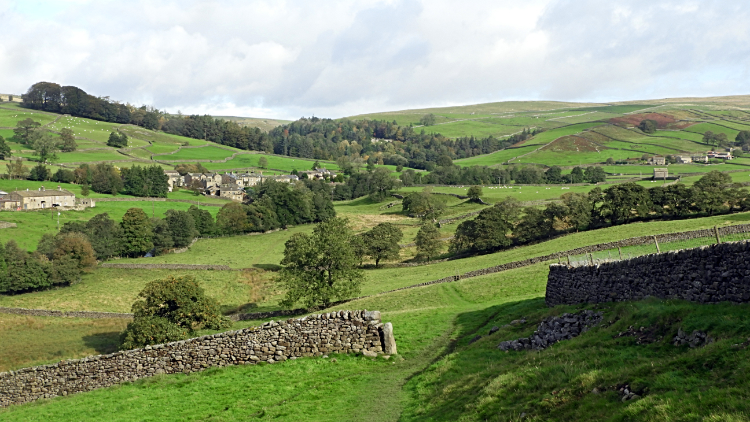 The view from Howgill Lane to Skyreholme
From the river rapids Dave and I walked on a narrow path through a wood which brought us to a single field leading to Stangs Lane Bridge. A plaque placed by the Bradford Branch of the British Sub-Aqua Club commemorated Pat Proudfoot who had seen in 1960 while underwater near here. Good for her. Sadly she died of cancer aged just eighteen later the same year. Next, arriving at Stangs Lane Bridge we crossed it and left the course of the river to climb for the first time on this walk, up a lane to Howgill which is no more than a scattering of a few houses and small farms. While walking easily up the hill a solo lady walker passed us while on a power walk. She was soon out of sight. We were in no hurry, in fact stopping on the lane to inspect some curios left outside a house on the lane. Three glass objects filled with mucky water, two goldfish bowls and a large tumbler. And some wood carvings, one being in the shape of an owl. At a crossroads of paths we ceased the straight up climb which would lead us to the heady heights of Barden Fell and Simon's Seat, instead turning left along Howgill Lane and past a house being renovated. Just after the house we left the lane to track on paths across fields, slowly leading down towards the scattering of hamlets that comprise Skyreholme. The views were stunning here with the hamlets and the Appletreewick Pastures all looking pristine in the glow of the low October day sun.
Mr Evison being chauffeured in the Clement Panhard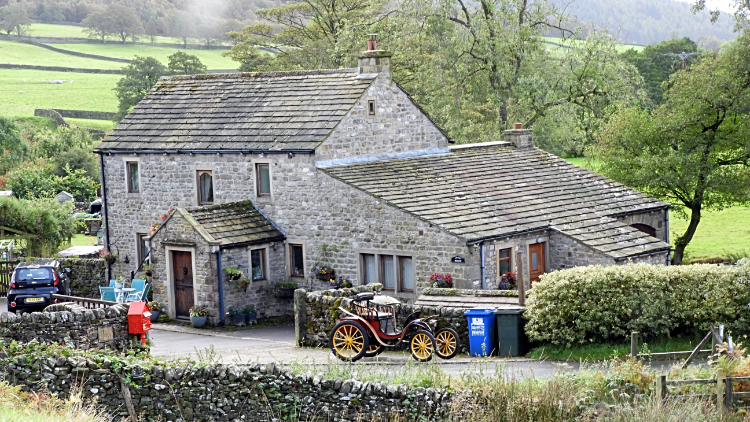 House in Middle Skyreholme
There are three parts to the whole which is Skyreholme. Having crossed the fields on a slow descent to Skyreholme we reached a wooden footbridge which is accessed by four stone steps leading us over Blands Beck to climb up a path beside a high wall defending a row of terraced houses which form the main body of this part of the hamlet. The east end cottage had a patio garden area with a lovely view set on the field side of the wall. Very nice I thought. The west end cottage had a rustic made out of bits of locally windswept wood. Very clever I thought. Following the path on the west side gable to the road we then turned right and walked past the row of around eight terraced cottages heading down the road to Middle Skyreholme. As we walked on down we were passed by a car aged 120 years old! Almost twice our age. It was an 1899 model Clement Panhard being given a run out by Mr Staurt Evison, the husband of its owner Mrs Julie Evison in preparation for the London to Brighton Vintage Car Rally in a few weeks time. (Later on I looked the car up. One sold at auction for £50,000 in 2002). We followed the old beauty down the road, having a chat with Stuart in Middle Skyreholme before continuing across a field to reach the entrance to Parcevall Hall. We were not visiting, instead turning off to cross the Skyreholme Beck road bridge, accessing a gate and heading up a path beside the beck and into the valley.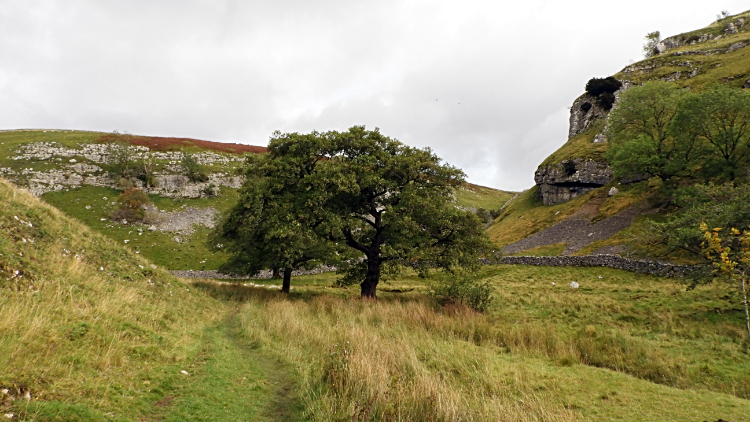 Skyreholme Dale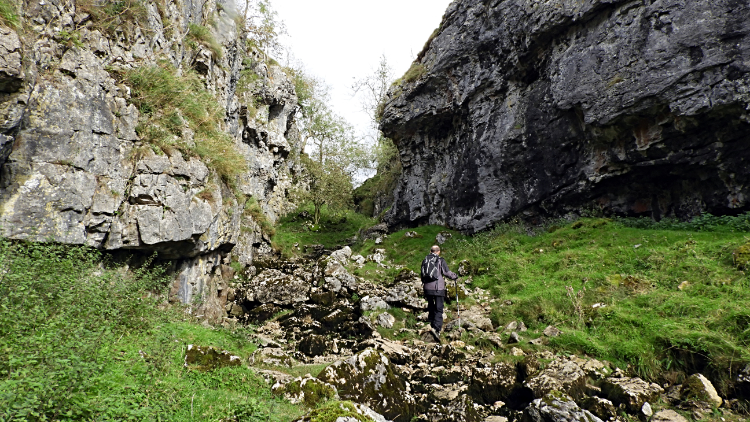 Troller's Gill
If the walk had not been exciting enough already it was certainly getting more exciting now. I find the preamble walk following Skyreholme Beck upstream towards the narrow gorge awaiting us such a beautiful approach to a remarkable limestone gorge. It is a decent and steady climb from Skyreholme to the gorge entrance, one of seventy metres, but such is the diversion of sights all around that it is not really noticeable. For me anyway. Yes there are a few short hauls on the way but the visions on reaching heights over humps are remarkable. Skyreholme Dale beguiles me. Every time. The beck flows gently through the dale, often and particularly in summer having appeared after a time underground in the dry gorge. And the dale, sheltered on all sides by high hills, always appears calm. Even in a storm raging all around. no storms today though. After the thrill of the walk through the calm dale comes the drama. And here it was directly in front of Dave and me. Dramatic Troller's Gill.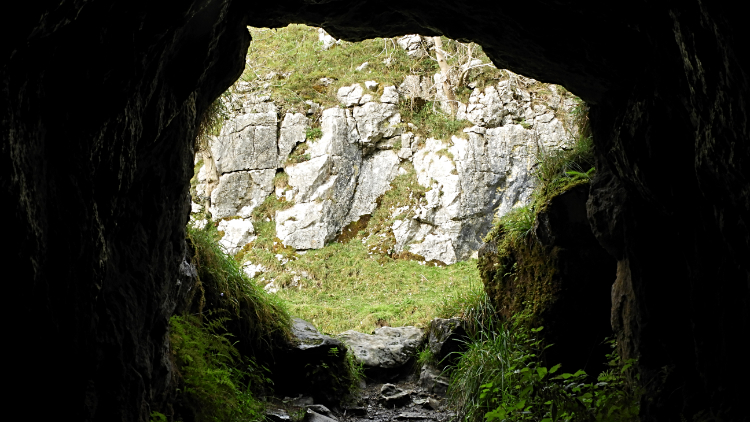 View out from the cave in Troller's Gill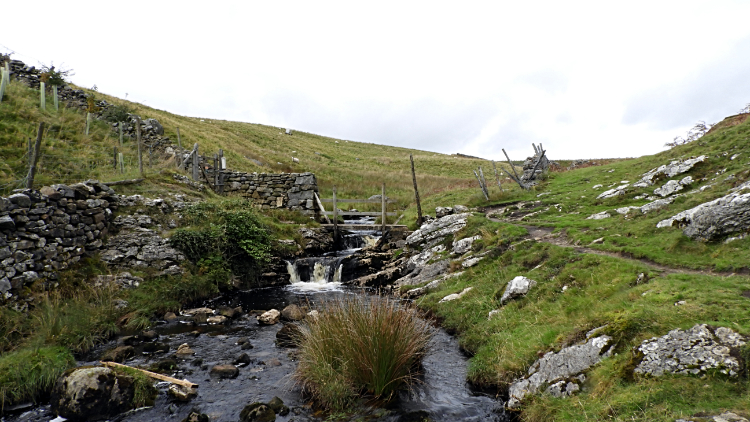 Skyreholme Beck at Middle Hill
Troller's Gill has struck me with awe since the first time I came to it with Dave, Deke and the lads from Knaresborough in the early 1990's. In my opinion it is the best of all the limestone gorges in the Yorkshire Dales. Coniston Dib runs it close but the size and magnificence of Troller's Gill is unrivalled. Most times I have walked through the awesome limestone gorge Skyreholme Beck has been hiding, running deep below the shattered limestone bed. Twice though it has risen though, once on a walk with when in company with my wife Lil, next brother Ray and sister in law Karen. It was fun getting through the gorge in a raging torrent of water that day. Now though it was just a case of the two of us getting thorough safely and without twisting our ankles on the dispersed sharp limestone rocks in the gap between the two high cliffs either side of us. Carefully we went, climbing a further thirty metres during the walk through. I took my usual break of transit half way through, climbing up the east bank to wander into the Troller's Gill cave. Can't resist it. After my cave trolling we continued on, meeting Skyreholme Beck again at a point before it disappeared underground, only to leave it by crossing a footbridge a few hundred metres further on at Middle Hill. The latest gorge walk was done. It had been as great as it always has been.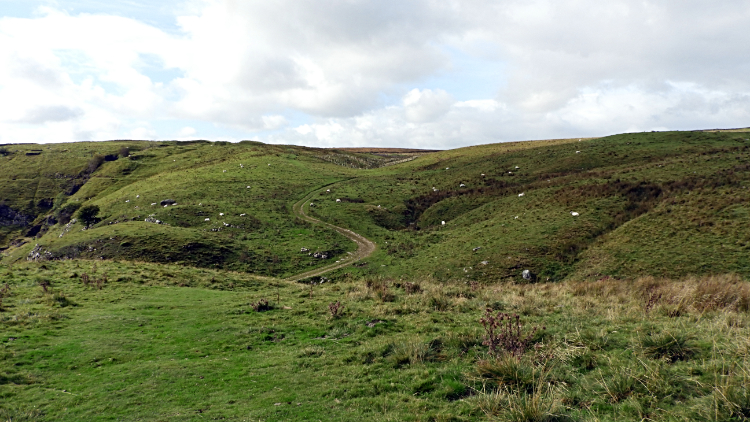 The route across Middle Hill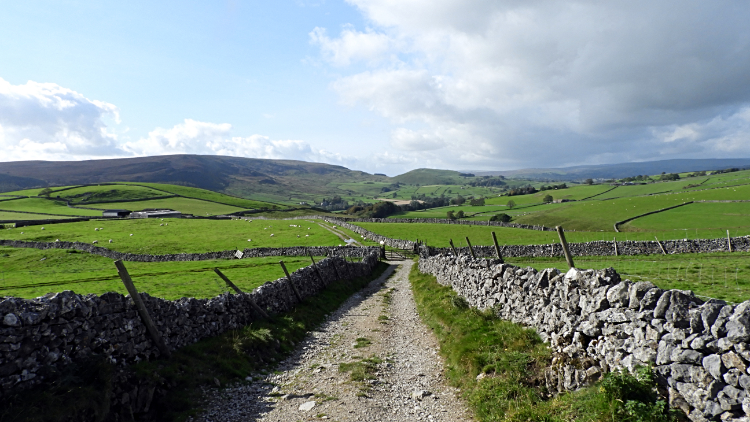 View to Embsay Moor from Appletreewick Pasture
The climb from Skyreholme Beck to Middle Hill is a short sharp heave up. I was puffed that first time thirty odd years ago. I have been puffed every time since and I was puffed now. The reward for the hard effort is a lovely walk across Middle Hill to New Road, giving access to Appletreewick Pasture. This lovely walk, when I first came, was across treeless upland grassland and part bog. Now things are changing. First up Dave and I arrived at a sign reading 'Lofthouse Wood, Planted 2016'. There were saplings everywhere, protected within plastic tubes, they in turn protected within fencing. Afterwards a stretch of gorgeous sheep kept trimmed grassland. Then we arrived at a second sign reading 'Hell Hole Wood, Planted 2017'. These new woodlands occupied the slopes of the hill rather than the tops. It was pleasing to see sympathetic woodland generation. I said to Dave "I hope we're still fit enough in a few years to come back for a walk here and see a mature wood". That would be good. Next up came the boggy part of Middle Hill but these days it is paved and boarded to make a dry way through. That was not always the case.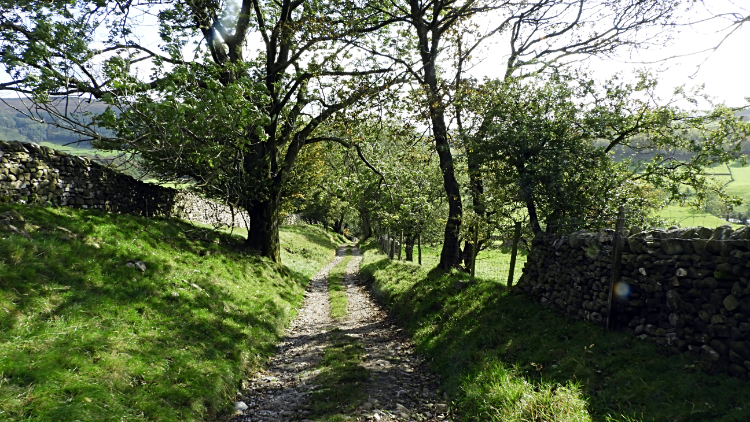 The steep lane down into Appletreewick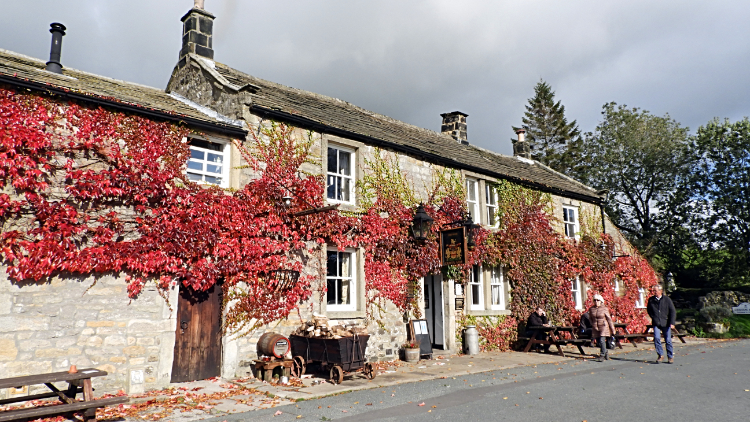 Craven Arms, Appletreewick
And so to the finale of this wonderful walk. We strolled across Appletreewick Pasture, a very airy open spaces walk at the 300 metre height mark and the high point of this particular walk. ("We'll not mention the mistake I made Dave, by following the wrong track to Grimwith Reservoir before you realised and we turned tail eh?"). On our correct course across Appletreewick Pasture we enjoyed the extraordinary views across Wharfedale to Embsay Moor. Then all of a sudden we arrived at the narrow lane which steeply descends into Appletreewick. Once, on a wet day, I slipped and bruised my bottom while descending the short sharp seventy five metre descent at a 33% gradient. I always take it easy now. Even in ideal dry conditions like those this time. Safely down, Dave and I finished our excellent walk at the lane bottom and outside the Craven Arms. There were a few people enjoying the warm sun at the pub, sitting outside with a drink. And why not. I was driving though, best not.