Flamborough Head, Dane's Dyke and the Yorkshire Heritage Coast
Google Maps
Open Source Maps
| Statistics | |
| --- | --- |
| Start: Flamborough | Distance: 10.0 miles (16.1 km) |
| Grid Ref: TA225701 | Time: 3-4 hours |
| Climbing: 448 metres | Rating: Hard |
| GPX Route File | Google Earth File |
Ordnance Survey Explorer Map (1:25,000)
Summary: A spectacular walk along part of the finest coastline in Yorkshire. The white chalk cliffs are breathtaking to view, especially on a sun kissed day such as the day this walk was taken. Dane's Dyke is a bonus with lovely woodland.
---
The Walk: I first came to Flamborough in the 1980's and was instantly impressed by the brilliant white of the place. I never knew it at the time but this is due to the bedrock which is chalk. The particular seam was laid down as mud on the sea floor in the Cretaceous age of the Dinosaurs including Tyrannosaurus Rex. The layer of chalk is up to 550m thick and forms a great swathe from the White Cliffs of Dover in the south to Flamborough Head in the north. I always knew the 'White Cliffs of Yorkshire' were special. Let's go for a walk along them shall we.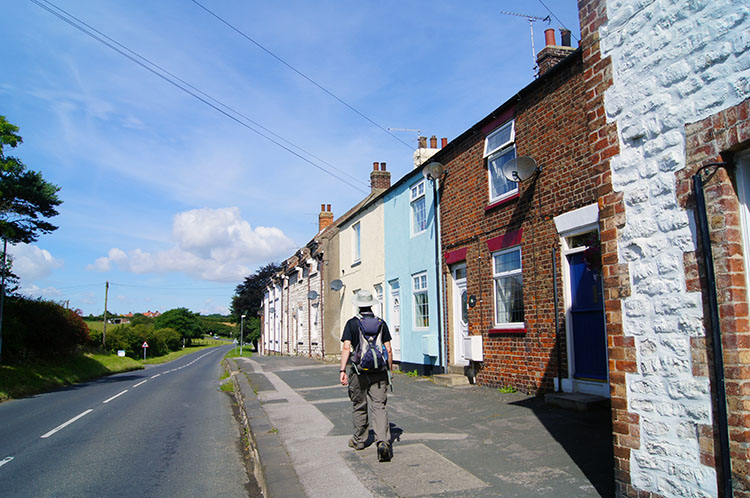 Heading west from Flamborough to Dane's Dyke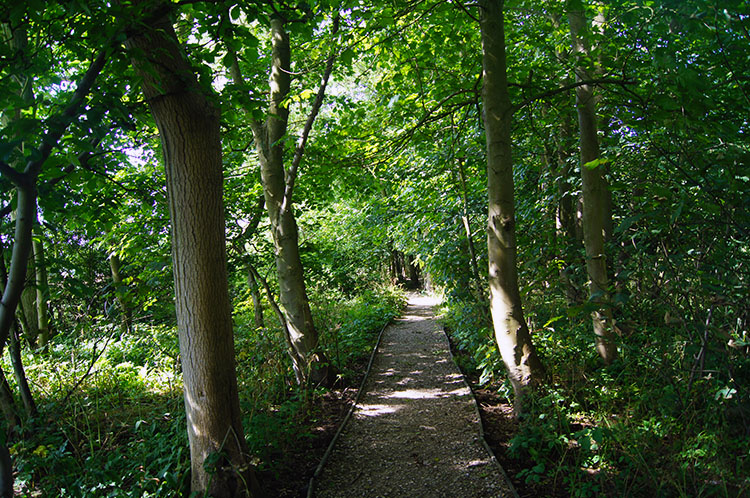 Home Farm Plantation, Flamborough
I was in the company of Dave and John on a very hot mid summers day. What could be better; perfect conditions to enjoy the dazzling white colours of the cliffs. We parked up in West Street near the first crossroads coming in from Bridlington and set off walking back along Bridlington Road towards Dane's Dyke. After 600 metres we turned left off Bridlington Road to follow the tree lined access road to Home Farm. On the left hand side of the road was a lovely path to follow between the trees of Home Farm Plantation. I took that choice, a much better alternatively to Dave and John's route along the side of the tarmac road.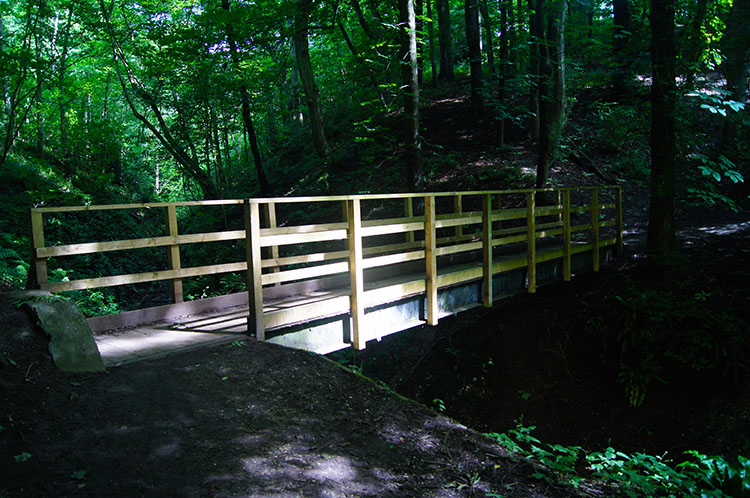 Wooden footbridge across Dane's Dyke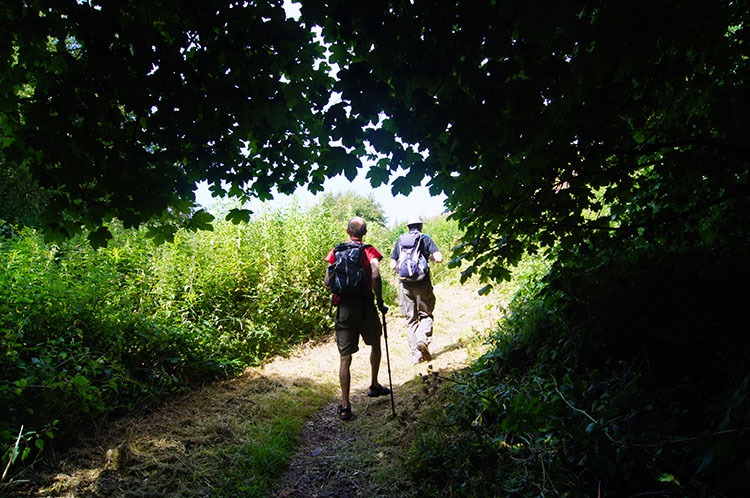 Into the light
Soon my short woodland trail through Home Farm Plantation came to an end as we passed the entrance to Home Farm. Here the tarmac road ended at a car park. We had reached Dane's Dyke Nature Reserve. The dyke itself is ancient ditch and bank earthwork which extends 2.6 miles (4 kilometers) across the whole of the Flamborough Headland effectively cutting it off from the rest of the mainland. Perhaps the settlers here wanted to keep the beautiful white cliffs and luscious farmland to themselves? Undoubtedly constructed as a defensive feature, it would have posed a formidable barrier, topped with a wooden palisade fence. The dyke is shrouded by lush woodland now and most prominent in the south. We were walking through the best of it. And lovely it was, an enchanting short walk until we walked out from Dane's Dyke, emerging into the light.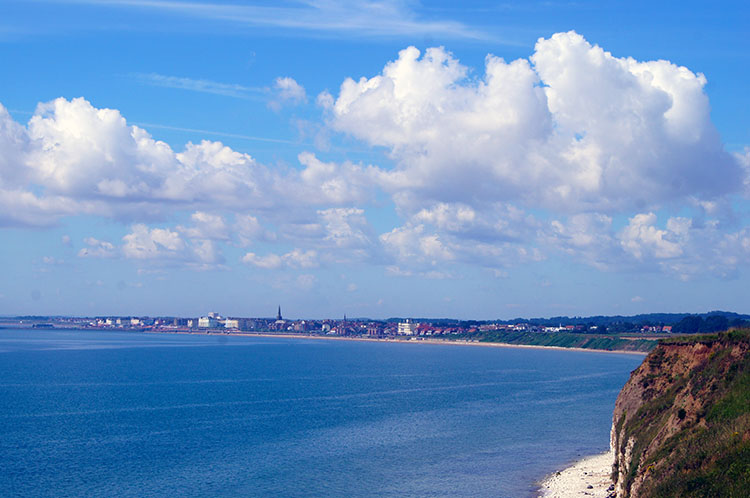 Looking from Dyke's End to Bridlington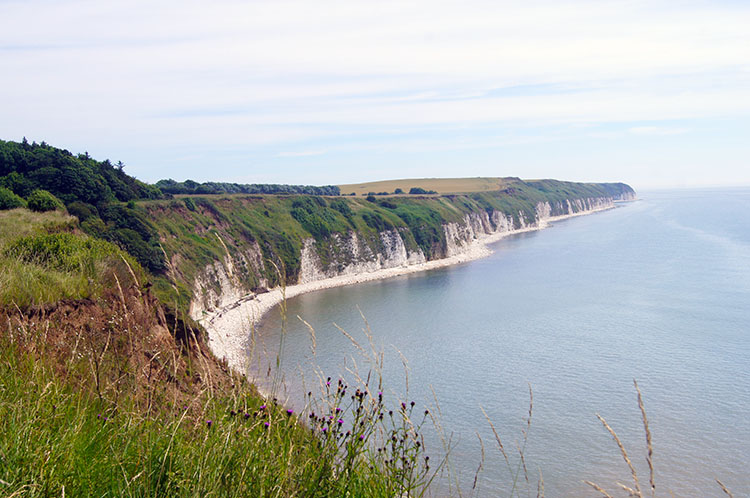 Looking east towards Flamborough Head
The contrast from the shielded dappled light in the woodland of Dane's Dyke and the full intense sunshine of the coast path was significant. It was late morning, the sun was intense and temperature in the mid 20's. There was little sea breeze to cool us either so we took to walking gently along. The first views from the coast were breathtaking. Looking south west the coastal resort of Bridlington looked like it does in an enticing picture postcard, bathed in sunshine with blue skies and pretty fluffy white clouds. Looking die east the cliffs extended out to sea pointing like a finger showing the way.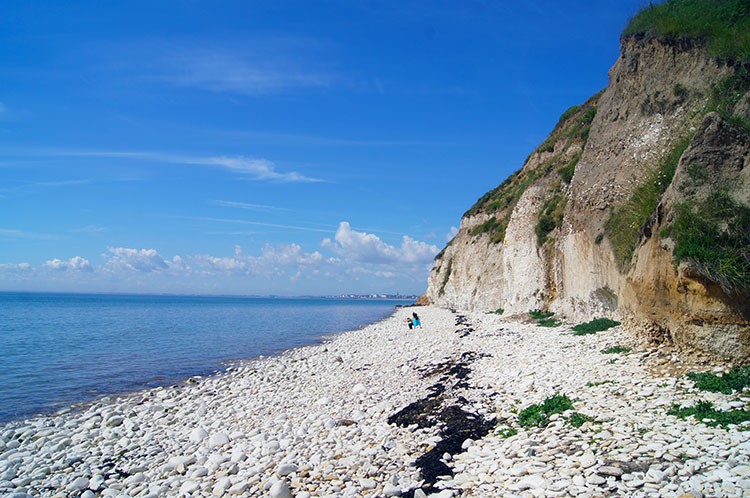 White pebble beach at Dyke's End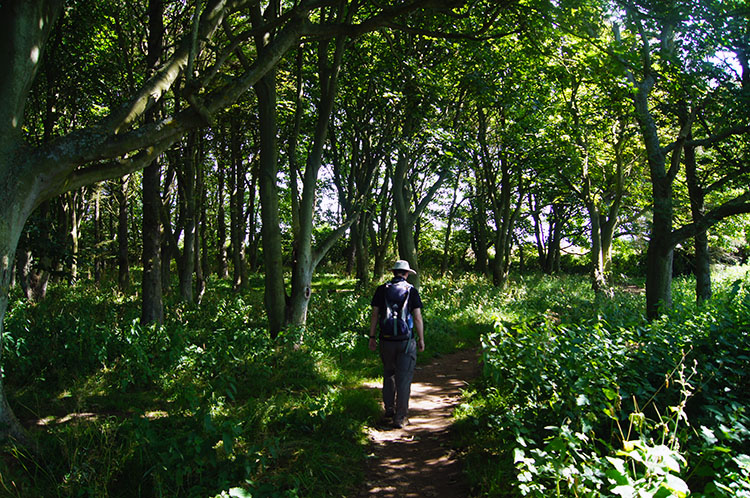 Cliff Plantation
Before heading off along the coast path we took to the pebble beach at Dyke's End. Bleached white pebbles covered the beach and a few groups of people sat in peace looking out to the lovely blue sea. After taking a short look out on the scene ourselves we set off from Dyke's End and climbed to the cliff tops. It was not to be our last ascent of the day. On reaching the cliff top we left the open views to track on a short walk through Cliff Plantation, a lovely stretch of native coastal woodland.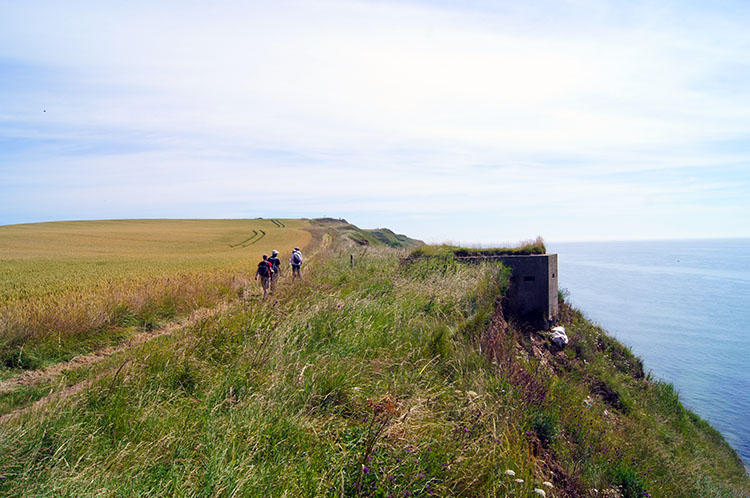 World War Two Sea Defence Pillbox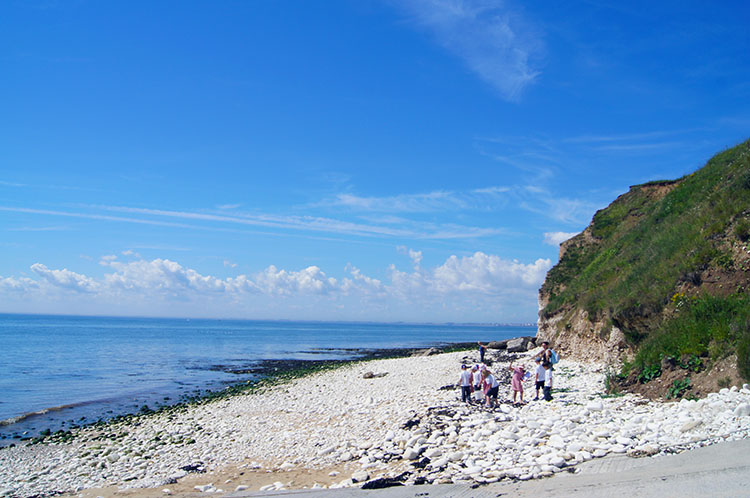 South Landing
After emerging from the shade of Cliff Plantation we embarked on the definite coastal path for the first time. It was very pleasurable indeed. Apart from the unchanging view to our right which was always going to be out to sea the view to our left was an every changing scene of halcyon farming. First we fringed fields of various cereal crops including wheat and barley. Then we walked past a number of fields of vegetable crops. Attention on identifying field crops was interrupted when we came to a World War II concrete pillbox built into the cliff top and looking out to sea. Once occupied by artillery men and home guard the occupants were now nesting Swifts. Dave took a look in the pillbox and one flew though the watch-post almost clipping his nose. "That was the closest I have ever come to a Swift" he said with a startle. After his close call with a passing migrant we continued on to South Landing making another short descent from cliff top to seashore. Like at Dyke's End the beach was pebbled though there were a few patches of sand showing through too.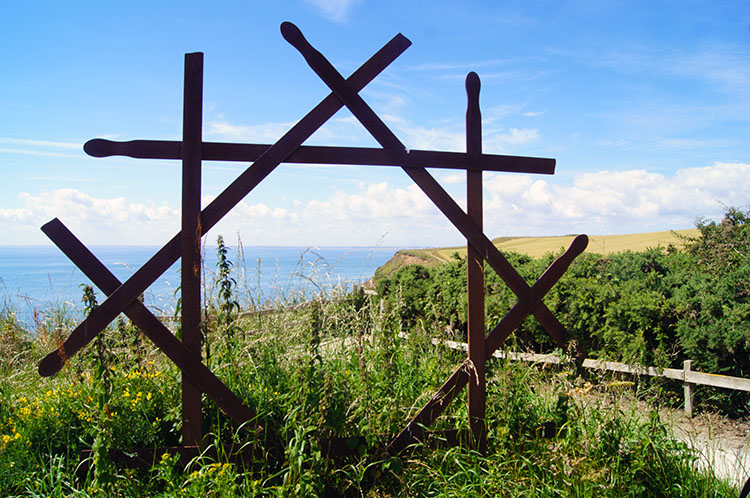 Celebration of local sword dancing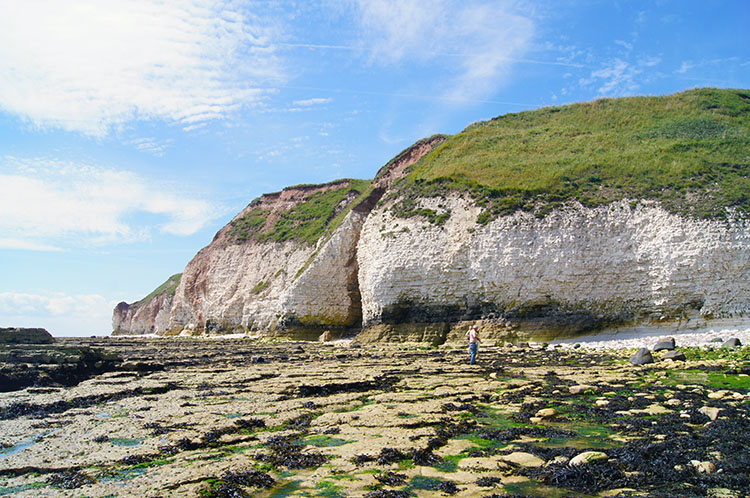 Chalk cliffs near High Stacks
From South Landing, which had a Lifeboat Station and RNLI shop we climbed back up to the cliff top where we came across a seat looking out to sea and a metal sculpture, an eight pointed star which is a celebration of local living heritage of sword dancing. The seat mentioned the local families "Thaves, Chapman, Hodgson, Gross, Atkinson, Moverley, Coultas". We continued on towards Flamborough Head. On headland Way and near Cross Bow Hill crop fields gave way to coastal flower meadows. Soon we sighted the lighthouse in the distance. Closing in on the head proper we came to High Stacks and immediately stopped in our tracks to the view of sea tacks and sea arches directly below us. I was drawn down to the sea so followed a path down to see if I could get intimate with the temporary features. One day the arch will collapse to become a stack and one day the stack will collapse to oblivion. But I could not get round without taking off boots and socks to wade. I satisfied myself with a close up view of the bleached cliffs instead. Wonderful it was. I stayed long enough not to worry Dave and John that I had not suffered a mishap and climbed back up to them on the cliff top.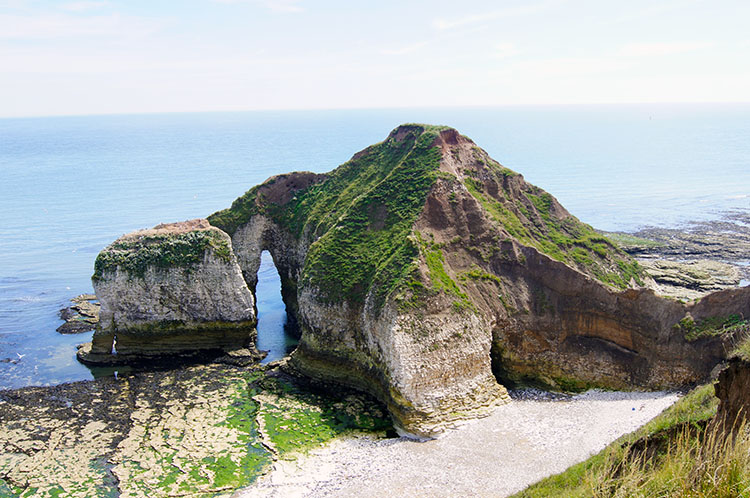 High Stack Sea Arch
Flamborough Head
Once I rejoined my walking pals on the headland we stood and looked in awe once more. The chalk gives this place such a special character and I was definitely entranced by the view. The sea stack, sea arch and accompanying spur which will one day be cut off from the headland were a beautiful picture. And Flamborough Head itself all shimmering and white with a green carpeted top and deep blue sea surround were a picture too. The processional line of caves cut out of the chalk by aggressive tides made the image complete. There is one word most appropriate for my feeling while I looked at these scenes. Magical.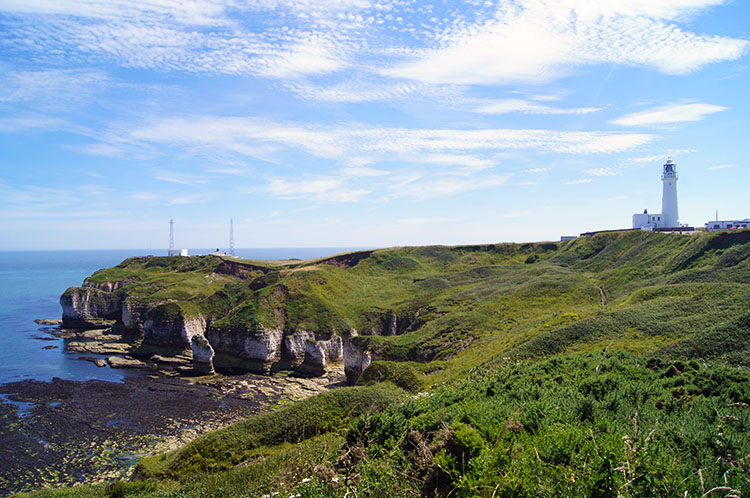 Flamborough Head and the lighthouse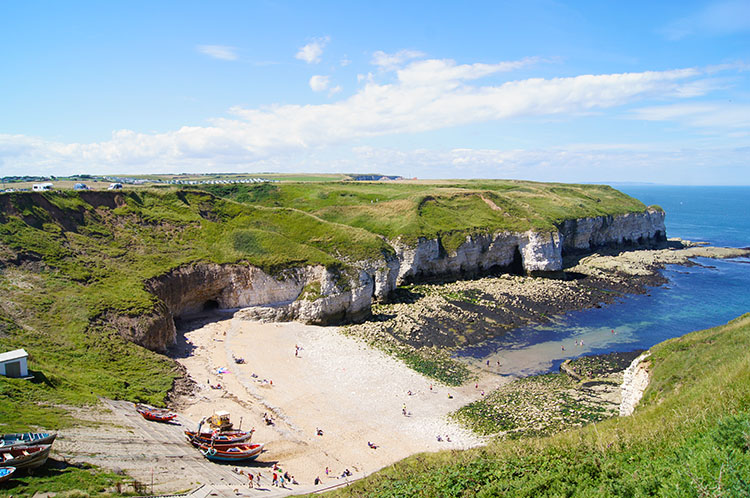 North Landing
We continued on to Flamborough Head and the lighthouse acting like the beacon of reassurance it indeed is drew us safely to the sanctuary of a seat to take lunch. The cafe near the lighthouse was teeming with people, why not on such a perfect day to be out. A large group of teenagers on a school outing walked past to complete some outdoor activity, some small cliques all inquisitive of their leaders and anxious to please while other gangs held back hoping in every effort to avoid being seen as enthusiastic. To which group would you belong? We lingered for about 30 minutes over lunch, just long enough to see the school group head back towards the cafe. "Blooming heck, I was going to get us all an ice-cream" John said as they all approached the ice-cream vendor. With luck, they did not queue but walked straight on by to their buses. John treated us all to the welcome iced confectionery. We walked off, ice-cream cones in hand. We spent the next thirty minutes leisurely walking along the coast path to North Landing, a sheltered cove with a sand beach and a series of caves.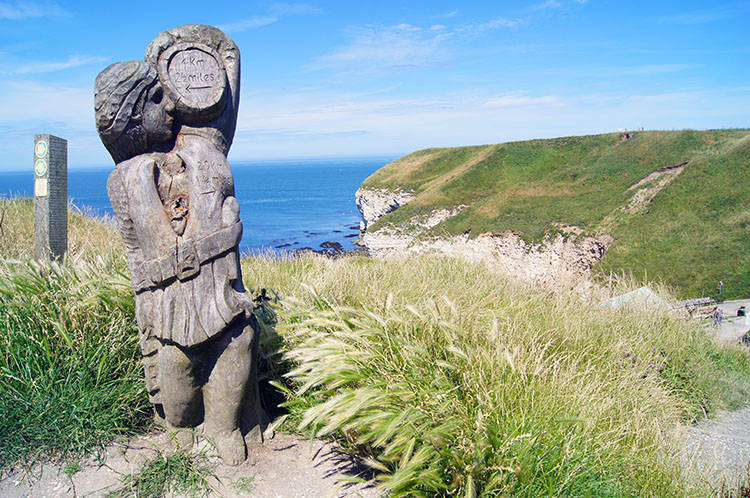 A smuggler shows the way we have to go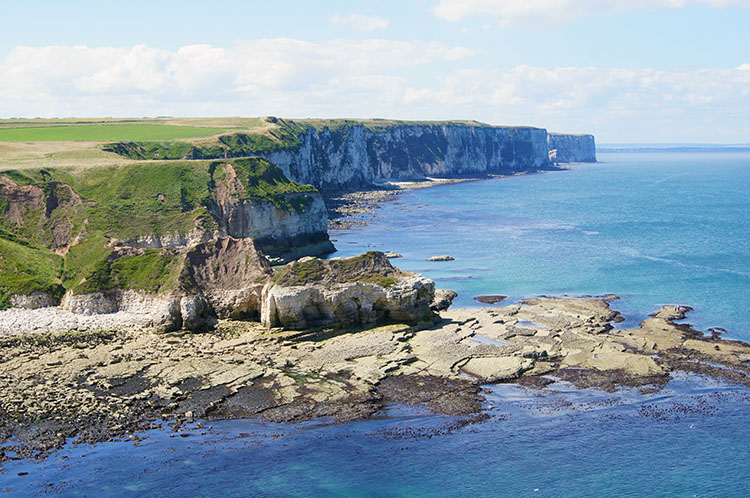 Thornwick Nab
In all my excitement I have not really explained a couple of things. First the series of ups and downs we made. There were constant interruptions to the level walking stretches on the cliff tops., descents down to coves and beck courses, some dry, some with small wooden footbridges. We had almost 450 metres of climbing all told and on such a hot day not insignificant. Second, the constant changing scene below at sea level. The series of outcrops, stacks, caves, arches, coves, sand beaches and level rock outcrops some extending a fair distance out to sea. It was a moving picture show of the highest quality and the section from Flamborough Head to North Landing and beyond to Thornwick Nab probably the best. If you are going to do a coastal walk in Yorkshire then for sheer variety this one will take some beating. Let us carry on walking shall we.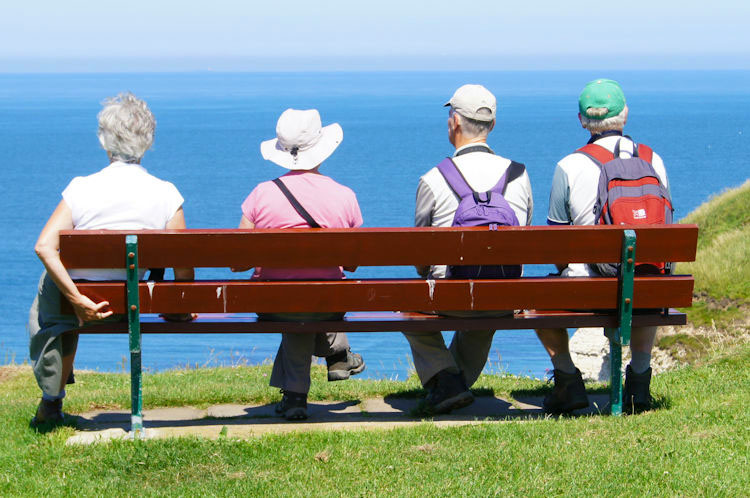 Enjoying the view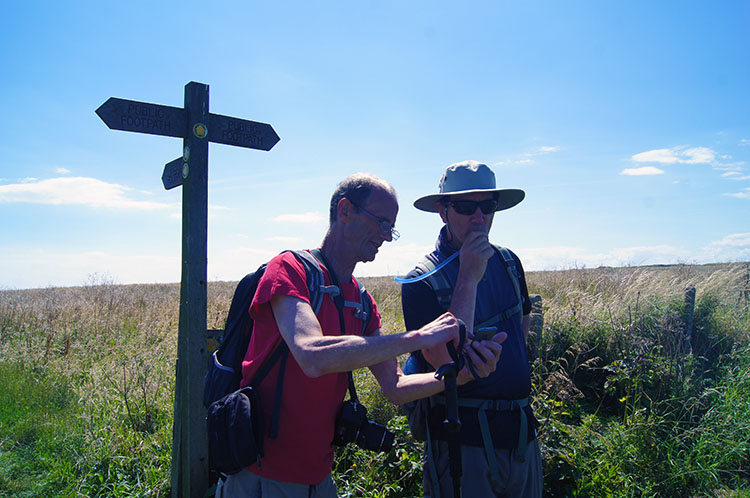 Leaving the coastline at North Cliff
Many were enjoying their day out on Flamborough Headland. While we walked we observed youngsters playing out on the sanding beaches and teenagers bathing in the North Sea - brave souls! We saw the aforementioned school group and we saw courting couples of all ages. We saw families picnicking all around. And we also saw lots of retired folk just ambling around or sat at peace looking out to sea. Everyone was having a good time and so were we but inevitably all good things must come to an end and for us the very good walk along the brilliant Flamborough Headland Heritage Coast had come to its conclusion. We were at North Cliff, seven miles on from Dyke's End and in a happy mood. We lingered by our exit point from the coast path for quite a while. The reason was that Dave and John chatted about something while I just looked out to sea. They could have talked longer, I would not have cared but we had to go inland eventually. So of we went on a path along field edges towards Flamborough. I will not beat about the bush, the path back to the village was boring. Enough said.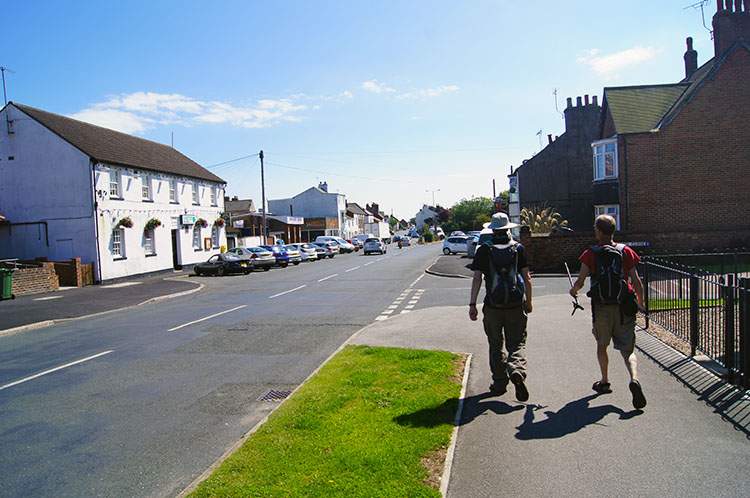 Walking through Flamborough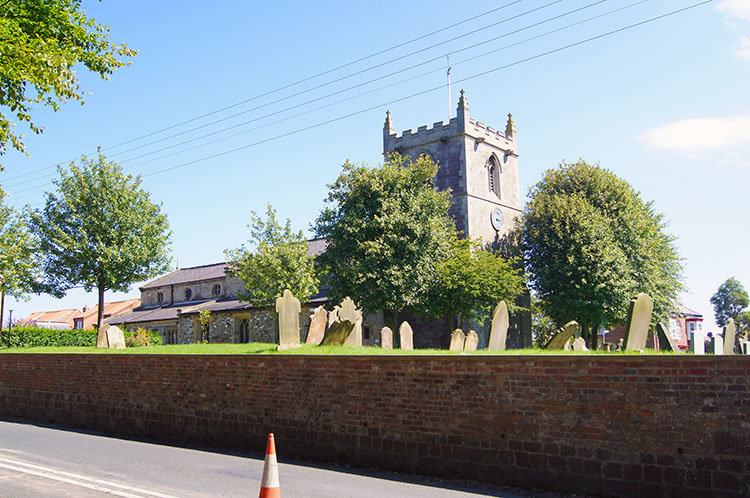 St Oswald's Church, Flamborough
We walked into the village at Craikwells which led to Chapel Street which we followed back to our start. I found the walk through the village interesting as people going about their business provide distractions. A car owner discussed what needed doing with a mechanic at a garage. People chatted at tables outside a cafe. Drivers parked in spaces at shop rows and went about their shopping. Three workmen laying superfast broadband cables were bringing the village into the technological age. These events took us to the site of Flamborough Castle, a small ruin of chalk, not evidently recognisable as a castle really. Soon after passing the castle we passed Flamborough Church, much more impressive. Then we were back at the car.

In conclusion this was really a memorable walk. The seven mile stretch of coastal walking was amongst the finest I have ever done and to have such coastline in my home county of Yorkshire a real bonus. Chalk cliffs are up there with the best, they provide such staggering variety. And lets not forget Dane's Dyke which was a perfect bonus.
Copyright © 2003-2023 Walking Englishman. All rights reserved.