Ambleside, Loughrigg Fell, Loughrigg Tarn and Skelwith Bridge
Google Maps
Open Source Maps
| Statistics | |
| --- | --- |
| Start: Ambleside | Distance: 3.4 miles (5.2 km) |
| Grid Ref: NY374043 | Time: 2 hours |
| Climbing: 225 metres | Rating: Easy |
| GPX Route File | Google Earth File |
Ordnance Survey Explorer Map (1:25,000)
OL7 English Lakes South Eastern Area

Summary: This is a pleasant walk which is perfect as an introduction to walking in the Lake District. The walk is popular and is suitable for people of all ages including courting couples and those with young families. The route has all the features you would expect from a Lakeland walk with some climbing, some fell walking, a descent and even a visit to a tarn. The initial climb out of Ambleside to Loughrigg Fell is the toughest part of the walk so you'll be glad to know it is soon polished off leaving the rest of the walk a pleasant experience at an elevation with lovely views. The visit to Loughrigg Tarn is also special as it is in a lovely setting. And when the walk is completed you can celebrate with a drink in Skelwith Bridge. And if you are still feeling good you can always walk back.
---
The Walk: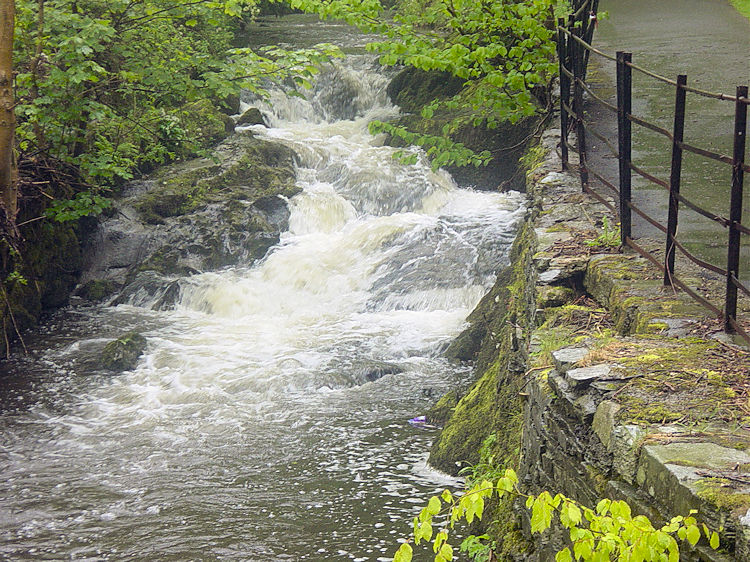 The River Rothay at Ambleside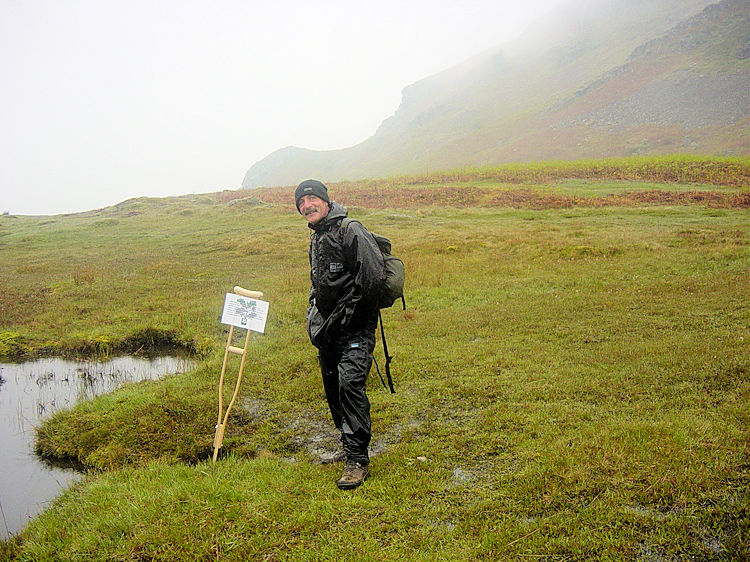 Unnamed tarn on Loughrigg Fell
Steve and I discovered this lovely walk by chance. We had arrived in Ambleside on a Saturday afternoon at the start of a five day walking break in the Lake District. We were glad to be back for it was a couple of years since our previous visit and we were desperate to get out onto the fells. We simply could not wait until the morning so we decided to fill the four hour window we had before we were to investigate the town by doing a short walk. Thus I got out the map and plotted out a route which would take us from Ambleside to a tarn. This walk was the result and what a great little walk it is. Starting from our digs which were conveniently near the church we walked through Rothay Park to cross the river via a footbridge. This led us along a road for a few yards before cutting off on a lane due west to Brow Head Farm and then to Miller Brow. It was a good climb we were on as we continued on by the side of Deer Hows wood onto Loughrigg Fell. The fell is a lovely spot with great views back to Ambleside which we could see despite the gloomy afternoon. Paths criss cross all over this popular walking area and we could have explored it for ages. However we stuck to our course heading west and off the fell after passing Ivy Crag.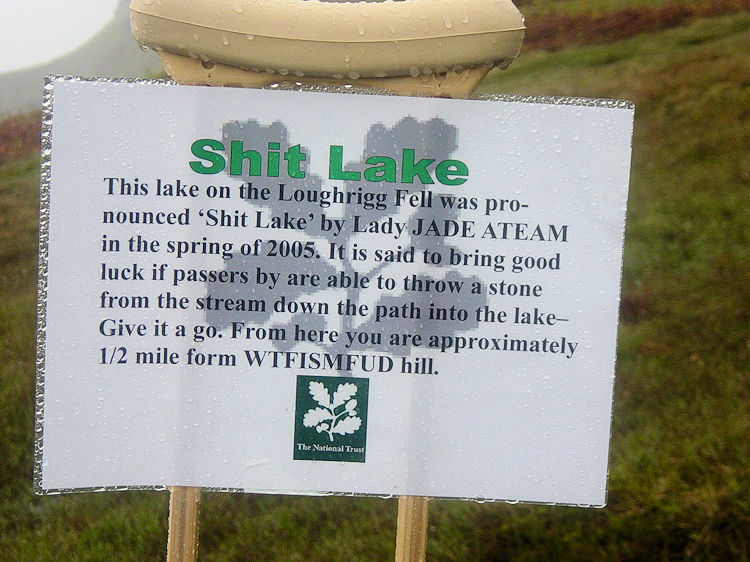 Shit Lake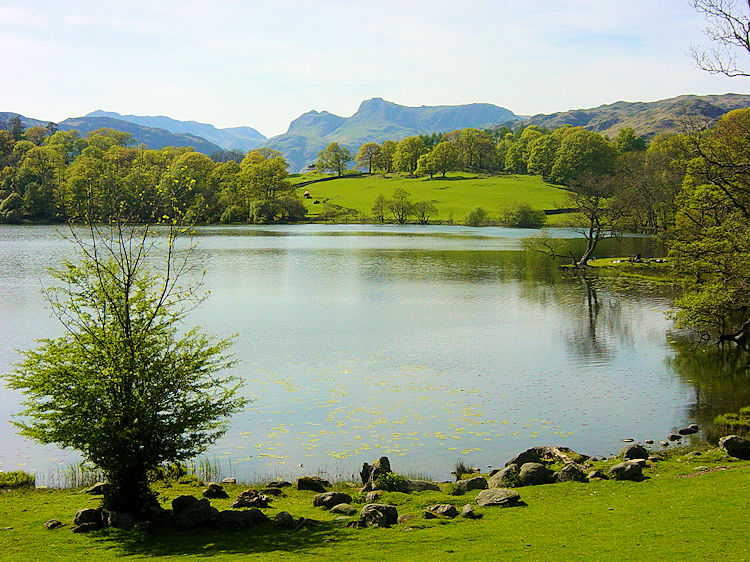 Loughrigg Tarn
On Loughrigg Fell we came to a small tarn which is unnamed on the Ordnance Survey Maps. Amusingly it had been named Shit Lake by a team of enterprising youngsters, probably a team on a school field trip. Had the weather been better they may have called it Nice Lake. They only needed to wait for as we strolled away the sun began to pierce the clouds and the sun soon warmed things up. We descended from Loughrigg Fell in the ever improving conditions. Once off the fell we followed a path enclosed by walls on either side to a gate from where we crossed north over two fields. Once across the fields we were on the banks of Loughrigg Tarn. The sights and surroundings of the tarn are really fantastic. Steve and I soon relaxed and forgot about all our ills as we sat by the side of the tarn. It was becoming a lovely sunny afternoon and the idyllic backdrop was spellbinding.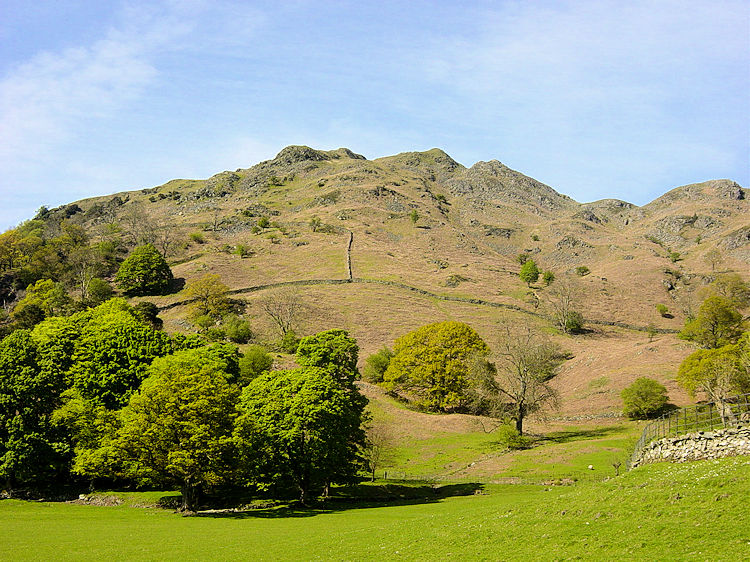 Loughrigg Fell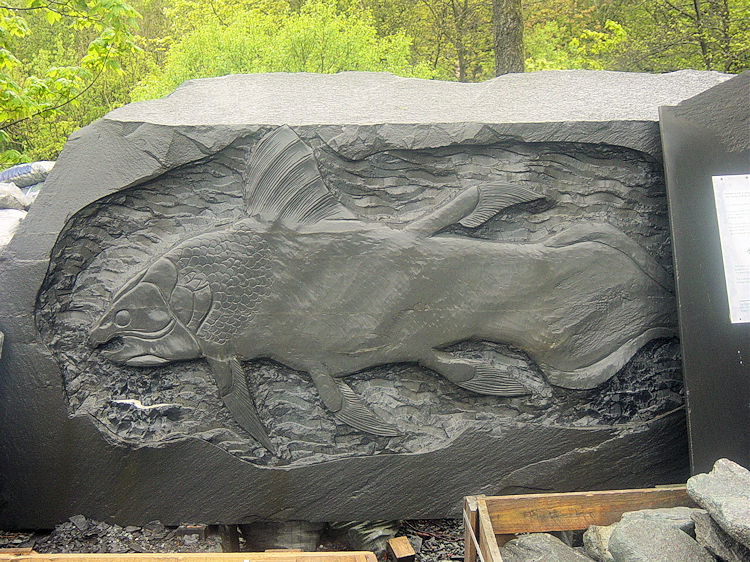 Skelwith Slate Fish
The views west from Loughrigg Tarn to the shimmering Langdale Pikes filled us full of anticipation of the great walking we had planned in the coming week. We were not to be disappointed but for now we relaxed for some appreciable time before we left the wonderful setting of Loughrigg Tarn and tracked south to Crag Head and Little Loughrigg before descending into Skelwith Bridge. While in Skelwith Bridge we decided to visit the Slate centre and walk the short distance to Skelwith Force.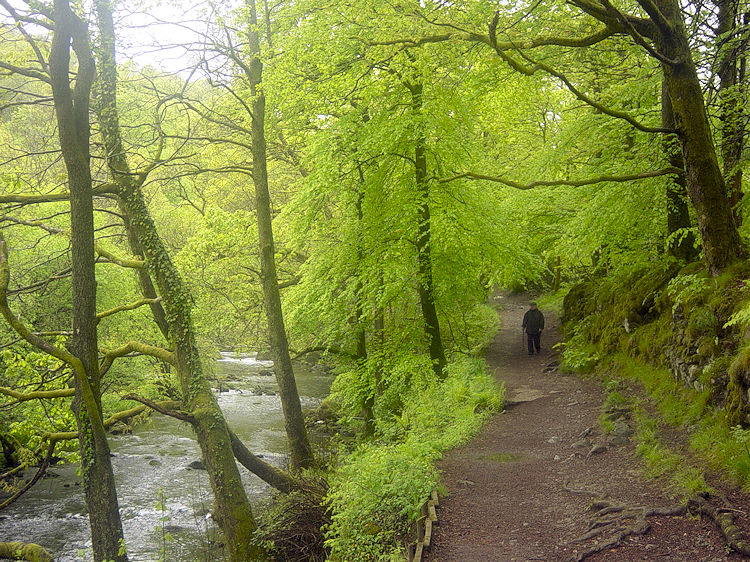 Path from Skelwith Bridge to Skelwith Force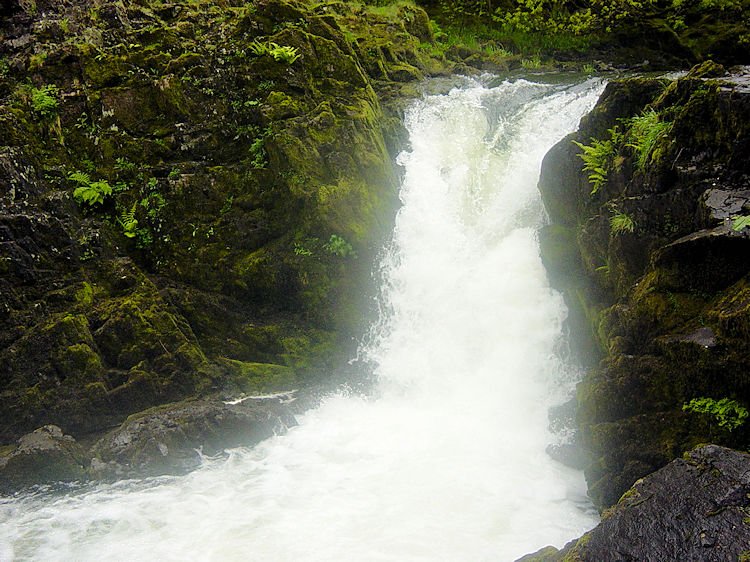 Skelwith Force
The short walk on the footpath along the River Brathy was enjoyable as the rush of water following the rain earlier in the day made the anticipation of viewing Skelwith Force in good spate a thrilling one. And the waterfall did not disappoint as it displayed a voracious white plume of water as it cascaded over the rocks. Skelwith Force is small and though compact it is no less dramatic than some waterfalls which have longer drops. We were satisfied by the short impromptu addition to the walk. We had so much enjoyment on our short curtain raiser that we walked straight back to Ambleside as an appetiser for a deserved exploration of the Ambleside pubs.
Lake District Walks
Homepage

Copyright © 2003-2019 Walking Englishman. All rights reserved.