Riggindale Crag, High Street and Mardale Ill Bell
Google Maps
Open Source Maps
| Statistics | |
| --- | --- |
| Start: Mardale Head | Distance: 5.9 miles (9.5 km) |
| Grid Ref: NY469107 | Time: 3 hours |
| Climbing: 637 metres | Rating: Hard |
| GPX Route File | Google Earth File |
Ordnance Survey Explorer Map (1:25,000)
---
Summary: This is a stunning walk from Mardale Head at the head of Haweswater. The main feature is a fantastic ascent up Riggindale Crag to High Street which apart from gaining all the height of the walk provides excellent views of Blea Water. From High Street it is an easy walk to Mardale Ill Bell before returning to Mardale Head via Small Water Crag. (story of the walk and pictures by courtesy of John Deasey)
---
The Walk: An area of the Lakes we hadn't explored much is a corner accessed from Haweswater. On a previous walk following the Kentmere round, we had noticed a wonderful looking ridge across from nan Bield Pass. This was Riggindale Ridge - the home of the last remaining Golden Eagle in England. The RSPB have a presence in this area and there is even a specially made shelter where you can watch from. Not wanting to waste several years of our lives sitting in a fabricated shelter watching for a big bird that may or not exist, we decided we would bypass the shelter and just do the ridge.

After several recent 'epic' walks we thought it might be nice to keep this one short and treat it as more of a ramble rather than a full frontal assault on the steepest crags and gullies in the shortest possible time ( .. a typical JD trait for better or worse)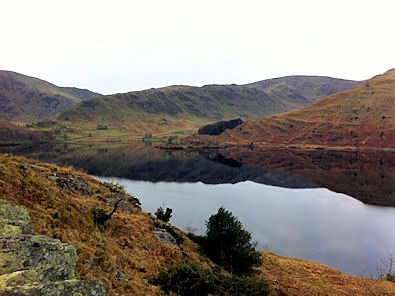 Haweswater in early March, looking south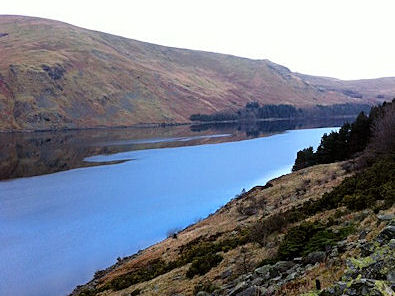 Looking north along Haweswater
The drive to Haweswater was interesting as we pulled off at Shap and meandered through several tiny villages before being confronted with a ROAD CLOSED AHEAD sign.... oh no we thought (or words to that effect). United Utilities are doing some major pipe laying along the road edge and we decided to take our changes and hope the signs were a bluff. To a degree they were, but there several minor closures we circumvented by either moving barriers or waiting patiently whilst the men in giant diggers saw us and moved over politely, probably well used to walkers completely ignoring the signs.

It's always good to arrive at an empty car park and this was no exception - a stunning little place at the head of Haweswater. The early arrival had actually been put in jeopardy a couple of hours earlier as one of our party had been the victim of an unplanned night out and at the departure time of 6.00am was still sleeping. We waited impatiently for Mr Smith who tumbled out of his house 15 minutes late, then proceeded to spill his rucksack bladder all over the boot of the car, soak his clothes in the process, try and get back in his house only to realise he had locked himself out ! Spare socks were available and drink could be purchased so he left the pile of soaking clothes on his doorstep for his wife to find later on (and thinking he had done a Reggie Perrin ....)
Looking across Haweswater from Riggindale Crag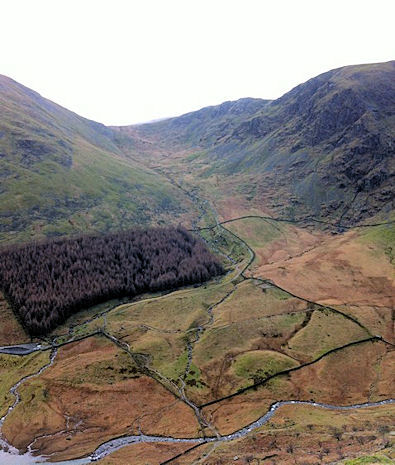 Gatescarth Beck across the valley
Back to the walk - a mirror-like Haweswater was the stunning backdrop for the first section as we walked towards The Rigg before cutting back on ourselves for the ascent of Riggindale Crag. As this was a meandering sort of day, there was no manic pace and we able to really enjoy the peaceful surroundings without another soul anywhere to be seen. The early chill in the air was quickly turning into a lovely warmth and we shortly had to de-robe and pack our winter gear away to take advantage of the spring-like weather.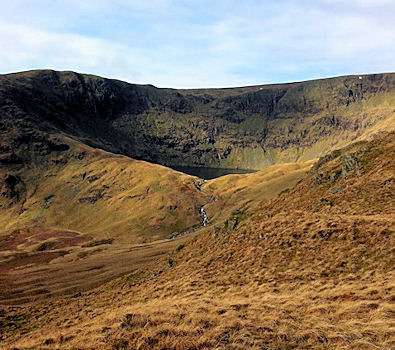 Blea Water appearing
Neal and Smiffy on the Riggindale ridge
Riggindale Crag is a lovely ridge, with hints of Haystacks, as the path traverses small hollows and depressions with heather and tiny tarns dotted everywhere. Steeply up Swine Crag, then above Heron Crag and Eagle Crag to traverse Rough Crag and to Caspel Gate. There is a lovely airy feeling as you climb steeply at first and then level out to a beautiful raised ridge with absolutely no dangerous edges or hint of danger. The views this morning just kept getting better and batter as we gained height - Haweswater glimmered below us, the Howgills could be glimpsed in the distance and Gatesgarth Back swept majestically up to the south. Blea Water was now coming view and the view was every bit as dramatic as Red Tarn under Helvellyns precipitous eastern face, With the water so still, amazing reflections of the clouds and sky were ever changing and we were basking in the warm glow of spring sunshine, delighted with how things were turning out.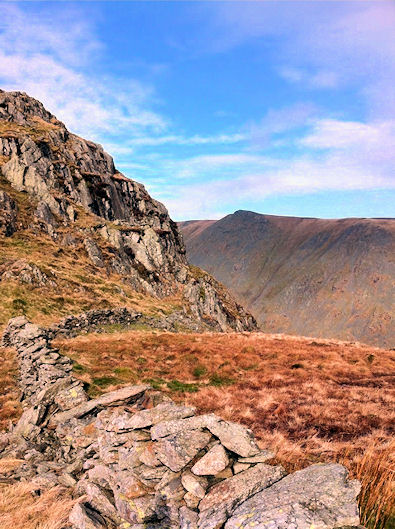 View over to Kidsty Pike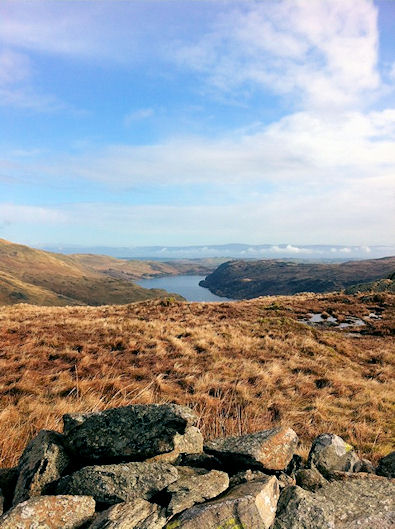 Howgill Fells in the distance
During one of our frequent photo stops, a couple of young lady fell runners came scampering past in lycra cheerfully blowing snot rockets in our direction - it was tempting to give chase but we decided against it bearing in mind our age ....

The last drag up Stile Crag is a cracker - plenty of choice for hands on scrambling or clever path-picking, plenty of interest in every step and as hard as you want to make it - a fantastic little ascent.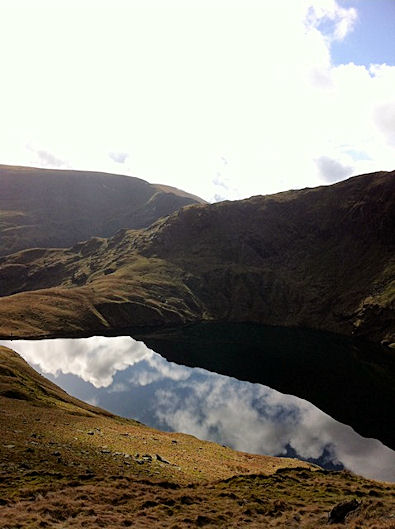 Reflections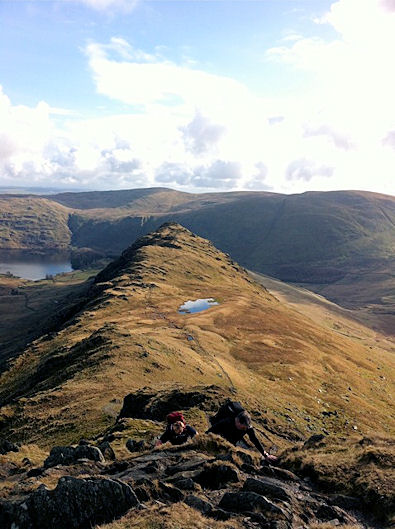 Riggindale Ridge
Sitting in the sun on the top of Blea Crag taking a breather and watching the crows play on the air currents below us was stunning despite there being no sign of an eagle. After a few minutes of peaceful revelry and the usual nonsensical conversations about nothing in particular, we moved on and went up to the very clear crossroads of High Street, From the trig point here you could see for miles - Caudale Moor, Hartsop Dodd in the foreground with the distant fells of the Western lakes clearly in view including Grisedale Pike.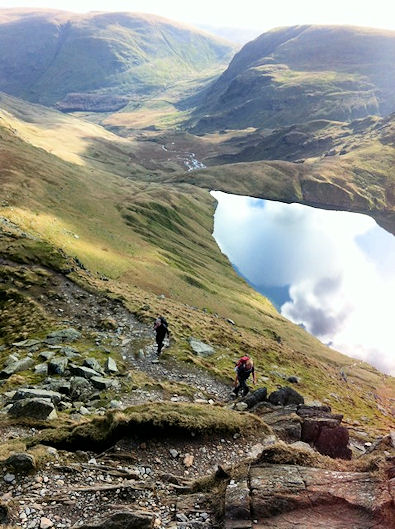 Neal and Smiffy before the last push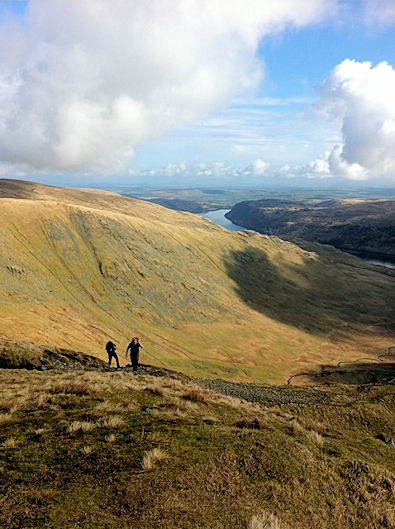 Majestic view
To the south the whole of the Kentmere horseshoe was in view with the impressive Froswick, Ill Bell and Yoke rising majestically in a southerly line. We wandered off towards this stunning trio of Wainwrights but our target was to veer off towards Mardale Ill Bell and we walked along a stunning section of path (more like a mountain bike track actually...) that was akin to walking along the last final road to heaven - the sun rays were shining down and the path just seemed to disappear off into the heavens.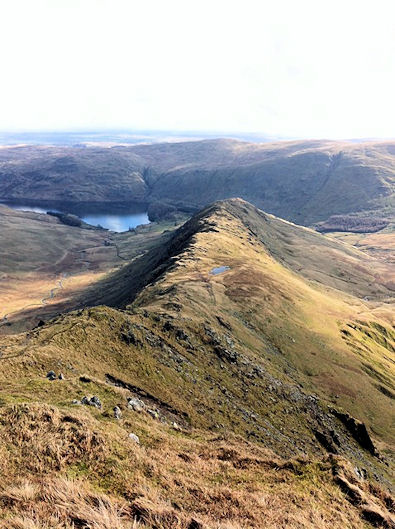 Looking back at Riggindale Ridge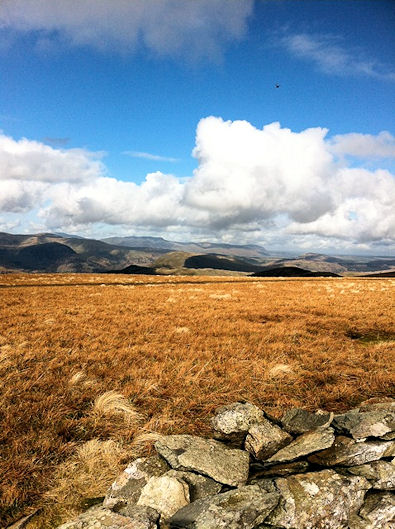 On High Street
Ominously the clouds were gathering from the south and rain was definitely in the air as the temperature shifted several gears down and made us 'winter'-up' again - now it was bloody cold and we decided a nice short-cut back to the car could be taken off Nan Bield Pass down past Small Water. What a good choice this was - a fantastic descent, never too steep, never too rocky and quite simply a delight. The only misgivings we had were bumping into two posh blokes who sad "Yah, yah, yesterday we were cycling in Morecambe, jolly good it was too...". I gave them short shrift as I usually do.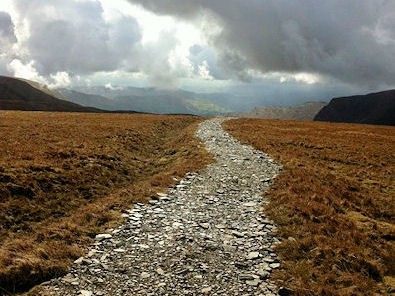 The road to heaven?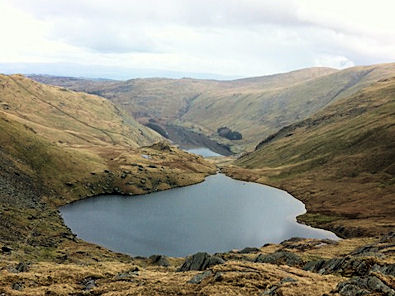 Small Water Tarn
After shrugging off the posh toffs we moved on to try and work out a new toy - some sort of stove that Mr 'late' Smith had brought along. It was designed to boil water in 60 seconds but more like 60 minutes later we were still sat there watching it pathetically bubbling about as warm as a puddle on a summers day. Eventually it somehow dragged itself to boiling point and soup was created from a packet mixed with this 'boiling' water and we sat there like three old farts happily eating our butties, drinking 'soup' and generally thinking how clever we had been. An easy descent alongside Small Water Beck followed and this was the finale to one of our shortest, but most enjoyable walks - a real little beauty!
Copyright © 2003-2023 Walking Englishman. All rights reserved.