Scafell, Scafell Pike and Lingmell from Wasdale Head
Google Maps
Open Source Maps
| Statistics | |
| --- | --- |
| Start: Wasdale Head | Distance: 6.9 miles (11.1 km) |
| Grid Ref: NY187085 | Time: 4-6 hours |
| Climbing: 1,343 metres | Rating: Strenuous |
| GPX Route File | Google Earth File |
Ordnance Survey Explorer Map (1:25,000)
Summary: Scafell Pike is climbed from all directions but the ascent by the Brown Tongue/ Lingmell Gill route has become the most popular due to the rise of the National Three Peaks challenge. However, those seeking a quick up and down of Scafell Pike miss out on so much which is available to them nearby. They pass Lord's Rake and Scafell without a thought and that is a shame. To climb Scafell and Scafell Pike in the same walk is surely the best way to go about a walk amongst the Lake District giants. This walk does just that and throws in a bonus too, a return via Lingmell and an exhilarating descent with Wast Water and Wasdale spread out in all glory before you.
---
The Walk: I had wanted to do this walk for such a long time. My previous ascents of Scafell Pike had been from the north via Seathwaite and the Corridor Route and from the south via Moasdale and Bowfell. On all the occasions I had made the climb to England's summit I had thoroughly enjoyed them. But while my adventures to Scafell were treasured memories other walkers had advised my Scafells adventures were not complete until I had climbed Scafell Pike from Wasdale Head. Some of them had eulogised to me about the merits of the climb via Lingmell Gill to Brown Tongue and the unfolding drama the ascent provides. I was now to find out about this drama for myself.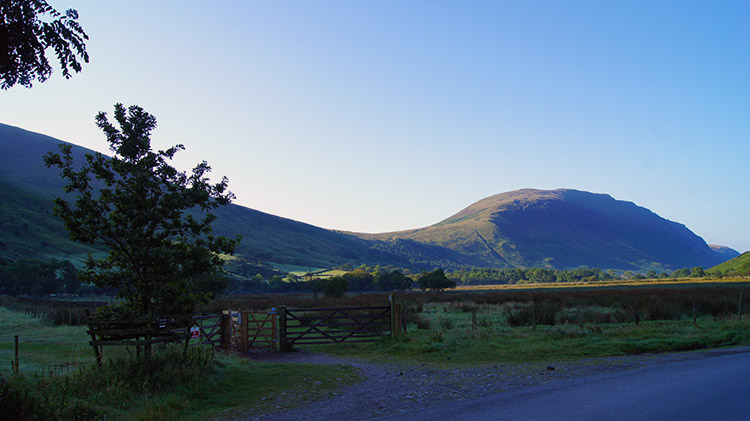 Looking towards Illgill Head from near Lingmell Beck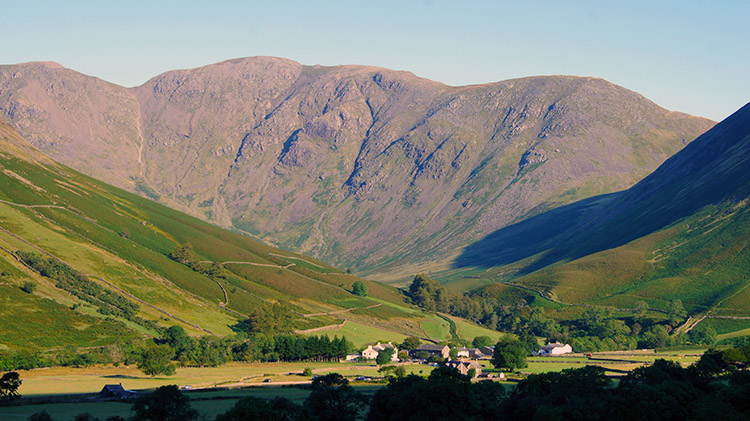 Wasdale Head and Pillar
I set off from Wasdale Head on a lovely sunny morning. Despite it being late summer our beaming star was quickly heating up the land around. Morning dew had been condensing fast as I had driven into Wasdale and now that I was on my walk all the condensation clouds had dissipated and disappeared. It was such a glorious scene as I tracked south across the western lower slopes of Lingmell which later on would be my final mountain ascent of the day. I looked back to Wasdale Head which looked just perfect in the early beauty of day, a scene perfected by the sun kissed south facing slopes of Pillar providing the perfect background.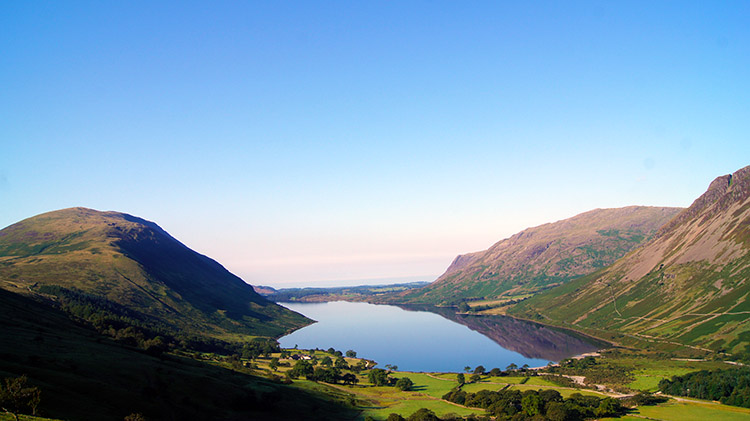 Wast Water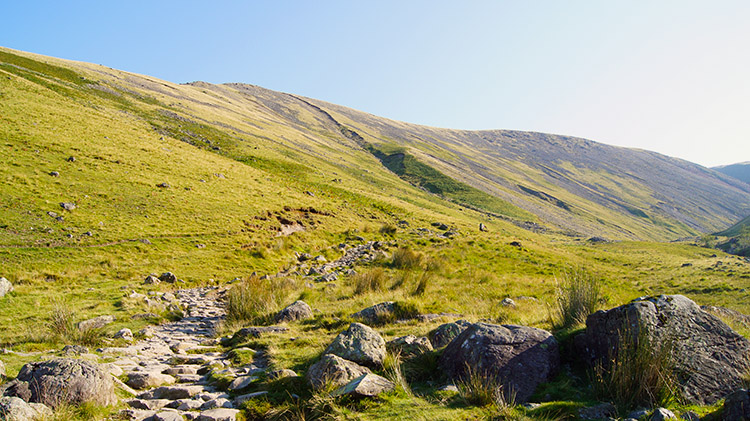 Path to Brown Tongue
As I gained height with every step I was drawn to turn my head right and look due west across the expanse of Wast Water. While the north face of Illgill Head and the Screes remained mysterious in shade the crinkly features of the south faces of Yewbarrow and Middle Fell stood out in the face of strong morning sunshine. Beyond Wast Water a white glow of dazzling brightness hung over the west coast of Cumbria. All was alluring but I forced myself to withdraw attention from the scene and walk on. I had a climb to make and I wanted it to be largely over before I was subject to the high heat of midday. The climb began in earnest as I turned from a south to east course and as I followed the path upwards which tracks parallel to Lingmell Gill.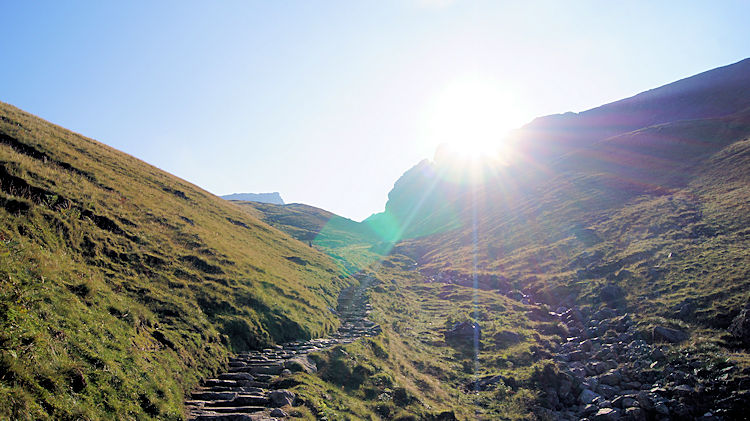 Sunrise on Lingmell Gill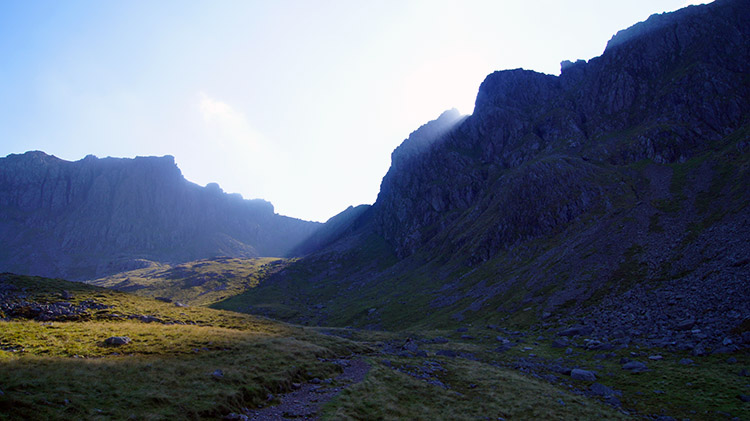 Black Crag
At first the Lingmell Gill path was a cobbled way but as the climb steepened the path became stepped. I was now climbing a very long and steep staircase. I set myself the task of 50 steps and then a short break to ease the increased heartbeat. I often do that. As I made my cycles of exercise and rest I cottoned on to the drama I was promised on this route. The further I climbed the more palpable the drama became. Huge bastions of rock were coming into view and imposing themselves on the immediate view. First to do so was Black Crag which looked even more dramatic than normal because of the sunrise peeking over its high shoulder. It provided a stunning picture and though I was eager to get myself into full sun the steep path made sure my moment of drama in seclusion of partial shade lasted a while longer. I huffed and puffed my way to where the path split near Hollow Stones as quickly as I could.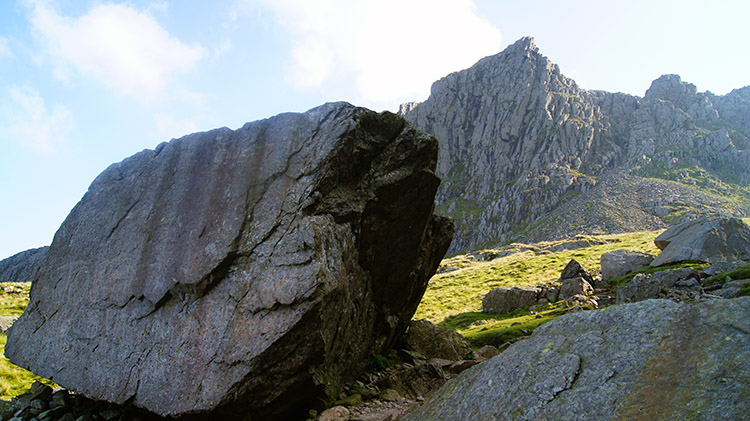 Erratic and Pulpit Rock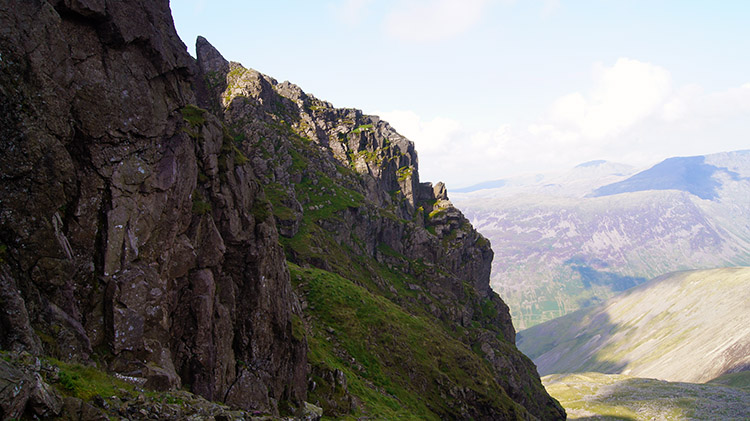 Exposure above Lord's Rake
The path split to present options. Take the path to the left and climb to Lingmell Col from where the ascent of Scafell Pike is pretty straightforward. Follow the path to the right and head towards Mickledore from where the climb to Scafell Pike is also pretty routine. I took the path to the right but Mickledore was not my goal, not yet at least. After a short while I came to a second fork in the path and forked right once more. All other walkers on the path, including a couple I had stopped to chat with, had stayed left and they watched me as I scrambled up a path to access the path on a narrow exposed shelf which leads to Lord's Rake. It was a tough section of climbing with loose scree sometimes taking me downwards when I was striving to go up. I took to all fours a few times in order to arrest the slips and slides. It was arduous on the exposed path but eventually I reached my intended location. Lord's Rake was dead ahead. Before I continued into the rake I waved at the people I had spoken to on the path below. They waved back. All was good.
Lord's Rake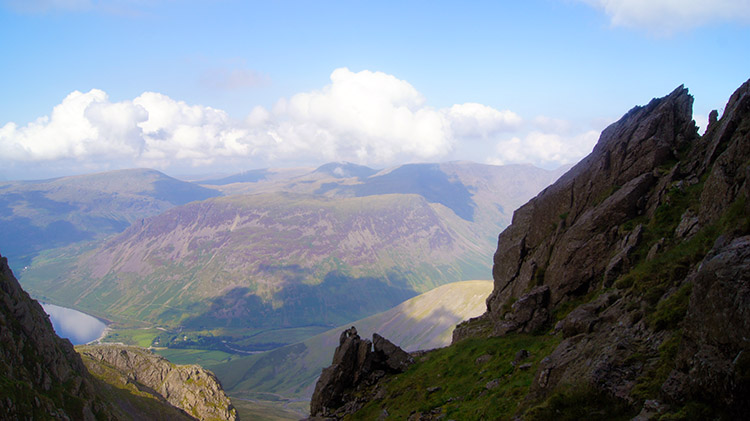 Stunning Lakeland view
Lord's Rake is a favourite place of mine. It is a narrow gully filled with scree which is sheared off the sheer cliffs on either side of the gully. Trying to ascend Lord's Rake by sticking to the middle of the gully is nigh on impossible. The loose scree is almost certain to force you down before you give up through wasted effort and exhaustion. Stay on one side, as I do, and you should make it. I went up staying close to the right hand side of the gully. I always do. For respite, when halfway up, I clambered up from the rake and looked out over the high Lake District scene. It was so attractive and for this precious moment all mine. After a while looking out in awe I descended back into the belly of Lord's Rake and completed my climb by passing the chock-stone which caused Lord's Rake to be closed for some time. Note, the chock-stone will dislodge and fall down the rake one day. However much more scree and rocks will dislodge themselves from the cliffs above before that happens. Adventure always carried risk.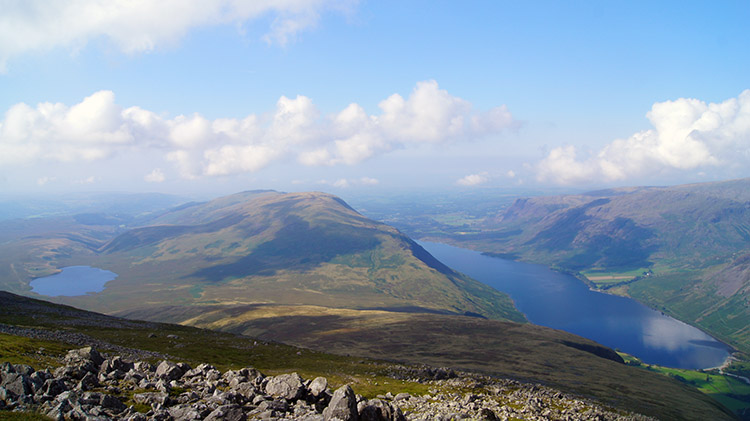 Burnmoor Tarn, Illgill Head and Wast Water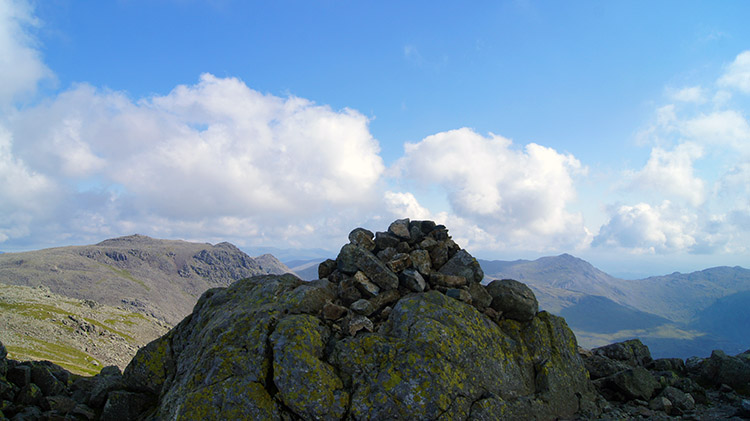 View from Scafell to Scafell Pike
Completing the ascent of Lord's Rake provides a tremendous reward. Continue from the top of Lord's Rake to Scafell Crag provides a brilliant view to the uplands south-east of Illgill Head where Burnmoor Tarn is the principal feature. I love the image of Burnmoor Tarn, Illgill Head and Wast Water all being in the same frame. It is a magic one. Turning away from the view I climbed to the summit of Scafell via Symonds Knott. I sat at the summit 964 metres high and on the second highest mountain in England to take refreshments in relative solitude. Though there were a couple more hikers on the mountain it was not like the masses I could see trundling across Scafell Pike. What a difference 14 metres of height makes.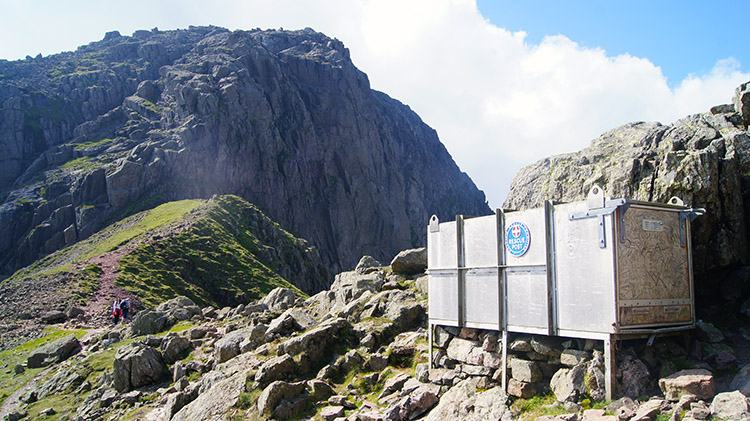 Broad Stand and Mickledore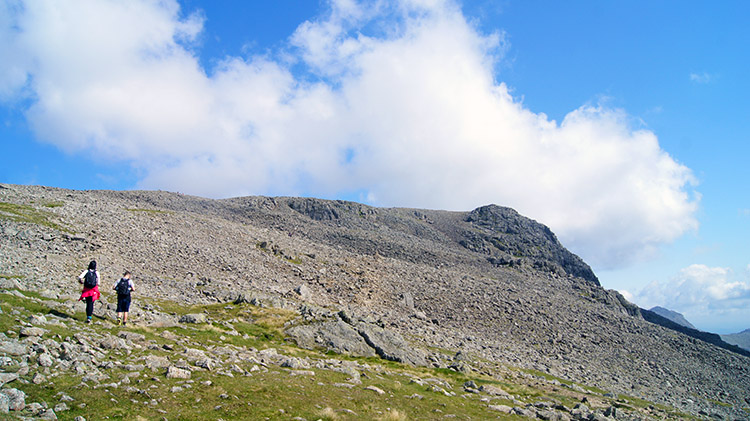 Road to Scafell Pike
The way off Scafell was tricky. It was via Foxes Tarn Gully and though I had done it a few times before it wasn't any easier a task. There is no way it can be rushed and I shuffled down on as wide a zig-zag tacked course as I could. It was a well formed meander route made by those who had struggled down before me and indeed I followed a chap just in front of me, cautious step by cautious step. As we got further down and into the narrowing gully I caught up with the man ahead and on feeling my breath on the back of his neck he beckoned me ahead. We spoke about the fun we were having and continued down together. The path became full scrambles over larger rocks and sometimes over slippery rocks on a developing watercourse. My steps were followed in exactitude by my new companion.

From the bottom of the Foxes Tarn Gully we followed the path below the face of Broad Stand and then across the Mickledore shelf to reach the west side of Scafell Pike. In sight of the top but not there yet though. There was still over 150 metres of climbing to do over the extensive rock field which forms the heights of Scafell Pike. My new friend and I parted to take separate ways to the summit. On shattered rock paths, over rocking boulders and past lines of cairns I went. Lots of other walkers were making their ways to the summit too. All over the place the were groups of summiters. There was no uniformity.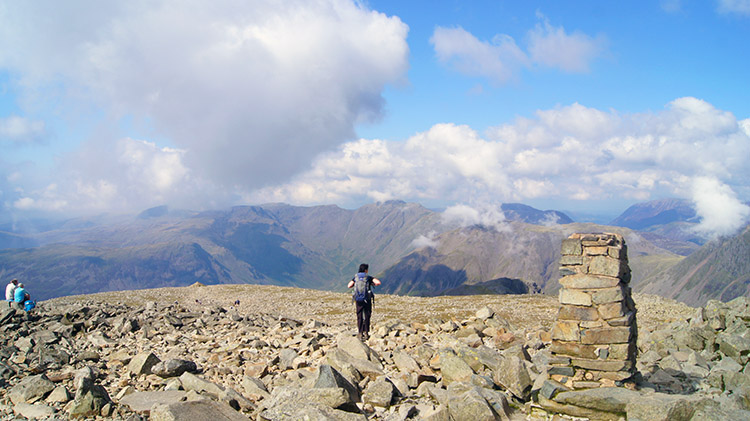 The summit of England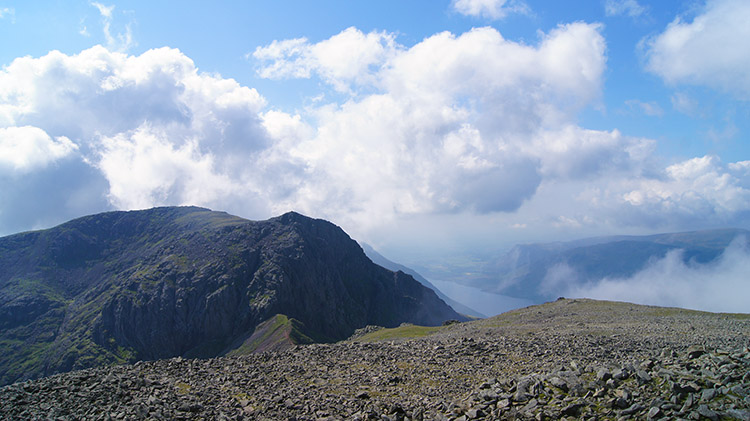 View to Scafell from Scafell Pike
After the thrill of walking on paths and hopping over boulders to the trig pillar which marks the highest point in England I settled down beside the nearby summit shelter and took my main refreshment break of the day. As I sat I waved to the chap who had accompanied me down Foxes Tarn. He was also enjoying a refreshment break. Other walkers were too and nobody was in a hurry. Even at nearly 1,000 metres above sea level the sun was doing its work to warm us and there was little breeze to bother us into hurrying our breaks. Fluffy clouds were crossing the sky from west to east and as they followed the lines of the valleys surrounding the mountain they seemed at low enough a level to touch. It was lovely. A lady opened up her rucksack and took out a cuddly Teddy Bear. She sat it on the trig pillar and stepped back to take a photograph. "For my family" she told me.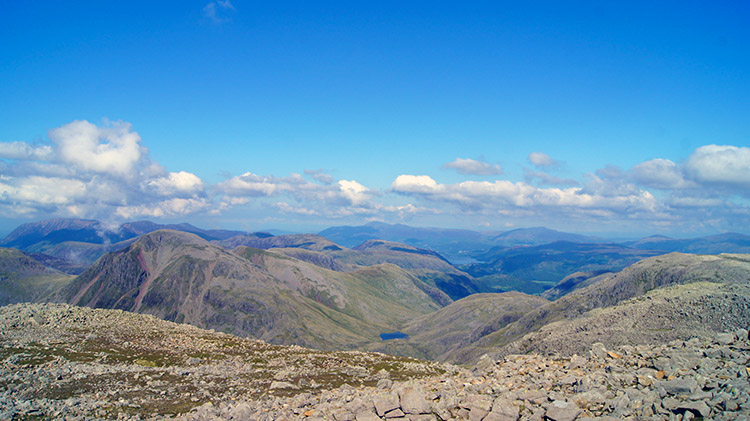 View north to Great Gable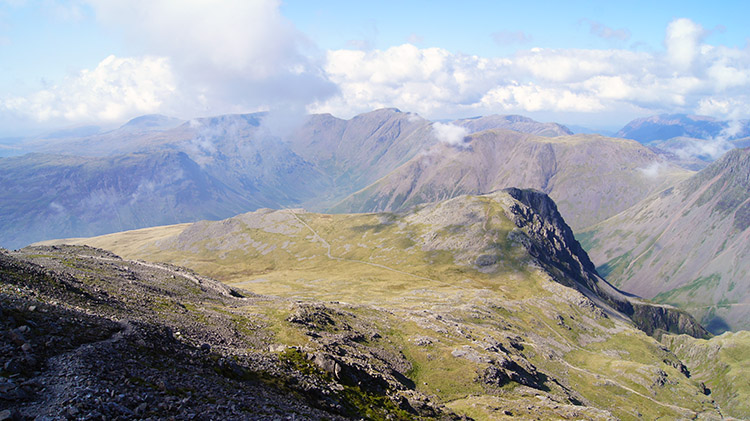 Destination Lingmell
After finishing my refreshment break I took leave of the Scafell Pike summit entertainment provided by the weather and by human intervention. After one final sweep of the panorama I headed off on a north-west course towards Lingmell Col. As I walked I fixed my eyes on Great Gable which I knew was on my exact course. I watched clouds wafting over the summit of the mountain. Some missed it completely, some kissed it and others covered it for a while before moving on and leaving its summit basking in sunshine once more. Eventually I reached a point above Lingmell Col which required me to pay more attention to the terrain I was on. I would need to employ my hands as well as my feet to make my way down to the col. With leaps, bounds, shuffles and sidesteps interspersed with short stretches of elementary walking I reached Lingmell Col and crossed the course of the Corridor Route in order to access Lingmell.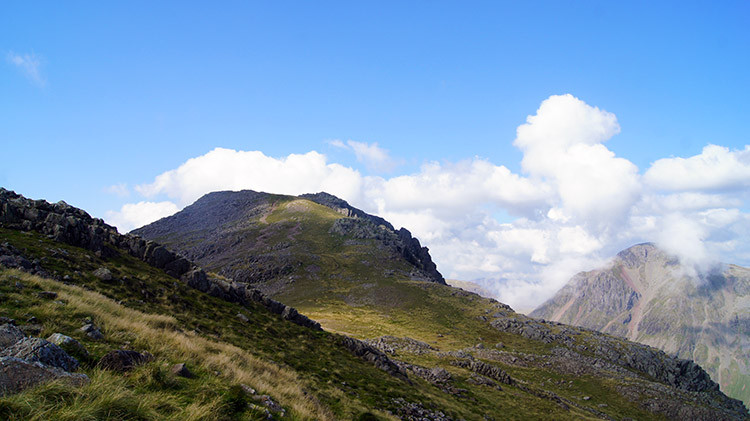 Lingmell and Great Gable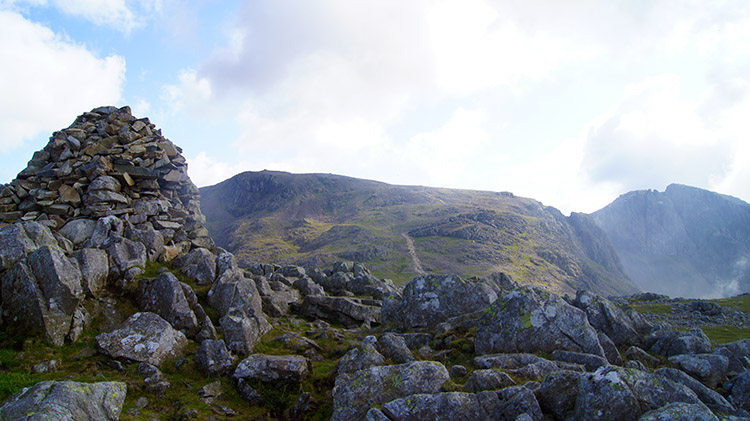 Summit cairn on Lingmell
After the intricacies of the descent to Lingmell Col and with the attention to detail required to make the ground safely the final haul to the summit of Lingmell from the col was very easy. After 75 metres of climbing on a straightforward path I was there, on the summit of Lingmell. To my surprise three men were resting on a rock platform near the summit and basking in the sunshine beaming down on them. They were from the Midlands and like me they were enjoying a short break in the Lake District. We agreed how fortunate we were with the weather. It was perfect for walking even though the clouds were now increasing in size all around us. "They are not threatening, just dramatic" I said, more in hope than with any semblance of meteorological knowledge.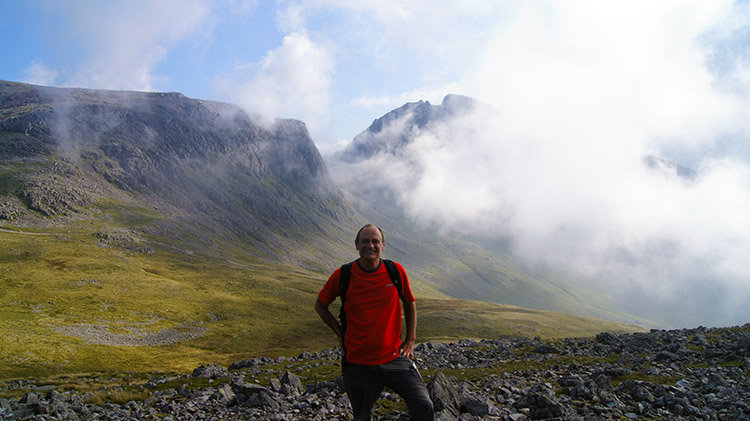 Been there, done that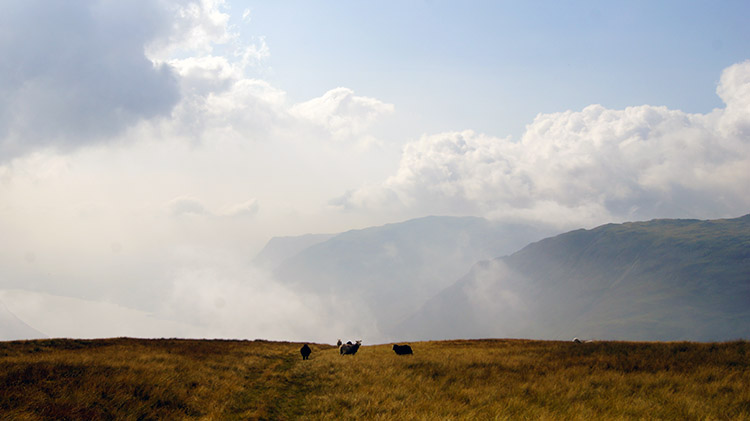 Grassy descent of Lingmell
The lads from the Midlands were kind enough to take a photograph of me with the dramatic sweep of cloud sweeping across Scafell directly behind me. "Thank you". After wishing them a good day and fair weather for the remainder of their time in the Lake District I set off towards home by following the path leading west via Goat Crags to the base of Lingmell. It was a lovely grassy path with just the right amount of bounce. The type of bounce which is easy on the feet after miles of walking on unforgiving rock while not being too giving as to suck tired feet into the ground. I followed the path not in the company of man but as is often the case in the company of sheep. They were grazing on the grass slopes and doing a really good job in keeping the grass to a comfortable height. Even by leaving the path I could bound through the grass easily. Sometimes it was fun to do so.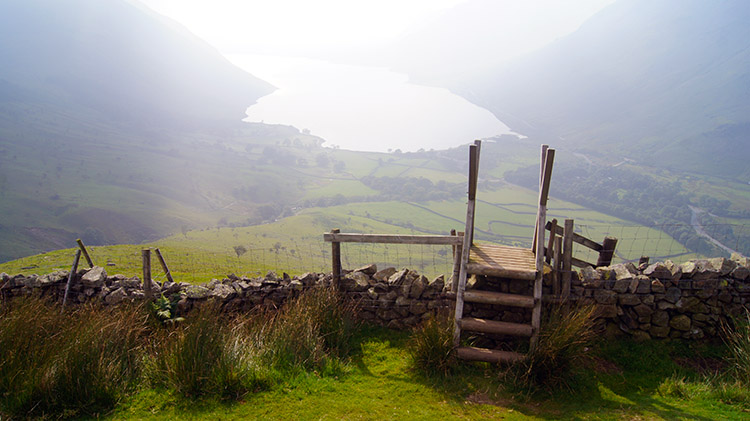 Nearly down from Lingmell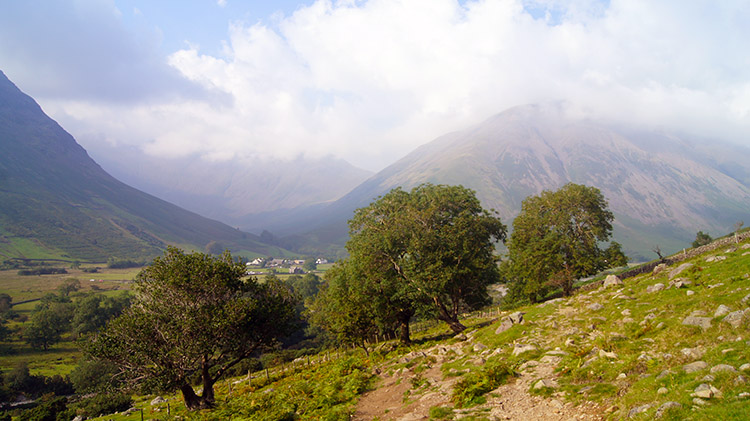 Heading back to Wasdale Head
The finale to the descent from Lingmell was the view to Wasdale and Wast Water. I had enjoyed it earlier in the day as I crossed the lower slopes of Lingmell but that time I had a task ahead of me. Now I could linger and look for longer. And so I did. Eventually I reached a stile (pictured) which I sat on for ten minutes just drinking in the view. It was a lovely accompaniment towards the end of a fantastic walk. After stepping down from the stile I walked to the path which I had left Wasdale Head from earlier. It led me back to Wasdale Head and to the end of my super walk. Brilliant it was.
Copyright © 2003-2021 Walking Englishman. All rights reserved.