Barley, Ogden Clough, Pendle Hill, Downham and Black Moss
Google Maps
Open Source Maps
| Statistics | |
| --- | --- |
| Start: Lower Black Moss | Distance: 7.3 miles (11.8 km) |
| Grid Ref: SD831418 | Time: 3-4 hours |
| Climbing: 500 metres | Rating: Hard |
| GPX Route File | Google Earth File |
Ordnance Survey Explorer Map (1:25,000)
---
Summary: Pendle Hill is an is an isolated area of upland, separated from the Pennines to the east and the Yorkshire Dales to the north. Due to its remoteness, alone from the giants it stands out in its impressive singularity as a draw to walkers. Being off our usual beaten tracks my friends and I have wondered if we would ever stand upon it. We finally did and this is the story of that walk.
---
The Walk: I love walking alone and contemplating while exploring new ground but it is always thrilling to go out walking with friends, even though I am invariably the one who is the target for satirical comment. This is probably because I am entrusted to choose the walks and the routes and as they are invariably new walks there is always discovery and with it paths to choose as we go along. One step taken by me in the wrong direction to the plan and they are pecking like vultures. However, don't fret for this trailblazer, this hardy soul for I can take it and believe me it's great fun! Today there were five of us, a triumph in itself as Steve was here from New Zealand, Martyn had escaped the DIY duties, Jez was looking forward to an evening celebration (thus an early start for us all) and Dave was living an unusual Saturday by being up early. Also it was Steve and Martyn's first meeting which had been preambled by Martyn's on-line tributes to Steve or as Martyn called him 'the moustachened sage'. There was a tribute to be done but not before we had walked to the top of Pendle Hill. Let's set off shall we.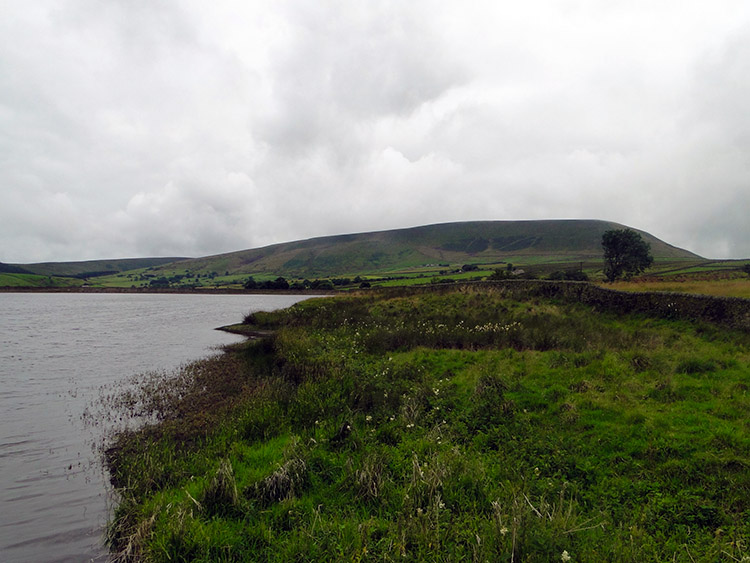 Pendle Hill seen from Lower Black Moss Reservoir
The boys pose at a signpost in Barley
I planned the walk to start at Lower Black Moss which proved to be a convenient spot as there was ample room to park the two cars we had travelled in. As soon as we parked up Martyn and Steve shook hands as they were meeting for the very first time. After the pleasantries and putting on our boots we set off by walking south along a permissive track to Upper Black Moss Reservoir. As we strolled along the lads talked about all sorts. I recall Jez prompting the subjects of politics and law which were grasped upon and discussed by Martyn, Steve and Dave while passing Upper Black Moss and Lower Black Moss Reservoirs. While walking we enjoyed views of Pendle Hill across the reservoirs in the west. As we looked over there was cloud ominously clinging to the top and sticking to a lower height of about 500 metres. As Pendle Hill stands at 557 metres that meant we were looking forward to walking in cloud. "I hope it lifts before we get up top" one of the lads commented. We hoped he was right. Soon we left the reservoirs behind and walked into the extremely well kept village of Barley. The exemplary cleanliness of the village was a true delight. If only all of England could have such pride. It was a joy for us to walk through the village on our approach to Pendle Hill.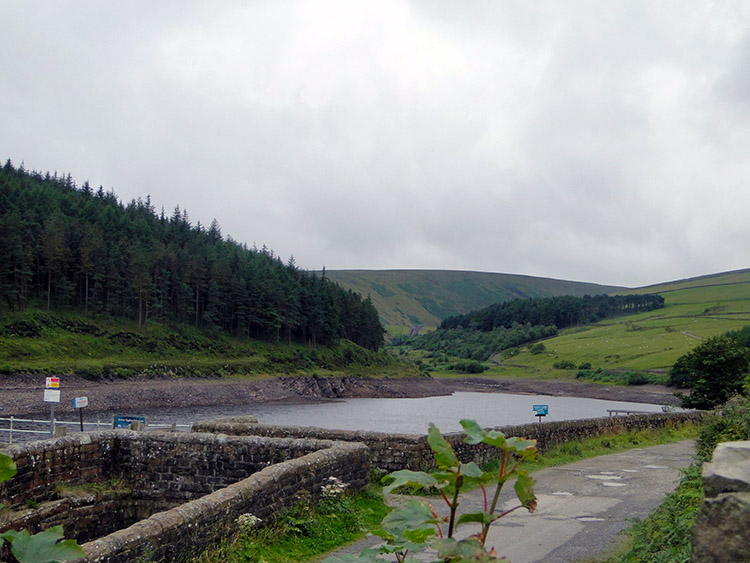 The water level was low in Lower Ogden Reservoir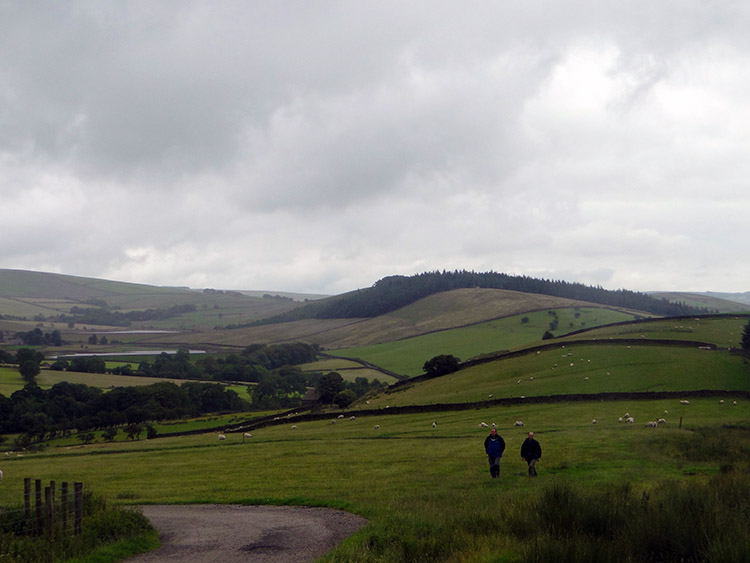 Looking back to Stang Top Moor
On leaving Barley we started to make our ascent, first by skirting the south side of Barley Hill then by climbing through paddock fields to Buttocks. As is sometimes the case we meandered between two paths, one by Lower Ogden Reservoir which was very low following the drought conditions of early 2010 and one running parallel 20 metres higher on the flank of the hill. It was ironic to see a low reservoir when we were walking past in murky rain but much more would be needed to saturate the soils and rocks to permeate into the reservoir. Back to the walking between two paths, a point Dave and Steve snatched on immediately. "Never mind the reservoir, check the GPS to see which path we should be on" exclaimed Dave. "Come on Mike, which is it to be" eulogised Steve. I climbed the tough 10 metres to the higher one and we were back on track. Reassuring the group I showed the map I had printed off and pointed out Buttocks cottage up on the fell, a destination we had to walk past. In the midst of dank damp Lancashire skies we walked on. On reaching Buttocks on track we paused and then made our way towards Cat Holes. Steve led the way.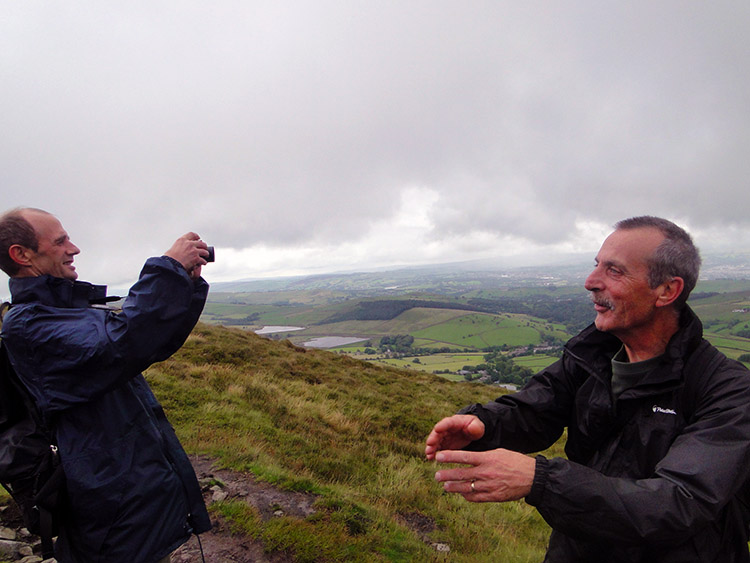 Dave takes a photograph while Steve poses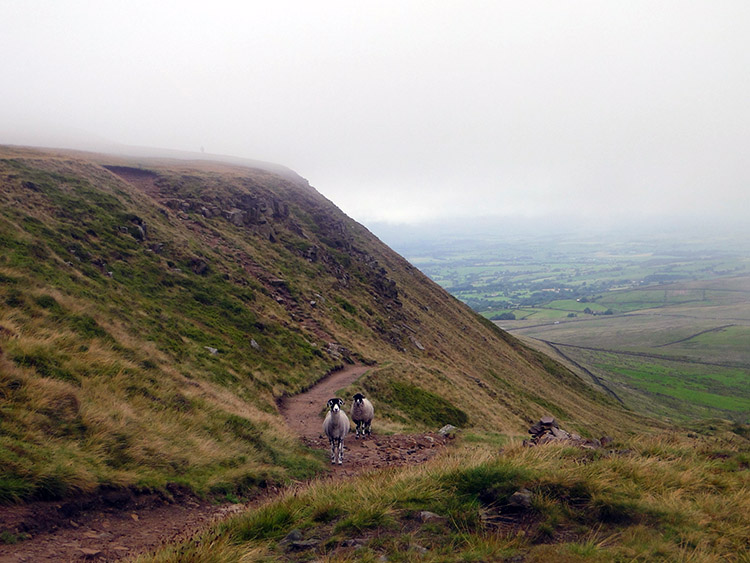 The east facing flank of Pendle Hill
The walk to Cat Holes seemed a little steep, the climb was supposed to be steady but not this steep surely. We carried on trusting Steve and the clear path up. As we ascended a solitary lady passed on her way down from a depressing wet hilltop. She was well wrapped up, the signs for a lovely time on top of Pendle Hill looking at the superb views promised to the South Pennines, Lake District and Yorkshire Dales were not good. We continued on and up and as we did so I realised we were not heading for Cat Holes. From Buttocks Steve had followed a track that beelined to the top. On checking the GPS it confirmed we were a good mile from the position we should have been in. Instead of going west to ascend Pendle Hill from the southwest we were ascending from the southeast. Looking back I am glad we did as the cloud and rain were southwesterly and our ascent would have been tougher still. Well done for the unplanned detour Steve.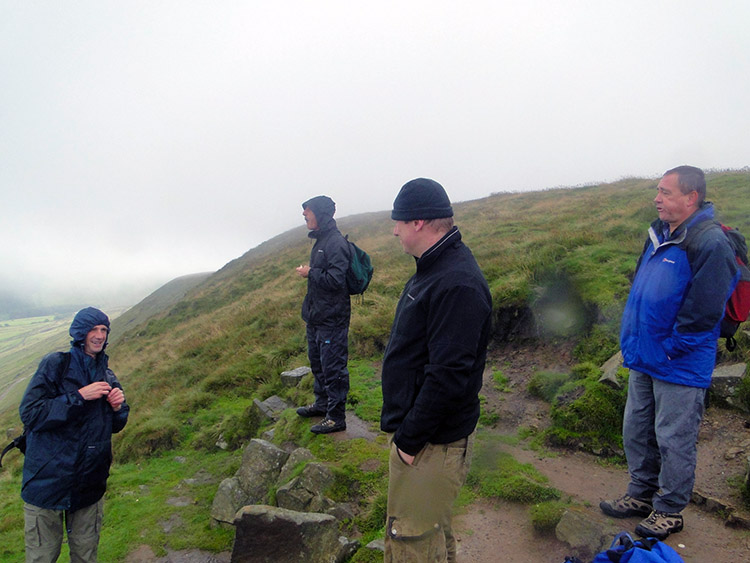 Finding shelter for a break on Pendle Hill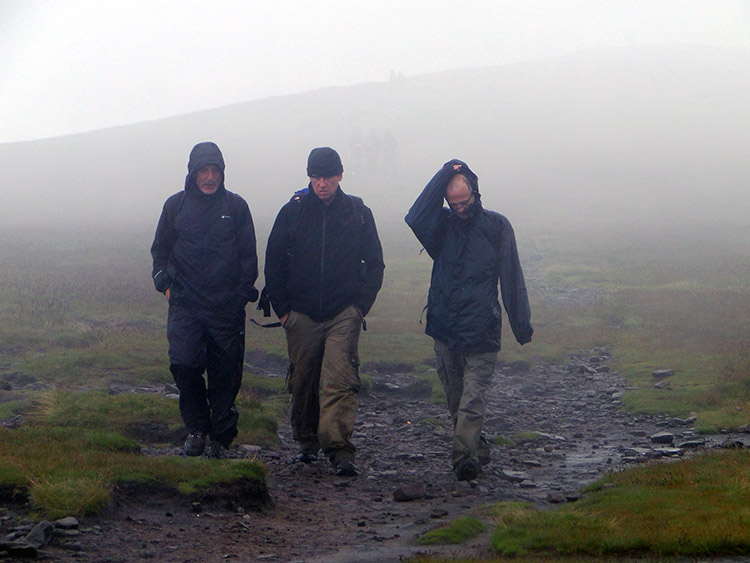 Getting off the summit of Pendle Hill in a hurry
At about 500 metres high we ran into the cloud and the drizzle became much worse. It was raining heavy in the cloud so we soldiered on without talking to the top and the welcome sight of the summit cairn. We could see nothing at all so we immediately ducked into a hollow on the eastern ledge of the summit plateau and took refreshments. While taking in a well earned break with food and drink Martyn recited a poem in tribute to Steve to mark their first meeting and walk together. Steve was very impressed with Martyn's recital. After our break and the tribute to the moustachened sage we scampered off Pendle Hill with haste. The weather up there was not good, the only disappointment of a super day out for we shall probably never know what the views are from the top (If anyone out there wants to film from the top on a clear day then please post it on-line so we can imagine ourselves).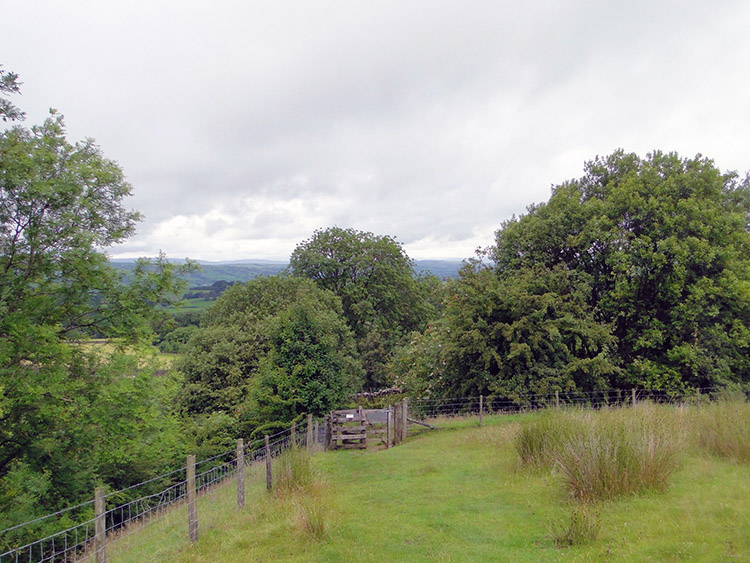 Lovely green landscape at Lane End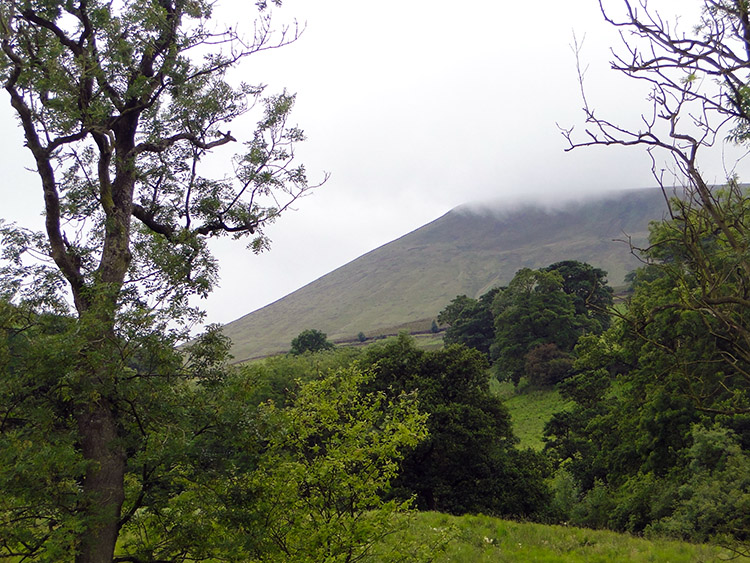 Cloud was still clinging to Pendle Hill
As soon as we descended 100 metres of the northern face of Pendle Hill the rains relented and the views opened out. We spotted Clitheroe to the northwest and the verdant valley of Ribblesdale due north. It was lovely lush green with patchwork fields and lots of tree copses, a lovely sight indeed. We walked north from Pendle Hill to skirt past the east side of Hookcliffe Plantation and then crossed the road at Lane End before tracking east to Heckin Farm and Hollin's Farm. It was lovely walking over vivid green fields. The weather was better now and there were even patches of blue sky appearing. Yet as we looked south to Pendle Hill it was still covered in cloud, still brooding. Surely the witches of Pendle Hill were at their mischief today. We did not see them but with weather conspired they must have seen us.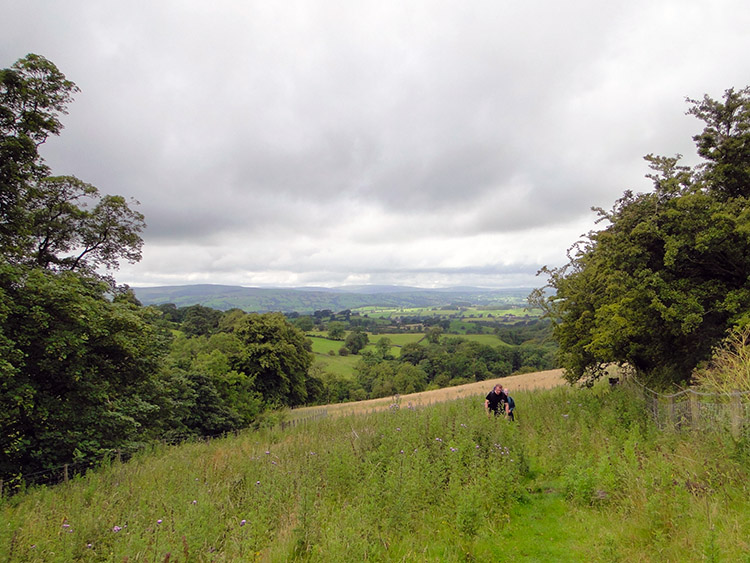 Looking back to the lush green fields of Ribblesdale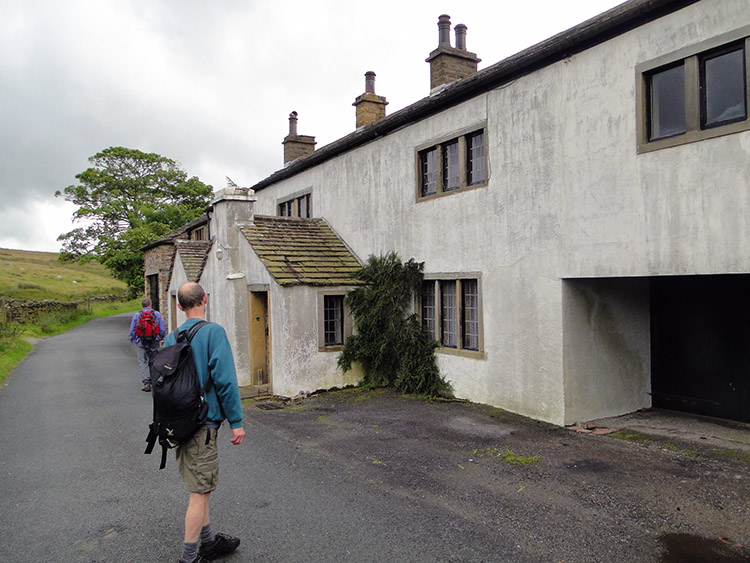 Is this the home of the Pendle Witches?
The final stages of the walk were over more fields to Brownlow Farm and then skirting Pendle Bridge Wood and Earton Hill before reaching a road and an unnamed building which we attributed to the witches. It was unoccupied and could easily have been their haunt. Then after another short unplanned detour we followed the Black Moss Road back to the cars. Bewitched by the walk and sometimes thrown slightly off course by their spells there was one thing the witches could not achieve. They did not spoil a wonderful walk.
Copyright © 2003-2023 Walking Englishman. All rights reserved.