Kinder Scout from Edale
Google Maps
Open Source Maps
Ordnance Survey Explorer Map (1:25,000)
Summary: A good walk to the mountain which will always be associated with the fight for rights for access to our countryside. Now we have unlimited access to Kinder but it took brave souls from the Manchester and Sheffield areas to gain our just rights to walk in freedom in our high places. Think about that when you heave yourself up the unforgiving rocky narrow valley of Grindsbrook Clough to Edale Moor and then across to Kinder Downfall. At least you can revel in the views you have earned as you rest before following the edgeside path to the trig point which is a delight amidst all the weirdly shaped gritstone outcrops. Finish the walk by walking down the hard steps of Jacob's Ladder back to Edale. This is a good day out indeed.

Important Note: We did this walk in high summer and in good extended dry weather conditions. In bad weather and particularly in winter this walk is a tough undertaking, especially on the outward journey to the summit which crosses watercourses, peat hags and unforgiving boggy ground.
---
The Walk: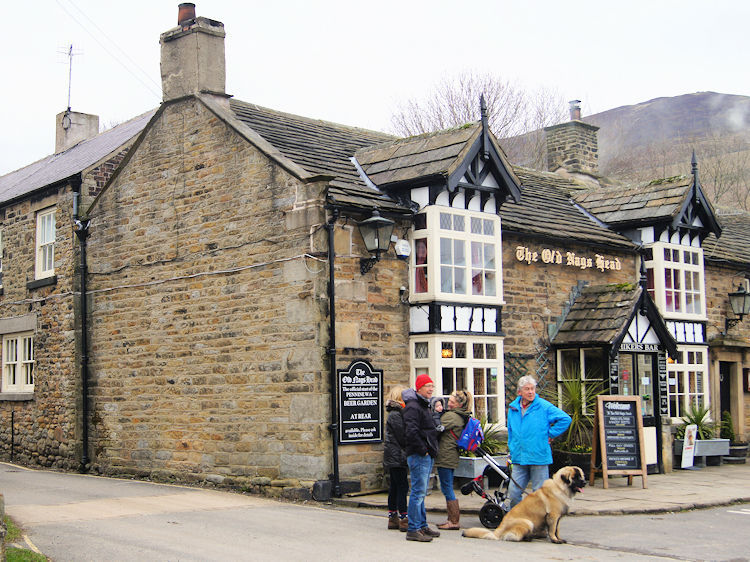 Preparing for the off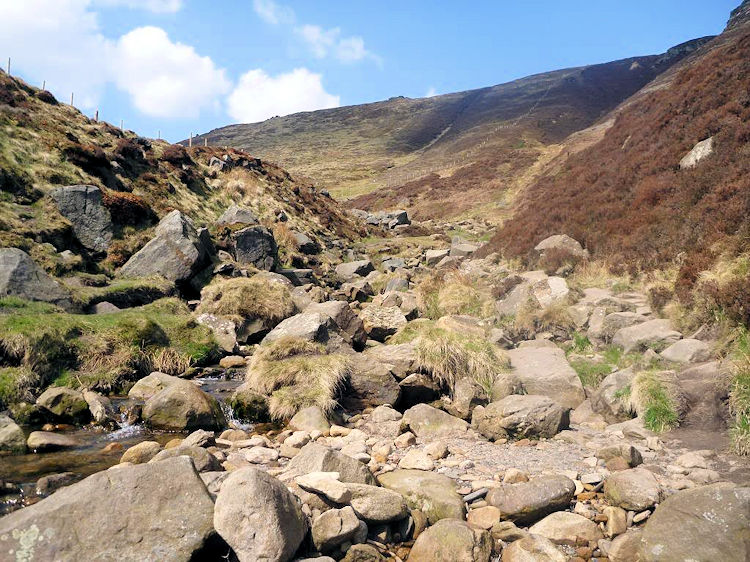 Grindsbrook Clough
The summer of 2000 was Steve's swansong season in the north before moving to Somerset so he, Dave and I took the opportunity of a few days break to walk in the northern Peak District. We stayed in New Mills for the five day break which was an experience in itself. I will always remember the good nights out we had in New Mills. And we did enjoy some decent walking too in a spell of fairly dreary weather. This walk to Kinder from Edale was the best. It was on the only dry day of our visit. After a usual night of good ale and good fun we arrived in Edale in good spirits and after kitting up we began our walk from the village by following the dead end road up the village past Grindslow House onto Edale Moor by following Grinds Brook upstream.