Llanrwst, Betws-y-Coed and Llyn Parc
Google Maps
Open Source Maps
| Statistics | |
| --- | --- |
| Start: Llanrwst | Distance: 7.6 miles (12.2 km) |
| Grid Ref: SH798616 | Time: 3-4 hours |
| Climbing: 439 metres | Rating: Moderate |
| GPX Route File | Google Earth File |
Ordnance Survey Explorer Map (1:25,000)
Summary: This walk begins with a delightful walk along Afon Conwy from Llanrwst in the direction of Betws-y-Coed The return journey is through woodland with a super visit to an isolated lake. We had it to ourselves and enjoyed the setting for sometime before returning through more woodland to the beginning at Llanrwst.
---
The Walk: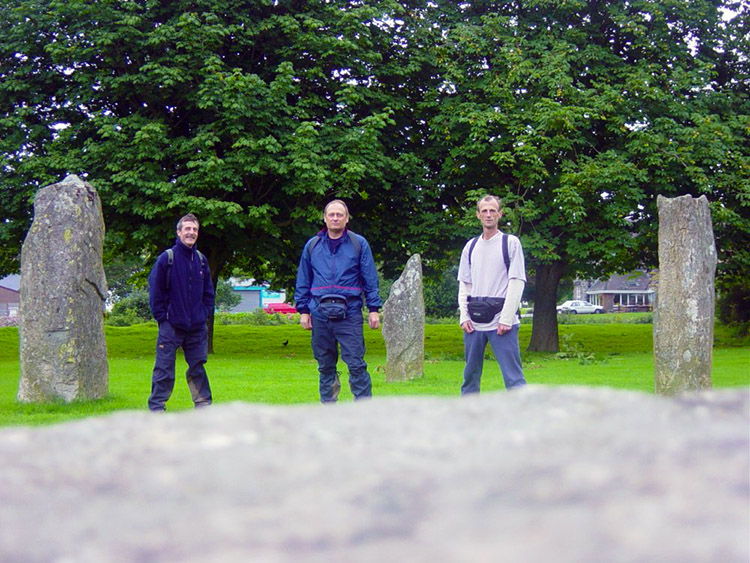 Stone circle and three ancient monuments in Llanrwst!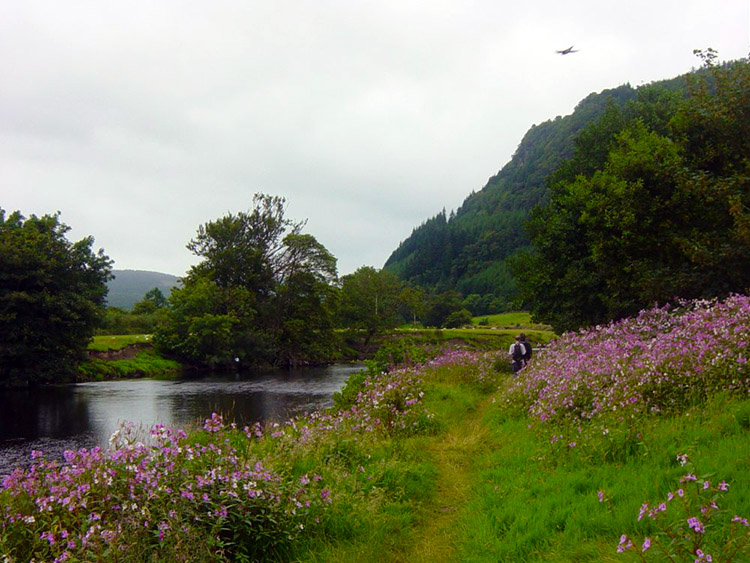 Following Afon Conwy upstream from Llanrwst
We parked up in Llanrwst without too much trouble and crossed the river bridge so we were on the western bank of the Conwy. There are some stone circles on a green nearby. Make this your starting point. We then walked upstream out of the town enjoying lovely river and hill views whilst walking on tracks and through fields. This lasted for about a mile until we were forced onto a metalled road that we followed for as long as it took for us to find a way back to the river. That did not take long and we resumed our riverbank walk soon enough. The sun was now breaking through and the day was turning out to be ok. That was until the beasts arrived.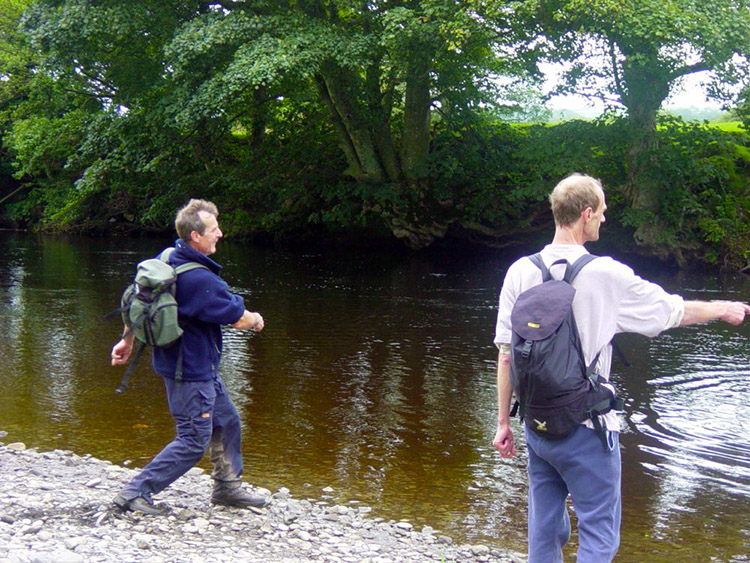 Skimming stones in the Conwy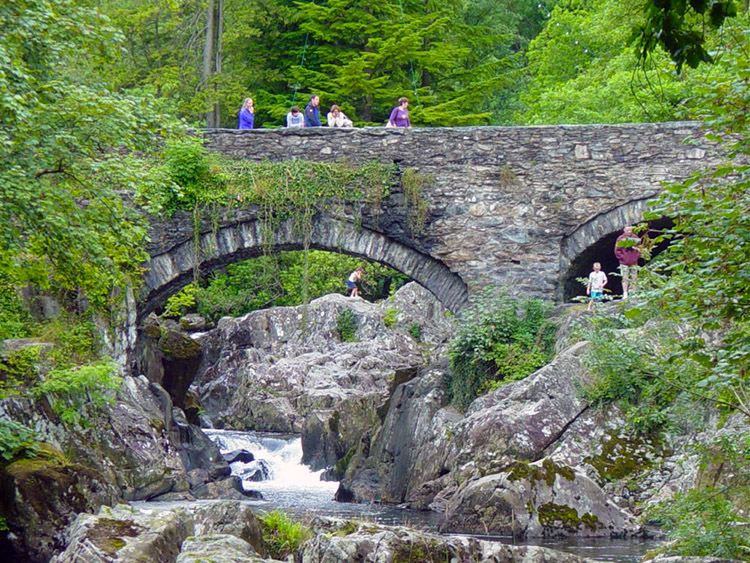 Tourists enjoy the scenery in Betws-y-Coed
Some frisky cows barred our way and I must admit this summer I was a coward when it came to facing them. Earlier in the year when taking students on Basic Expedition Leaders Award (BELA) we were attacked by a herd with calves who took dislike to the leaders dog. They stampeded us and tried to get the dog. I had never been so relieved to get out of a field alive. It was really frightening. The leader should have known better and students were put at risk because of his lack of judgement. Luckily these cows were never a problem because I jumped the fence into the next field. Dave and Steve edged there way round the waters edge.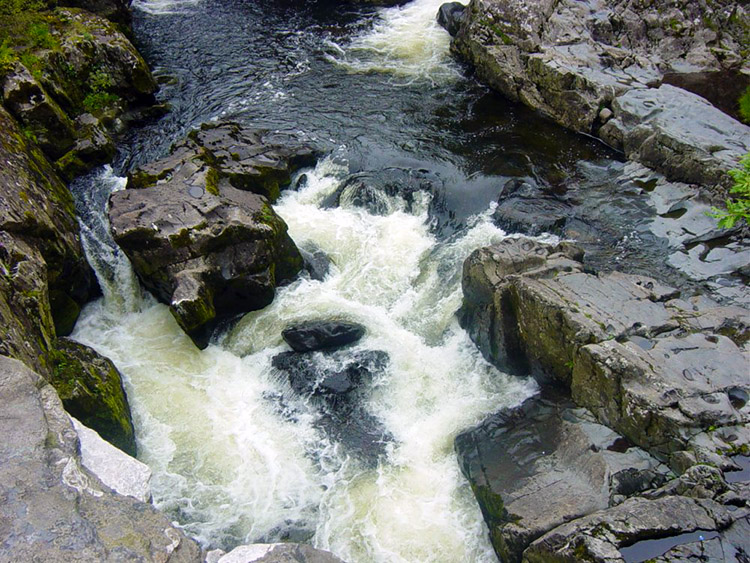 River Conwy in Betws-y-Coed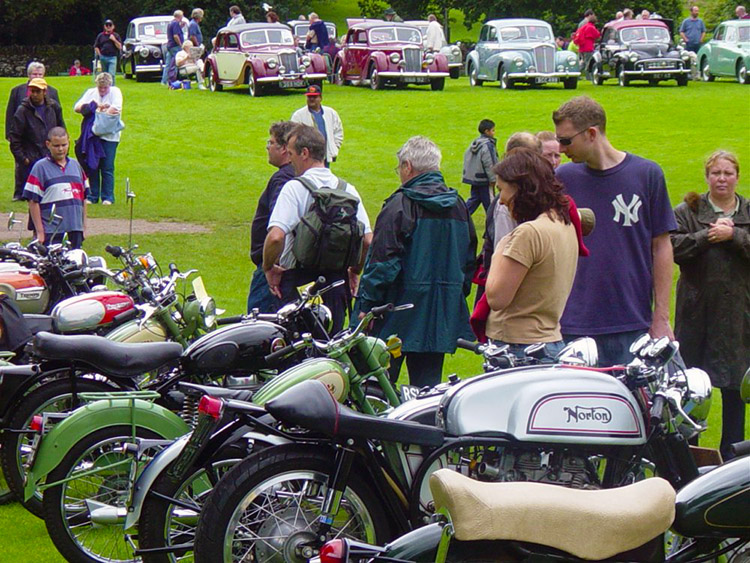 Betws-y-Coed Vintage Motorcycle Rally
We ambled into Betws-y-Coed pausing to look at the famous bridge and falls. A Heron in a tree pooed his wet droppings from high nearly drenching us as we walked into town. It was the third I had seen and the third that I failed to picture in flight. At least he it did not get me either! We were fortunate to be in Betws-y-Coed on the Sunday of a Vintage Car and Motorbike Rally. We spent an hour or so looking at the well maintained (and costly) specimens and eating lunch before we set off uphill out of town to the forest.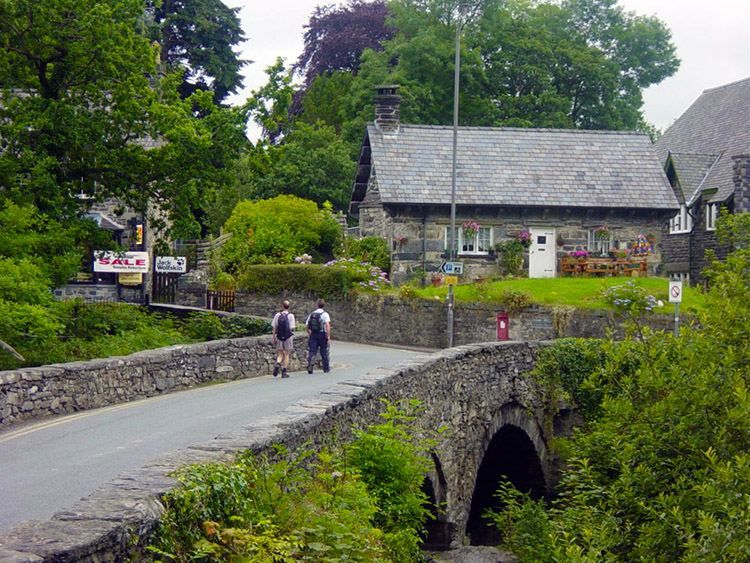 Leaving Betws-y-Coed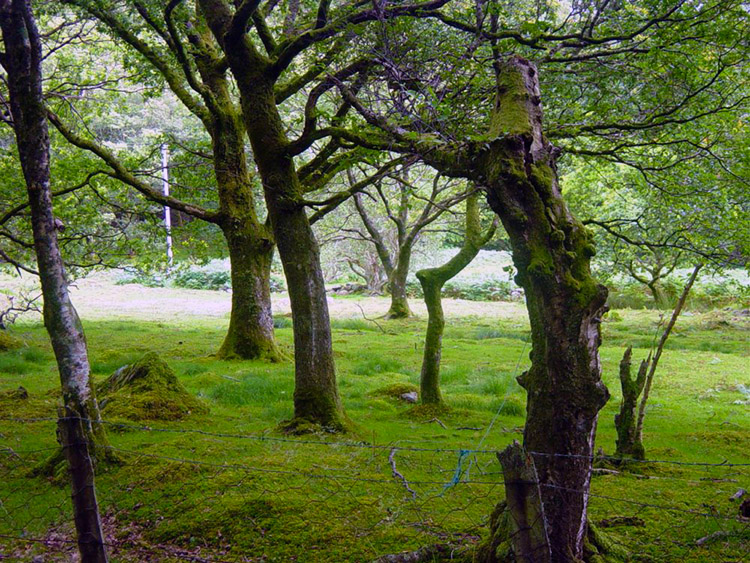 The wonderful forest of Parc Uchaf Gwydy
We climbed steadily on clear forest roads until we were at a height that afforded us nice views of the Conwy Valley. We then came to the tranquil beauty of Llyn Parc, a gorgeous lake set in the forest at 240 metres above the Conwy. It was a brilliant place to stop and pause for a break. And the sun was out too.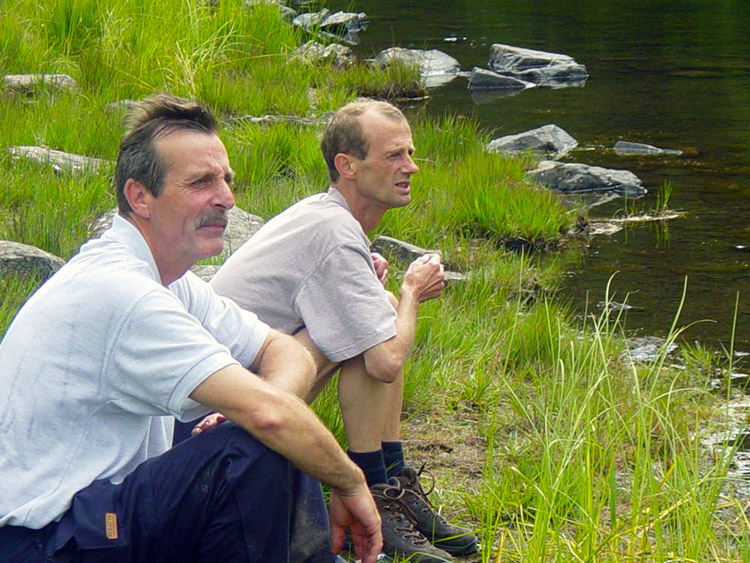 Relaxing beside Llyn y Parc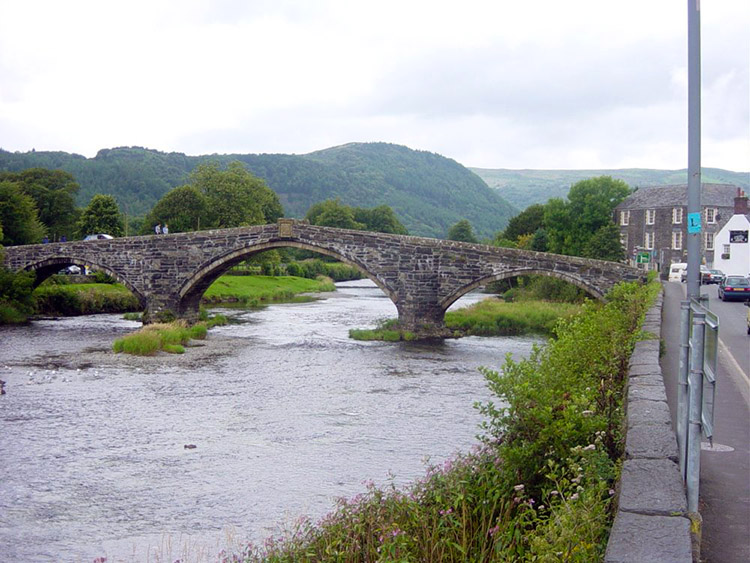 Pont Fawr, Llanrwst
After too short a time there we continued walking through the forest and eventually reached a road leading us back to Llanrwst. We walked past the entrance to Gwydir Castle and followed the B5106 into town, our finish being the crossing of the beautiful road bridge. A lovely day.
Copyright © 2003-2023 Walking Englishman. All rights reserved.