Snowdon via the South Ridge from Rhyd Ddu
Google Maps
Open Source Maps
| Statistics | |
| --- | --- |
| Start: Rhyd Ddu | Distance: 8.0 miles (13.0 kilometres) |
| Grid Ref: SH571524 | Time: 4-6 hours |
| Climbing: 952 metres | Rating: Hard |
| GPX Route File | Google Earth File |
Ordnance Survey Explorer Map (1:25,000)
Summary: Captain's Log, Stardate 091212.1: Travelling at high warp the away team consisting of Beaver Boy (Dave Connor) MC Barb (Barbara McClements) and me The Great Galleymo head to our destination deep in the Northern sector of the North Walian system. Our mission is to scale the South Ridge of the infamous Yr Wyddfa and claim another victory for the St Helens team.
---
The Walk: .......Already an hour in to our journey and we were preparing for final approach in to Rhyd Ddu (now for non Welsh speakers out there I am reliably informed that if you make the noise of R2 D2 off of Star Wars then that will be almost bang on pronunciation wise). However, one vital piece of kit was missing? Yes, the Cadburys Creame Egg. A few days prior to departure I was perusing my favourite magazine (Trail) and it recommended that instead of Mars bars or Snickers you should take a Creame Egg with you as it does not freeze as easily as the others due to its mouth watering fondant filling, mmmmmmmm. All was not lost though, and as we approached Llanfairfechan (no phonetic translation available at present) we where greeted by an oasis in the form of a petrol filling station. How very Hakuna Matata or what? Leaving Beaver Boy and MC Barb to keep guard of V666 (our trusty ve-hic-yule) engine still ticking over in anticipation of a rapid exfil in case it all went off I ventured into the Kiosk and possible death. "Hello, old bean. Would you perchance have any of those confectionery items I believe are known as Cadburys Creame Eggs?" I offered up in my best Welsh Accent. Time seemed to stand still for what seemed like an age as the local dressed in his red, black and yellow uniform eyed me up and down from behind the counter. What was he thinking? Had he understood me? Had I insulted him? Things were not looking good and the stories I was told as a young boy whilst sat on my father's knee of ramblers being abducted by "Boyos" and subjected to torture with electric cattle prods before being forced into marriage with strange creatures with white fleeces came flooding back. And then it happened. The strangest thing. A smile formed on this locals face. "Its not Easter you know" he replied with a chuckle in his voice. Not knowing whether or not this was a cunning ploy by him to trick me I moved closer to the confectionery stand still weary of his strange behaviour. "Eh? They don't just sell Creame Eggs at Easter you Know" I responded and then explained what I had read in Trail magazine. After a while I emerged from the kiosk with two Twirl bars. Yes I know, hardly Creame Eggs, but still better than the mint Polo's that the local tried to sell me as an alternative. As I strode the few steps back to V666 I felt that years of oppression and misunderstanding had been repaired. Hell I felt like Nelson Mandela and we even listened to Jimmy Cliff on the radio as we arrived at Rhyd Ddu and the start of our adventure.

Right then sports fans here is the technical stuff: (Snowdon) at 1085 metres is the highest mountain in Wales. We chose to ramble along the South Ridge, well basically because it is not as touristy. This path up Snowdon is the quietest of the six main routes to the summit, offering the most striking mountain scenery, especially towards Moel Hebog and the hills of Nantlle. The first mile climbs gradually along the old track that served the Bwlch Cwm Llan slate quarry. You can either then turn left at Pen ar Lon, leaving the track and climbing quite steeply over rocky terrain to Llechog ridge or do as we did and continue to Bwlch Cwm Llan and take on the full ridge. The path follows the ridge over bare and exposed ground and then along Bwlch Main before the final climb to the summit. Some parts of the final section follow a narrow and rocky path with steep slopes below, so extreme care must be taken on these parts. When there is snow and ice on the ground this part should be left to experienced walkers with the appropriate equipment.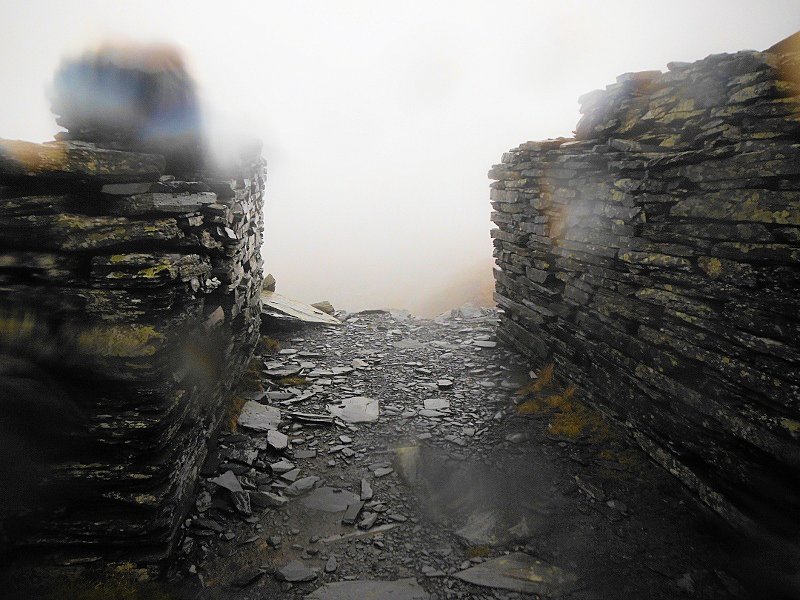 Shelter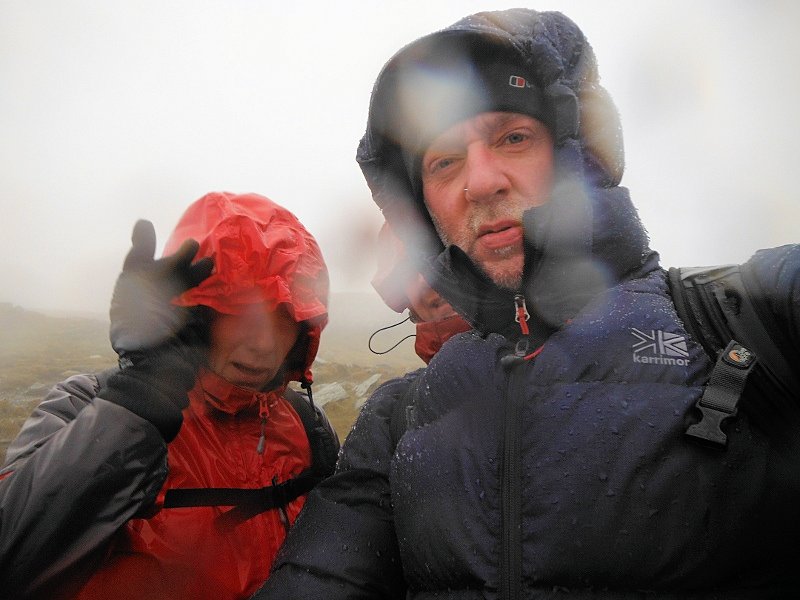 In good spirits
Leaving trusty V666 parked on the roadside of the A4085 approximately 100 yards further up from the Cwellyn Arms (a fantastic little boozer) we kitted up and then walked back down the road to the start of the path. The weather as we set off was light drizzle with an expected -11 degrees at the summit so nice warm jackets and waterproofs were the order of the day. For anyone attempting this walk after reading this its pretty straightforward. Well except for where you start and in true rambler fashion we headed off in the wrong direction. Follow the path around the back of the houses and not the one that is more obvious in to the field as we did and you will be fine.

Map consulted and now walking on a compass bearing we headed through the boggy grass, over the train line past the farm and eventually an hour later onto the correct path. Phew at last we were on our way (laugh out loud with smiley face). The path was very good as paths go, very easy to navigate and even the occasional sign post. One thing guys, always carry a map of the area you are exploring and a compass and be prepared in case you have to use them as you never know when the weather can turn. If you get lost and you can see a stile or a gate head towards them as hopefully they will have a grid reference on them so that you can find out where you are on your map.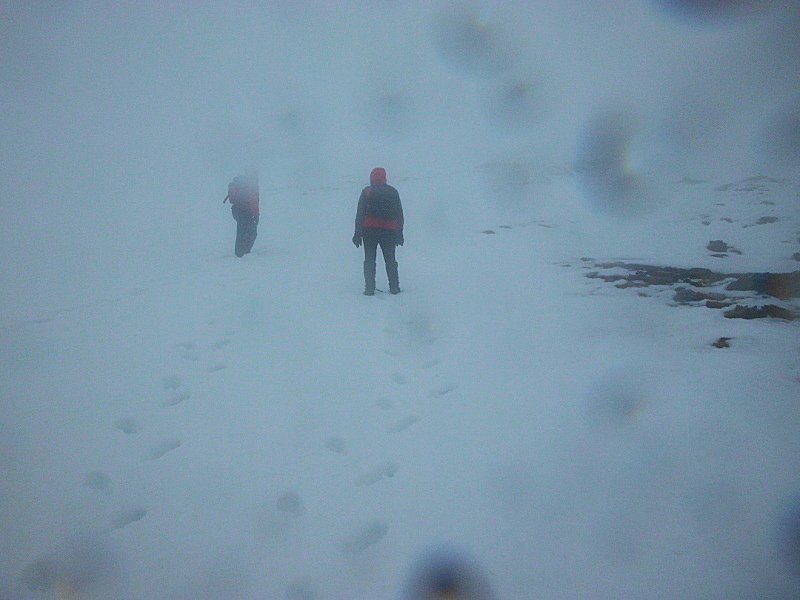 Snow walk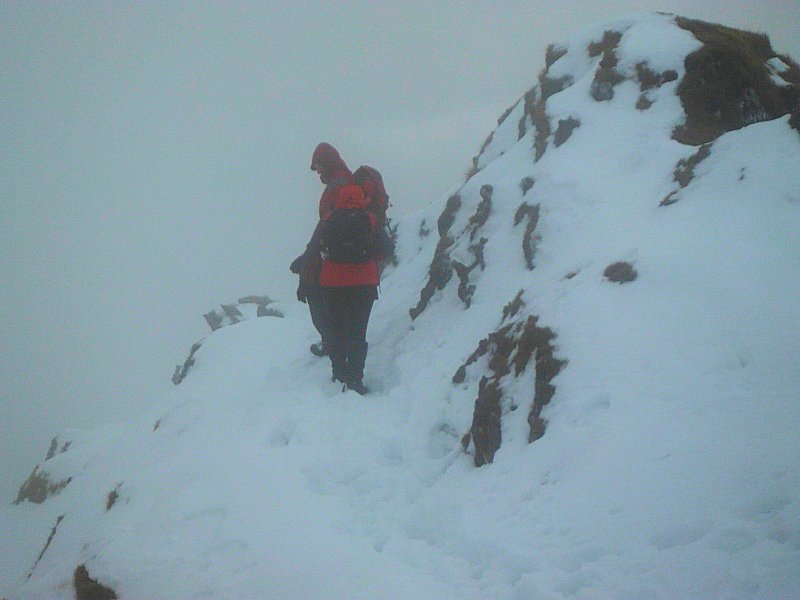 Taking careful steps
As we walked the weather became worse, heavier rain and strong wind but we were not deterred and soldiered on. As we rambled our main topic of discussion were stalkers, in particularly Barbs, and the option of myself and Dave dressing up in Lederhosen in an effort to rid Barb of said pests. We never did get a confirming decision so keep your eyes peeled. Now as I mentioned earlier when we arrived at Pen ar Lon we decided to carry straight on and walk the full ridge rather than bear left and follow the Rhyd Ddu path to the summit. The footpath was still in fantastic nick and the scenery for me personally was very reminiscent of the Lake District and had that remote feel about it or maybe that was just due to the fact that we had not seen any other people so far. As we continued to the bottom of the ridge we came upon some disused slate quarries and some spectacular waterfalls which kind of reminded me of the Old Man of Coniston and where completely different to the other side of the mountain.

Eventually we arrived at the bottom of the ridge and the start of the steep slog to the summit and to our surprise we met two other walkers also taking on the challenge of The South Ridge. These guys had decided on the Watkins Path approach which I think is another humdinger of a stroll. We let Rupert and Tarquin (or whatever their names where) go ahead and had a quick brew before setting off on our ascent. To be honest I was hoping for a ten minute rest but Barb had other ideas and after five minutes was making a move so off we went Barb in front followed by Dave and me tail end Charlie. The Ridge was much steeper than the walk up to it even though the path was still pretty good. I don't mind telling you after a few minutes climbing I was starting to feel knackered as I had opted to wear my four season boots. Blooming good boots but these ex NASA (as Andy Musson calls em) babies have no give in them at all which can really sap your strength. It was not long before we hit the first bit of snow; only a smattering at first but then it got deeper and then bushock we were swimming through the bloody stuff. I'm not joking in places it was four feet deep. As well as the snow visibility was starting to get at bit worse and then the inevitable white out (nice). I remember having a moment to take some video footage and photos as well as get my breath back and then looking up and seeing that Barb and Dave had disappeared. To be honest they where only about fifty yards or so in front but due to snow and visibility were no where to be seen. One of my reasons for choosing this route was the view from the South Ridge; Ah well looks like another trip in the summer for that one.
Sunburst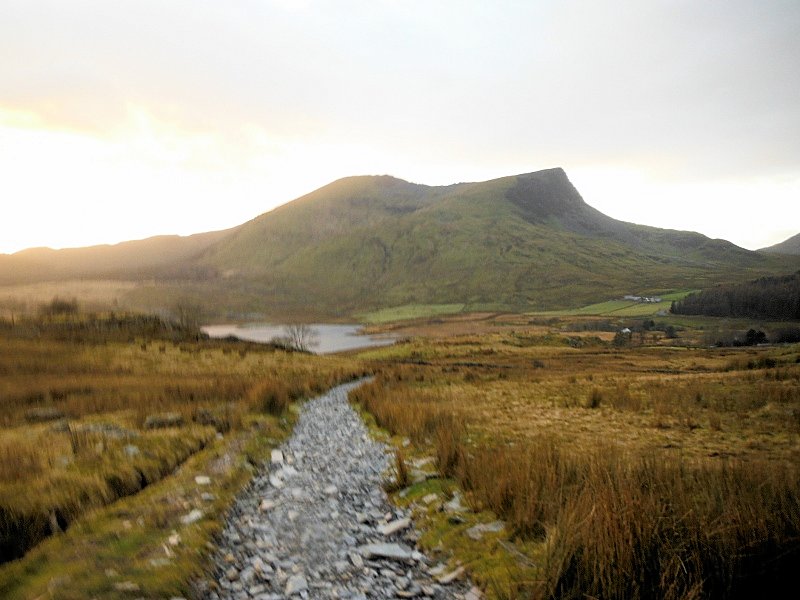 Looking back to Snowdon
As we got closer to the summit the snow became a more constant depth, only about three foot deep but harder going as it was softer and I kept sinking into it. At one point I was sure that the next time I saw Dave and Barb I would be stuck in the snow up to my neck half way up the ridge with Dave and Barb on their way down. Pulling myself out of a snow hole and rolling about to get on my feet I heard the familiar voice of Rupert and Tarquin. "Hahahah" they laughed, "Your're nearly there, just another fifty yards or so" they said as they strode past. Mental note to myself # must get some crampons and an ice axe. Well they were not lying and in another five minutes I was there at the summit with Barb and Dave and two mountain rescue guys. Just time for a quick moan and a drink of tea then it was back down again as Barb was starting to feel the cold.

We said our good byes to the mountain rescue guys who where heading down the Rangers Path and we retraced our steps towards the Rhyd Ddu Path. My feet felt like they had done ten rounds with Mike Tyson and as visibility was by now clearing a little the views where getting better. Bloody hell, how close were we to the edge as we made our ascent? It was not long until we reached the Rhyd Ddu Path and except for one instance where I got a little stuck in the snow the descent was much easier than the ascent. A bearing check and the nod to Dave who was already part way along the path signalled that we were on the correct course. The snow was now only about a foot deep so off I went sliding along on my backside down the side of the mountain (great fun, but don't do it near the edge). And then all of a sudden the snow had gone and the footpath was visible again. The weather now was brilliant; it was around three o'clock and the sun was starting to fade. The view of where we had been and the other mountains in the Snowdonia range where fantastic and as we retraced our steps back to the car (apart from the pre walk warm up) we all agreed it was one of the best walks we have ever done.

Eventually back at the car we changed in to fresh clothes and made our way to the pub for a well earned drink and some warm food, The Cwellyn Arms, what a fantastic pub. Check it out after your stroll you will not be disappointed. Until next time stay safe and happy rambling.
Copyright © 2003-2023 Walking Englishman. All rights reserved.