Cadair Idris
Google Maps
Open Source Maps
| Statistics | |
| --- | --- |
| Start: Ty-nant | Distance: 6.1 miles (9.8 kilometres) |
| Grid Ref: SH698152 | Time: 3-5 hours |
| Climbing: 840 metres | Rating: Hard |
| GPX Route File | Google Earth File |
Ordnance Survey Explorer Map (1:25,000)
Summary: I fulfilled a long standing dream when I climbed Cadair Idris as part of my Welsh High Level Coast to Coast (north to south) in the Spring of 2013. The walk up the north side of Cadair Idris by the Pony Path and down the south side by the Minffordd Path was brilliant, a walk up a special mountain on a lovely sun drenched Spring day. The company was first class too as I did the walk in the company of Adam Gallimore and during the walk Adam and I met lots of interesting people making the walk even more special. All in all, it was a classic day out on the mountain.
---
The Walk: I put a climb of Cadair Idris on my list of priorities when designing my Welsh north coast to south coast walk which I completed in May 2013. The walk shown here is part of stage 6 of the 18 day journey, this stage beginning in Bontddu and finishing at Minffordd. It was a special walk on an extra special day, a walk done in the company of Adam Gallimore who did me the great service of hauling my 16 kilo (2 stone 3 pound) backpack up the mountain. Thanks Adam, it was very good of you to relieve me of the weight for one day. After beginning the day by following track and road to Penmaenpool Bridge where I met Adam we walked to Lake Gwernan and then to Ty-nant where there is a car park which is popularly used by walkers aiming to climb Cadair Idris by the well known Pony Path. Ty-nant is where this report begins.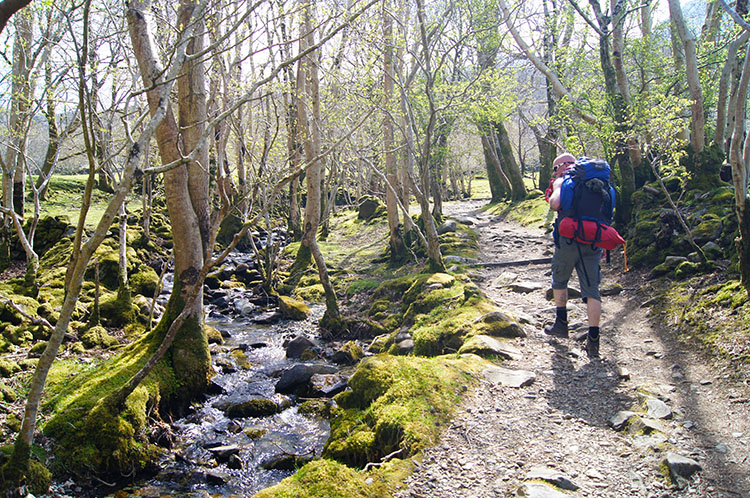 The path from Ty-nant begins through woodland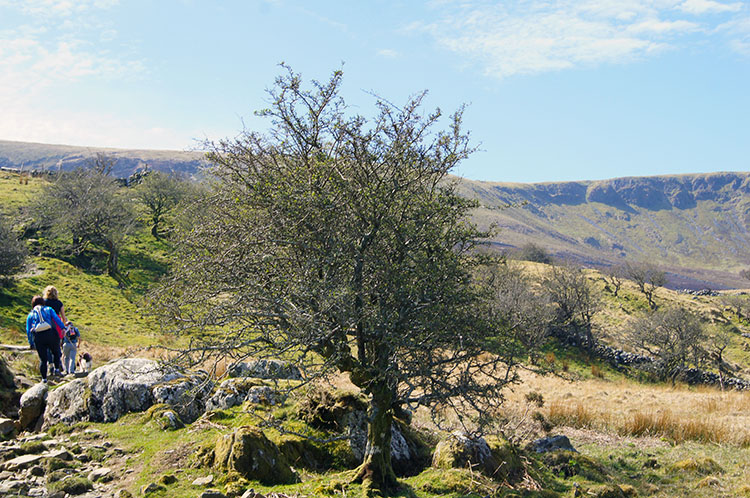 On and up the Pony Path by open fell
The weather was perfect, a hot day with unbroken sunshine which cheered us as we set out from Ty-nant by following a small brook upstream, first through a small wood where the trees were just breaking out with the first shoots of springtime green. It is always a heartening sight knowing winters back is broken and that Summer is approaching. The day was warm and beads of sweat formed on my brow as we continued up the slope of the Pony Path beyond the woodland and to open ground. We soon met people, some coming off the mountain and more going up. All passed pleasantries as we made our way upwards and after our first mile we came to a gentleman and his son sitting on the mountainside enjoying a break in the sunshine. Unbeknown to us we had stumbled across a superhero. DC Comics hero The Flash introduced himself! We enjoyed the conversation with the young superhero and his proud Father before bidding them goodbye and continuing our climb. As we marched upwards I am sure I saw a flash of lighting pass before my eyes and stand atop of the mountain. It was a fleeting sight but I believe.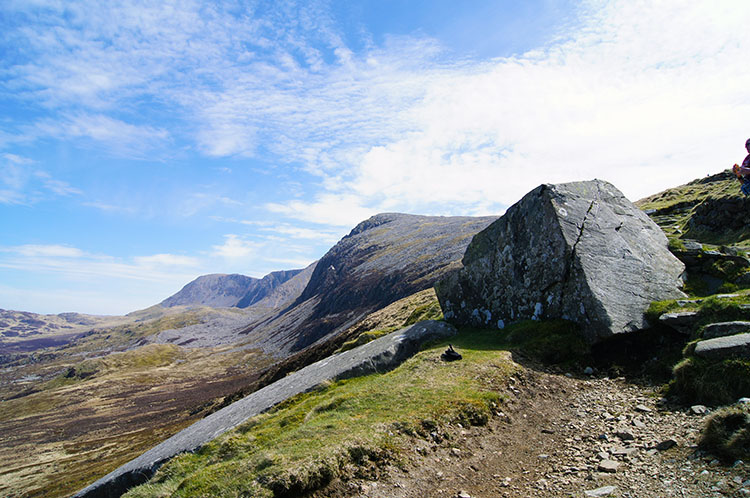 Cyfrwy, the saddle on Cadair Idris is impressive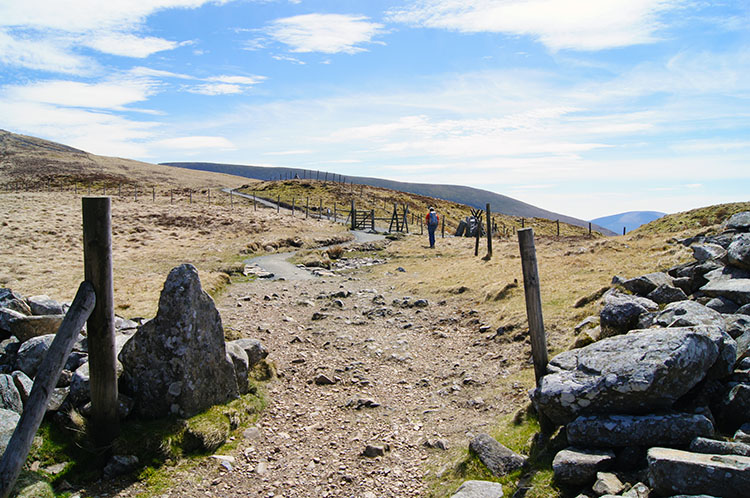 Levelling out but there is still some climbing to do
As we continued our climb I kept looking over to my left where the impressive north face of Cyfrwy demanded attention. It got it, I regularly paused to catch my breath and view the shapely northern aspect of the mountain. A little while later and after much huffing and puffing by me, the consequence of a hard day crossing the Rhinog's yesterday we came to a point on the Pony Path, at 560m elevation, where the steep climbing relented to a gentler incline. Adam considered a diversion to Carnedd Lwyd, the peak on top of Tyrrau Mawr. "You go, I will wait here until you return" I said. "Perhaps not" Adam replied. So we continued along the Pony Path together on an east course towards the summit at Penygadair. We still had 330 metres of climbing to get there.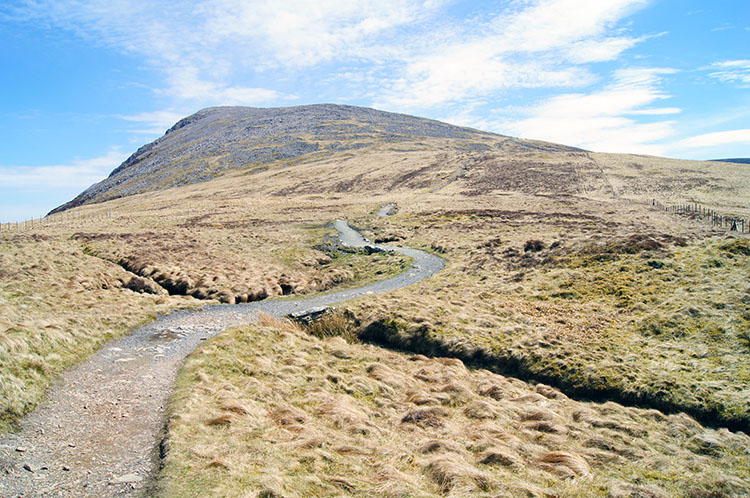 The Pony Path leads us on towards Penygadair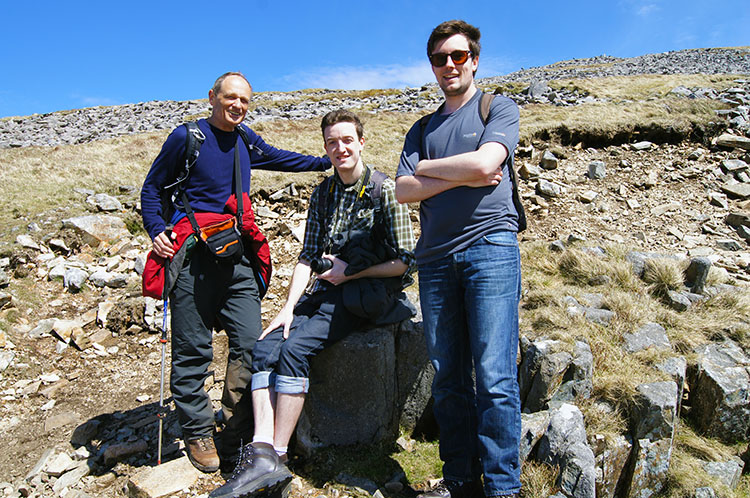 The Walking Englishman meets Warwick Matt and his pal
The gentle but constant incline towards the summit on a whale back of a hill was grand. The day allowed for fantastic long distance views and I looked back to the north from where I had come. I could clearly make out the path I took on the Braich north of Bontddu which was of particular delight when I walked it. With attention back on Cadair Idris Adam and I came to a young gentleman sitting beside the path. We chatted with him who revealed he was Mark from Warwick. A keen photographer he was taking advantage of the visibility to get good shots of the mountain and its environs. While chatting with him a friend of his came along and we chatted some more about our good fortune to be on such a remarkable mountain on such a good day.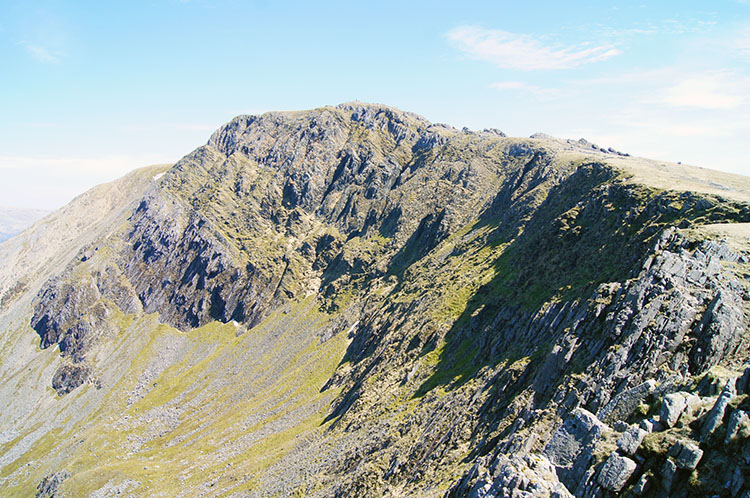 The north face of Penygadair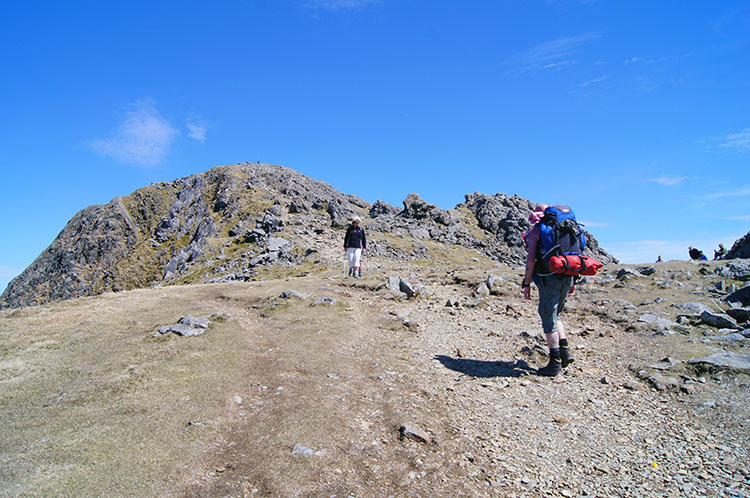 The final push to Penygadair
Adam and I continued on our relentless march up the mountain to Penygadair, meeting and greeting yet more people as we walked. As we neared the fascinating contours of the rock strata and cliffs of Penygadair's west face revealed more detail. I had originally planned walking up a steeper track bisecting two of Cadair Idris's three lakes and if I had I would have been weaving my way up that slope - looking at it I am glad Walking Englishman readers and Adam convinced me not to and to take the Pony Path instead. The final 100m ascent to the summit loomed closer.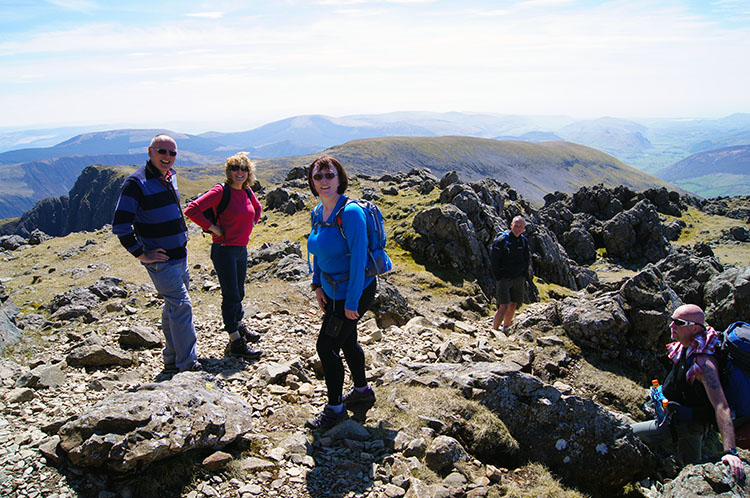 The lovely lot from Shropshire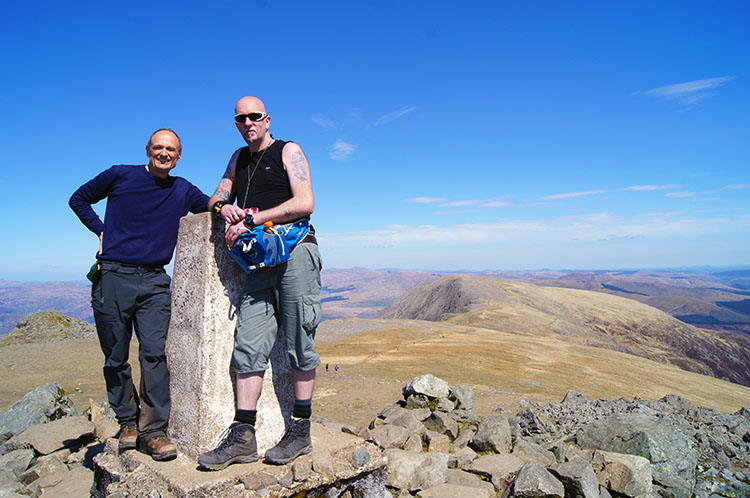 Walking Englishman and Great Galleymo on Cadair Idris
From 100 metres to go the walk gets steeper again with the last few hundred metres a path up a rocky slope. Just the type of completeness you need on a magnificent mountain such as Cadair Idris. I spotted the trig point on the summit for the first time but before we could complete our ascent we were obliged to stop and talk with a group of four people, two couples from Shropshire who we had met briefly at Ty-nant. Then it happened, one of the ladies said "It's you is not it, the Walking Englishman?". "Yes it is" I replied and I immediately added "and did you know I am in the company of that illustrious walker the Great Gallymo". The conversation continued for some time. I told them of my Welsh Coast to Coast walk and I mentioned my distances per day pale into insignificance when you compare them to the challenges Adam takes on, some over 50 miles in 24 hours. That led to another conversation about the Longmynd Hike which they and Adam regularly complete. Refreshed from the conversation we bounded up to the summit and celebrated our arrival at the top. After the obligatory photographs which were taken by a very fit lady fell runner Adam and I descended from the craggy summit and laid down on the flat ground to take lunch. And what a place to take lunch; on this spectacular day the views were sublime.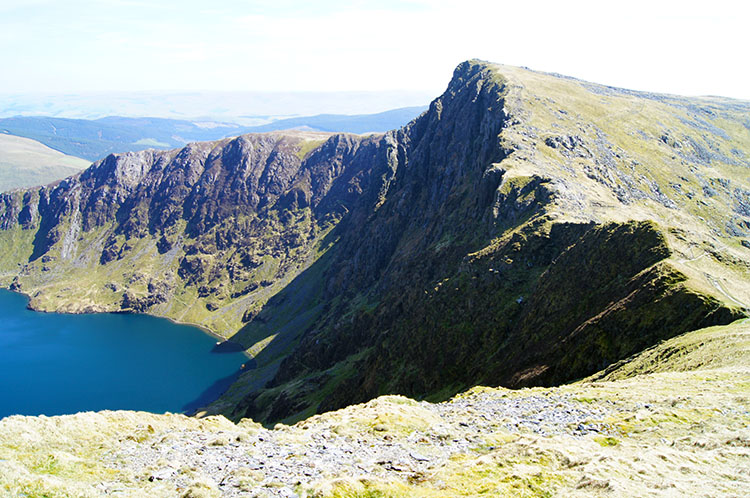 Craig Cau and Llyn y Gadair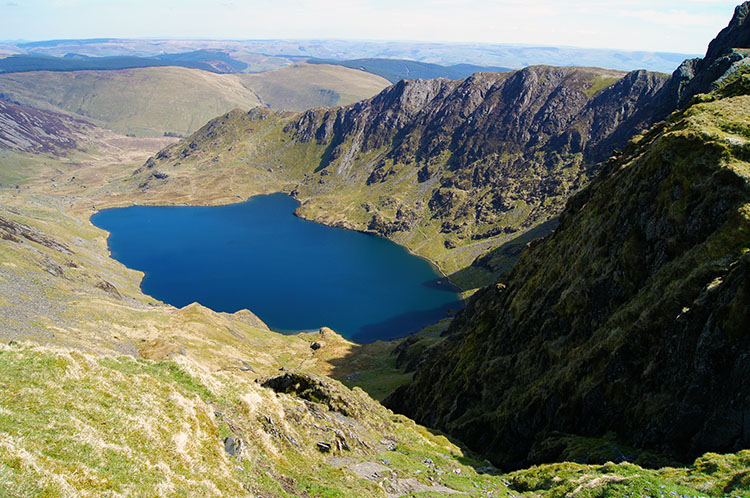 Llyn y Gadair sits in a perfect natural amphitheater
After lunch we descended first by the way we came and then by a steep rocky path to Craig Cau. at the bottom of the dip between Penygadair and Craig Cau we came across another group of walkers, five this time, two men and three ladies from Stockport. One of the ladies said "Can you tell me what the blazes I am doing up this mountain?" She was not a happy person at that moment. I said to her "Because of the sense of achievement you will feel at the top. And the views you will have in front of you. Keep going you are nearly there" Then she went on with her colleagues and I bet she enjoyed the feeling of euphoria at the top. Adam and I continued on climbing to the top of Craig Cau. As we did we got great views of Llyn y Gadair and the steep path weaving up the mountain from it. "Bet you're glad you did not do that now Bud?" asked Adam. "You bet" I replied.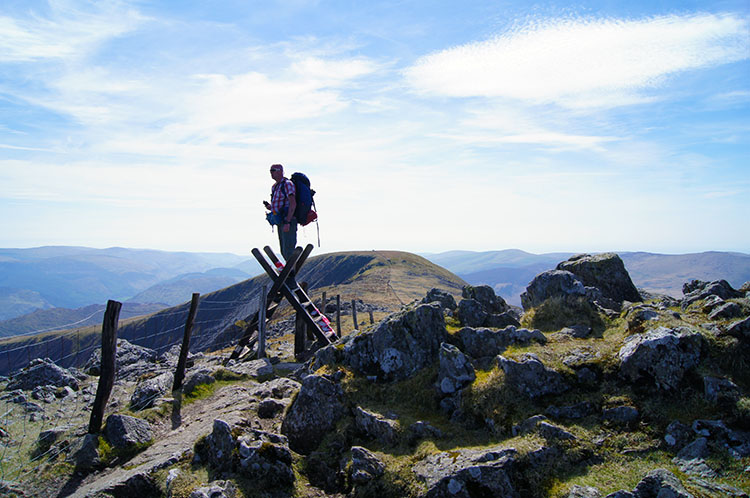 Adam contemplates before we head down to Minffordd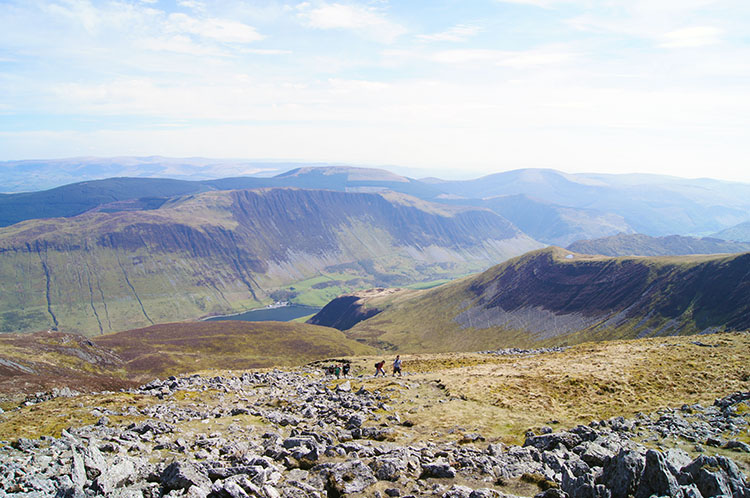 Beautiful views are to be enjoyed from Cadair Idris
From the cairn on top of Craig Cau the views to the south across satellite mountains and to the west and the Irish Sea were mesmerising. Adam stood atop a stile and looked out for what seemed an age, transfixed by the view. After taking it all in he crossed the stile to begin the long descend on the Minffordd Path. I followed his lead. As we veered round from a south course to east course we walked closely past a few very steep gullies. At the bottom of the view were the shimmering ice blue waters of Llyn Cau, the third and most southerly lake on the slopes of Cadair Idris. In the heat of the day a dip in one of the lakes looked inviting but appearances are deceiving, the water in the lake would be near freezing.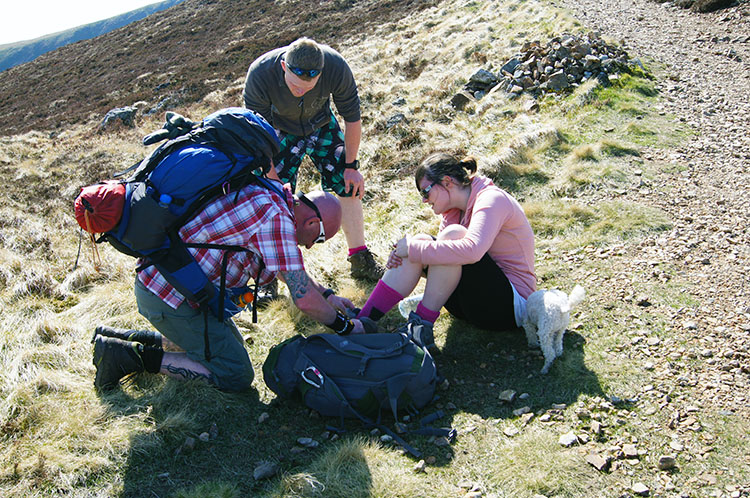 Adam carries out running repairs for stricken walker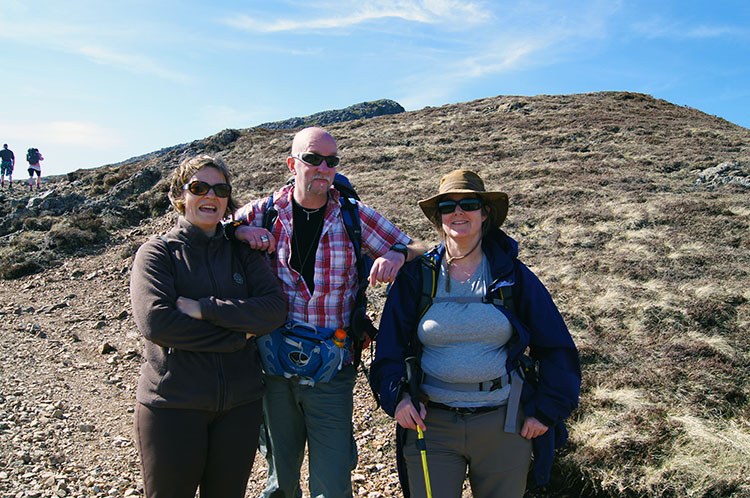 Meeting the ladies from Canada
As we continued on our descent we came across a couple of young walkers who had a Poodle which was friendly and excitable. The Poodle took a back seat though while the lady struggled to tie her boots in a suitable knot. Good Samaritan Adam helped her out by tying a type of double bow knot which she had been attempting to do. A refresher course of knot tying on Cadair Idris was probably a first for our steadfast hero. After parting company with the young couple and said Poodle we crossed paths with two ladies from Canada who were also enjoying a day on the mountain. We had a good chat with them too - in fact we chatted to so many people it could have been a record for a single mountain walk. And each and everyone of the people we met were friendly.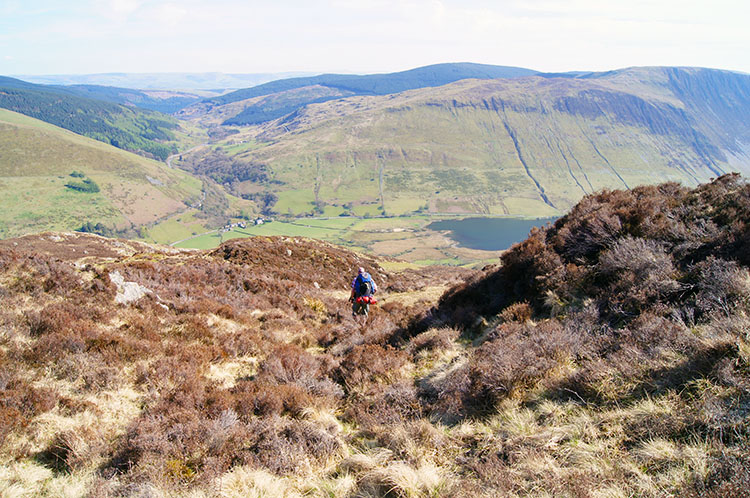 Adam plots his own way down the mountain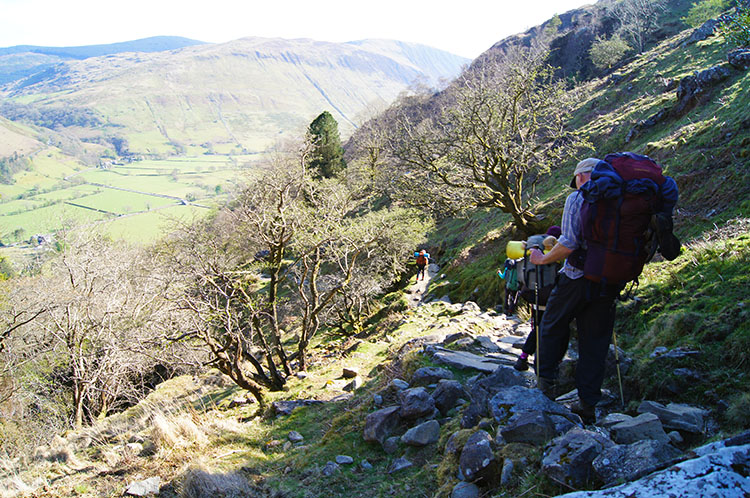 Descending from Ystrad gwyn to the woodland
Continuing down further after our chance encounters we came to a point where the obvious path was hard to follow. Unintentionally we veered off the Minffordd Path and from then on until we were appreciably lower we forged our own course down. Initially Adam led and I followed his footsteps but then as decision making became more difficult I took my own course. Adam went one way around a rock outcrop and I went another. A little later we met at the other side and on resuming company we descended a little further and back to the Minffordd Path at Ystrad gwyn. (Note: the map and accompanying route files show the true path following the Minffordd Path - I could not tell you the exact course of our discretionary diversion anyway)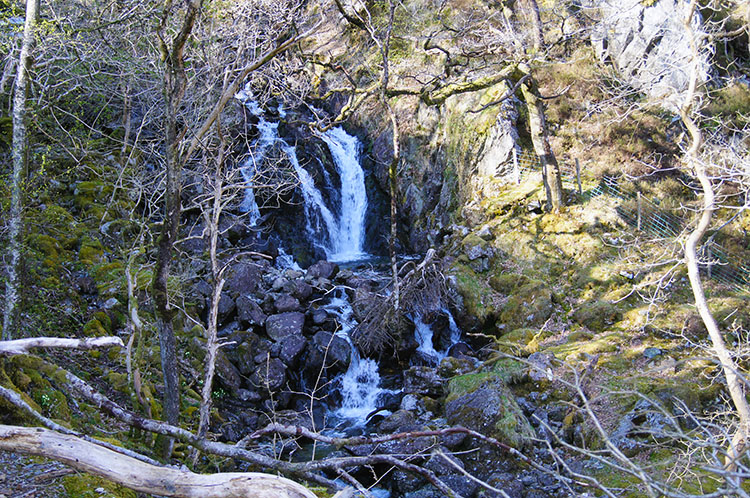 The waterfall at Dol-y-cae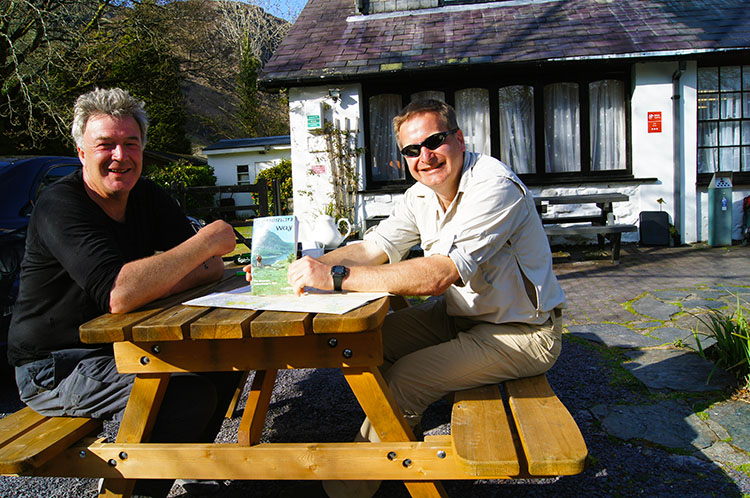 Cambrian Way walkers Joe and Alex
The finale to our magnificent day out on Cadair Idris was a gorgeous descent through woodland from Ystrad gwyn to Dol-y-cae. The woodland sat on the slopes of a narrowing gorge carved out by Nant Cadair as it cascading waters down to Minffordd and into Afon Faw. There were a series of waterfalls along the course of its steep descent, some unseen in the depths of the gorge but some were visible including a spectacular waterfall near the bottom at Dol-y-cae.

And then we were done. After going through a gate near the waterfall we ambled along a flat track to the junction of the A487 and B4405 and then turned left to walk a few yards to my hotel for the night, the Gwesty Minffordd. As we walked toward the hotel door two gentleman sitting outside and enjoying a drink in the warm afternoon sunshine said hello. Adam and I chatted with them for a while, Joe and Alex were spending a week doing part of the Cambrian Way as part of an ongoing mission to complete it. We exchanged stories, my latest being one of a super spectacular day out walking on Cadair Idris with Adam. Another of the WOW days.
Copyright © 2003-2023 Walking Englishman. All rights reserved.