Wales Coast to Coast
Stage Five: Maentwrog to Bontddu
Google Maps
Open Source Maps
| Statistics | |
| --- | --- |
| Start: Maentwrog | Distance: 18.3 miles (29.4 km) |
| Grid Ref: SH 66485 40499 | Time: 7-9 hours |
| Climbing: 1,590 meters | Rating: Strenuous |
| GPX Route File | Google Earth File |
Ordnance Survey Explorer Map (1:25,000)
Summary: Stage Five of my Wales Coast to Coast was a day of mountainous climbs and yet without crossing a mountain of note. That is the nature of Rhinogydd, alternatively known as the Rhinogs, which is probably the most remote and wildest part of the Snowdonia National Park and possibly in all of Wales. It is an area of isolation, of remote farmsteads, of wild places and of the weirdest Goats to be found in Wales. And I found them, as well as finding an ancient stone circle and one of the outermost packhorse bridges in mainland Britain. Oh and towards the end of the stage I glimpsed a sight of another big mountain. One I would cross the next day. The most southerly of the Welsh 3,000 feet mountains.
---
The Walk: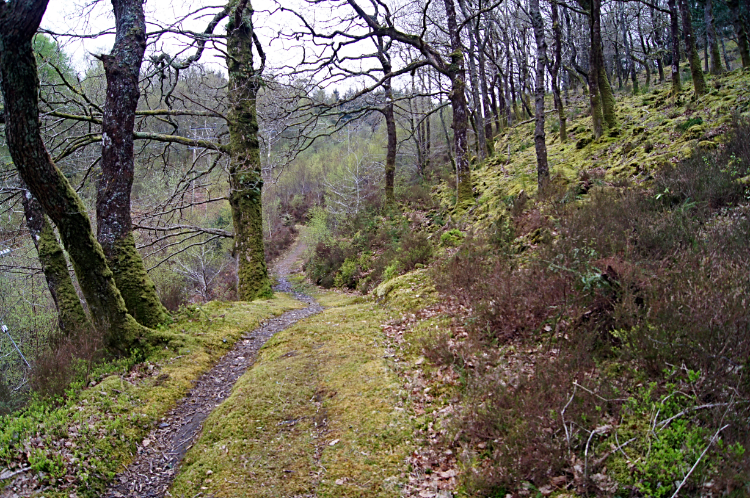 Ceunant Llennyrth National Nature Reserve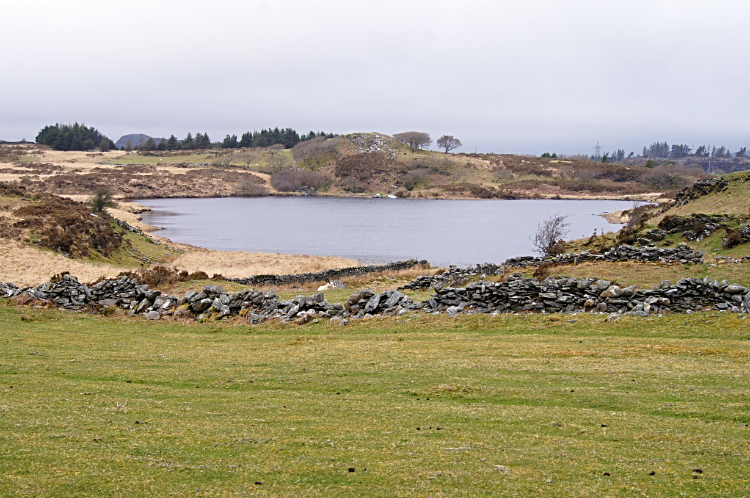 Llyn Llenyrch
While the terrain of the first three days of my walk through Wales was familiar and part of stage four also known to me this fifth day was the first day of complete discovery. From start to finish. I had never walked in this part of Wales before and although I had heard of Rhinog Fawr and Rhinog Fach I knew little about them either. The new learning began when I kissed my wife Lil goodbye and set off from Maentwrog. I would see her again in a couple of weeks at the back end of my journey. Now it was just me and discovery. From the roads I climbed up a woodland track in Coed Felinrhyd to the Ceunant Llennyrth National Nature Reserve. Beautiful yet stark, the ancient woodlands were so calming. Except for a warning sign posted beside the path, one showing a man tumbling off a cliff face. It had no words; I guess it meant 'stick to the path'. I did just that. Where I could. Once beyond the woodland and in open country in the vicinity of Llyn Llenyrch the path I was following sometimes faded to nothing.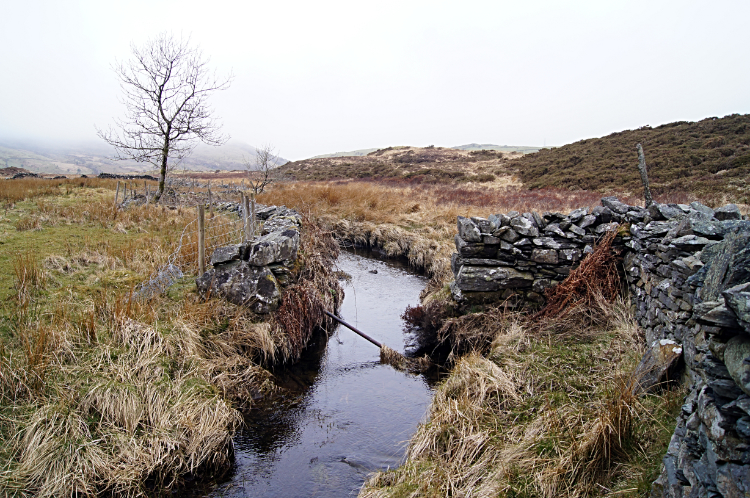 Nant Ddu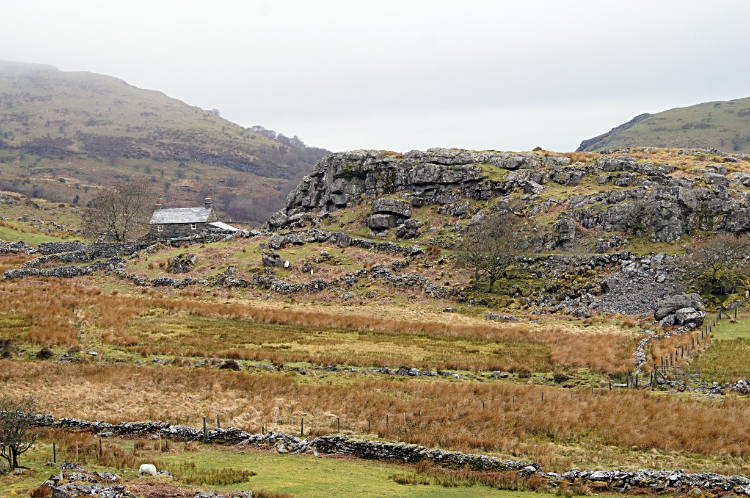 Remote homestead at Nant Pasgan-mawr
I was often forced to stop and check my position due to the absence of clear paths, especially on the route southwards from Llyn Llenyrch to the scattering of remote homesteads of Nant Pasgan-mawr and Nant Pasgan-bach. Boards spread across ditches, ancient clapper bridges over streams and foot stiles over walls were a relief to find, acting as confirmation I was going the right way. In the course grassed high parts and over mound hills I just had to guess. As everyone else who had walked this route before me no doubt had. Of course landmarks acted as route finding aids, best being the habitations on the way and the old used bridleways serving the people who had been tough enough to make their homes up here. There was not a sound as I walked on through. It was a stark sunless day and the only company I had were the sheep I passed. They we not up to much but standing and staring at me or keeping their heads down while munching. Nothing else stirred. Even the birds were taking time off.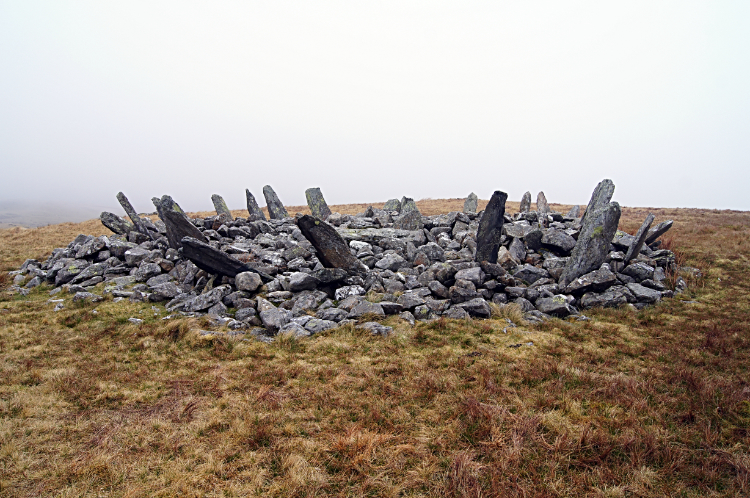 Bryn Cader Faner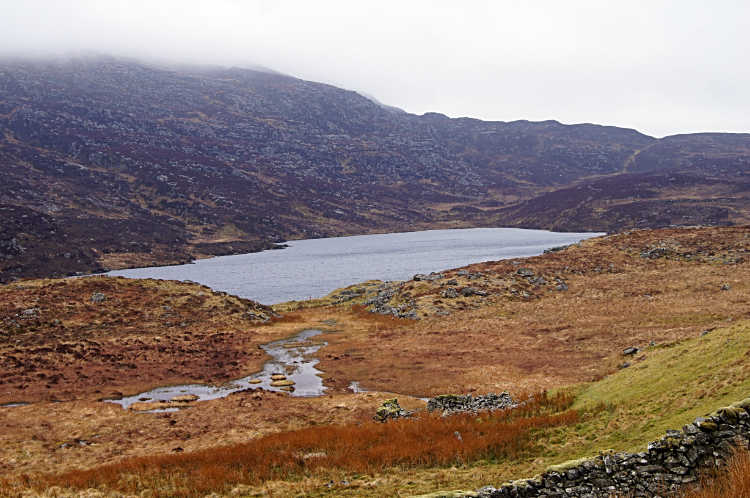 Llyn Eiddew-mawr
I had marked out some points of particular interest I wanted to find during the walk through the Rhinogs. The first was something very ancient. I knew than on passing Nant Pasgan-bach I was drawing nearer. The land was featureless and the cloud was down as I walked towards my objective and thus rather than fixing on it from a distance I almost stumbled on it. I arrived at Bryn Cader Faner. My good friend Tim Nobes had told me about Bryn Cader Faner while I was planning the Wales Coast to Coast and insisted I visit. He had done so himself on a walk through Rhinogydd himself. A Bronze Age stone circle, around 5,000 years old it has seen plenty of pilgrimage and a share of vandalism too. I can understand the actions of 19th-century treasure-seekers but I fail to understand how the British military could use it as target practice during world War Two. Bloody idiots. I stayed a while looking around and trying to understand the creativity of the ancient folk before continuing on my way, leaving Bryn Cader Faner in peace and heading south, now on the course of the Taith Ardudwy Way to Llyn Eiddew-bach. Leaving the way soon after I detoured to Llyn Eiddew-mawr and next in the direction of Llyn Cwm Bychan.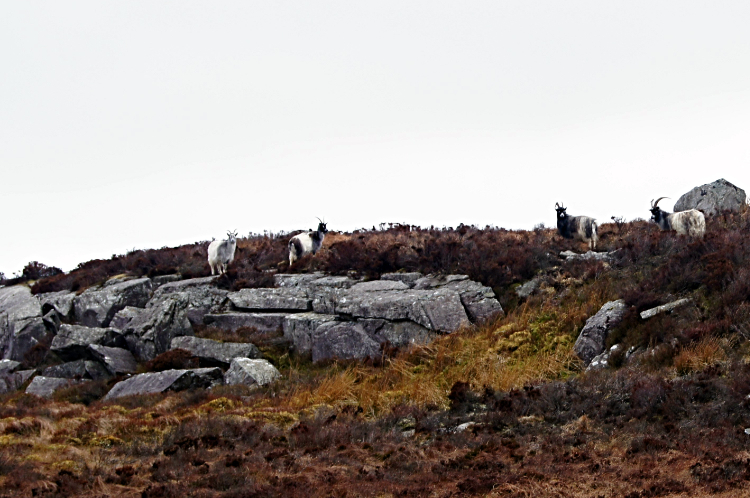 Wild goats of Rhinogydd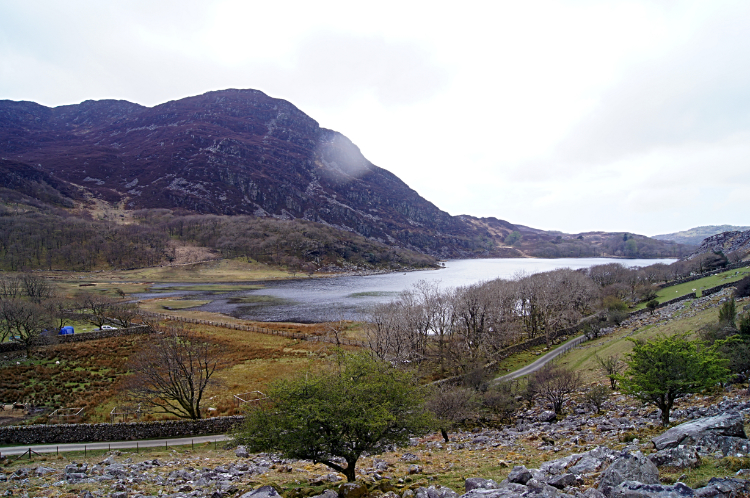 Llyn Cwm Bychan
Soon after passing Llyn Eiddew-mawr I spotted them. Just as Bryn Cader Faner had been a must visit the Wild goats of Rhinogydd had been a must sight. And there they were, on a small outcrop about fifty meters to my right. There were about a half dozen of them and they were watching me closely so I could not attempt trying to get any nearer to them. However, even from this distance i could see they were completely different to the domesticated goats I come across on occasions. With prominent front facing arched horns and thick fleeces I noticed their coats were predominantly black in the front and face while white in the middle and rear. They were certainly wild. I was chuffed to have seen them. After my encounter with the goats I carried on my way, arriving at ground above Cwm Bychan with a sense of relief. The four kilometers of walking from Bryn Cader Fader to here had been on tough and uncompromising ground. Path finding had been hard and stepping over outcrops a constant drain on my energy. Perhaps i could enjoy some easier walking for a while.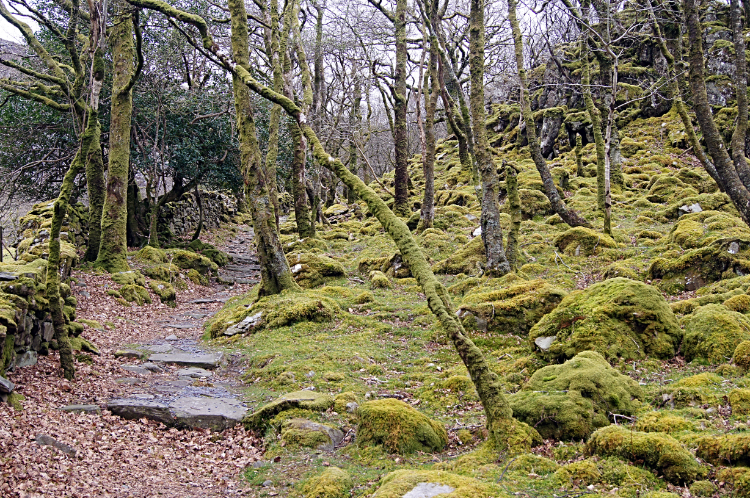 Moss covered woodland of Cwm Bychan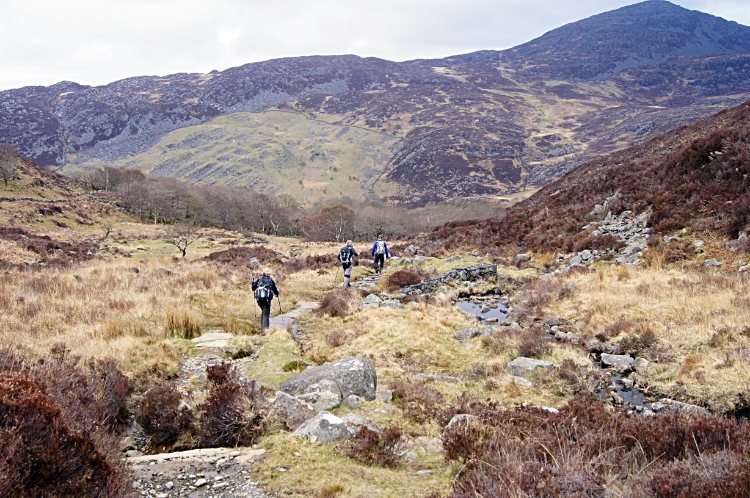 Following the Roman Steps to Rhinog Fawr
Thankfully the walk down to the shores of Llyn Cwm Bychan from first sighting was on better ground. Some discernible paths had been laid by previous walkers around here. Cwm Bychan is the most popular walking spot in the Rhinogs with a campsite placed at the east end of the lake. I noticed there were about two dozen vehicles parked and about a dozen tents pitched in the site. a couple of camper vans completed the compliment of visitors and stayers. I walked through the campsite and in doing so I completed a 200 meter descent from my earlier height. Now I faced a 350 meter climb. "Oh goody, I hope there is a proper path to help me up this time". I was a little grumpy. It was half past one in the afternoon; I had been walking almost five hours, having covered eight miles and made 400 meters of climbing. Without stopping to eat. I knew I must eat soon. But I wanted a solitude lunch spot and ironically I was now in the midst of other people. So first i had to climb from Cwm Bychan, first through the most gorgeous mossy woodland full of gnarled turned and wind blown trees and then on the Roman Steps path leading to Rhinog Fawr. I followed a group of three walkers up the steps to a point just north of Gloyw Lyn where paths separated. They went left to Bwlch Tyddiad. I went right to the lake. And to lunch.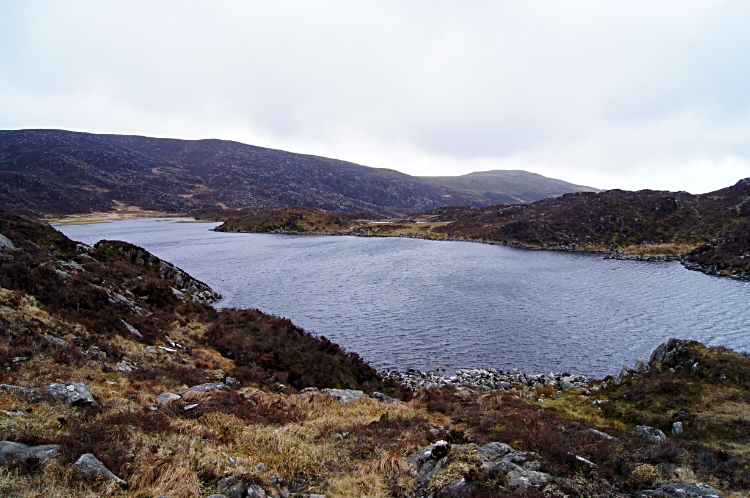 Gloyw Lyn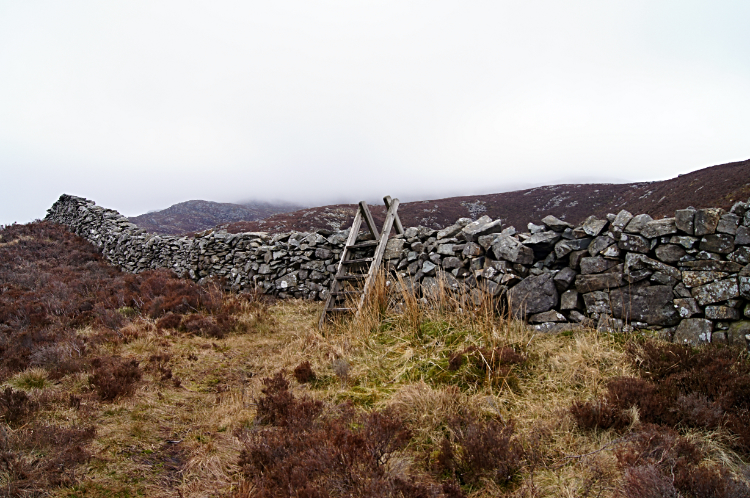 Stiles over walls confirm I am still on the path
I sat down on a flat outcrop overlooking the calm water of Gloyw Lyn. While it was a day of low cloud, fog and gloom there was no rain. There had been no rain on my walk since leaving Conwy five days ago so I was very thankful. And somehow the gloom was appropriate here. Rhinogydd is an austere place by nature, the ground a domination of brown vegetation. There is not a lot of green to be seen. And so it proved once more after my refuel lunch. The path that had led up from Cwm Bychan to the Roman Steps and to Gloyw Lyn faded to obscurity on the south side of the lake. A path showed on the map but not on the ground. No chance. I stuck to the course of the green line on the map, checking GPS constantly but no way was there a path here. Again stiles over walls provided reassurance I was on the path than never was. Oh what fun it was. I was hilarious with laughter. It was irony. What I should have done is follow the walkers up to Rhinog Fawr. At least there would be paths up there. Now on the west breast of the mountain at around 150 meters lower, it would have been easier. And more fulfilling. Oh well, must get on.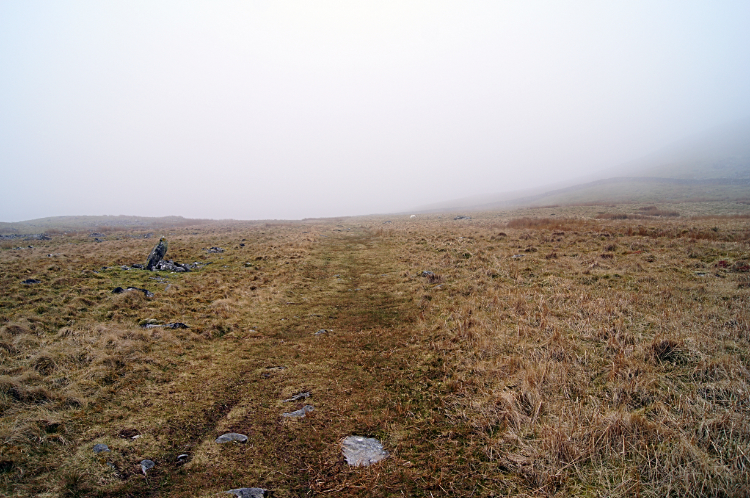 Into the fog of Moelfre in the Rhinogydd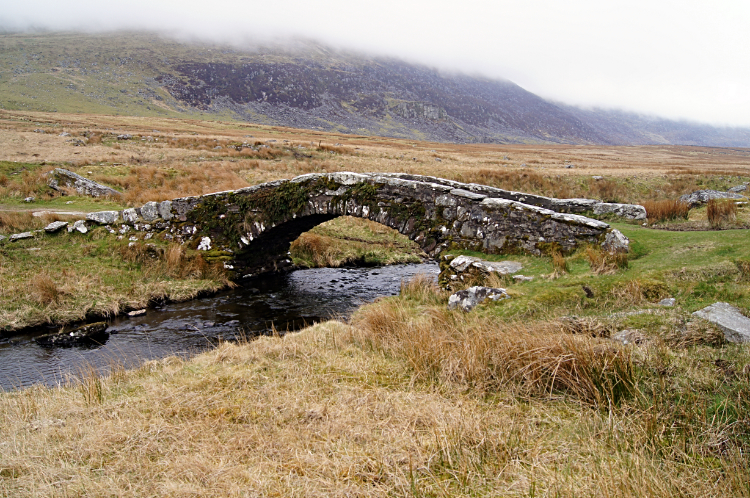 Pont-Scethin
Again relief from the stepping up and over course grasses and rocky outcrops came with the quite steep descent into a green valley. All the 350 meters I had gained from Cwn Bychan were lost in doing so but I did not care. I coveted a footpath. The valley this time was Cwm Nantcol which I followed from Maes-y-garnedd to Pont Cerrig which crossed the short three mile long Afon Cwmnantcol. On crossing the river I soon climbed again. This time on the west edge of Moelfre. And this time there was joy. The grass was cropped short, fields occupied by Sheep. Good reliable grass managing sheep. I was so relieved. As I crossed the flank of Moelfre, not more than 100 meters height from the summit, I did not see the peak. Dense cloud cover kept my attention local. Over the top part, another 300 meter climb done, I descended towards Pont-Scethin. Soon I came out of the cloud and spotted the bridge. A minute or two later I was stood on it, looking down to the running waters of Afon Ysgethin. Backpack on the floor, I was carrying the full long distance walkers house and home on the back now, I relaxed. As I did so I heard the familiar sound of trail motorbikes. Three young lads were roaring up the valley track from Tal-y-bont. I stepped off the bridge as they motored past and up the track I was to follow. They were much faster and soon gone. From sight and mind. Peace and calm returned.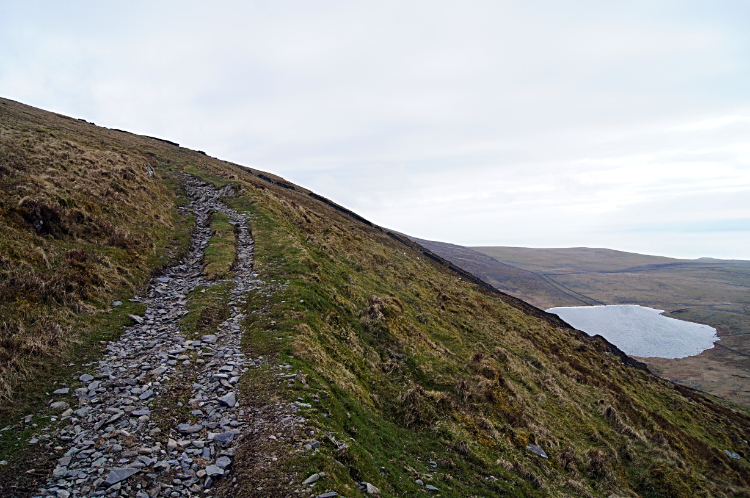 Llawlech and Llyn Erddyn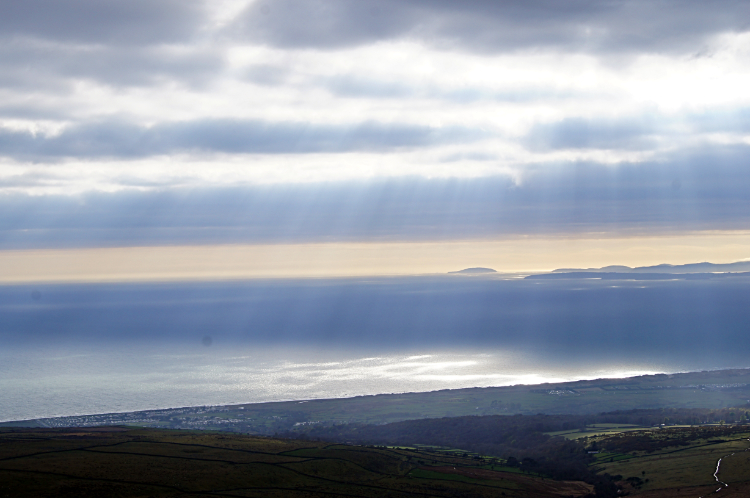 Tremadog Bay
I started out from Pont-Scethin on my final climb of the day, a 230 meter ascent to Llawlech. On the way up I came to an unusual memorial. It read 'Go Go Niant I Dduw. The Enduring Memory. Janet Haigh. Who even as late as her eighty-fourth year despite dim eyesight and stiffened joints still loved to walk this way. From Talybont to Penmaenpool. This stone was placed in 1953 by her son Mervyn sometime Bishop of Winchester. Courage Traveller!'. Wow, what a tribute. Well done Janet and well lived. I tip my head to you. On I went climbing to my final high of the day and with it gaining a tremendous view west to Tremadog Bay. Sun rays were glinting through the cloud. I thought how Janet would have enjoyed this view too.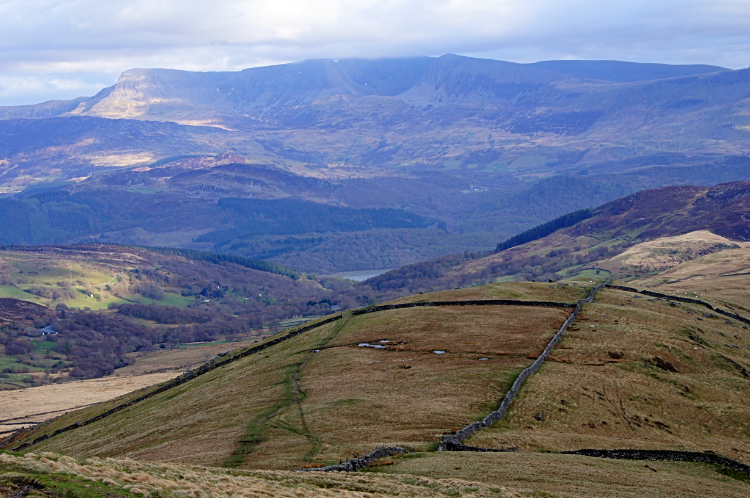 Cadair Idris and the Mawddach valley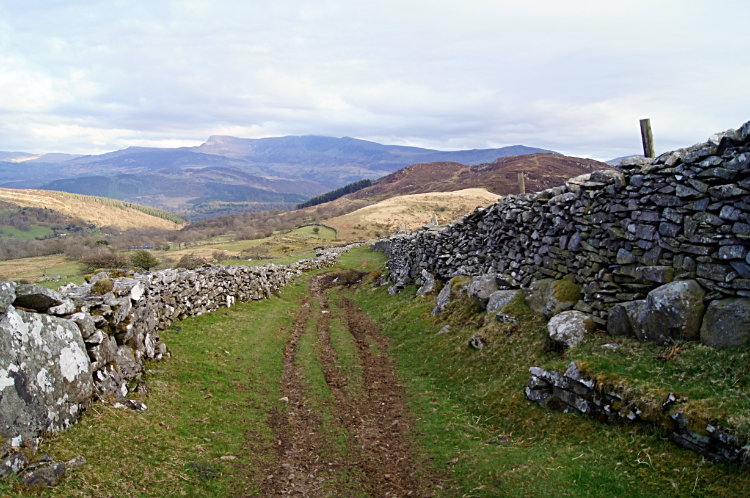 The descent to Mawddach
The end of my day was nigh, I was now delivered from Rhinogydd and heading down towards the valley of Afon Mawddach. Beyond the valley i could see the massive prominence of Cadair Idris, the Welsh giant i would cross tomorrow in the company of Adam Gallimore. Having crossed Crib Goch and Snowdon with me he was keen for some more mountain adventure. first though i had to get down to Bontddu, my destination for the evening. Not all the way but for the purposes of this report. In reality I stopped in a wood just above the valley and pitched my tent. I fancied a night out in the woods as part of the Wales adventure. Later on as I sat watching day go and nightfall arrive I looked at the north facing form of Cadair Idris turn to silhouette. "My my, this is good" I thought, nightcap in hand. "Goodnight, see you tomorrow."
Copyright © 2003-2023 Walking Englishman. All rights reserved.