Elterwater, Skelwith Force and Colwith Force
Google Maps
Open Source Maps
| Statistics | |
| --- | --- |
| Start: Elterwater | Distance: 4.8 miles (7.8 km) |
| Grid Ref: NY328047 | Time: 2-3 hours |
| Climbing: 244 metres | Rating: Easy |
| GPX Route File | Google Earth File |
Ordnance Survey Explorer Map (1:25,000)
Summary: Waterfalls are always fascinating attractions and this easy going Lake District walk visits two very different cascading forces, small compact Skelwith Force and the larger multi spouted Colwith Force. Coupled with a pleasant walk past shallow Elter Water and a brief fell climb to High Hacket this delightful circular has it all without being too challenging. As the walk never rises above 200 metres it is a very good option for walking in the Lakes when the weather closes in and with the walk not being too difficult it should be an option for many levels of fitness including senior walkers and families. Also the waterfalls are at their best after rain so pick a time to walk just after a low pressure belt has passed over the area. You will then definitely know when you are nearing one of the falls after rain for you will hear them from some distance. This is a memorable walk and one I will certainly do again.
---
The Walk: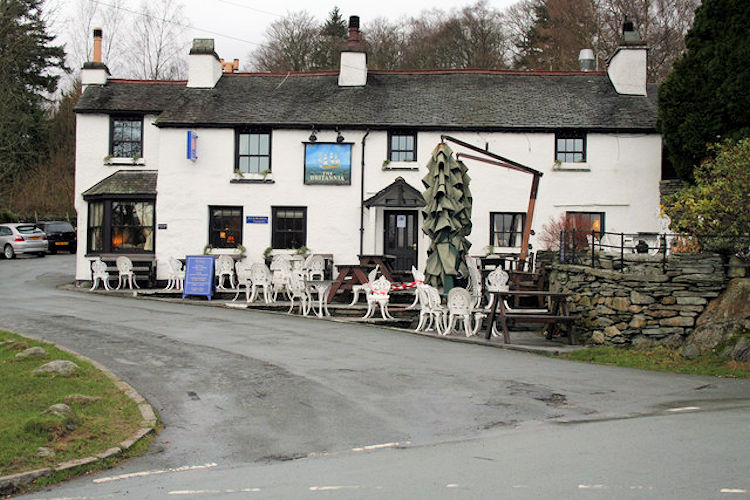 The Britannia Inn near to the starting point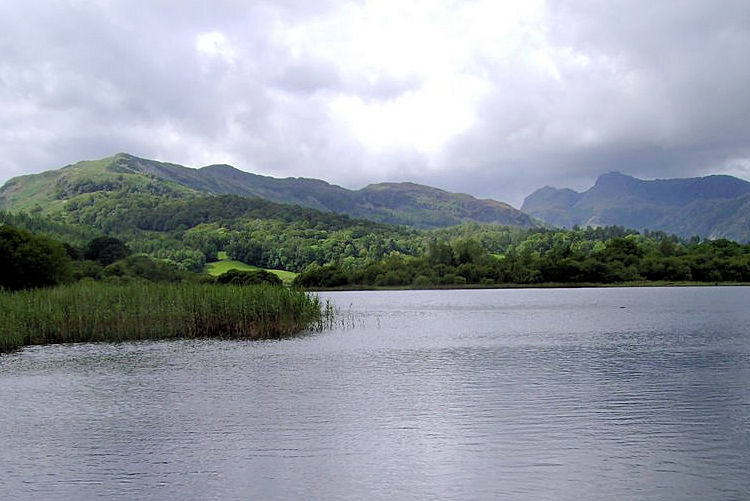 Beautiful Elter Water
It had been raining overnight and was still doing so as I had breakfast in my Ambleside Digs. The weather forecast was not too promising either and as I ate I knew there was no chance of going onto the high fells for my last days walking on this particular visit to the lakes (I had planned to do the Coledale Horseshoe but that would have to wait until a future occasion) so out came the map. A low level walk of about five miles with lots of interesting features and preferably not too far from Ambleside were the parameters. "What is best to see after rain" I mused. Powerful streams with water cascading from the fells soon came to mind and so I scoured the map for waterfalls. It did not take me long to spot Skelwith Force on the Explorer map for a big blue star marked its spot. A little more detailed observation was needed to find neighbouring Colwith Force. No blue star this time. Both waterfalls are marked by their name on the Ordnance Survey map though so I knew they would be significant features. A little more work was needed to link them into an interesting circular walk and by including Elter Water I retained the water theme for the hastily planned excursion. Now I was eagerly excited at getting started on my rearranged walk for the day. It was only a short drive from Ambleside to my starting point in Elterwater village. Conveniently a car park was close to the bridge spanning Great Langdale Beck. I set off on my walk, the route initially taking me east along the Cumbria Way and alongside Elter Water. Despite the dark skies the views across the water to the Langdale Pikes were stunning. I often paused, turned ny head and looked towards them as I walked easily on towards Skelwith Bridge.