Striding Edge, Helvellyn, Nethermost Pike, Dollywaggon Pike, Grisedale Tarn, St Sunday Crag and Birks
Google Maps
Open Source Maps
| Statistics | |
| --- | --- |
| Start: Patterdale | Distance: 10.7 miles (17.2 km) |
| Climbing: 1,252 metres | Grid Ref: NY 39571 15929 |
| Time: 6 hours | Rating: Technical |
| GPX Route File | Google Earth File |
Ordnance Survey Explorer Map (1:25,000)
Summary: There are two very popular ways to complete a circuit walk which showpiece Striding Edge and Helvellyn. The first is the walk from Glenridding which includes Swirral Edge and Catstye Cam, a walk I did almost a decade ago. That walk is 7.5 miles long and includes 958 metres of ascent. This alternative circuit, the classic Grisedale Horseshoe is longer at 10.7 miles and features more ascent, a total of 1,252 metres. It begins in Patterdale village, the close neighbour of Glenridding and starts with the noted climb from Grisedale to Hole in the Wall. Then it crosses Striding Edge and scales Helvellyn before an airy crossing of mountain peaks including Nethermost Pike, High Crag and Dollywaggon Pike before descending to the Grisedale high valley at the tarn before climbing again, this time to St Sunday Crag on the south side of Grisedale. From St Sunday Crag a glorious descent to Birks reveals gorgeous views of Ullswater, a fitting finale to a superb walk.
---
The Walk: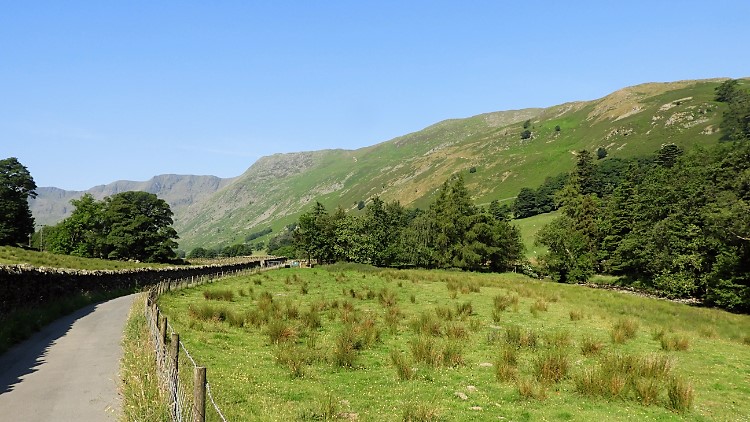 Walking into Grisedale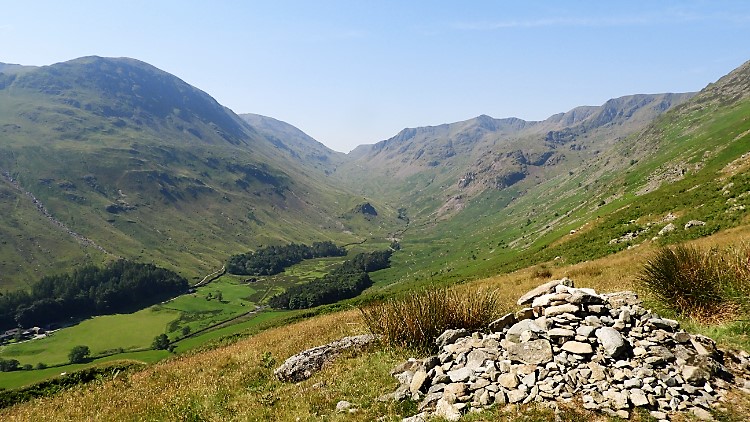 View of Grisedale from Hole in the Wall path
It was a beautiful day, Wednesday 27th June, 2018. A day I will remember forever as one of my favourite walking days. One of so many but to get such a day unblemished in the Lake District is a privilege. It started so well too, as I parked up in the supplementary pub car park in Patterdale and was told by other parkers not to worry about collecting a ticket. The machine which I could not find was not working anyway and no other person parking there had bothered either. A few quid saved there then. stocked up with plenty of drink and refreshments for a long hot day I was soon on my way, walking alongside the A592 Patterdale to Glenridding road and past the Church of Saint Patrick before turning left at Grisedale Bridge and following Grisedale access road to Thornhow. At a road gate I took a dog-leg right and began the climb to meet the Hole in the Wall path. When there and in the shade of Brownend Plantation I stopped and mopped myself down. It was not yet 10.00am and it was already blooming hot. I told myself "This is going to be a tough day". Slowly and steadily I committed myself to the climb up from the Grisedale valley to Hole in the Wall. 500 metres of elevation in two and a half kilometres of walking would get me there.

On I went. First I was alone on the path but then I spotted others. Some ahead of me, some behind. I caught up with some. Some caught up with me. Everyone was feeling the heat but we all agreed the effort was worth it. A father with his two sons was struggling a bit. "This will be my last time across Striding Edge but I wanted to do it with my lads" he said. A young couple from Glasgow were crossing Striding edge for the first time and not having put eyes to the ridge before asked me how tough it is. "You will be fine" I said, and added "as long as you are careful and look after yourselves". I also told them to stay high on the crest of the edge despite the temptation to drop down a little. "I dropped down what I thought was a little drop when in cloud on my first crossing. I nearly ended up down by Red Tarn and faced a tough unnecessary scramble back up as a result".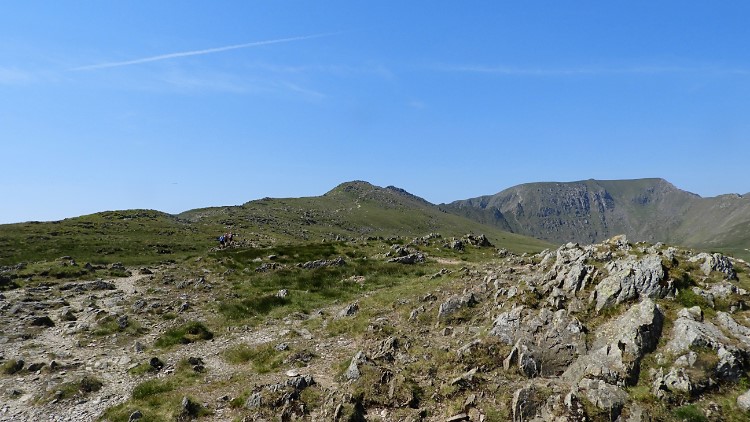 View to Striding Edge from Hole in the Wall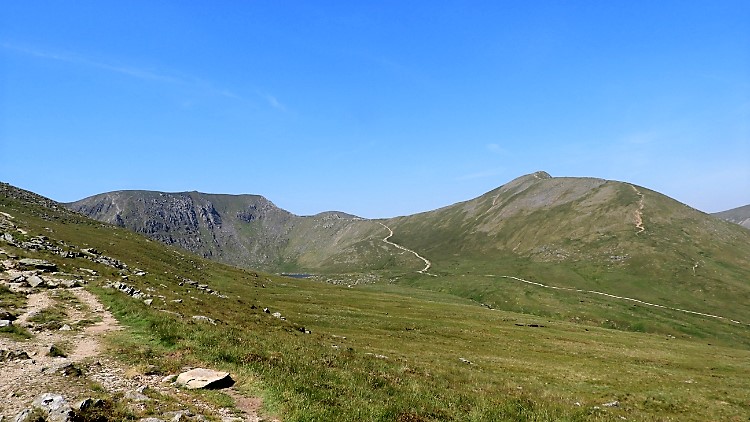 Helvellyn, Swirral Edge and Catstye Cam
We all got there in the end. To the Hole in the Wall. I took a break to recharge for the crossing of the edge while the young couple went ahead to begin their adventure. I was not to see them again so I guess they were okay. The man with his sons rested near Hole in the Wall too and was still there when I set off on my way. I hope his last crossing went well. For me, my crossing of Striding Edge, what I worked out to be my fifth began. I have crossed it twice from Helvellyn to Hole in the Wall and this was my third crossing from Hole in the Wall to Helvellyn, It is the better way to go. As i began my way to the edge some familiar friends appeared. Helvellyn and Swirral Edge. Catstye Cam too. Another had yet to show up.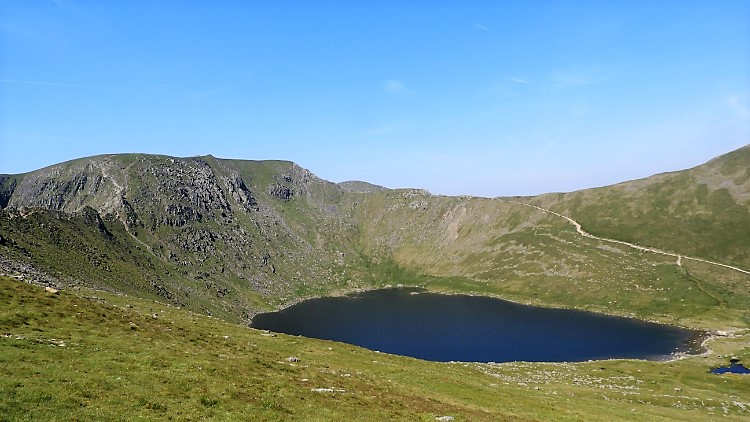 Helvellyn, Swirral Edge and Red Tarn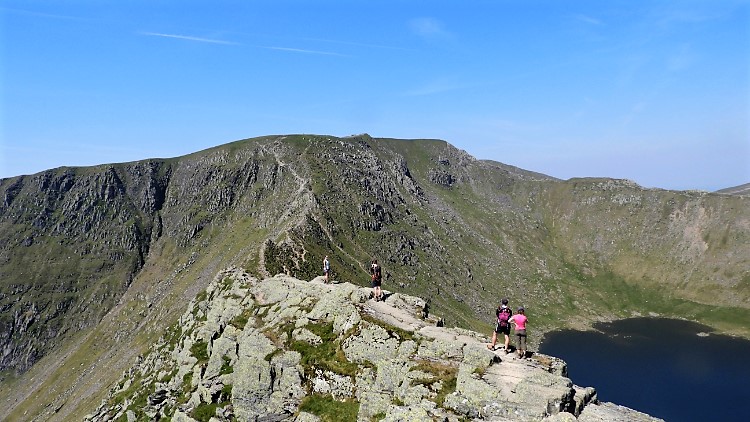 Beginning of Striding Edge at Bleaberry Crag
I approached the start of the true Striding Edge crossing at Bleaberry Crag and as I neared the crag that final familiar friend showed up. Red Tarn glistened, as it always does with a million smiles, welcoming me back to the awesome spectacular. For Striding Edge is only one of the parts that completes a remarkable scene. A scene which includes Helvellyn, Swirral Edge, Catstye Cam and Red Tarn. And a scene which also involves, should one care to look around, the rump of Birkhouse Moor which is crossed on the Glenridding approach to Striding Edge. South side of the edge are Nethermost Pike, Dollywaggon Pike, Fairfield and St Sunday Crag also making an appearance. Yes, Striding Edge is a star but think of it as one in a constellation of stars.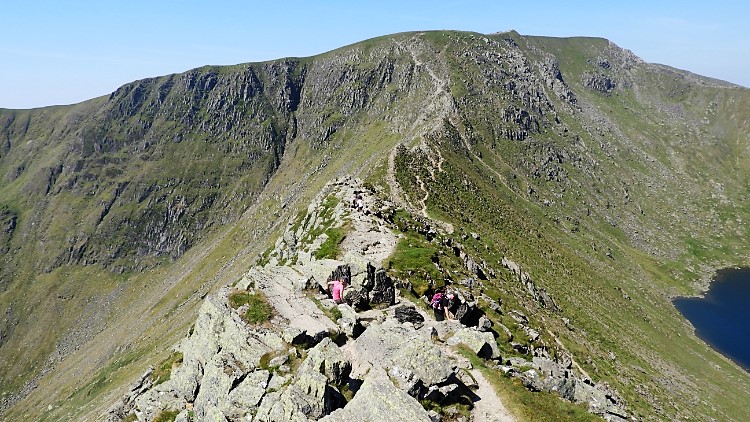 Striding Edge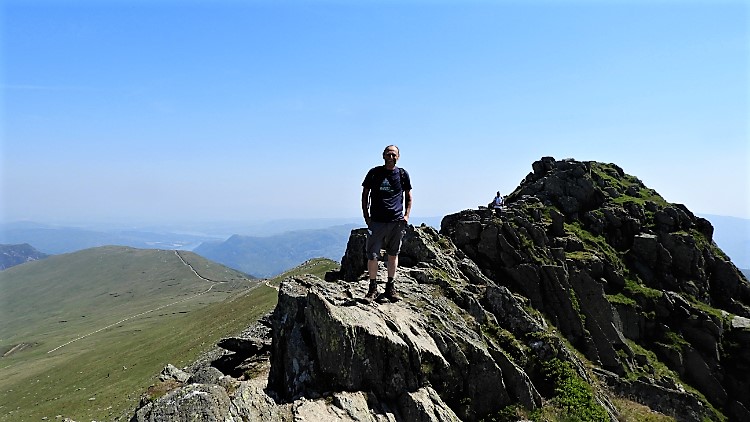 In my element on Low Spying How, Striding Edge
I crossed Bleaberry Crag, a relatively easy stretch of ridge walking which has deceived many souls crossing Striding Edge for the first time. As it did for me on that first time in the cloud "This is not bad at all. What is the fuss about" I had thought while knowing Alfred Wainwright's assessment which says "Airy rock ridge, very fine indeed. Good path throughout". And while he was a notable walker he was cautious when it came to ridges and scrambles. On the conclusion of Bleaberry Crag the first real test came at Low Spying How, the first of Striding Edge's two castles. It is not difficult to climb when going this way towards Helvellyn. In fact you just step on to it though it is narrow ridge path now and real care is needed if in the wet, snow or ice.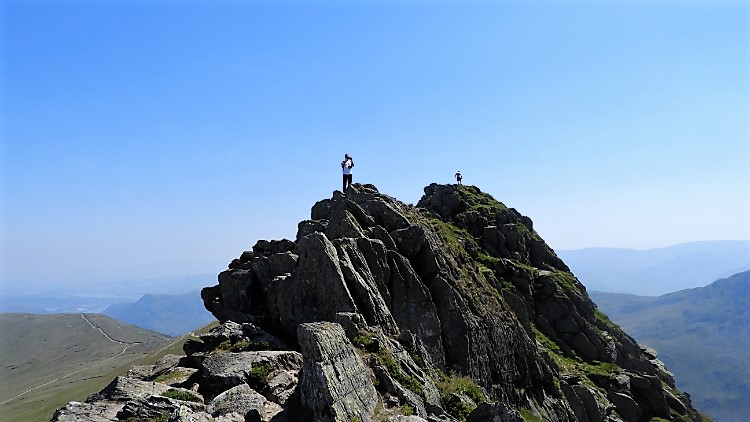 Low Spying How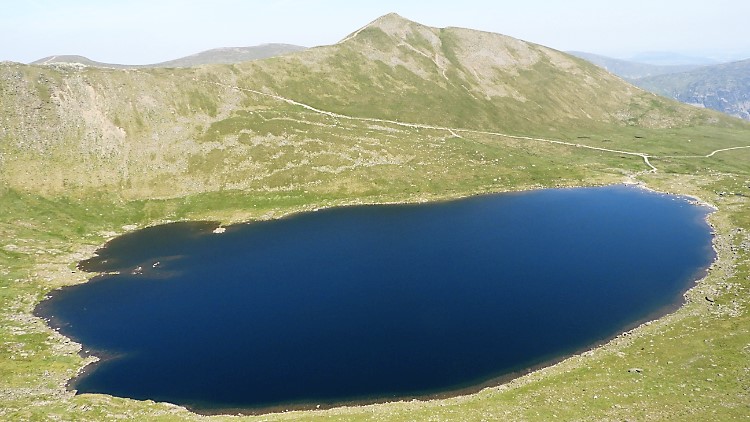 Red Tarn and Catstye Cam
The challenge for first timers and cautious walkers on Low Spying How when crossing Striding Edge from east to west is getting off it. The first scramble awaits as hands and feet are needed to clamber down from the castle ramparts. (see above picture). It is not as arduous as what lies ahead at the second castle but a little care and effort are needed. From Low Spying How there follows an easy 200 metres to High Spying How. Enjoy it while you can and take in the views, including the best one of Red Tarn and Catstye Cam on offer. The real test of crossing Striding Edge is dead ahead.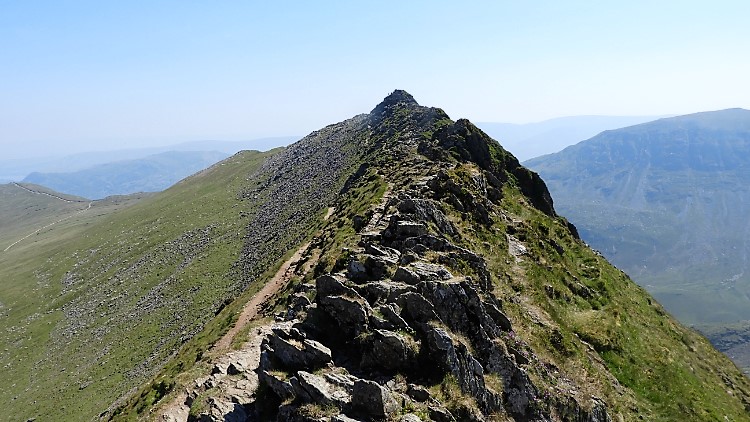 Looking back along Striding Edge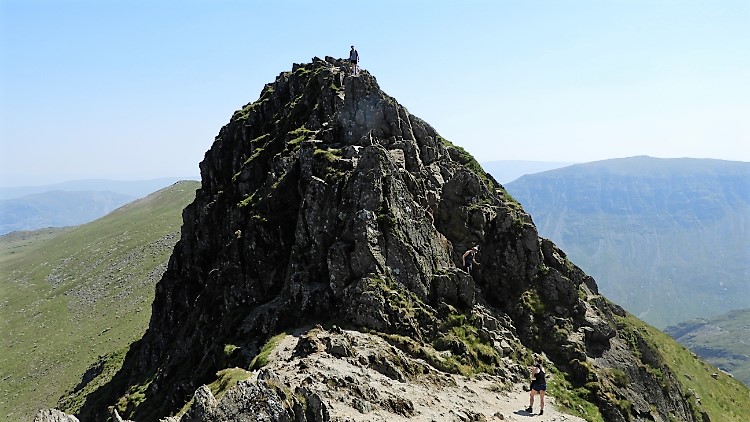 High Spying How showing the scramble descent
High Spying How, the second and largest of the two Striding Edge castles requires some effort to cross. Also known as the Chimney, High Spying How is the one which sent me down rather that across on my first attempt. Getting to the top is easy enough, it is getting down the other side which requires some though and not a little effort. Patterdale Mountain Rescue say of it "the only vaguely difficult bit of Striding Edge is at the end when you have to climb down a bit of a chimney where the edge butts up against Helvellyn". (see above picture). I clambered down and then watched others do the same, most facing the rock as the descended. All took care and all were okay. No need to worry, just be ready.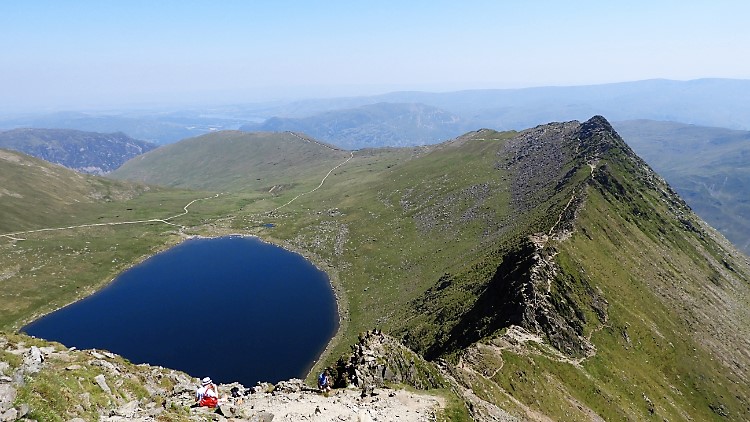 Red Tarn and Striding Edge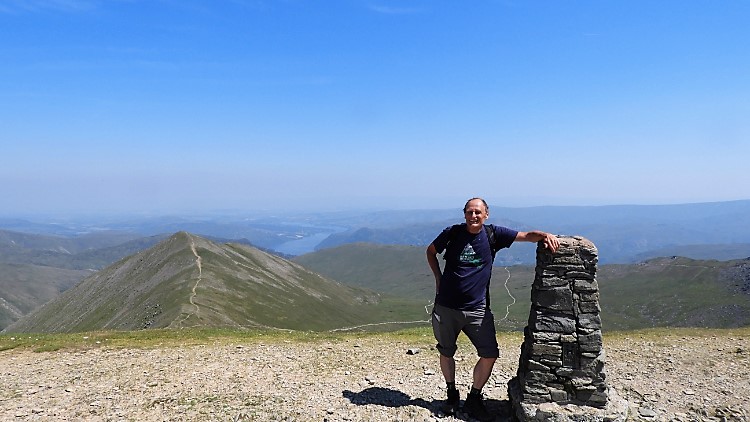 Happy on Helvellyn
And then after all the drama the deed was done. Well not quite as it is a tough old climb up the east face of Helvellyn to the summit plateau from the Striding Edge ridge. There is still over 100 metres of ascent from the edge and it is a tough old haul. I took a few breaks pulling myself up which were really appreciated and actually the thing to do. The view back along Striding edge from that final clamber to the summit are the very best of Striding Edge there are to be had. The entire ridge reveals itself and shows all its intricacies. Bleaberry Crag, Low Spying How, High Spying How and the Chimney, all lined up for inspection and not frightening at all now. I looked, climbed a little more and soon I stood upright on the summit tabletop of Helvellyn. A walk of 300 metres took me to the trig pillar where satisfaction is gained and many fine views enjoyed. These include north and east to Catstye Cam with Ullswater and the Pennine mountains beyond, looking south to the Coniston Fells, looking south west to the Lakeland giants including the Scafells and looking north west to the Dodds, Skiddaw and Blencathra. There are many more mountains to see too, including on days of good vision some shimmering ones of south-west Scotland across the Solway Firth. Take it all in, you have earned it.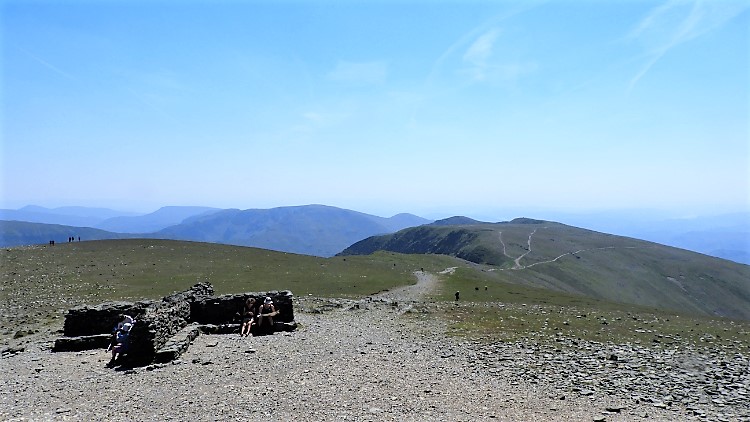 The path from Helvellyn to Nethermost Pike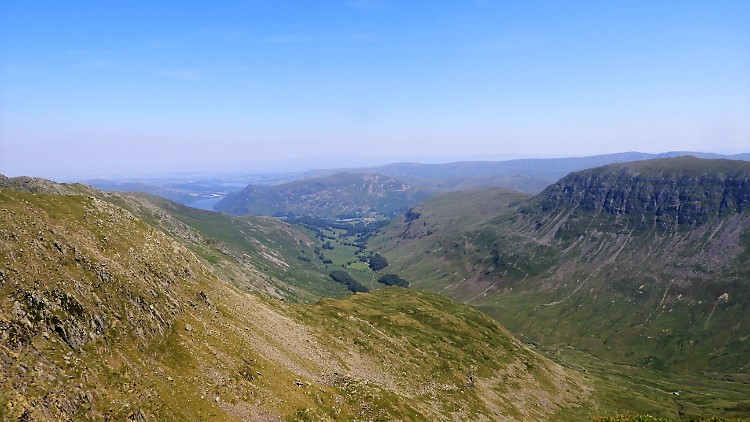 The view looking east from near Nethermost Pike
I took my leave of Helvellyn by walking on the grand upland path heading due south to Nethermost Pike. The walk is gently downhill all the way bar the final short pull up to the pike. On the way I skipped along, full of myself, thinking of the just passed thrills of the walk so far. As I strolled along I came to a memorial stone beside the path. It tells about the first aeroplane to land on Helvellyn in the winter of 1926. I presume it was the last aeroplane to land there too, though I guess Mountain Rescue Helicopters have landed on the mountain top several times since. I continued on at a leisurely pace after the reading of the memorial, arriving at Nethermost Pike soon after. I had planned to stop for lunch at Nethermost Pike as Helvellyn had been too busy for me but having a small reserve of energy left I carried on walking. Next point of call was High Crag.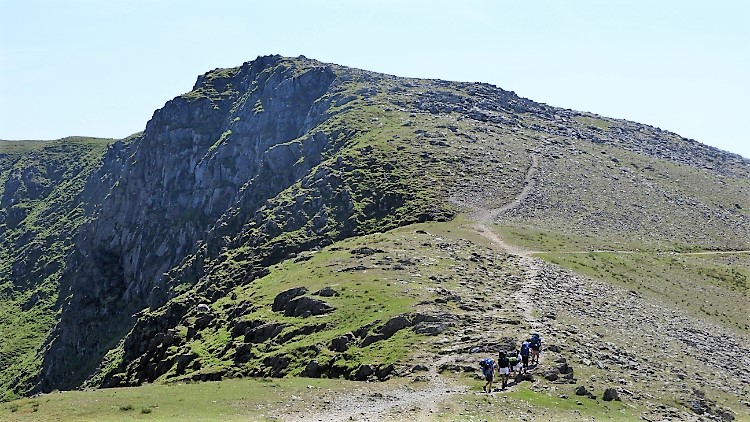 High Crag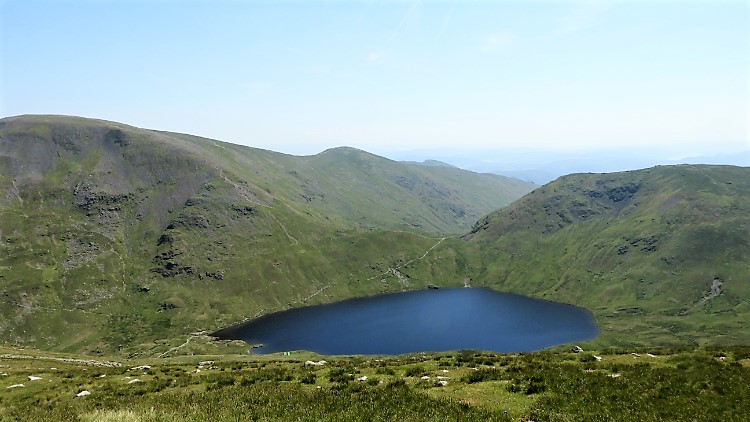 Grisedale Tarn, Fairfield, Great Rigg, Seat Sandal
The walk from Nethermost Pike to High Crag did not look much on the map and the gradient chart between the two looked next to nothing either. But there was a deceptive short steep climb from the gap between the two sapped my remaining reserves. I panted my way up to the peak cairn and found a sheltered lee close by to sit down for my lunch. I was dripping with the effort and my feet were beginning to overheat so off came the boots and socks before i cracked on with lunch. I wafted my feet in the cooling air, imaginary tiptoeing across the profile of Striding Edge which I was looking at. It appeared to be much busier on the edge now. I had crossed between 11.30am and 12.45pm and with just a handful of fellow walkers. Bless retirement and midweek walking, on a weekend day of sunshine it would have been heaving. I finished lunch in peace and quiet before resuming my walk, leaving high Crag, crossing Dollywaggon Pike and setting my sights on Grisedale Tarn on the south side descent of Dollywaggon. Familiar mountains filled the new view including Fairfield, Great Rigg and Seat Sandal. And of course the one I was most interested in, St Sunday Crag.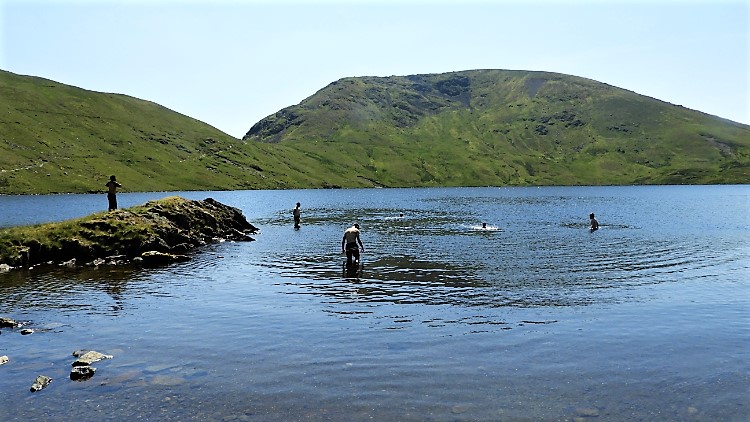 Cooling down in Grisedale Tarn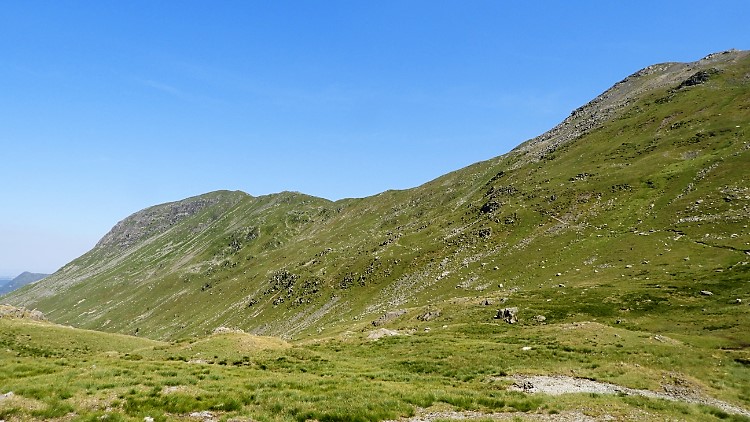 St Sunday Crag
I followed the zigzag path down from Dollywaggon Pike to Grisedale Pike, passing no people but a few lazy Herdwick Sheep. They were laden with heavy fleeces and probably wished their Shepherd would shear them of the weight. It was too hot to be wearing a coat. Far too hot. As I got closer to Grisedale Tarn I saw bodies taking advantage of the cool tarn waters by bathing. A group of youngsters had dropped the backpacks and rolled up the trousers to paddle in the water. One or two of them had gone further and were swimming while encouraging their chums to do the same. When I reached the tarn side I too stopped and dropped the backpack. Off came my boots and socks, followed by the rolling up of my trousers. I stepped into the water; it was bliss. I took off the tube I was wearing to protect my head and soaked that before putting it back on. I splashed my trousers up to my groin. Everything was bliss, the wet would soon dry. With socks and boots back on I set off on my way for the final climb of the walk, following the traverse path from Grisedale Tarn to Deepdale Hause, prelude to the ridge climb to St Sunday Crag. The climb was tough in the high heat of a day just after summer solstice. The sun was at its highest, relentless and baking. My reserves of drink were needed as were the top ups from the tarn springs which I availed of. I also re-soaked the tube and trousers. Aids to the climb they were.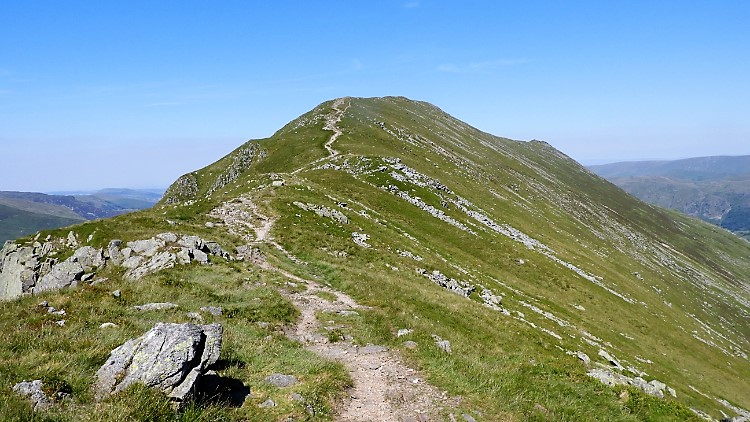 On Deepdale Hause, St Sunday Crag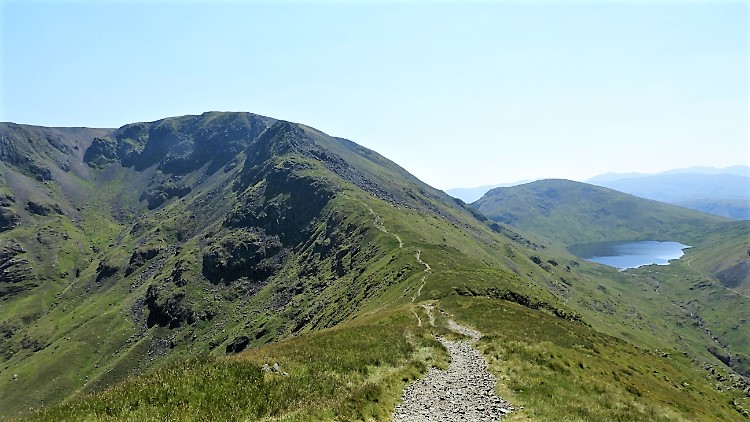 Cofa Pike, Fairfield, Grisedale Tarn, Seat Sandal
I reached Deepdale Hause after a lot of effort. It took me forty minutes of strenuous heave to climb the 180 metres of ascent in just over a kilometer in climbing the side of the mountain. At Deepdale Hause I sat; or rather I calculatingly fell on to a rock and gasped for five minutes, panting out the effort. I said it was blooming hot didn't I? At rest though I reminded myself of the special time I had last been at this spot, all of nineteen summer's ago during my 1999 Coast to Coast walk. I was with dear Deke, no longer here but much remembered. I said to myself "This is for you Deke". I turned my head and looked back along Deepdale Hause to Cofa Pike and Fairfield, to the path which we had walked together. Then I looked forward to St Sunday Crag, rather wearily got up and walked steadily up the ridge line towards St Sunday Crag summit. "I cannot remember it being this hard" I thought to myself. I still had 100 metres of ascent to do and I felt the effort of every hard metre of it.
The view to Ullswater from St Sunday Crag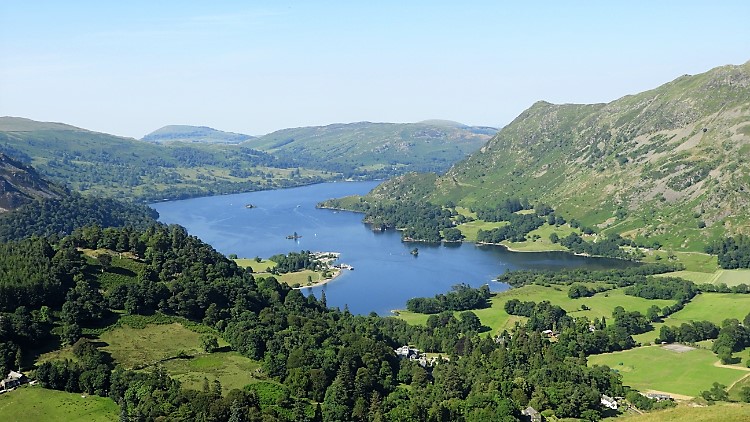 The view to Ullswater from Birks
The rewards for that final climb to St Sunday Crag were well it. Just beyond the true summit, by the path climbers ascend from Grisedale by Pinnacle Ridge, is a stand of exposed rock with a small cairn indicating a point of interest. And WOW what interest, for it is here the first tremendous views of the Ullswater valley are revealed. Ullswater in most part can be seen, the classic boomerang shape of the south and west of the lake unveiled, twisted around the infringement of Birk Fell with Place Fell acting as the bolster. An awesome sight it is. I enjoyed the sight just as much as I did at first sight in 1999. It blew my mind then. t blew my mind now. I kept taking in the view all while I descended from St Sunday Crag to Birks and then for as long as I could while dropping from Birks into the valley. All of a sudden the view went and soon after the walk was completed. As I considered all the joy of the day I reassured myself with the though that while the walk was done the memory was banked. A precious thought that.
Copyright © 2003-2023 Walking Englishman. All rights reserved.