Lofthouse, Upper Nidderdale, Woogill Moor, Dale Edge and Lofthouse Moor
Google Maps
Open Source Maps
| Statistics | |
| --- | --- |
| Start: Lofthouse | Distance: 9.3 miles (15 km) |
| Grid Ref: SE102734 | Time: 4-5 hours |
| Climbing: 437 metres | Rating: Moderate |
| GPX Route File | Google Earth File |
Ordnance Survey Explorer Map (1:25,000)
Summary: Steve and I took the opportunity to do this walk during his annual winter visit to Leeds. The walk itself involves a wonderful exploration of Upper Nidderdale from its start in the village of Lofthouse. From the village we followed the infant River Nidd upstream along the valley floor to Woodale. Once here we were deep below the massive dam wall of Scar House Reservoir which supplies the city of Bradford some 20 miles south. When the reservoir dam was built there was a shanty village here with shops, pubs and clubs. No more though, for when the dam was complete there was no more work to be found up here. From Woodale we climbed up onto Woogill Moor and then skirted round Brown Ridge to Lofthouse Moor. This section provided great views of the stunning Upper Nidderdale scenery before it was lost on the descent back into the lower reaches of the valley at Lofthouse.
---
The Walk: The weather looked good as Steve and I enjoyed breakfast before setting off on our short car journey to Nidderdale. We anticipated a good days walking although showers were a possibility in the morning and set off after breakfast in good spirits. The sky over Leeds was clear and we could see very few clouds, a good omen to start off with. The smiles on our faces were soon to drop though. As we climbed out of the valley in which Horsforth sits towards Leeds Bradford Airport and The Chevin we looked north towards our destination. The skies were angry over that way and as we progressed they got angrier still. After about 5 miles we reached the village of Lindley and as we passed through towards Lindley Wood Reservoir we saw the most stunning double rainbow. It was the most vivid we had seen for some time and must be a good omen! After the spectacle we resumed our journey over Norwood Top and it was on top of the hill that the sky went dark and the heavens opened. The rain poured down in the winter morning darkness and we quickly contemplated a change to our walking preparations. It was surely going to be a wet start. The rain continued to pour down as we dropped off the moors into Nidderdale and they continued unabated as we passed through Pateley Bridge on our way up the Nidderdale Valley to our walking start point in the village of Lofthouse. It was still raining heavily as we arrived.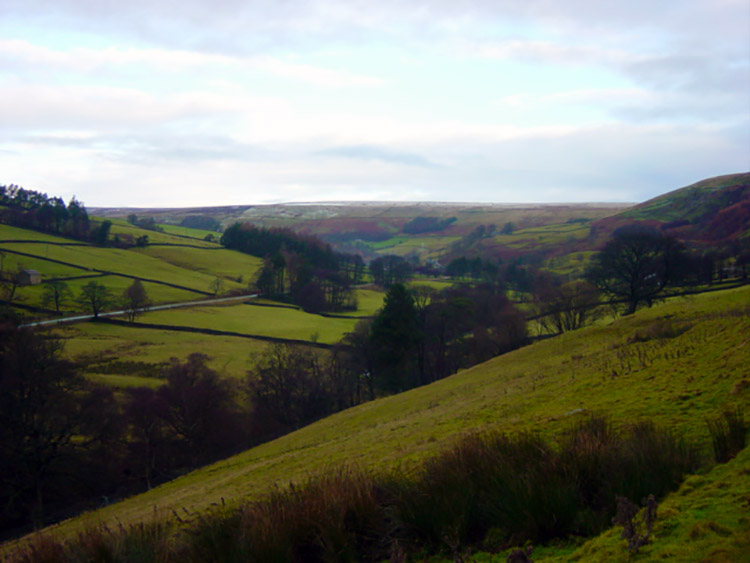 Upper Nidderdale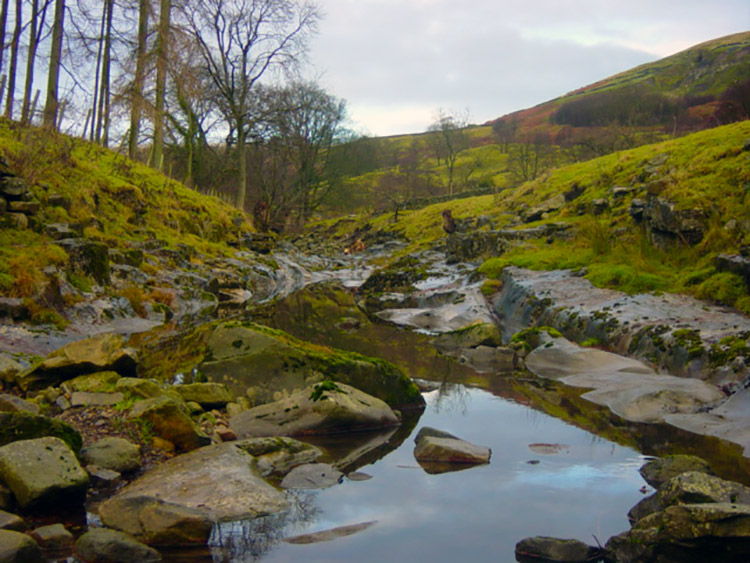 The River Nidd near Thorpe Farm
There must have been an angel looking over us this day. It was the week before Christmas and one must have been sent over early to look after us for as I parked the car the rain relented. It was still drizzly but not the deluge that had accompanied us on the car journey. We prepared for the off by putting on our wet walking gear. It takes a lot to stop Steve and I walking and only during an infamous snowstorm on Buckden had we ever been forced to turn back. And so we set off in fine rain but that angel I mentioned soon got to work and the rain miraculously stopped. To be safe we kept the rain gear on for some time but we were not to need it. The rain was done for the day. Our walk took us from Lofthouse to Upper Nidderdale by following closely by the side of the young River Nidd upstream towards Scar House Reservoir. The scenery was beautiful and the walking solitary as it usually is here.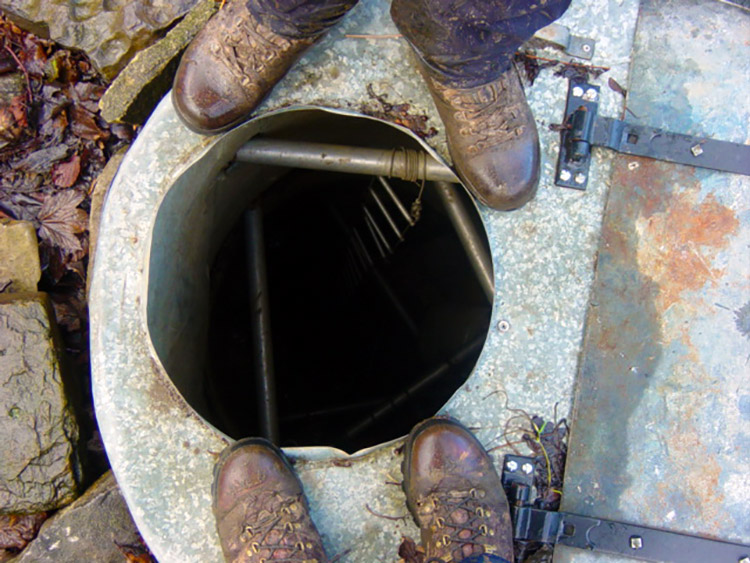 Dry riverbed access to Frog Pot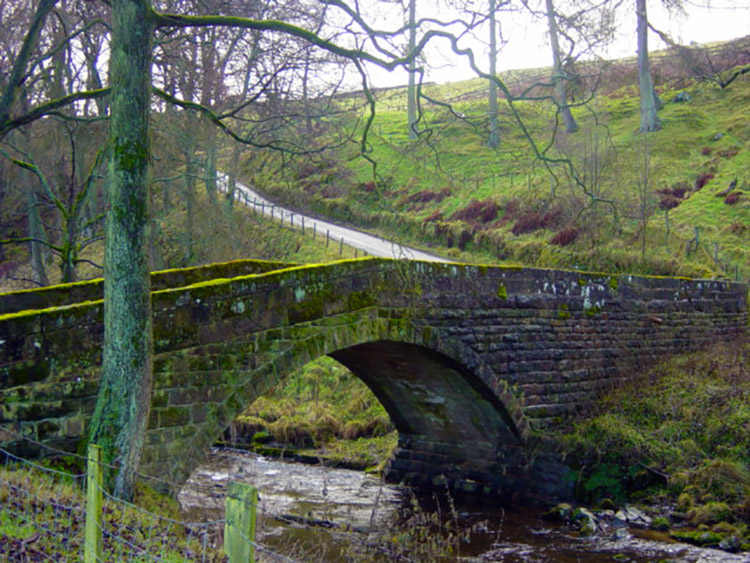 Bridge over River Nidd at New Houses
Nidderdale is overlooked and much underrated by walkers and visitors due to an anomaly which saw the Nidderdale area excluded from the Yorkshire Dales National Park which it borders. Their loss, our gain. We followed the river upstream looking to it often as its waters ran briskly over small waterfalls in sections and then totally disappeared in others. we could cross with ease on many sections as the water had simply gone underground. This area of Nidderdale is popular with potholers and cavers who come to explore the vast Goyden Pot system of potholes. As we walked on the river bed we came across lots of the potholers entrance points. We were not tempted underground though, our beauty was above ground as we walked past Goyden Pot, Manchester Pot and Frog Pot before turning a dog leg in the river valley at New Houses. Here we passed by a lovely Packhorse Bridge and peered up towards the moors which we could now clearly see were covered in a dusting of snow. We were excited, we love walking in snow and headed towards it.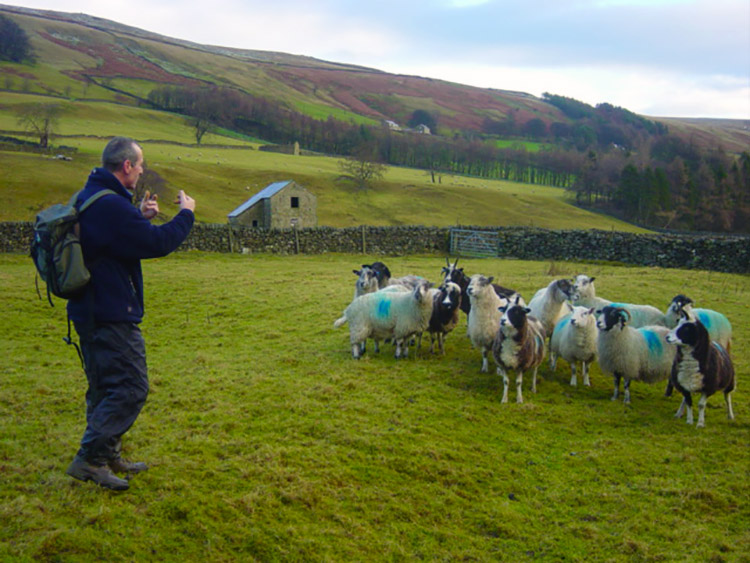 Steve shows off his shepherding skills near Woodale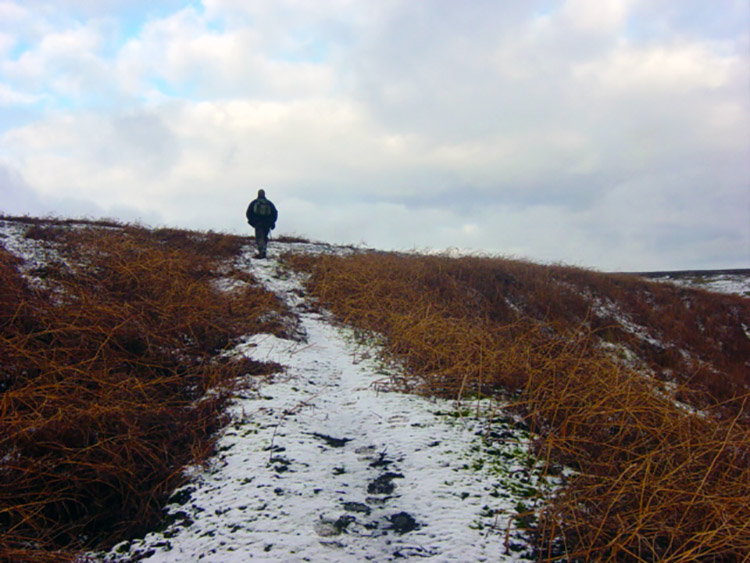 Climbing to Woogill Moor
During our walk along the valley our peace had been broken. As we passed the potholing systems we had began to hear gunfire and as we progressed further up the valley it became louder and more frequent. The Christmas wild bird shoot was in full swing. As we passed New Houses we could clearly see the beaters with their yellow fluorescent jackets and red flags frantically tramping and waving their flags as they walked in orderly fashion down the moor scaring the pheasant and grouse from cover into the path of the firing line. And they call that sport! Steve and I were unimpressed and continued on our walk. On passing New Houses we entered a field full of sheep. Usually they keep clear of us but not this time. On entering the field the flock immediately sprinted towards us and despite our calls to disperse they remained close. Steve decided to give them a lecture (see picture above) during which they stood attentive. What a guy, he can even talk to the animals! I think they expected him to deliver more than just an interesting speech though and probably left disappointed.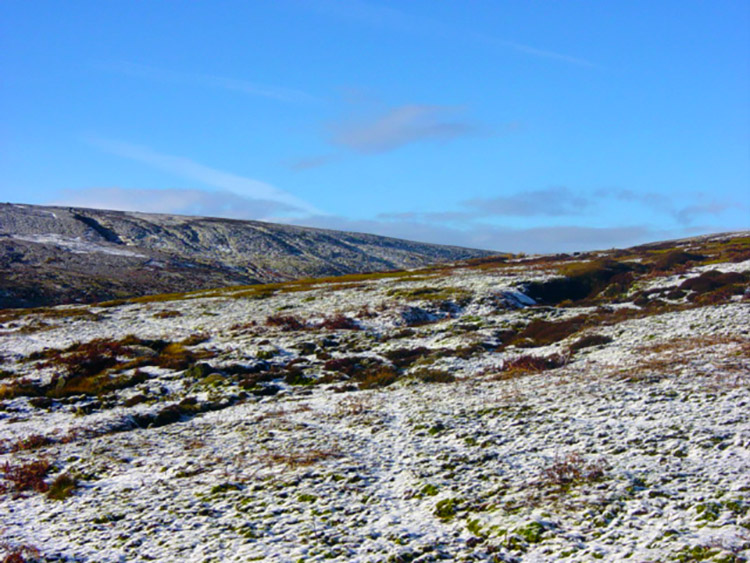 Woogill Moor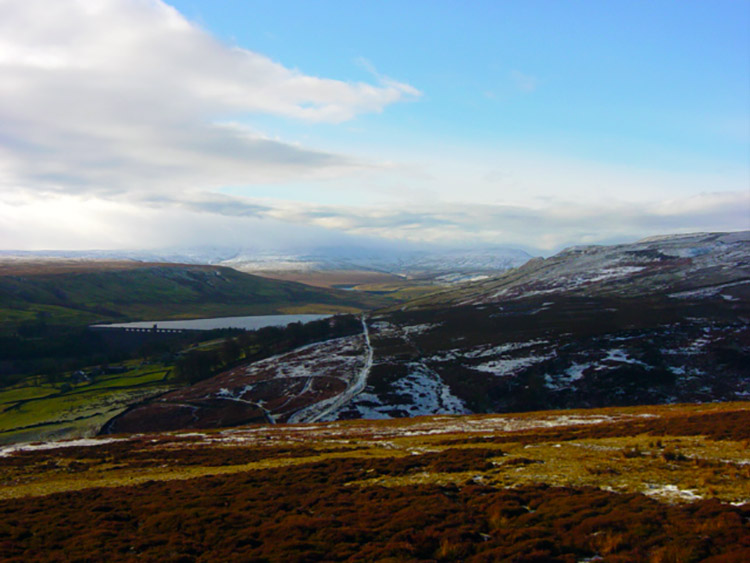 View to Scar House Reservoir from Woogill Moor
We left our flock of devoted followers behind and walked on a little further to Woodale. We were well in the shadows of the imposing Scar House Dam now which holds back 2,200 million gallons of water. I think we had better climb up onto the moor now! And climb up onto the moor we did. As we made our climb from Woodale to Woodale Moor we reached the snow line. The scenery panning out as we climbed was fantastic and I looked over to Great Whernside in the west which was covered in a bright white snow. It was a beautiful sight. And there was more to excite us as the clouds completely disappeared leaving us with a brilliant blue sky to contrast the excellent white carpet. We were blessed by that angel now. This was winter walking at its best and we struggled up Woodale to find a place to stop for lunch. Steve pressed on but I was hungry.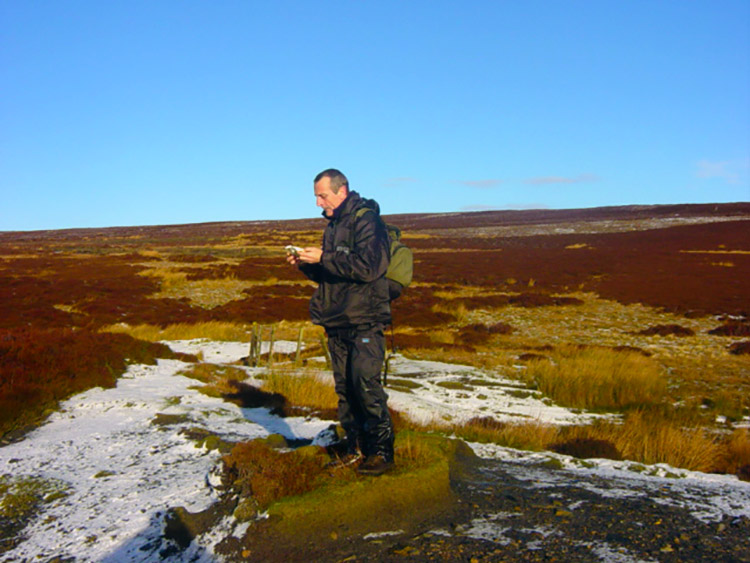 Checking the grid bearing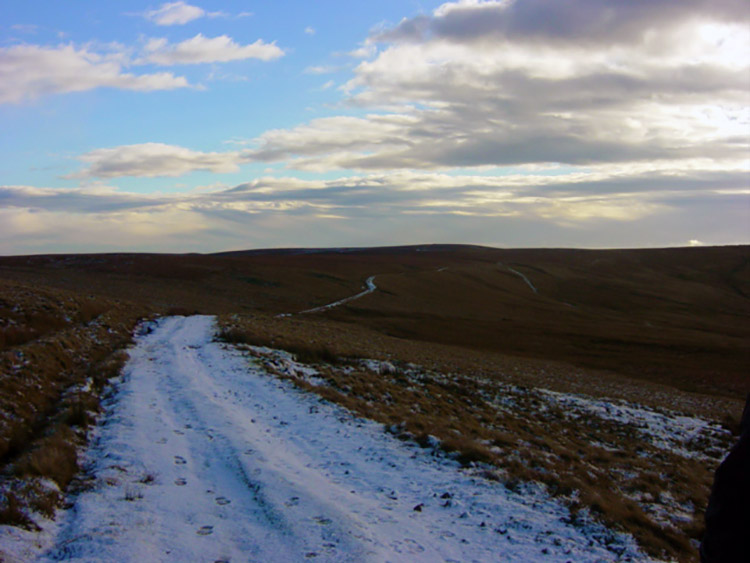 The way from Woogill Moor to Dale Edge
Eventually I persuaded Steve to break for lunch near a small waterfall near the head of Woodale. It was a quite and stunning place. We were in absolute solitude as we had lunch in such a lovely spot. We sat and watched airplanes making vivid contrails in the azure blue sky high above us. After lunch we enjoyed tracking from Woodale through the snow onto the moor at Brown Ridge. Once on the ridge we had made our height and for the next four miles we both enjoyed a level walk on the top of Nidderdale where we could look at the excellent scenery. Steve took time to reflect on the things he likes to discuss with me on such occasions and went on for about a full hour on a range of issues with politics featuring heavily. Tony is not as popular with Steve as he once was. I listened to his grumbles on the issues raised, one of his recurring lines being "And I'll tell you another thing I dislike!" Oh what fun. After a while on the ridge we reached a lodge building that we had seen earlier while down in the valley. Then we had both thought it was a church but only when we approached it did we see why we had thought so. The building had a well built tower on its south side which faced the valley. It was an acceptable error. The lodge was an impressive building for its location and intended use as a Shooting House. A real shelter in a storm.
Shooting House on Thrope Edge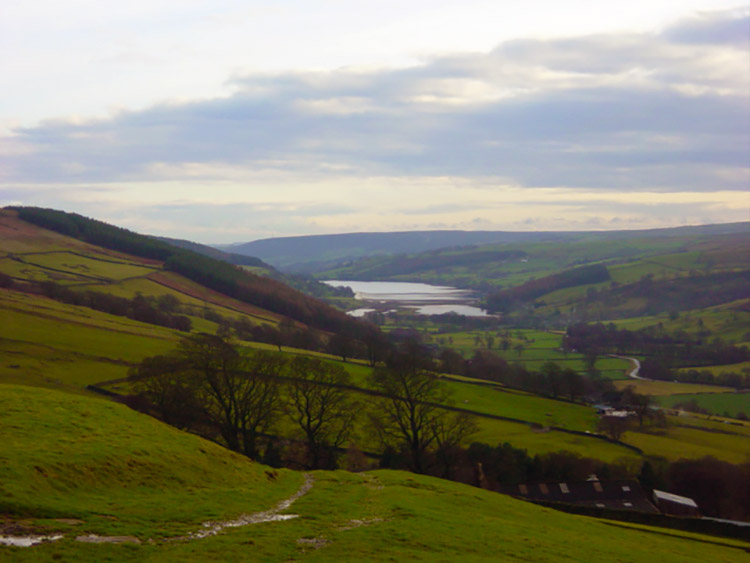 View to Gouthwaite Reservoir from Thrope Edge
After the short rest and moments taking in the views of Nidderdale from the Shooting House we continued on Lofthouse Moor before meeting the Masham Road and following it back to Lofthouse. It was a steep descent to finish the walk. What a super walk it was though and one we both thoroughly enjoyed. Visit Upper Nidderdale please, it deserves it.
Copyright © 2003-2023 Walking Englishman. All rights reserved.