Golden Acre Park, Swan Lane, East Breary, Bramhope and Fish Pond Plantation
Google Maps
Open Source Maps
| Statistics | |
| --- | --- |
| Start: Golden Acre Park | Distance: 5.5 miles (8.8 km) |
| Grid Ref: SE266417 | Time: 2-3 hours |
| Climbing: 66 metres | Rating: Moderate |
| GPX Route File | Google Earth File |
Ordnance Survey Explorer Map (1:25,000)
Summary: The walk in Golden Acre Park and the surrounding countryside is ideal for all grades of walker including families with young children and for mature walkers too. The walk is practically level throughout and at 5.4 miles is not too long. Good tracks are followed all the way round except for a couple of short sections along quiet country roads which links paths. It is a lovely walk.
---
The Walk: Sunny days in the summer of 2013 were something of a luxury. Sunshine and warmth on Sunday's were a rarity indeed and so when chance brought about such a benefit my wife Lil and I took the opportunity to go out for the day and take in a short midday walk. With the weather forecasters giving us forewarning we had also asked our friend Leena to come along for the day. A walk centered around Golden Acre Park in North Leeds had long been a planned walk with Lil so off we went.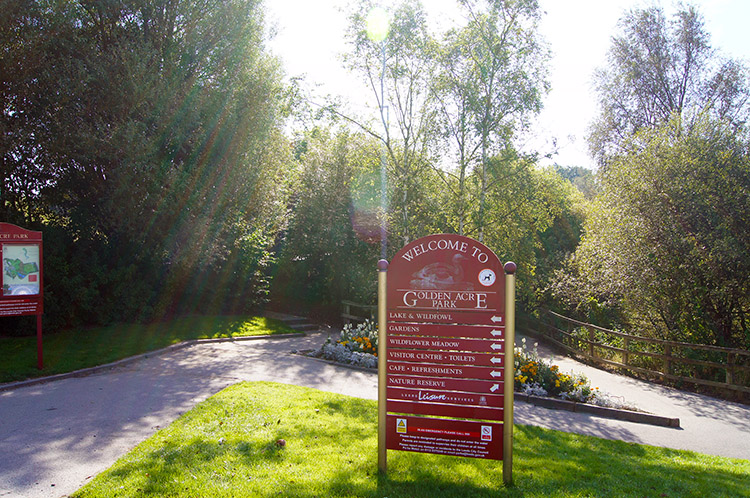 A sunny welcome to Golden Acre Park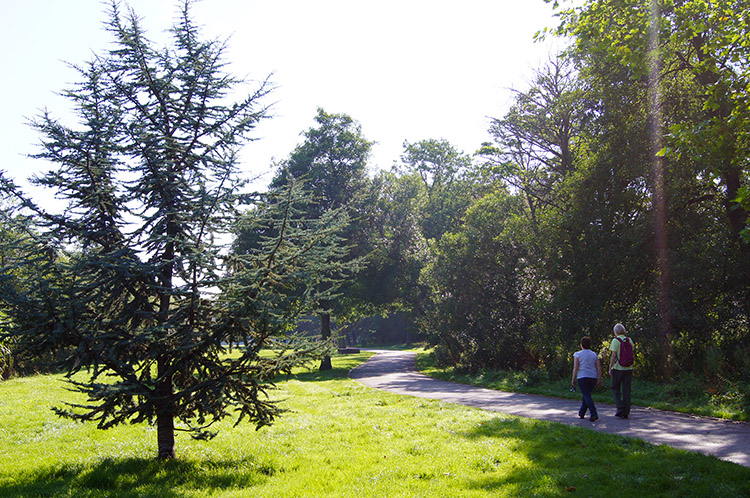 Following the path to Golden Acre Lake
It was only a short journey from our homes in Harrogate to Golden Acre Park, a short car trip made in anticipation of a lovely day out ahead of us. The weather could not have been better, sunny, set fair, warm and only the slightest breeze to cool us from the beaming sun during our easy walk around the countryside of north Leeds. We arrived early, always a good plan as Golden Acre Car Park gets extremely busy at weekends, and after parking up in a near deserted car park we set off by walking from the car park on a south east course through a pedestrian tunnel which passes under the busy A660 Leeds to Otley Road. Immediately on clearing the tunnel we were in the beautiful managed parkland of Golden Acre and while I looked around the banks of Marsh Beck the ladies followed the footpath towards Golden Acre Lake.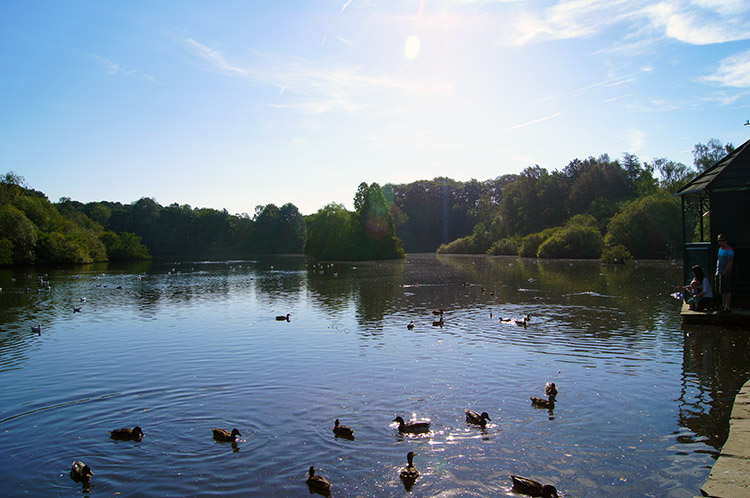 Golden Acre Lake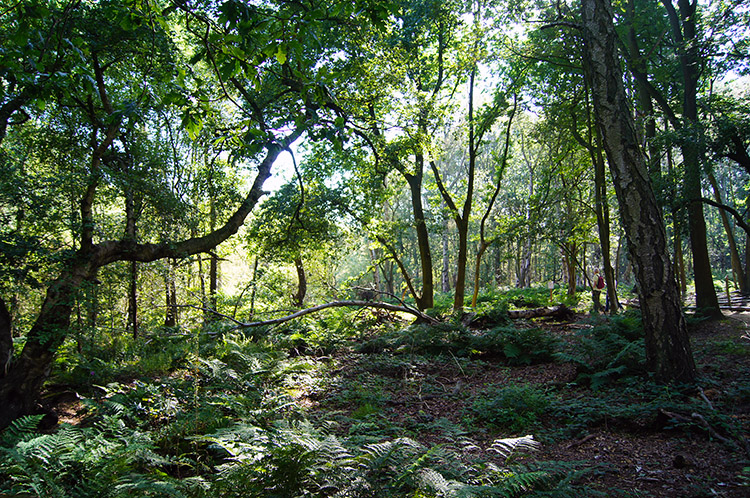 Adel Dam Nature Reserve
Golden Acre Lake is a beautiful place. The varieties of waterfowl including Ducks, Geese, Swans and Moorhens are all used to people and as a result you can get up really close to them. Especially if you have bread to feed them! The first groups of people visiting for the day were already by the lake side, most watching the antics of the birds but some feeding them for which they were grateful. After spending a short while watching the goings on we headed off from the lake towards Adel Dam. We had a walk to enjoy.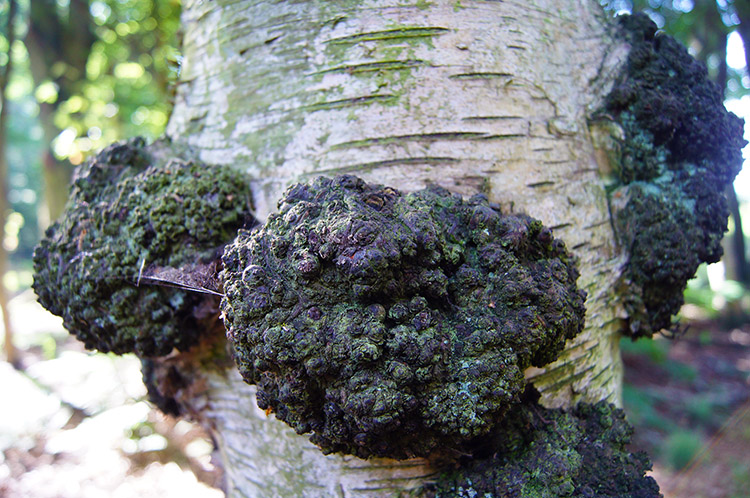 Tree Burrs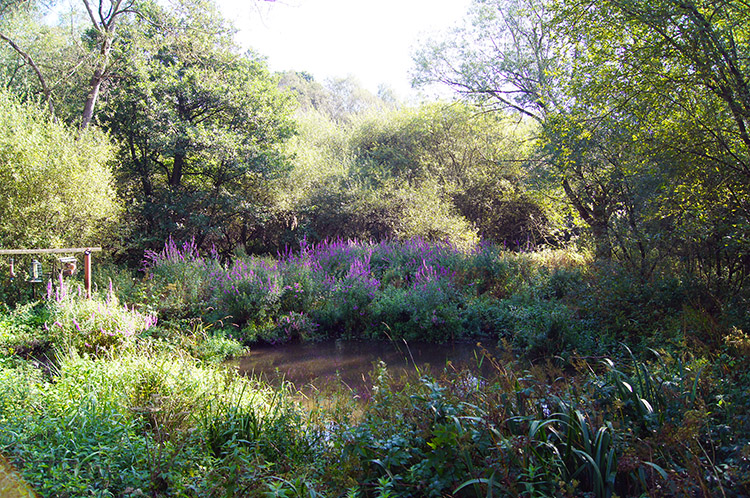 Lovely setting in Adel Dam Nature Reserve
Soon we came to Adel Dam Nature Reserve, a wildlife melange of pond land, wetland and woodland. First for us was the approach to the pond through exquisite woodland. There were trees of fascinating shapes and some with extraordinary burrs on the tree trunks. Species included Oak, Ash, Beech, Field Maple, Hornbeam, Birch, and Scots Pine. The paths through the nature reserve were all very well kept. At the pond there was a small wooden building acting as a bird hide. Inside I stood for ages and watched a Great Spotted Woodpecker eating at a feeder. I cursed I had not brought my long-lens. I have still to catch a good photograph of one in the wild; as I do with Kingfishers too, also found in the reserve.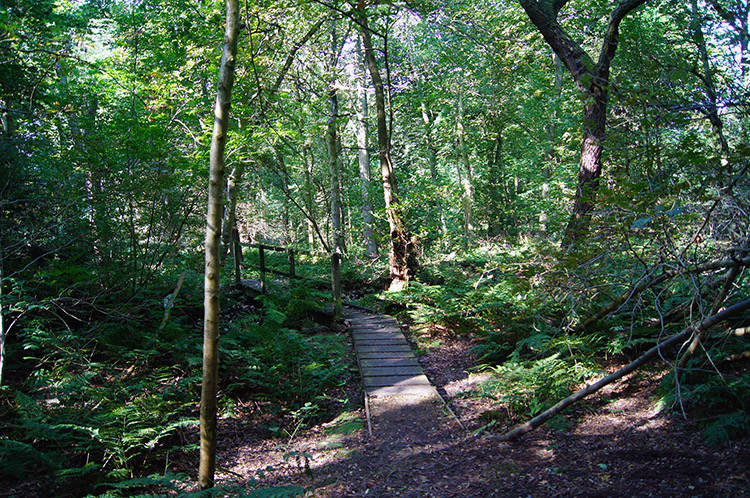 Following the woodland path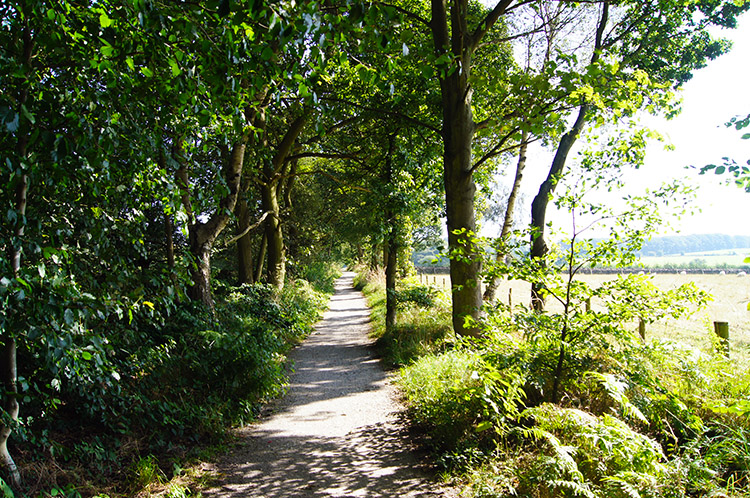 The path leading to King Lane
After the thrill of watching the birds congregating on feeders beside the pond we walked on and tracked our way back though the reserve and along more good footpaths with wooden paths crossing wetlands and well maintained footbridges over stream crossings until we reached a hard track leading from the reserve and from Golden Acre Park towards King Lane. Hence the park was now behind us until a short finale at the end of the walk. Countryside lay ahead.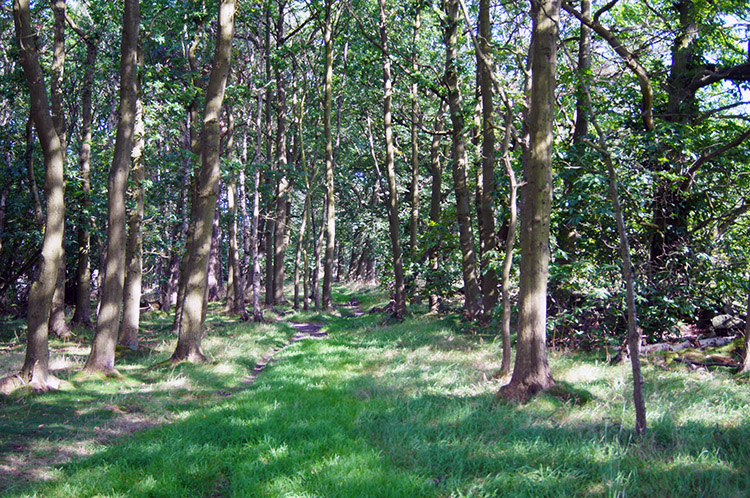 Eccup Whin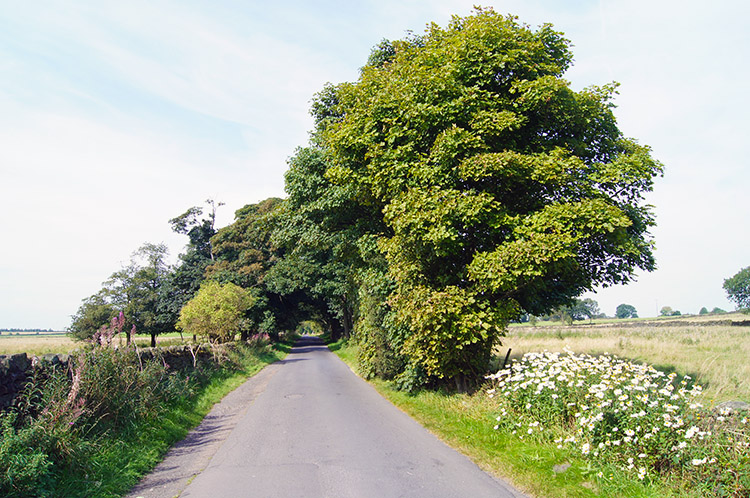 Black Hill Lane
At King Lane we were obliged to track along the roadside. Fortunately the road is dead straight so traffic has a good sight of walkers and here it travels slowly anyway, in respect of the environment. After walking along King Lane for 230 metres we left the roadside by climbing over a stile into Eccup Whin, another delightful place with a mixture of woodland, wetland and scrub land and with many rare bird species, orchids and butterflies. Eccup Whin is managed by Leeds Council and to their credit they do a good job. The paths were very good and the woodland we walked though exceptionally tidy. I know of many woods near Leeds used as tips, this is not one of them. From Eccup Whin we emerged onto another road, this one being Black Hill Lane. There was a car parked on the roadside, the driver outside his car and looking up through Binoculars at a Red Kite. There are many here to enjoy and on this walk you will be very unlucky not to see one.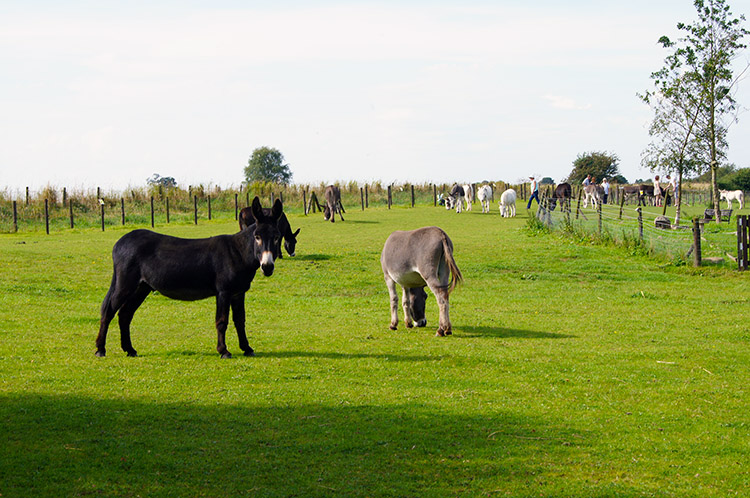 Donkeys at Lineham Farm Children's Centre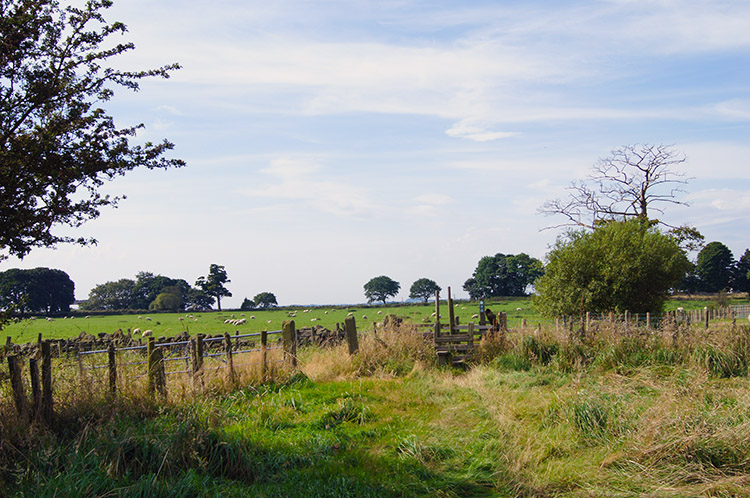 Countryside near East Breary
After walking 350 metres along a deadly quiet Black Hill Lane we turned right and walked north along unmetalled Swan Lane towards Lineham Farm. On this stretch of walking the greenery on the stone walls beside the track was particularly striking with wild flowers in abundance. When we neared Lineham Farm we were stopped in our tracks and obliged to look up high into the sky. There was a huge flock of Starlings and they were creating quite a cacophony. We made a short detour at Lineham Farm which is now a popular children's centre. Highlight for the young ones is the friendly assembly of Donkey's living serenely on the farm. Lil and Leena enjoyed themselves visiting the Donkeys. After I eventually dragged them away from the animals we carried on walking across lovely countryside towards East Breary.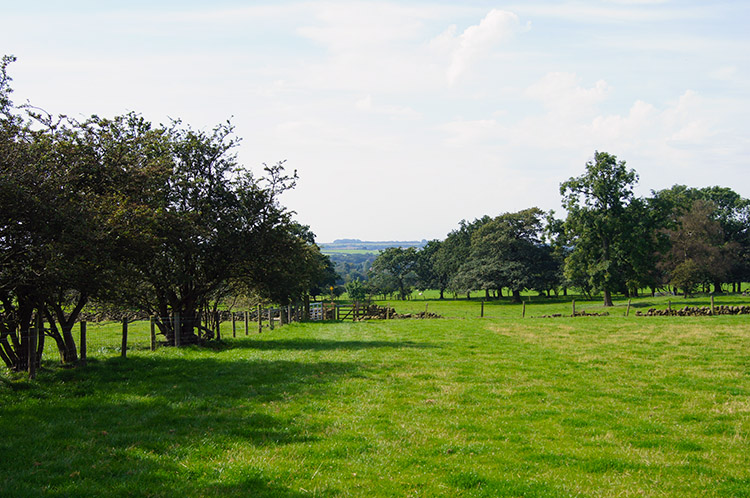 Crossing fields towards Bramhope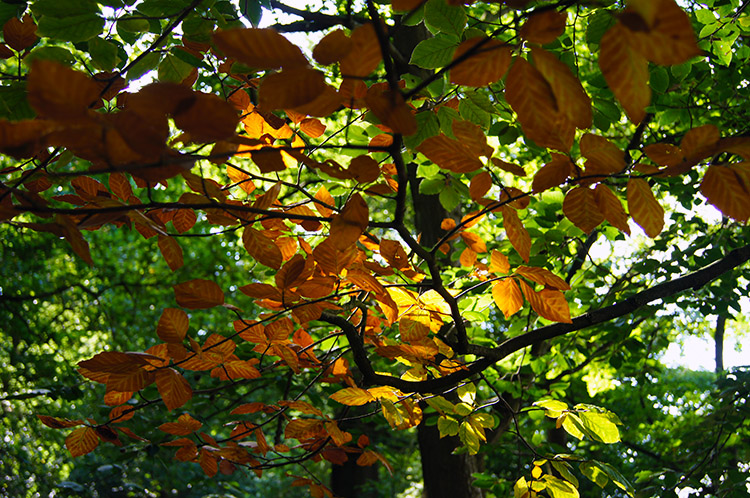 Beautiful colours of foliage
A third short section of road had to be managed a few fields after Lineham Farm, this one linking Leeds and Bramhope to Arthington. Again it was quiet with not a vehicle seen on our few yards along it until we entered more short grassed fields near East Breary. A few fields later and we reached Bramhope where the most cautious road crossing of all was negotiated. This took us over the A660 again and we had to wait some time for the busy Sunday traffic to give us a slot. I would have preferred a pedestrian crossing here and perhaps it should be something Leeds Council considers. I shall ask.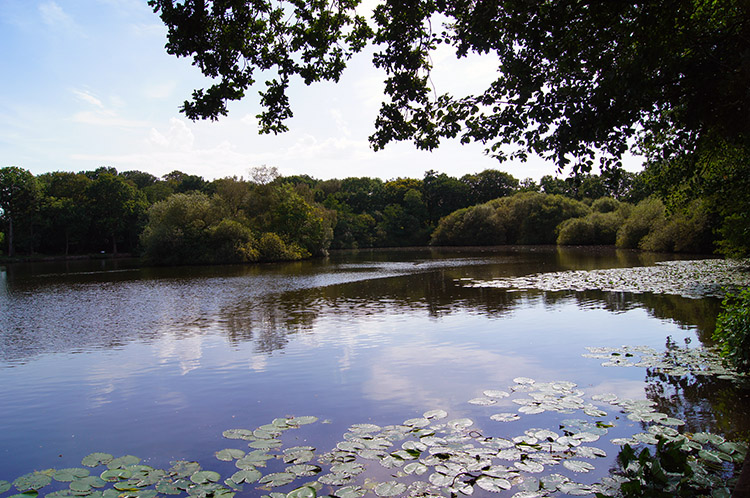 Fish Pond, creatively named of course!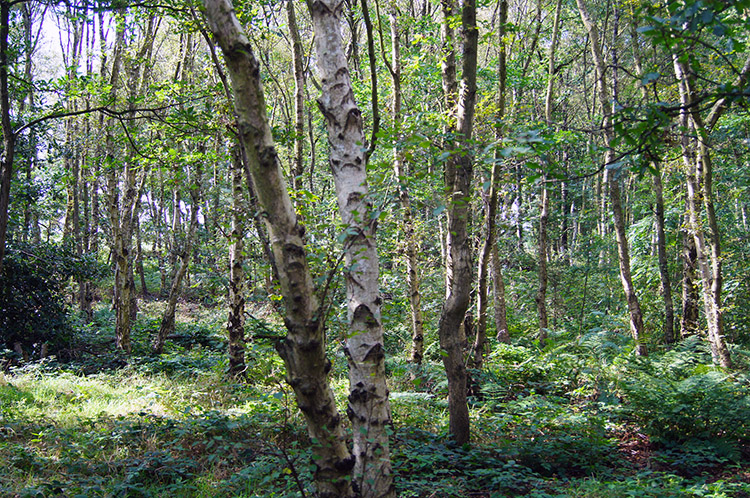 Fish Pond Plantation
After cautiously crossing the A660 in Bramhope we walked past Bramhope Rugby Club and into fields near Breary Marsh. Soon after we crossed a footbridge over Marsh Beck, the first time we had seen the beck since in Golden Acre Park. After crossing the beck and walking alongside a wood we turned left to follow a good track past a house towards Fish Pond. The pond in a wonderful tree surrounded setting was delightful to walk around and I would recommend it as a spot for a quiet picnic should the crowds around Golden Acre Lake be too much to handle. From Fish Pond we followed a path through Fish Pond Plantation and back to the car park, termini of our fantastic walk.

End note: This walk is superb. It is fairly short at five and a half miles, generally flat throughout and there are delights around every corner. There are sights and scenes for everyone to enjoy and I really do recommend it.
Copyright © 2003-2023 Walking Englishman. All rights reserved.