Burwarton, Brown Clee Hill and Clee Burf
Google Maps
Open Source Maps
| Statistics | |
| --- | --- |
| Start: Burwarton | Distance: 8.1 miles (13.1 km) |
| Grid Ref: SO617851 | Time: 3-4 hours |
| Climbing: 404 metres | Rating: Moderate |
| GPX Route File | Google Earth File |
Ordnance Survey Explorer Map (1:25,000)
---
Summary: A walk to Brown Clee Hill, the highest country point in Shropshire which I did in the company of friends old and new. We set off from the small village of Burwarton and explored many characteristics of the hill during our walk. My old friends and I also discovered some outdoors survival skills from our new acquaintances during the walk.
---
The Walk: This was the first walk of a long weekend in the Shropshire Hills. Dave, Jez and I had travelled from Yorkshire to Burwarton to rendezvous with Steve at the Boyne Arms in the village. Here we had planned to meet Nick Davenport and Andrew Primrose who run Bushcraft Skills courses in the area. Nick and I had connected on social media via a mutual friend. The scene was set.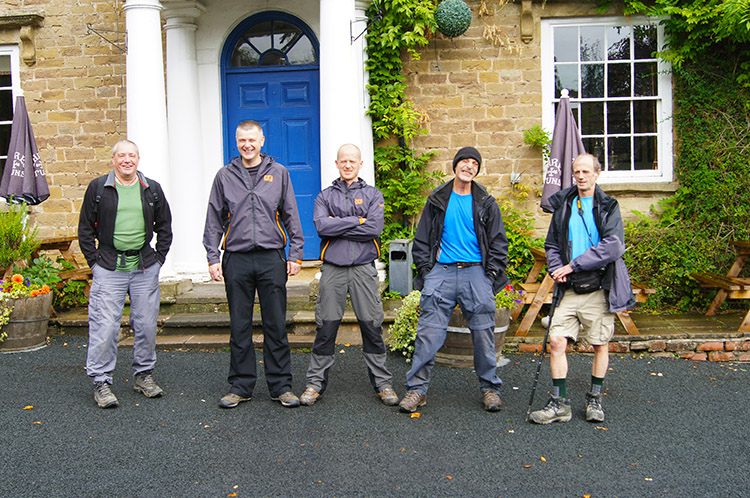 The team outside the Boyne Arms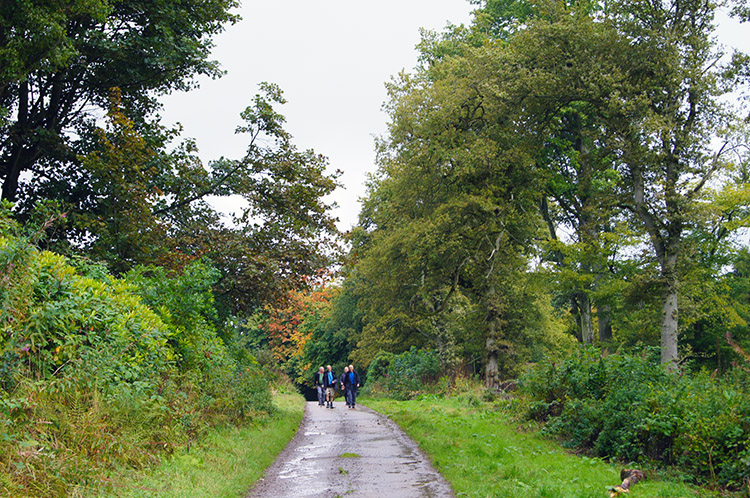 On the road to Woolers Wood
Having all assembled at the Boyne Arms, which the staff kindly opened for us to have coffee and biscuits before we set off on the walk, we were on our way. Nick led the way as he knew Brown Clee Hill best. He and Andrew teach Bushcraft and Survival Skills to young and old alike and we were promised some basic education of such as we walked on and around Brown Clee Hill. The first lesson was very simple for as we walked on the access road to Woolers Wood Nick coated Andrew's face with mud. Not only effective for disguise they said but also a good deterrent for midges and other biting insects. I must remember than on my Scottish trips.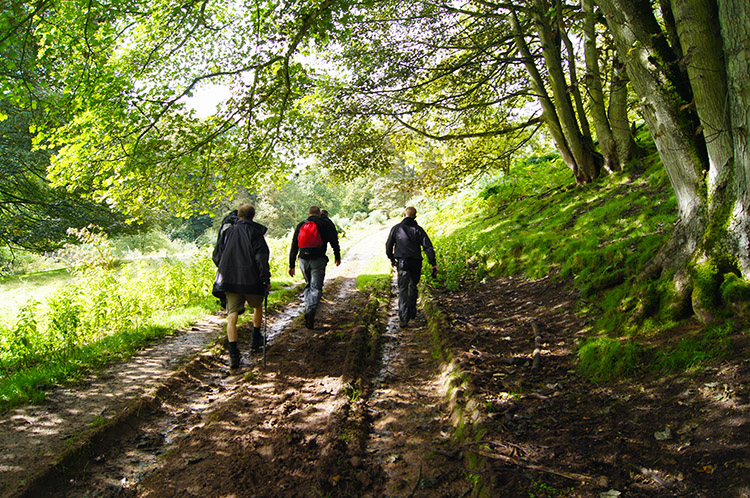 Woolers Wood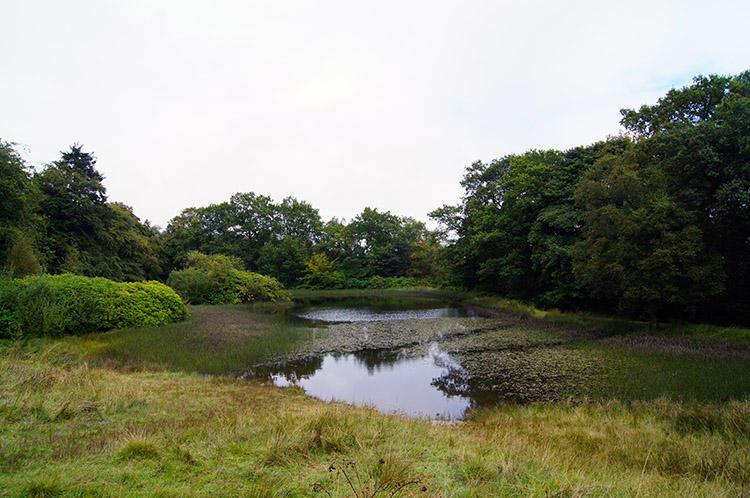 Pool in Woolers Wood
We continued on through Woolers Wood during which the hard road ended and walking on narrow unmade paths took over. We came to a pool in Woolers Wood. Andrew told me that he and Nick lead groups cross the pool in a line as part of their courses. We decided to stay dry though and left the pool undisturbed. Nick and Andrew continued to show us good things including pointing out which plants we could eat and which to avoid, should the need ever arise to avail of food the land provides in severe circumstances such as Burdock and Sorrel. Now what was the one which tasted like peas? The tasting sessions were so engrossing we were soon climbing above the woodland which encircles the lower slopes of Brown Clee Hill and heading towards the top. Now came Andrew's turn to disclose some useful information, this time on the history of man's activities on Brown Clee Hill.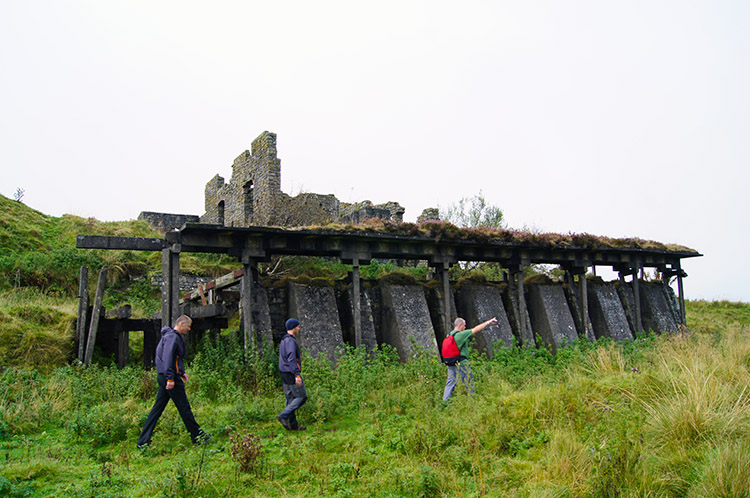 Old works buildings at Abdon Burf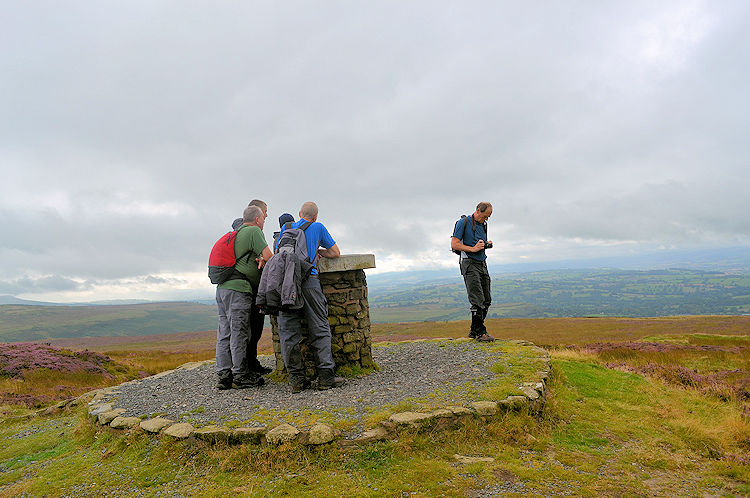 Brown Clee Hill, summit of Shropshire
Andrew has a keen interest in local history, particularly of the upland areas. He pointed out there are several ancient hill forts dotted around the Clee Hills and that one of them called Nordy Bank is the last intact survivor of three Iron Age hill forts on Brown Clee Hill itself. He showed me the site of Nordy Bank later on in the walk and it was easy to see the evidence, once you knew what to look for. Immediately as we climbed to the top of Brown Clee Hill and thus the top of Shropshire Andrew pointed out a large decrepit building. Near to it were huge slag heaps. They were the legacy of quarrying the Clee Hills for minerals such as Dhustone (Dolerite) which went on until the 1930's. We walked through the piles of slag to the top of Brown Clee Hill. From the top a information plaque pointed out significant landmarks in the distance including the Long Mynd and Stiperstones which I had earmarked to walk over the coming days.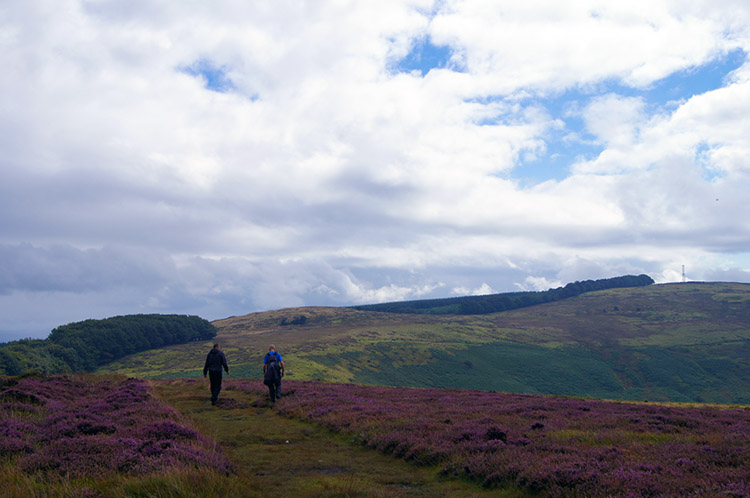 Walking from Brown Clee Hill to Clee Burf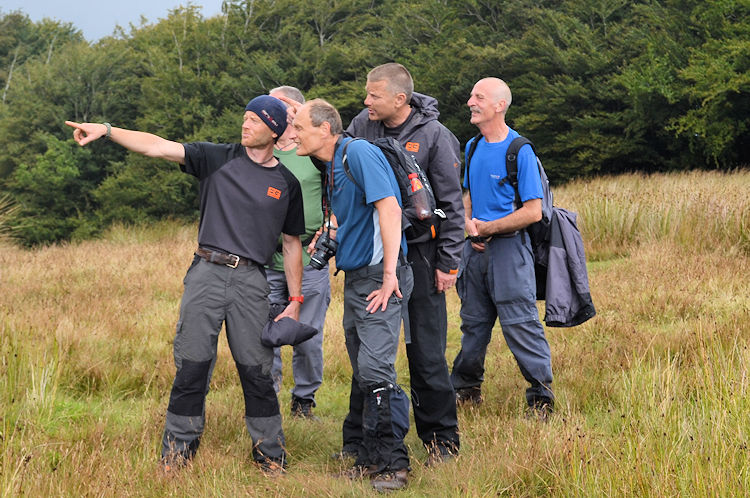 Pointing out Long Mynd and Stiperstones
Being late September the upper slopes of Brown Clee Hill were covered in patches of Heather which were a glorious purple in their late Summer/ early Autumn flourish. Sunshine was attempting to break through the cloud which had stuck on top of Brown Clee Hill as we walked the long open and rather grand moorland path to Clee Burf. When it did the Heather positively beamed. It was gorgeous. During the walk across the open top lands Nick and Andrew continued to point out more features of the region including where the English/ Welsh borderline was. With Offa's Dyke in my future walking plan I was eager to look upon where I would be walking in the near future.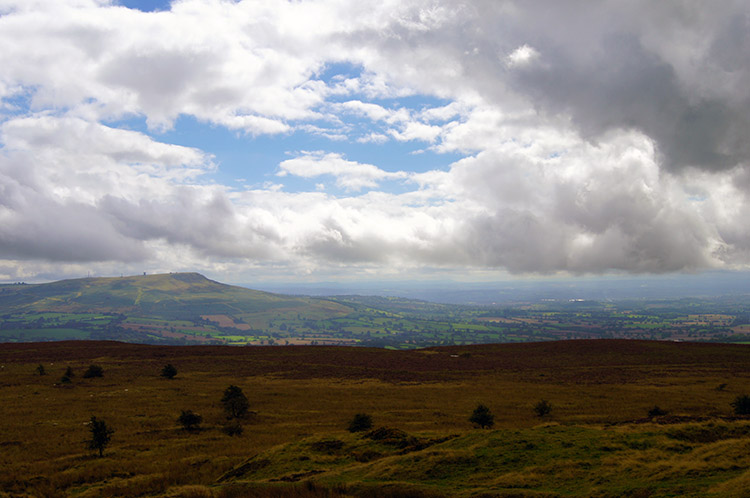 The wonderful view from Brown Clee Hill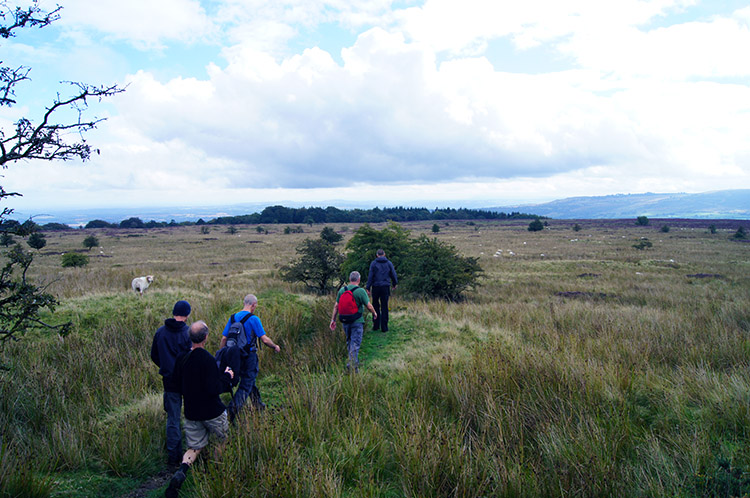 Walking from Clee Burf to Loughton Enclosure
At Clee Burf we came to the site of another ancient settlement and of lots of small depressions in the land where primitive and more modern mining activities had been engaged upon. Almost side by side was the old and the new methods of mineral extraction. Then Nick pointed his finger to the south east. "This way" he said. We followed in a single line for the next half mile over wetland and scrub, much different to what we had walked earlier. Then we could spread out. This boggy section had one fixed and firm path in a direct line across the expanse. Across safely and without any Hound of the Baskerville moments we reached Loughton Enclosure.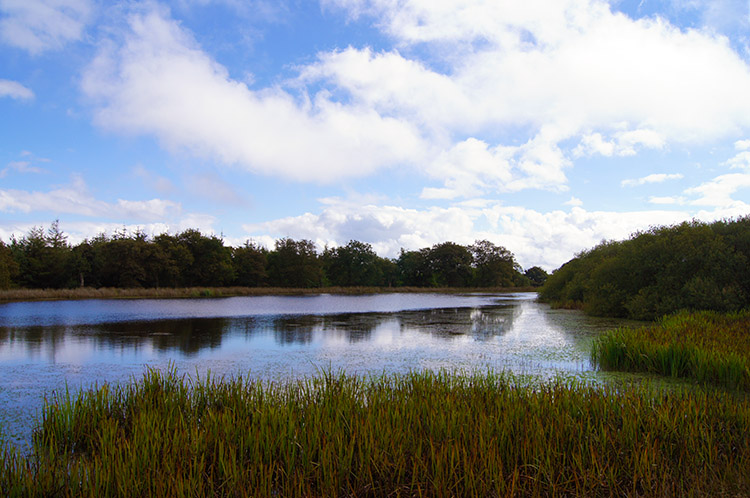 Boyne Water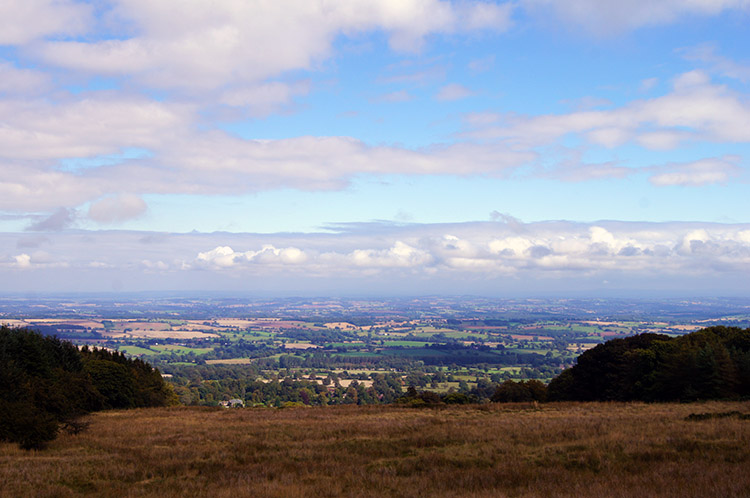 Another incredible view
From Loughton Enclosure we turned sharply to take a northerly direction on good wide tracks to Boyne Water, a natural lake in a clearing within woodland. It is such a tranquil setting for a lake and we stopped for a while to take in the splendidness of the place. While I looked over the serene lake Nick told me two Wellington Bombers are said to rest on the bottom of Boyne Water. I researched later that while this is probably true there are in fact lots of aircraft crash sites nearby including ones from both the RAF and Luftwaffe during World War Two. There is a memorial on the hill commemorating these tragedies and other airplane crashes in peacetime. Today though there was no drone of flight, just idyllic peace. And now the sun was winning the battle with the clouds too. It was warming up nice and lovely too.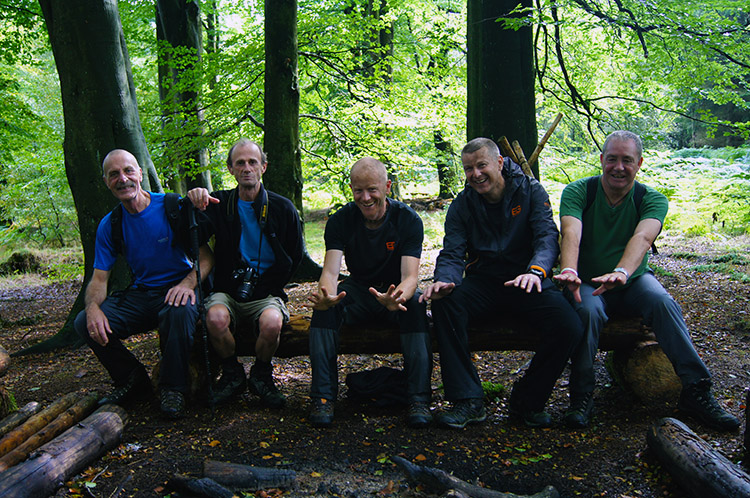 Testing out the Bushcraft Seat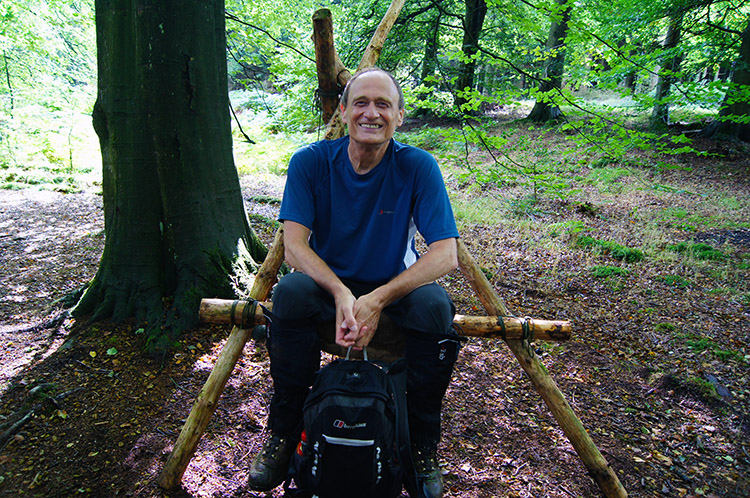 Simple but effective Bushcraft
We ducked in from the warming sunshine for one more bushcraft lesson though. We entered an area of woodland called, most appropriately, Big Wood. Here we were led to a camp which Nick and Andrew have built, with the help of their trainees. Woodcraft furniture was all around the site. Steve, Dave, Andrew, Nick and Jez tested the strength of a log bench. I tried out a simpler structure made of logs, rope and a piece of canvas. It was a comfy seat. It was great to see such skills first hand. Well done gentlemen, your work did not fail you.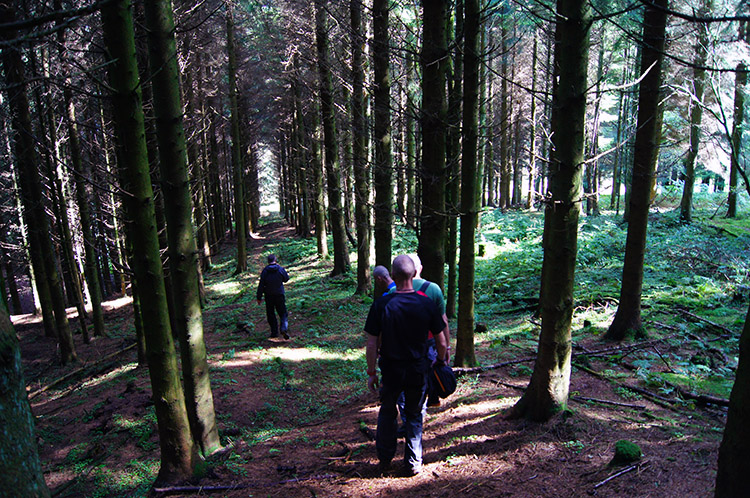 Walking through Big Wood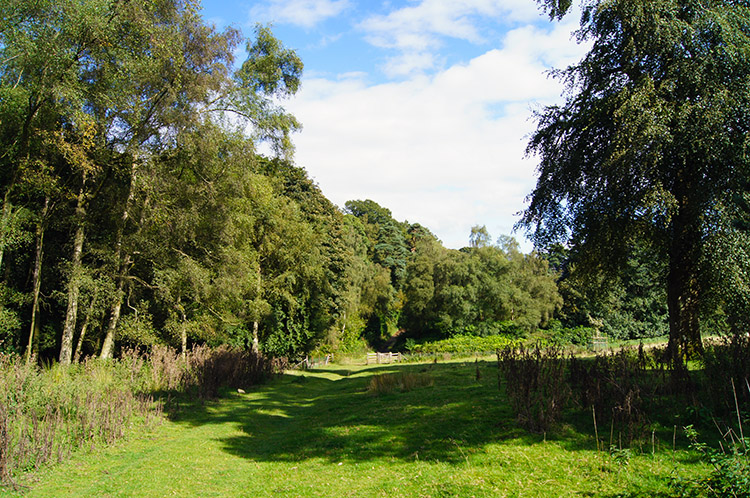 Lovely walking back to Burwarton
We continued our walk by leaving Big Wood, the last section of it on a steep descent. No slips and trips for any of us though. We made it safely out of the wood and into the daylight of a hot and in fact quite balmy afternoon. We were all soon in a lather having hit the face of full unbroken sunshine. As we continued back to the finish we talked about the merits of the great outdoors and how some skills we had just learned may come in useful one day. I turned my eyes for a moment as I had spotted a large field mushroom. I scoffed it straight away. Some bushcraft skills I already knew!

We got back to the Boyne Arms and enjoyed more refreshments in the lovely sunny afternoon. All agreed it had been a good walk on a hill of character with a great deal of history. A hill that caps Shropshire.
Copyright © 2003-2022 Walking Englishman. All rights reserved.