Y Garn and Devil's Kitchen
Google Maps
Open Source Maps
| Statistics | |
| --- | --- |
| Start: Ogwen Cottage | Distance: 4.5 miles (7.2 km) |
| Climbing: 626 metres | Grid Ref: SH 64995 60384 |
| Time: 2-3 hours | Rating: Hard |
| GPX Route File | Google Earth File |
Ordnance Survey Explorer Map (1:25,000)
Summary: I had Y Garn on my 'mountains to do' list since 2002 when I thought I had climbed it on my first walking trip to Snowdonia. Little did I know then that Y Garn, literally translated in Welsh to 'The Hilt', is the name of several mountains in Wales including ones near Llangynog, Rhyd Ddu and Ganllwyd. The Y Garn I had climbed then was part of my Rhyd Ddu, Y Garn and Nantlle Ridge walk and while a lovely mountain it is relatively diminutive at only 633 metres, just over the 2,000 metre mark. This time I had researched the right one, located in Glyderau. At 947 metres it is the tenth highest peak in Wales. It was to be the 13th of the 15 Welsh 3,000's I had climbed and afterwards I would descend by the Devil's Kitchen, another to do list task achieved. Let's see how I got on climbing this highest of the Y Garn mountains shall we.
---
The Walk: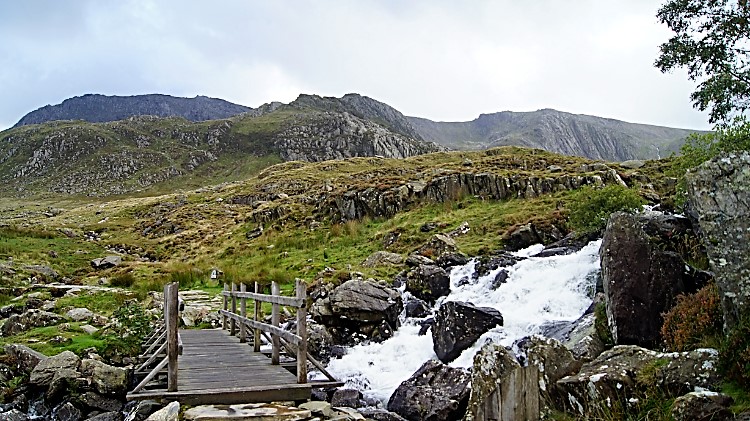 Footbridge over Nant Idwal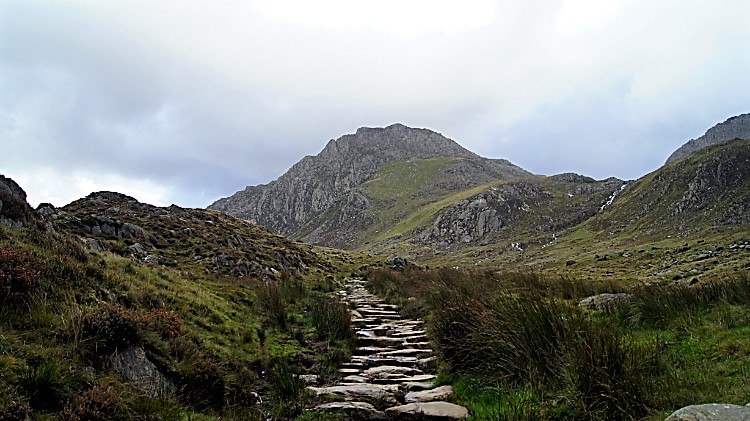 Footpath leading to Y Garn
I set off on my walk from the car park near YHA Idwal Cottage. It was 9.30 in the morning and the area around the Youth Hostel and Outdoor Pursuits Centre was already busy with people, many in groups assembling for their collective walks. Having kitted up quickly after parking I walked through the shifting gap between the restless crowds and to the quiet of the trail. The path ahead, started by an ascent of steps led me on a gentle gradient uphill to a footbridge over the rushing waters of Nant Idwal. From there a good paved pathway took me on a south west bearing and on a continued gentle ascent to the north east tip of Llyn Idwal. I had only gained 70 metres in height when reaching the shoreline of the lake but that was enough to show me the task in hand. Y Garn had revealed itself to me.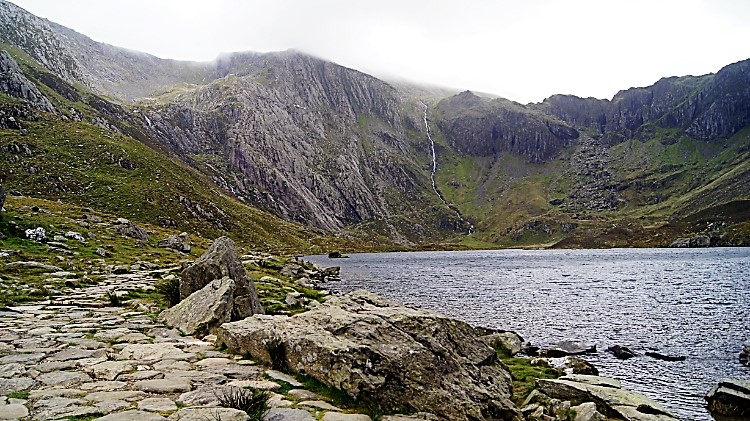 View across Llyn Idwal to Twll Du/ Devil's Kitchen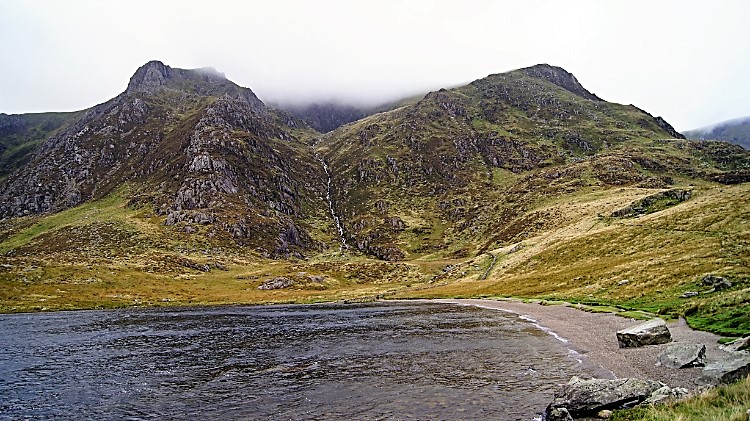 View to Y Garn from Llyn Idwal
At least the lower half of Y Garn had revealed itself, the top half was clothed in white. Llyn Idwal is encircled by the magnificent mountains of the Glyderau providing a protective shield. The scene is one of mountaineers delight with the Glyders and Y Garn the closest protectors. As I scanned the tops of the Glyderau giants a rush of cloud was formed and raced across them. Weather forecasters had said they expected the cloud to clear. I hoped they were right and that it would before I reached the top of Y Garn. Looking at the mountain I could see from my viewpoint across Llyn Idwal from north west to south east I viewed the cleft of shattered rocks and erratics that is Twll Du, anglicized as Devil's Kitchen. I envisaged scrambling down it later in the day. Once the climbing had been done. For now I had to attend to that.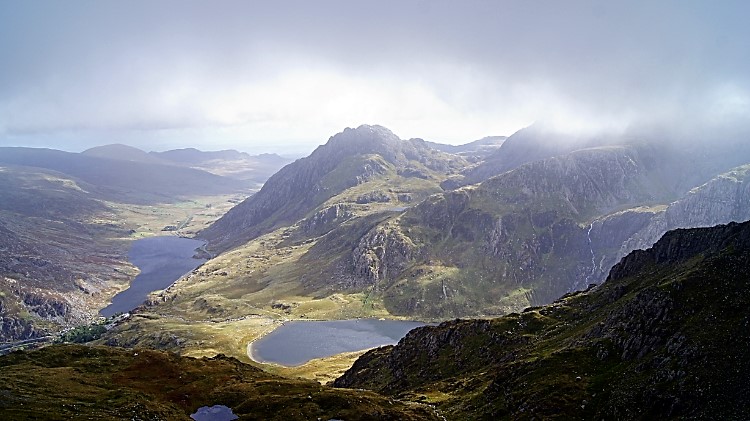 Llyn Ogwen, Tryfan and Llyn Idwal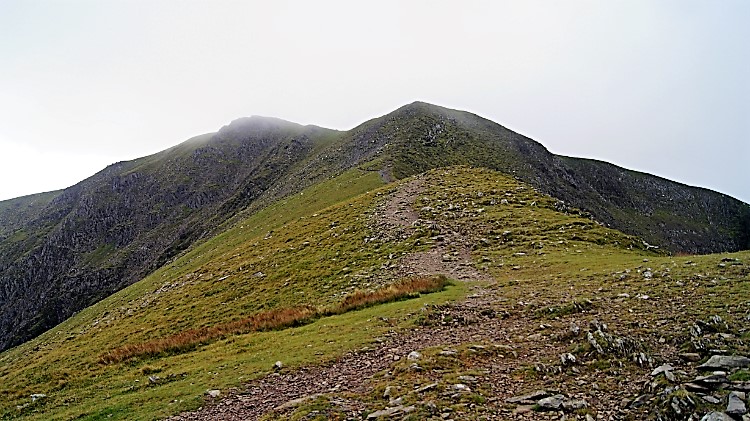 First sight of Y Garn summit
I crossed from the north east edge of Llyn Idwal to the north west tip of the lake and then left the waterside on a due west course. First I ascended the clearly defined path steadily but soon it steeped to a more lung sapping climb. I was now most definitely on the Pinnacle Ridge climb to Y Garn. I climbed for half a kilometer, just 500 metres in length. While I had done so I gained over 200 metres in height. I stopped regular on that steepest bit, some of it a 50% gradient, to take in the awesome views I was gaining. I grinned like a Cheshire Cat while realising the weather forecasters had been right. Cloud while still sweeping across the mountains was lifting. My beloved Tryfan was almost revealed now and Glyder Fach was beginning to show too. The performance was sublime. I was as high in spirit as I was in altitude. The next 500 metres of walking saw me climb another 150 metres to move over the 650 metres altitude mark. Here the climb relented and I took in my first sight of the wonderful ridge line leading me to the summit of Y Garn. Cloud still hung on the topmost of the mountain but I could not wait for it to clear. I hurried along as fast as I could.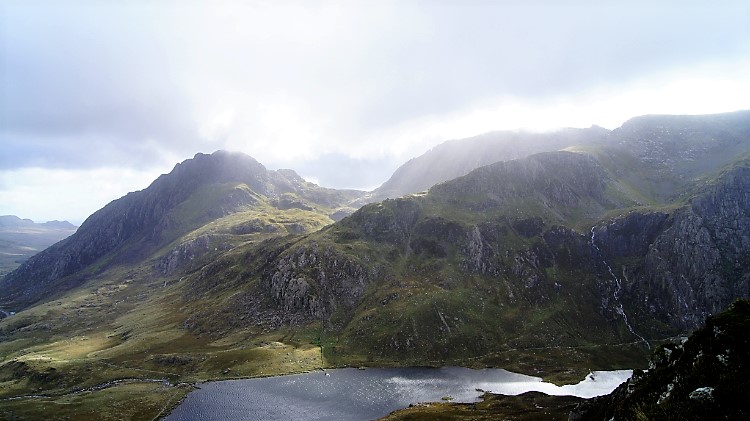 Tryfan and the Glyders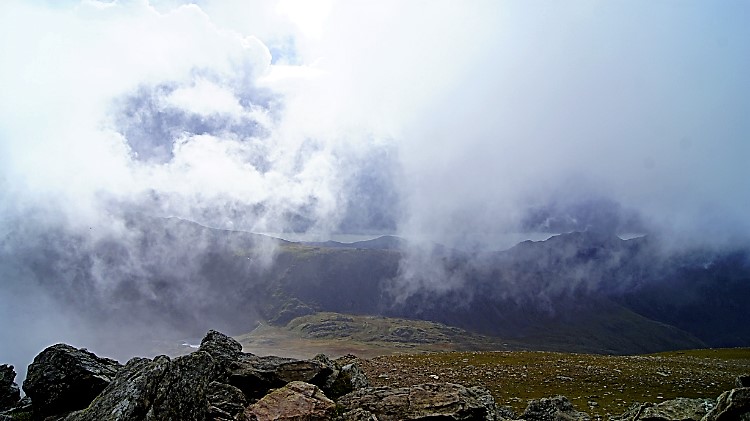 Cloud sweeping over the summit over Y Garn
I kept looking back and forth as I walked along the ridge, ascending gradually as I went. 250 more metres to climb in a kilometer of walking. A 25% gradient, I could handle that after climbing at nearly 50% at little earlier on. However, being a Sexagenarian as I had now been for almost six months persuaded me that slow and steady wins the race. I kept a reasonable pace so as to not overextend myself. Still, as slow as I went the infuriating last shreds of cloud would not dismiss themselves from the summit of Y Garn. I made my final approach to the summit with cloud still swishing across the top. It stayed there for my arrival or hung around during my refreshment break in the shelter provided by those earlier hardy visitors to the mountain. It was not persistent cloud though and it did allow moments of clarity for me to enjoy the views from the top of the mountain. I looked north west across the upland pains to Elider Fawr, one of only two Welsh 3,000 foot mountains I had now not climbed. Yr Elen is the other. I contemplated the question "Shall I finish the list or not?".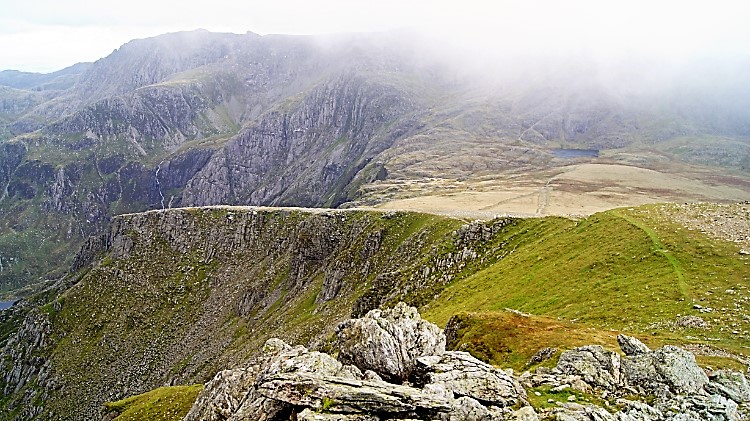 The way down from Y Garn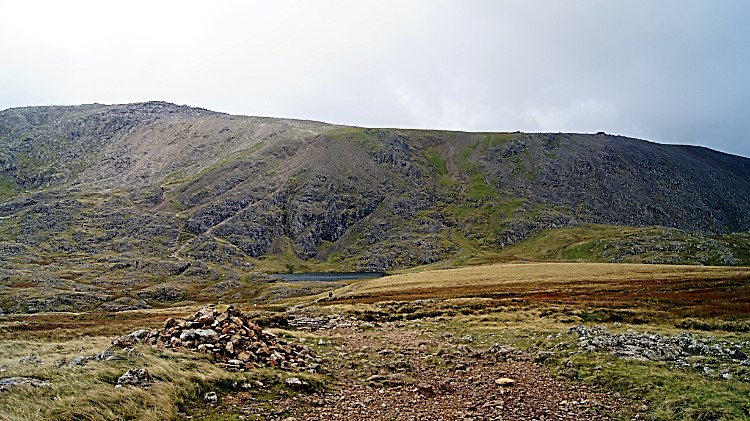 Esgair Felen, the south spur of Glyder Fawr
Like Yr Elen, Elider Fawr would have to wait until another day. My plan today included a walk on Anglesey in the afternoon. And that after I had got down from here, not a straightforward task as Devil's Kitchen awaited. The first part of the descent was easy enough though, a good even descent at the gentle gradient of 20% over one kilometre and on good grounded path to the upland tarn of Llyn Y Cwn. A few paces off the summit of Y Garn and I was free of cloud which in the easy walking conditions allowed me to fully enjoy the views offered. Esgair Felen, the south spur of Glyder Fawr provided a salivating enticement of approach. I worked out that is the way I would have come down from Glyder Fawr during my Tryfan, Glyder Fach and Glyder Fawr walk a few years earlier. Had I not been walking the length of Wales from Conwy in the north to Cardiff in the south that is.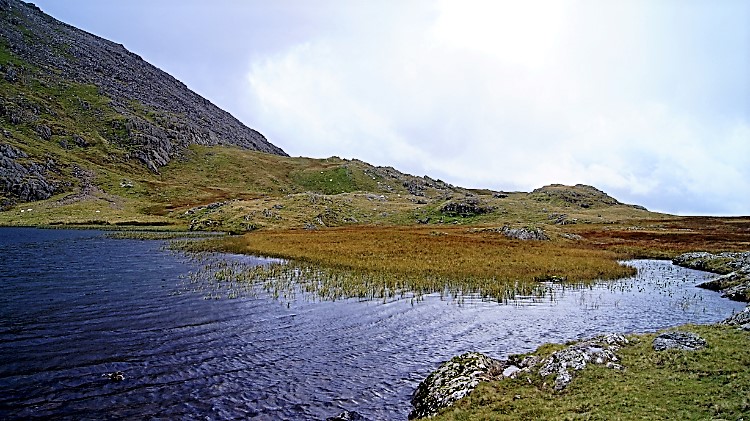 Llyn Y Cwn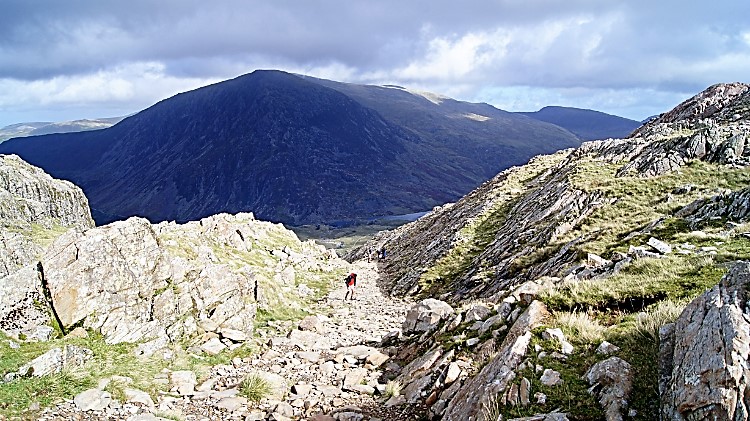 To Devil's Kitchen with a view to Carnedd Dafydd
Having ambled down to Llyn Y Cwn I took a breather at the lakeside and took stock at the meeting point of the mountain paths. In fact I was at a crossroads, the path also continuing west to the Pass of Llanberis road just south of Gwastadnant. After my short stoppage at Llyn Y Cwn I continued on my way eastwards down the natural chute cluttered with small scree boulders which led to the high point of Devil's Chimney. As I walked down the chute some walkers passed me on the way up. With recharged energy from my easy descent of Y Garn I beamed a smile and said hello to each one. They struggled a smile and puffed to speak back. I guessed they had just worked hard. I soon found I was not wrong.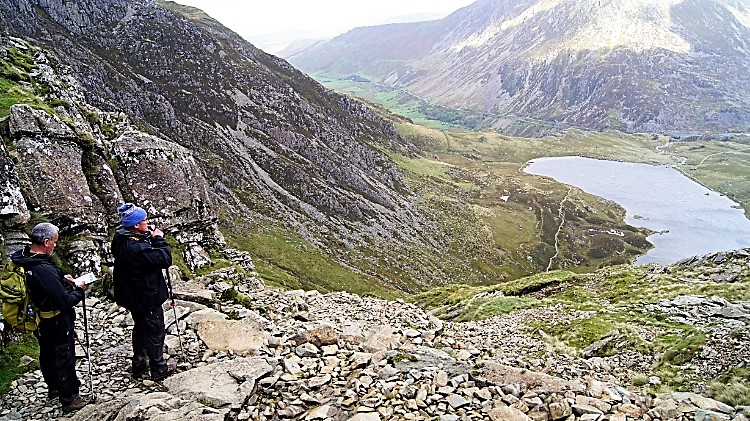 Contemplating a Devil's Kitchen descent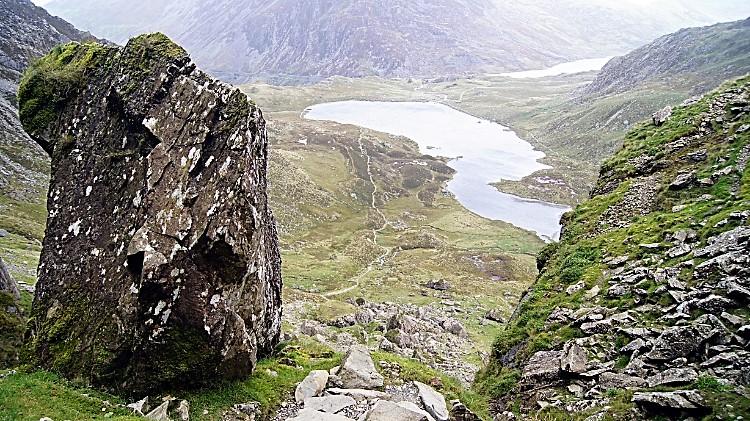 An erratic of Devil's Kitchen
Not long after passing the huffers and puffers climbing the chute to Llyn Y Cwn I came to the point where Devil's Chimney truly begins. Or ends, depending if you have just climbed it rather than preparing to descend it. Two chaps were stood at the chimney top. One was reading a map while his companion looked out enjoying the view. I joined him in doing so as it was a gorgeous view with Llyn Idwal spread out like a tablecloth on the table of flat land below and Carnedd Dafydd in full pomp beyond the lake. the west tip of Llyn Ogwen poked into view also, the bulk of it being hidden behind Clogwyn y Tawr, the Gribin Facet. I recalled Dave and Steve standing on the Gribin Facet on my very first walk in Snowdonia, all of 14 years ago. A large upright erratic stood beside like a sentinel guarding the top of Devil's Chimney. After taking a deep breath I passed the sentinel and began the climb down.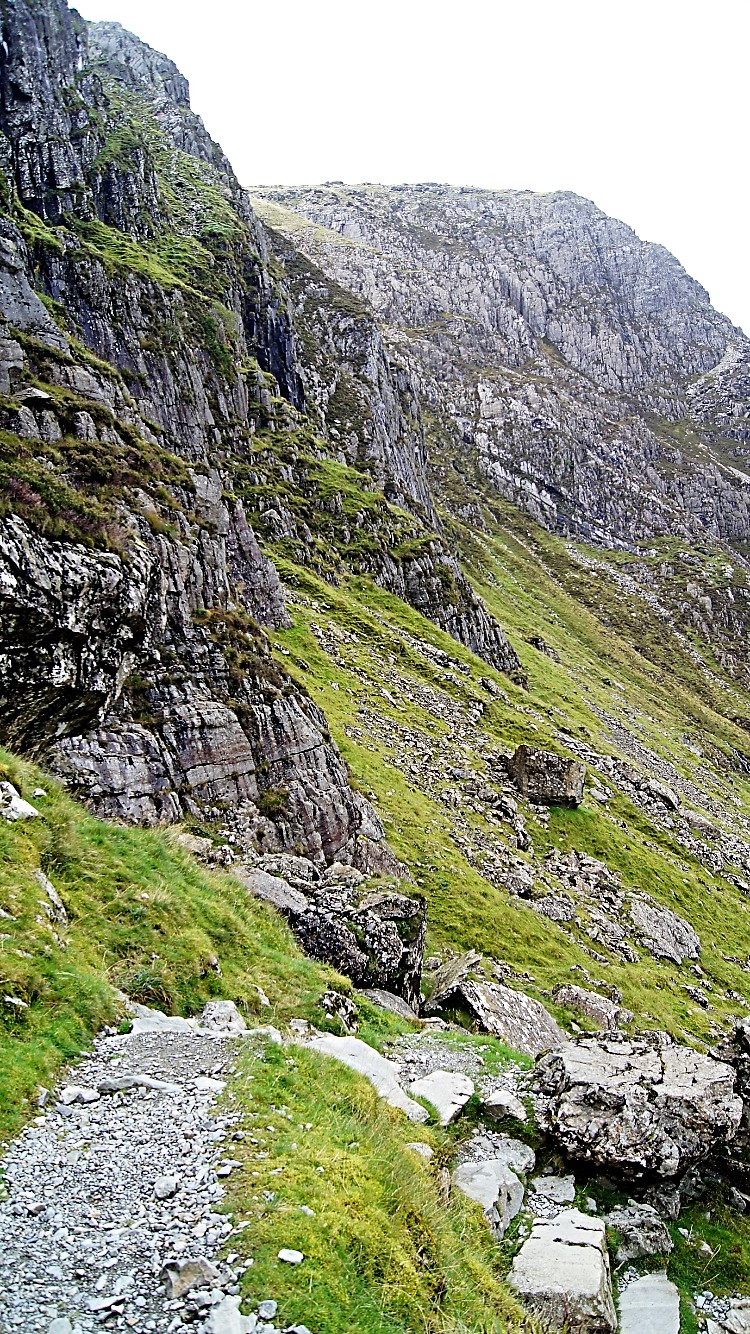 The path of Devil's Kitchen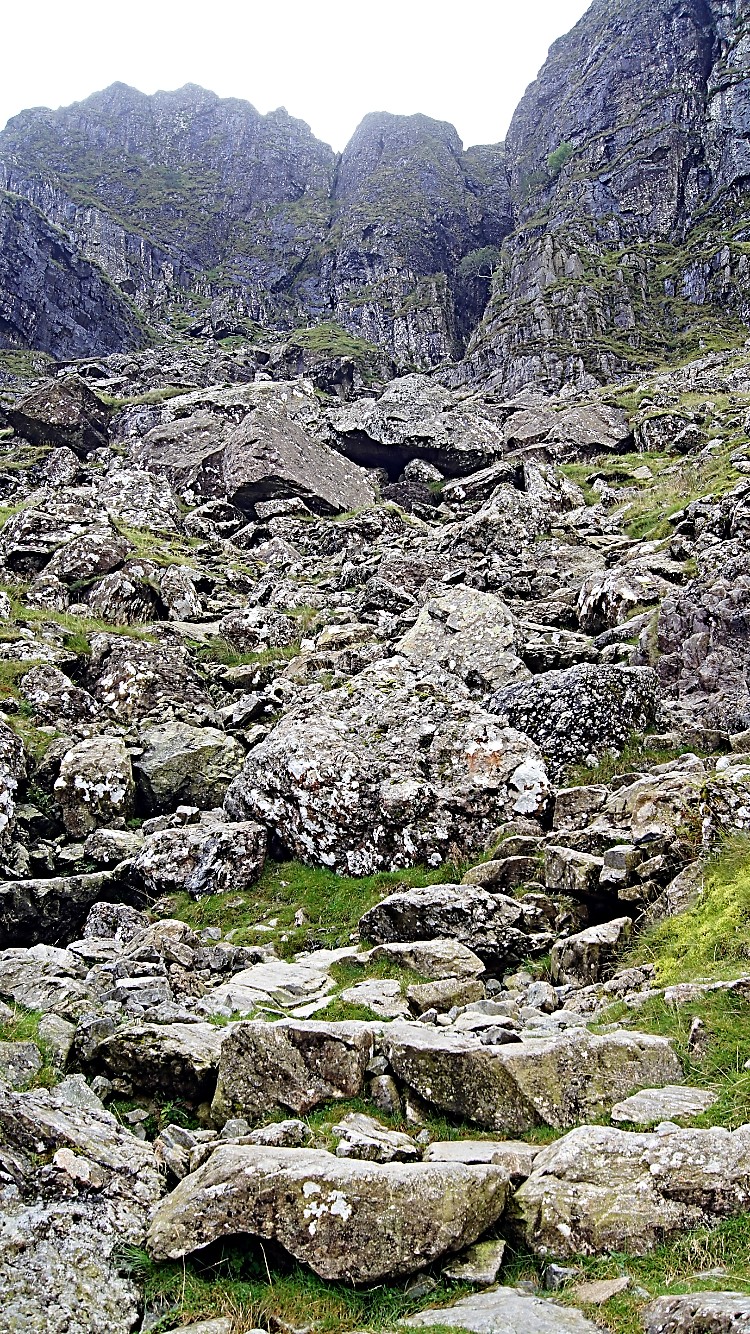 Devil's Kitchen boulder field
The path through the chimney was easy at first, small stones, akin to pebbles providing an easy course to follow. "Why Devil's Chimney", "what was all the fuss about" I may of thought on this first easy bit of descent had I not know better. I had seen the choke of the chimney on that first walk nearly a decade and a half earlier and again on my Wales Coast to Coast in 2013. I had also seen it soon after the start of this walk when I had paused at Llyn Idwal earlier on. I knew it would get tough and soon enough the path disappeared to one where I had to choose my own course down through the carnage of the boulder field. It was not all stepping down either. Sometimes the step was much more than a pace leaving an option to shimmy down on backside while using supporting arms or descending backwards like descending a ladder. That happened a few times. As I came down by steps, shimmies and ladders others ascended on imaginary paths to my left and to my right. They hauled themselves up in steps, shimmies and imaginary ladder climbs too. While it was hard work it was always fun. A devil of a passage yes but the nicest devil I now know.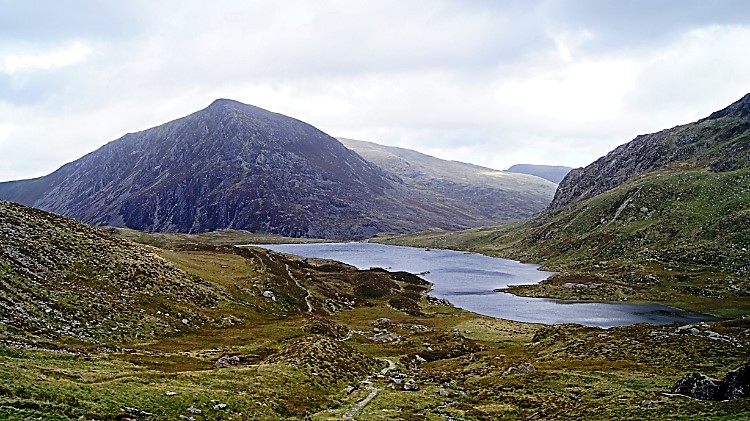 View from below Devil's Kitchen to Llyn Idwal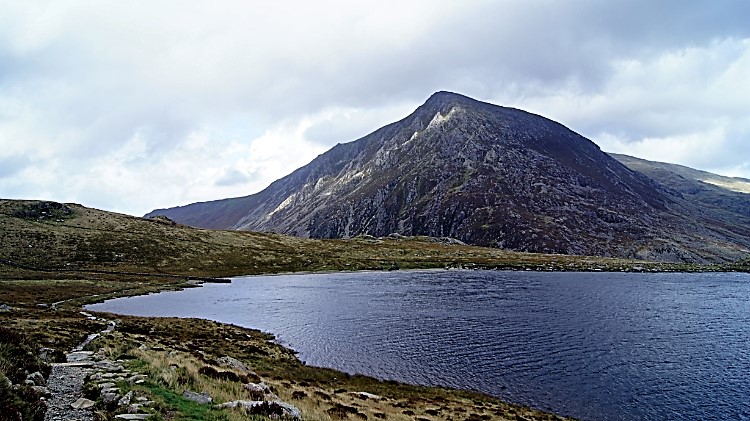 Llyn Idwal and Carnedd Dafydd
And then I was down, the Devil's Kitchen rite of passage was finally done. I felt a sense of completion, not only having successfully climbed the right Y Garn this time but also on successfully threading the course of the Devil's Kitchen. It was with a great sense of euphoria that I continued my walk by following the path from the foot of Devil's Kitchen to the west shore of Llyn Idwal. As I walked the path a group of about 50 young people strolled past with a complement of guides and trail leaders. They were in good spirits and I wondered how many would feel the same at the top of Devil's Kitchen. I expected moans and groans from the unsuspecting group further on their way. For me the permanence of smile was maintained.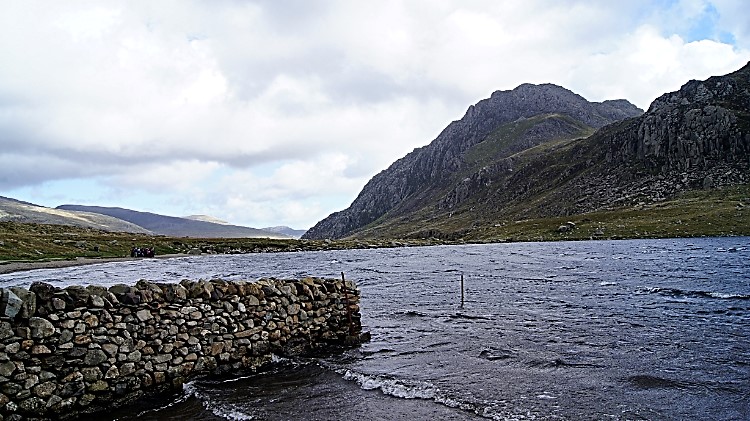 Llyn Idwal and Tryfan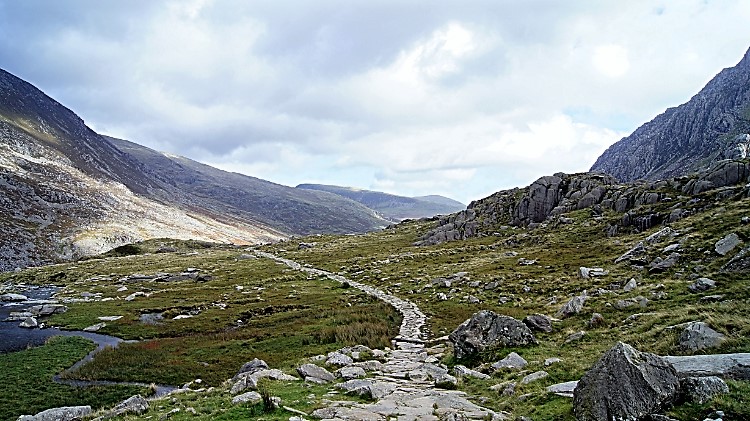 Returning home
I took a final stop on my walk for refreshments by the side of Llyn Idwal at the point where I had left the lake to climb Pinnacle Ridge to Y Garn. The clouds were way over the tops of the mountains now and Tryfan, my old favourite was in view. I tried to pick the spot on Tryfan from where I had leapt from Eve to Adam on the last occasion I was up there. That was a magic moment... as was this. What this walk had done was reaffirm my love for Snowdonia. Oh, how I do and oh, how I wish to return on more occasions while still able. As I walked back retracing my steps from Llyn Idwal to Ogwen Cottage I knew I was as happy as I could be. Walks like this cracker do it for me.
Copyright © 2003-2023 Walking Englishman. All rights reserved.