The Great British Walk
A personal record of my three month walk of the full length of Great Britain from north to south with written journal and photographs. Tracklogs for GPS units and for use with Google Earth are available for download for each stage.
---
Stage 30: Biggar to Drumelzier
Google Maps
Open Source Maps
| Statistics | |
| --- | --- |
| Start: Biggar | Finish: Drumelzier |
| Distance: 7.4 miles (11.9 km) | Time: 3-4 hours |
| Climbing: 60 metres | Total Distance: 368.5 miles |
| GPX Route File | Google Earth File |
Ordnance Survey Explorer Map (1:25,000)
Summary
A short stage which took me from rural South Lanarkshire to the edge of remote uplands. The walk began with a gentle stroll along a dismantled railway line from Biggar to Broughton which was followed by a walk on roadside footpaths and quiet roadsides to Drumelzier on the edge of the Scottish Southern Uplands.
(Note: My walk of Glasgow and South Scotland was a part of my
Great British Walk
from the north coast of Scotland to the south coast of England)
---
Stage Report
Last night, in the pub which had lost my booking on the previous evening I asked the landlord for the contact details of taxi companies in Biggar so I could get back from my walk to Drumelzier today and then back to Drumelzier to continue on into the Southern Uplands the day afterwards. As I was doing so a chap overheard and offered to help me out. It was a kind gesture which I accepted. I got talking to him and forgive my memory as I have lost the record of his name but he was a school rugby coach from Wigan and working here for the summer (2011). I thank him again for his help here and now.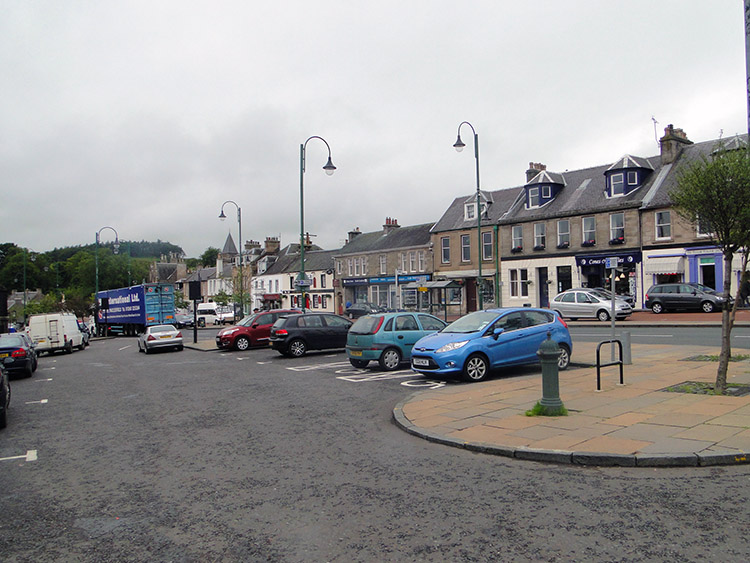 Biggar on a Wednesday morning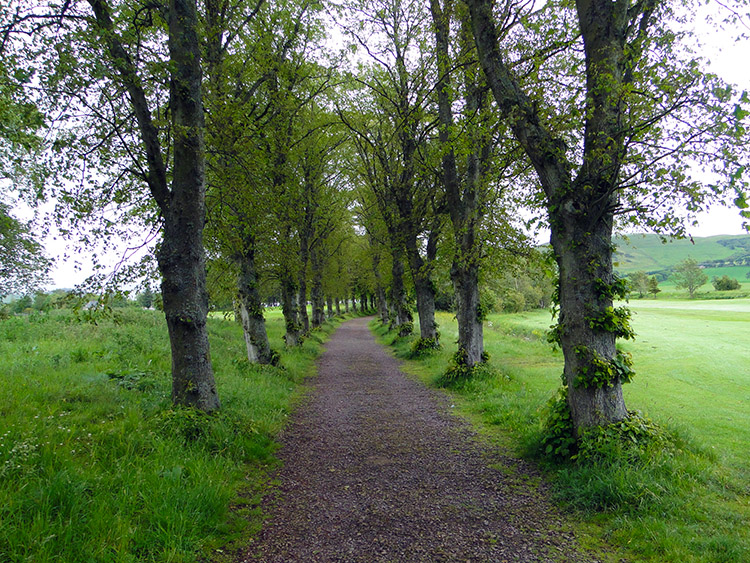 Walking along the lane through Biggar Golf Course
It was a quiet Wednesday morning when I left my accommodation to begin the days walk. My backpack was remarkably light as I walked across the road to the local convenience store for I had left all my long distance walking gear in my room. I would be back tonight. All that what was in my big pack were my raincoat and over-trousers, a precaution should it rain. I added to the weight with a sandwich, a packet of crisps, a chocolate bar and a soft drink. I was only walking just over seven miles, I did not need much more. After stocking up I walked from Biggar on a much better day than that on which I had arrived. I was also a lot drier.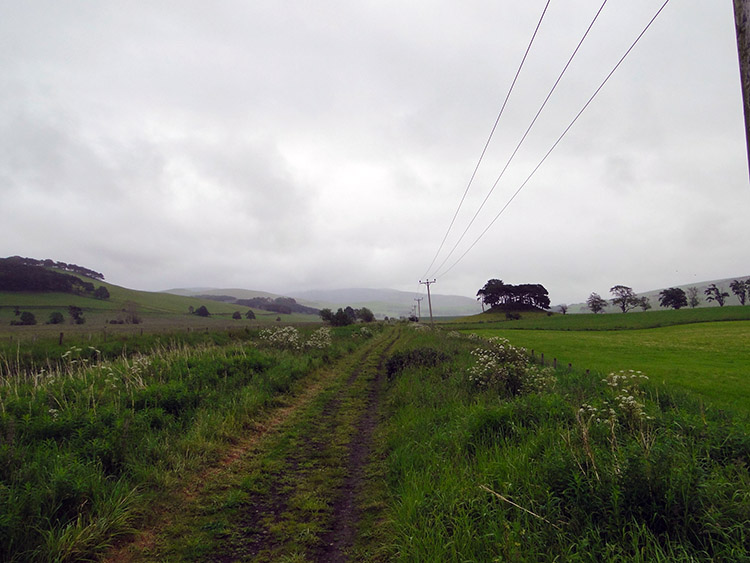 Following the dismantled railway to Broughton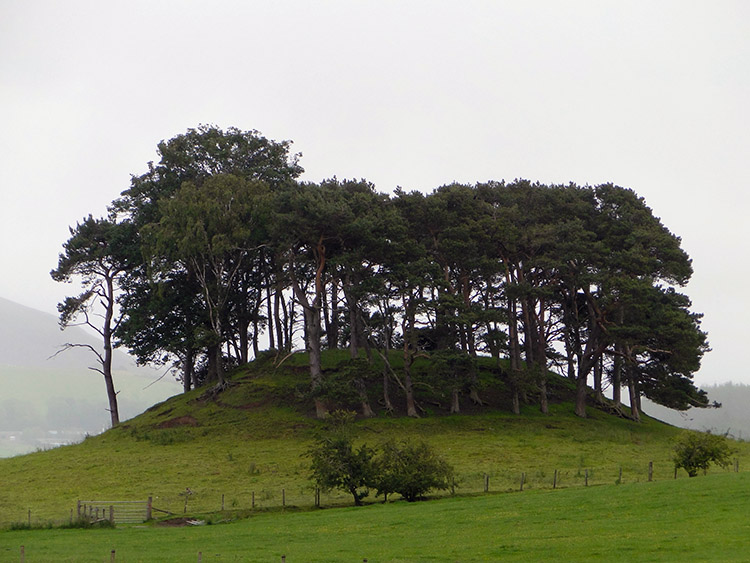 Round Knowe
After sharing a few pleasantries with a couple of locals as I walked down the lane from town which led to Biggar Golf Course I followed a permissive tree lined path across the fairways to reach the dismantled railway line which once ran trains between and Biggar and Broughton. Another Beeching casualty which now served a good purpose as a route for walking across country. The immediate countryside was very flat but I could see the hills in the distant north which I would be climbing to tomorrow. The southern Upland beckoned a I was full of anticipation of leaving the lowlands behind after a week travelling across them. Part way along the line I came to Round Knowe, a small hill with a clump of trees set upon it. An ancient burial site I wondered? It did not look natural.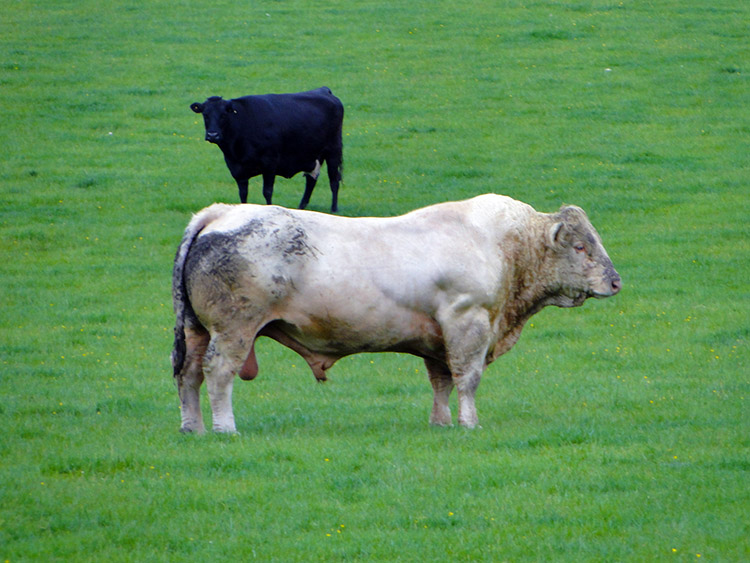 I kept a good eye on this lad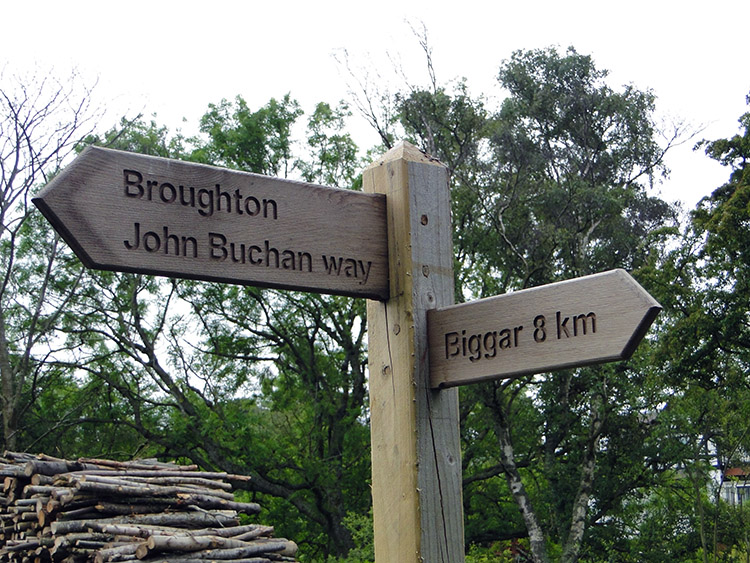 John Buchan Way at Broughton
After Round Knowe I stopped a flock of sheep in the field I was approaching which abutted the old railway line. Then I noticed the Bull with the herd which startled me. Biggar Water which was no more than a shallow trench and a flimsy barbed wire topped wire fence was all that separated me and the beast. If he felt inclined to attack I had no defence and with not a person in sight to assist I would have been a goner for sure. To my great fortune he stood still as I walked past as calmly as I could. I guessed he was watching me in the corner of his eye but what could I do? He let me go in peace. After breathing a huge sigh of relief I reached the outskirts of Broughton and saw more animals. This time the boot was on the other foot as I came to about half a dozen sheep in front of me within the confines of the track. I tried to step aside and walk past so they could freely graze in the patch of land they had chosen but they bolted. They ran all the way to Broughton and ended up in the recreation field. No doubt they would find their way back once I was out of sight.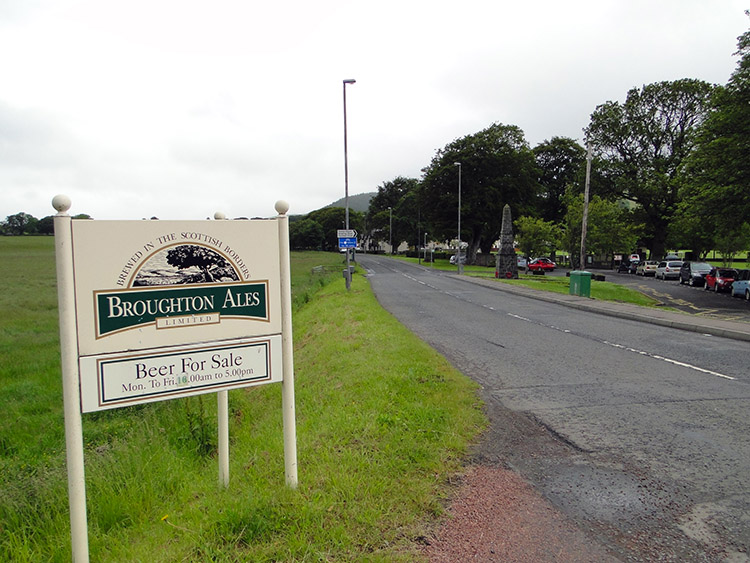 A701 at Broughton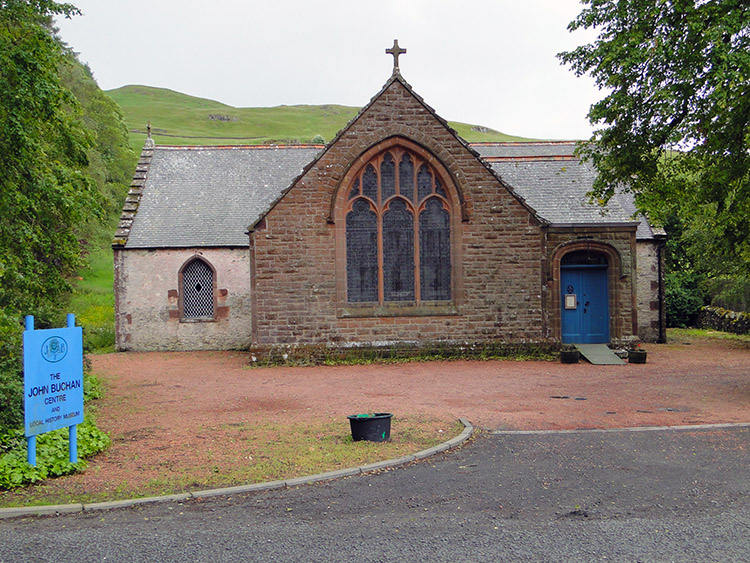 John Buchan Centre
I briefly walked on the John Buchan Way at Broughton and thought who he might be to have a recreational footpath named after him. I discovered he was John Buchan, 1st Baron Tweedsmuir who had served a distinguished military career during his lifetime which spanned from 1875 until 1940. He served in many campaigns including the Boer War and Great War. Following the A701 south towards Rachan Mill I passed the John Buchan Centre which, had I called in, would have told me more about him. I chose to walk on as I had arranged a pick up time at my destination and did not want to keep my lift waiting.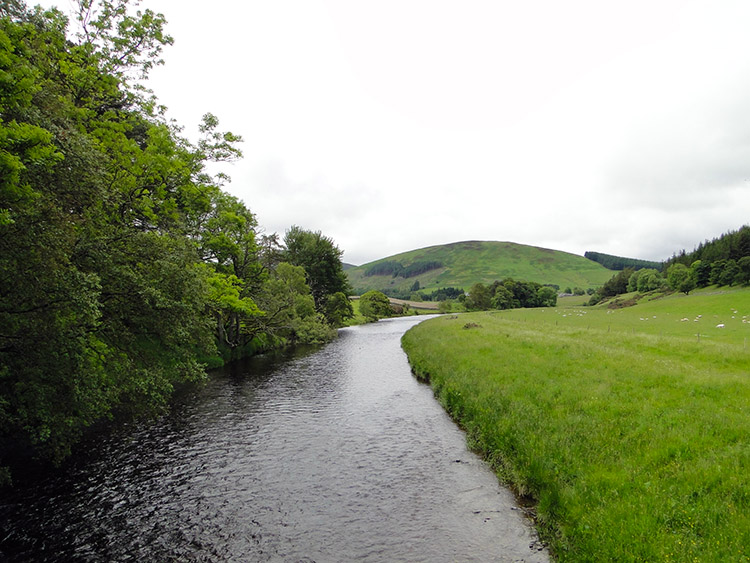 River Tweed at Merlindale Bridge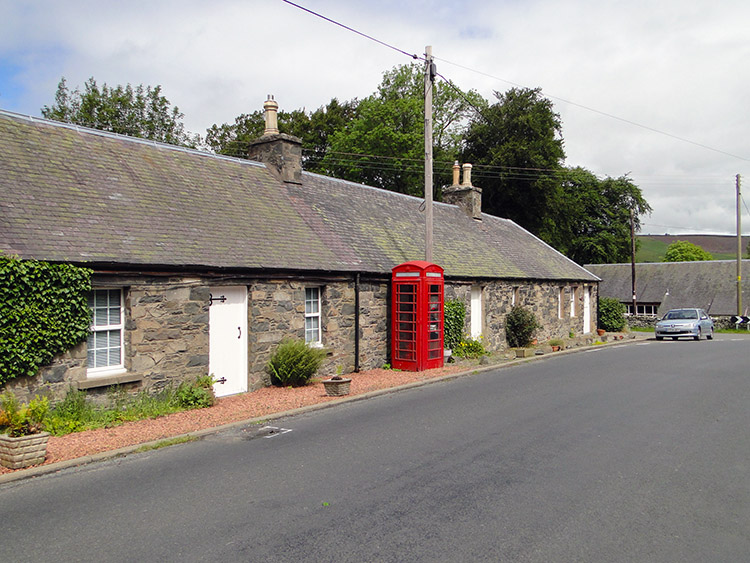 Drumelzier
At Rachan Mill I left the good footpath I had walked along while following the A701 and turned left to follow a B road to Merlindale Bridge where I crossed over the River Tweed. There was not a soul about anywhere and I saw not one car on the road until I reached my destination of Drumelzier. From here I would be walking back into the wilds but that was for tomorrow. Today I waited a half-hour for my new friend from Wigan who transported me back to Biggar. We had a good evening out and shared a few stories including ones about Bulls and Sheep.
Continue the walk
Great British Walk