The Great British Walk
A personal record of my three month walk of the full length of Great Britain from north to south with written journal and photographs. Tracklogs for GPS units and for use with Google Earth are available for download for each stage.
---
Stage 32: St Mary's Loch to Over Phawhope
Google Maps
Open Source Maps
| Statistics | |
| --- | --- |
| Start: St Mary's Loch | Finish: Over Phawhope |
| Distance: 10.2 miles (16.4 km) | Time: 4-5 hours |
| Climbing: 520 metres | Total Distance: 392.4 miles |
| GPX Route File | Google Earth File |
Ordnance Survey Explorer Map (1:25,000)
Summary
A second day of walking in the remote hills of the Scottish Southern Uplands. After yesterday's sumptuous introduction to the rolling hills which typify the region today's stage takes me from the popular location of St Mary's Reservoir to the isolated bothy of Over Phawhope in Upper Ettrick Dale. At just over ten miles I could take my time and enjoy the scenery. I did just that on a gorgeous sunny summer's day.
(Note: My walk of Glasgow and South Scotland was a part of my
Great British Walk
from the north coast of Scotland to the south coast of England)
---
Stage Report
After a good evening in Tibbie Shiels Inn and a comfortable nights sleep I got up and opened the curtains of my room which revealed a wonderful sunny morning. I was thrilled at the prospect of completing my transit over the uplands in such good conditions with which I could fully appreciate the spectacular scenery on offer. Before I could get out into the open though I had to have breakfast and then go through the rigorous backpacking process which I had done for the previous 31 stages and which I would have to do a further 45 stages after this one. More about how that was done will be explained in time.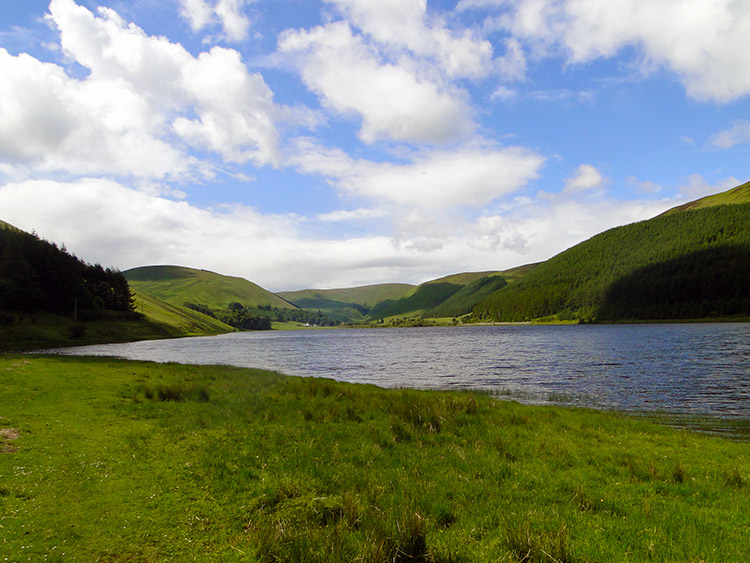 Loch of the Lowes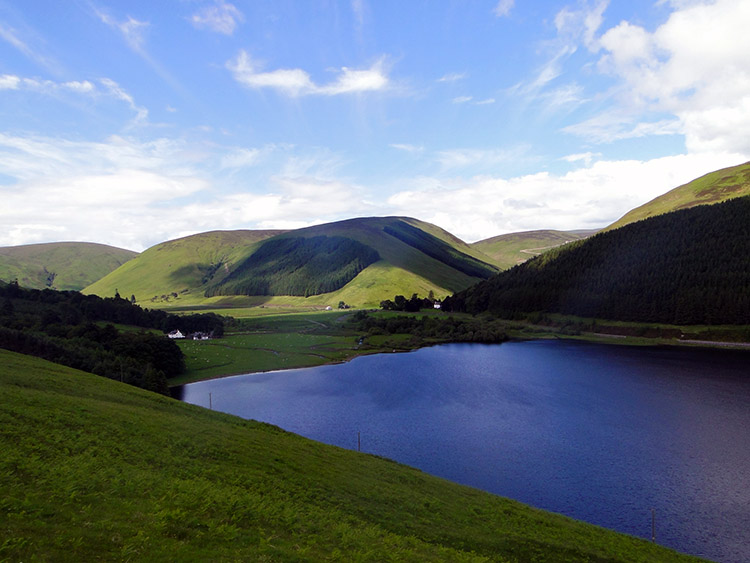 Paper Hill
I was in good spirits as walked away from Tibbie Shiels Inn to the edge of Loch of the Lowes. I stood for quite some time by the waterside and took in the wonder of the moment. To be on a long distance walk across country is special to me and I like to soak every good moment in as much as I can. This was a good moment. The scene was great as high clouds swept across the blue sky with the resulting shadows creating an enchanting moving picture. These shadows highlighted one area of land after another. Hills I might have dismissed had the light been plain and constant but these changes of light and colour made them stand out proudly. Paper Hill at the western end of Loch of the Lowes was one such fine example and its shapeliness deserved my admiration.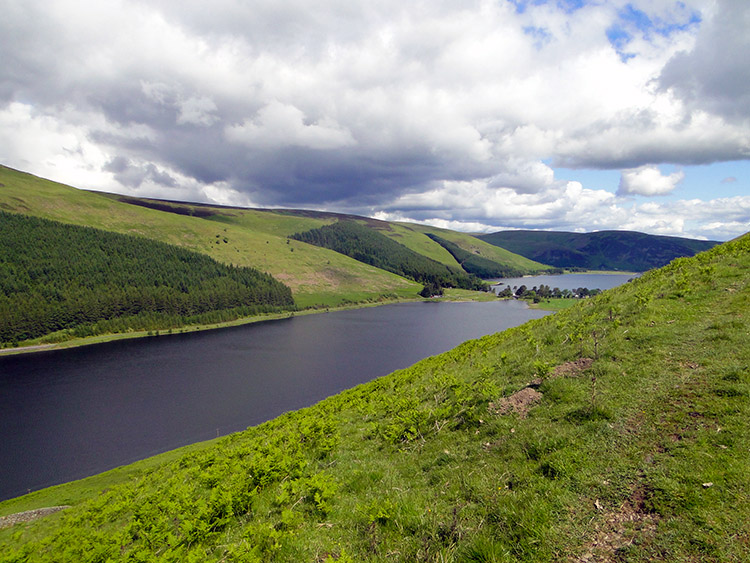 Loch of the Lowes and St Mary's Loch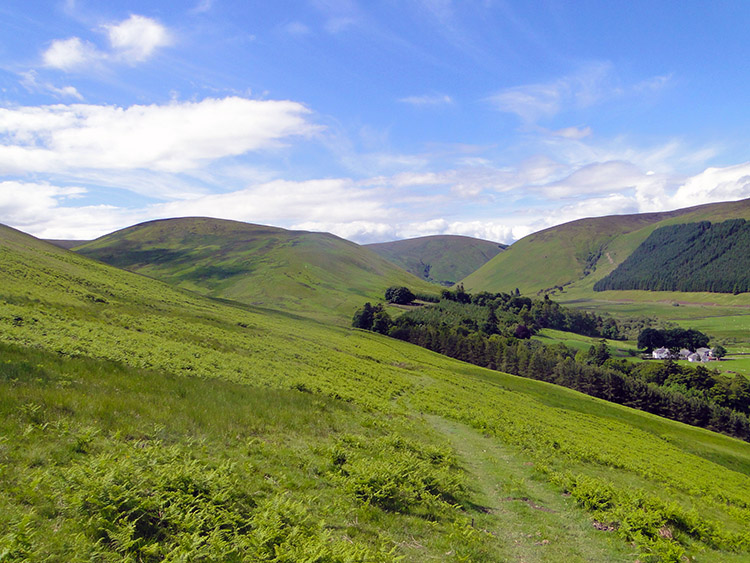 Approaching Pikestone Rig
I admired the views of the hills surrounding Loch of the Lowes and the exquisite view of the pretty loch as I had climbed the Southern Upland Way path towards Pikestone Rig. It had taken so much of my attention I lost something something very important. Or so I thought. The photographs of the Great British Walk on the website were taken with my camera but sometimes I took a duplicate image on my mobile phone to share on social media. I took a duplicate photograph on the phone when I stood beside Loch of the Lowes after I had set off and now as I headed uphill I chose to take another. I put my hand in the pocket where I thought the phone was. Panic, it was not there. I rechecked. I tried all my other pockets. I rechecked them too. I flung off the backpack and checked all my pockets again. Still no sight of it. I cannot write what I said to myself next. I left the backpack beside the path and decided to backtrack. I walked up and down the path for what seemed ages. The phone was lost. I was in despair for nobody could contact me and I could contact nobody until I reached Langholm which, as it stood, was three nights away. From my earlier euphoria I was now very glum. Feeling I had no choice I carried on walking.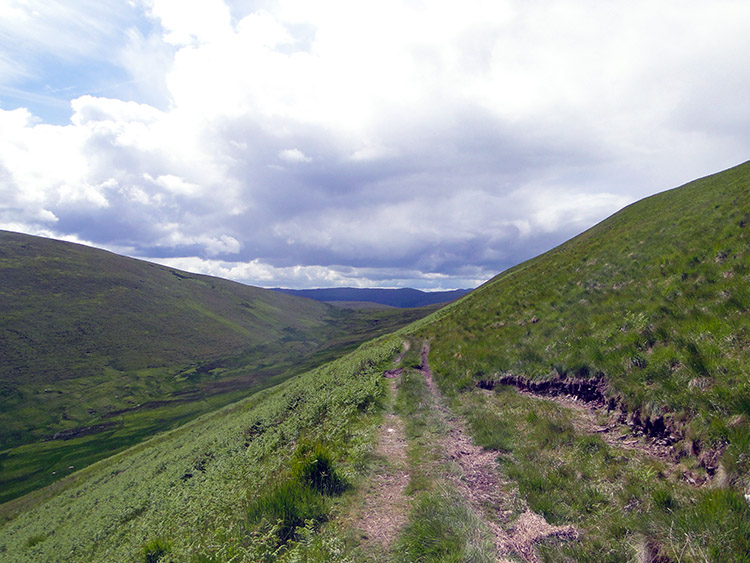 Southern Upland Way near Peniestone Rig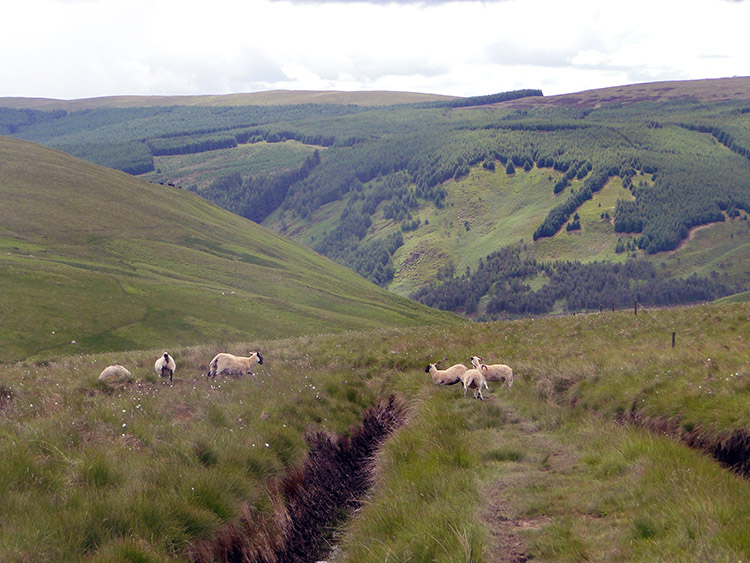 Descending to Scabcleuch Burn
I crossed over Pikestone Rig to follow a very good track running parallel to Whithope Burn. It was a great stretch to walk and as I carried on along the path I looked across to a series of sheepfolds on the far bank of the burn. Some looked positively ancient, rounded in appearance like a stone circle for worshiping sheep rather than managing them. The interest took a little sting from my black dog mood. Losing the phone was getting me down. How would I contact Lil. In my turmoil of mind I stopped for a drink.

I kept my drinks and food for the walking part of the day in the top zipped compartment of my backpack. I did this as a routine to keep perishable food away from all my other equipment and for easy access. Drinks were in the side hatches too but I carried more drinks than could fit in the sides. So I opened the zip, took out a drink and as I halved a Kit Kat so I could enjoy a stick of chocolate with the drink my phone fell out of the compartment. YIPPEE!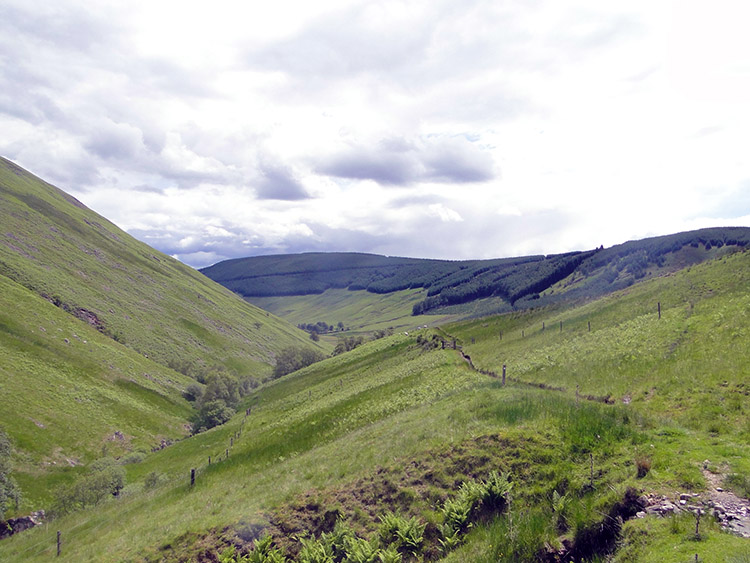 Suddenly the outlook was much brighter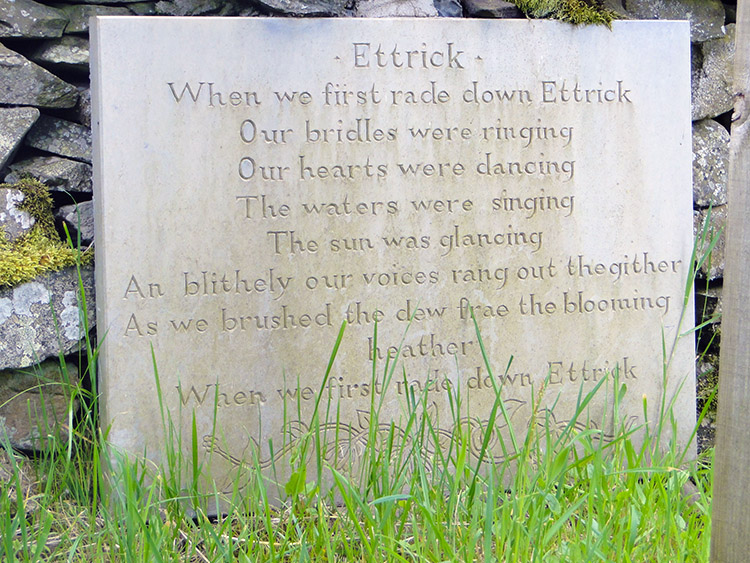 Poetic Ettrick
Cloud had filled the sky as I continued my walk from along the line of Whithope Burn to follow the course of Scabcleugh Burn downstream towards Ettrick Dale. Despite the darkening skies the outlook was much brighter for me. I had my communication and social media toy to play with once more. I bounded down towards Ettrick Dale with joie de vivre though the final descent from Scabcleuch Hill needed me to apply the brakes. Otherwise I would have hit the bottom field wall hard. Rather than hit the wall I reached the field stile safely and stepped over to the roadside which ran the course of Ettrick Dale. I would follow it to its termination at the south west head of the valley but not before I had read a poem about Ettrick which was set in a stone memorial by the roadside. The poem was about horse riders enjoying the dale in sunshine. Poetically the sun returned for me too.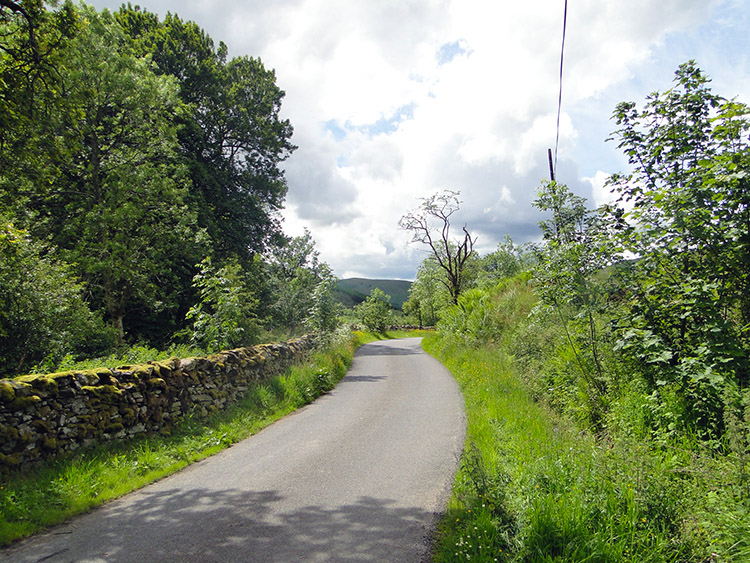 Ettrick Dale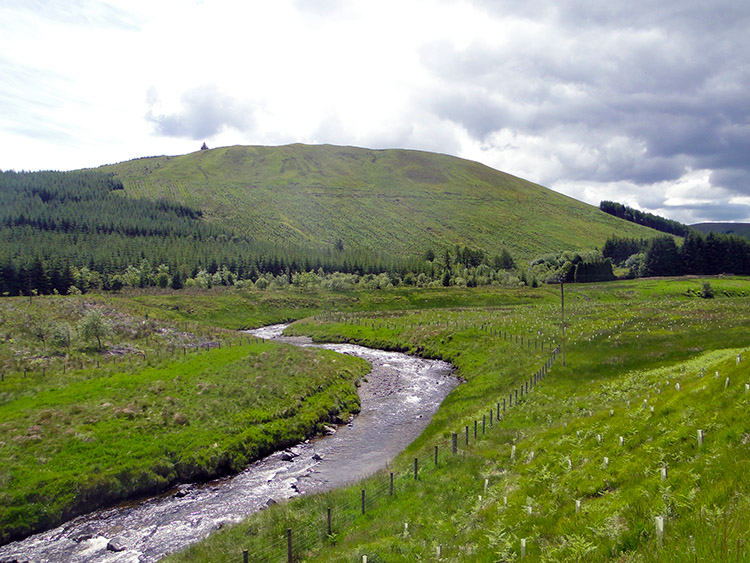 Ettrick Water
It was so peaceful walking through Ettrick Dale and beside Ettrick Water which I was following upstream towards its source at Over Phawhope. Despite being on tarmac road I had it almost to myself. Not entirely though for while there were no vehicles to move aside for there was a presence I enjoyed the company of for a short but fun packed stretch of road walking. After I had passed Scabcleuch Cottage and Cossarshill Farm I noticed a Meadow Pipit just a few yards ahead of me. He stood on the drystone wall to my right and he was singing to me. He had noticed me and I had noticed him. We both knew it. When I got to within a few feet he flew off to a point on the drystone wall a few yards further. He sang to me again. This continued for a while. At one point he left the wall and sang to me from the heights of a telegraph post. Then he returned to the wall and sang one final time. Then he said bye and left. I was clear of the nest.
Nether Phawhope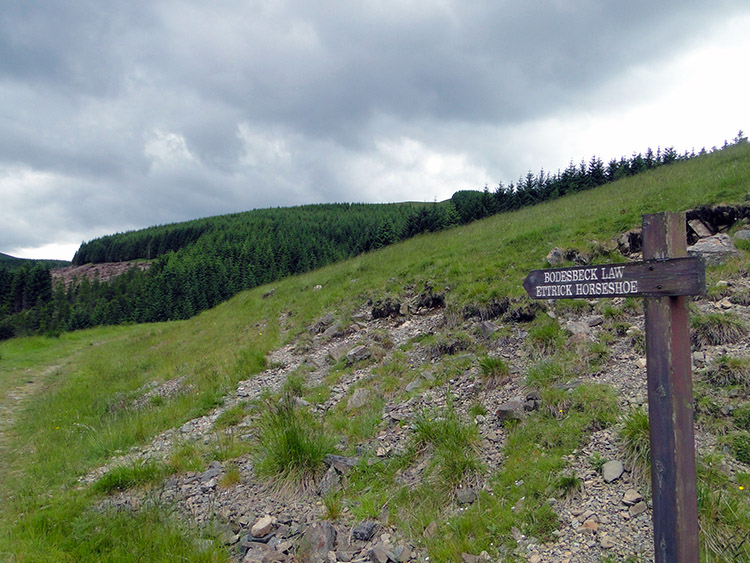 Sign to the Ettrick Horseshoe
Encounters such as the one with the Meadow Pipit are a pleasant diversion. I had walked a mile or two along the road without really noticing. I was not in any hurry to complete my walk through Ettrick Dale but seeing one milestone or landmark targeted be reached and then ticked off the list is always good. I passed the house at Shorthope and then I passed the house at Over Kirkhope. I then aimed for Nether Phawhope which I passed but not before stopping and admiring the lovingly worked garden which used the natural landscape very well including the highlighting small cascades in Phawhope Burn as they tumbled down the hillside to feed Ettrick Water. It was thoroughly lovely walking through Ettrick Dale.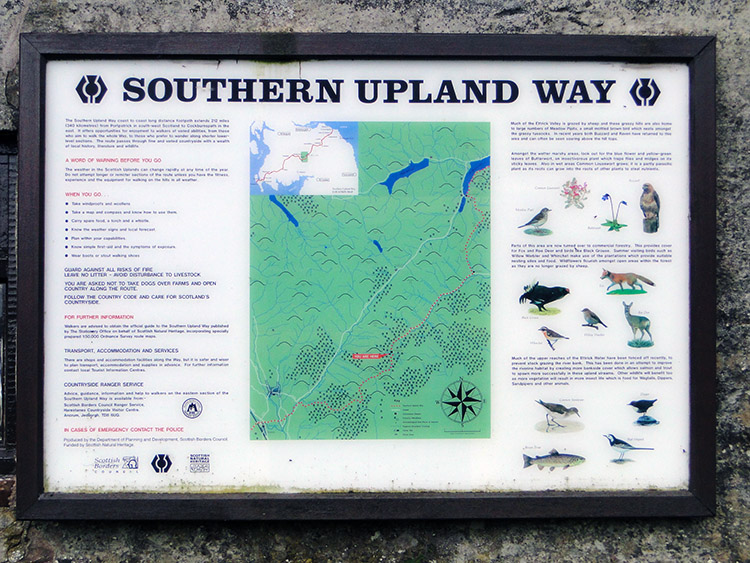 What to see on the Southern Upland Way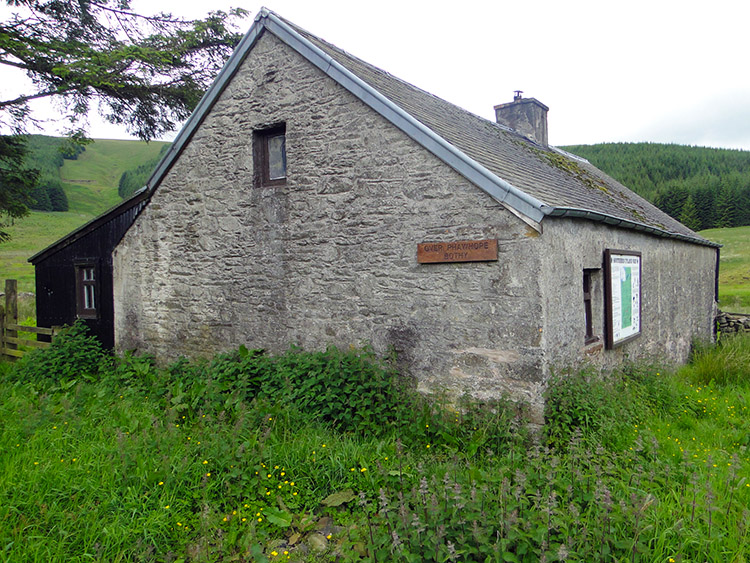 Over Phawhope Bothy
I came to the end of the road. A sign pointed north-west to Bodesbeck Law and Ettrick Horseshoe but I did not take it. That would have meant going the wrong way. I was heading south-west. I did not have too far to go. From where the tarmac had ended I followed a good track towards a building which I had determined to be Over Phawhope Bothy. My home for the night was in sight.

First I had to pass the farm at Potburn, the last permanently lived in place in Ettrick Dale. Just the bothy remained. As I walked from Potburn to Over Phawhope I wondered if I would have company. Or would I have the place to myself which I preferred. I crossed a footbridge over fledging Ettrick Burn and walked up to the building. It looked in very good condition. I found the access door around the back. I entered.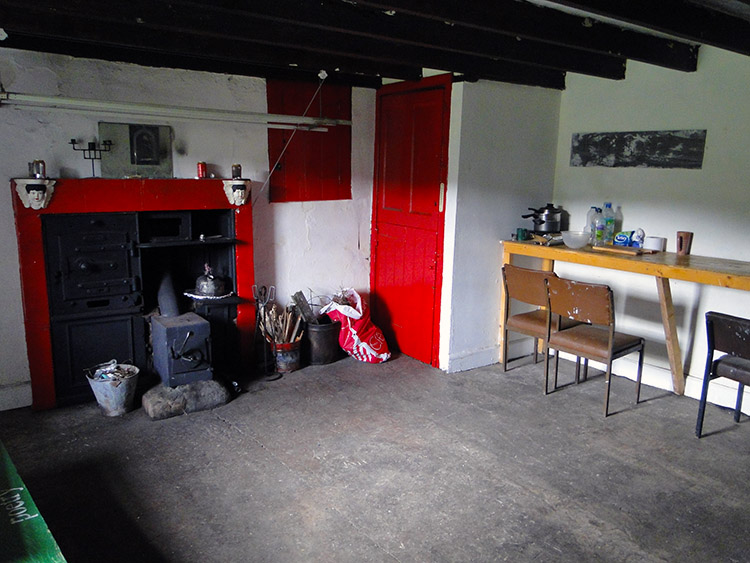 Inside Over Phawhope Bothy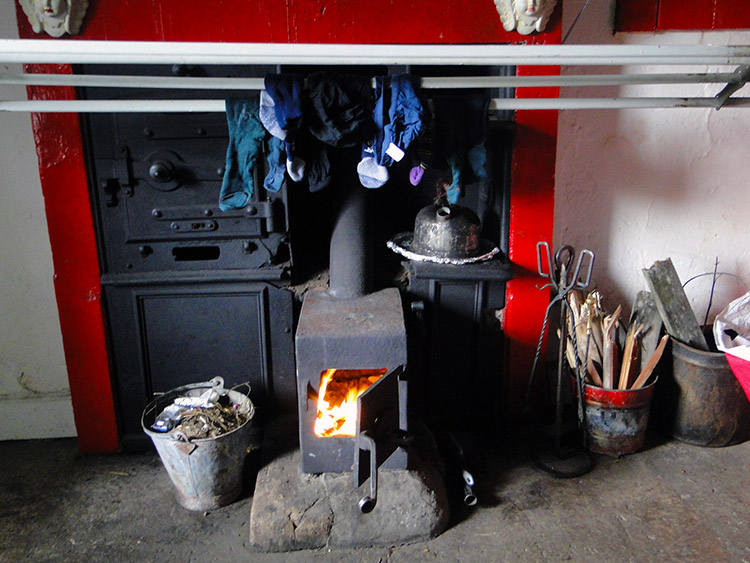 A roaring fire
My first impressions were good. Inside the bothy it was well maintained. And it had been left tidy by the previous occupants. There were two bedrooms which I checked out. The main one had a raised board as a bed which, at a pinch, would take half a dozen adults. There was a mural of a mountain scene pained on one wall. The smaller bedroom at the other end of the building had bunks. The ironwork was rusting but the springs were good. I chose the bottom bunk. After leaving my backpack by the bunk I returned to the front room. Some logs were placed in a bucket by the log burning stove so I determined to use them. But not before I had foraged more as replacement. It was now about 6.00pm and a lovely evening outside. I found an Axe in an outhouse and took it to forage for timber on the edge of the woodland nearby. But not indiscriminately. I chose timber which could be pruned from trees naturally so allowing for new growth. And I chose timber already sheared from trees by the weather. It took an enjoyable half hour to collect enough for the night.

Stocked up with logs for the fire I went down to the first yards of Ettrick Water and collected fresh mountain stream water. It was crystal clear and I used it to bathe and cook. With the fire going, food cooked and hot drink available I enjoyed my dinner in the privacy of the Bothy. t was getting towards 8.00pm by the time I had finished and washed up. No one came. The fire blazed as dusk fell and I read newspapers and magazines left by others. I read the Guestbook entries and added my own which complemented the bothy and its carers. Dusk gave way to night. It was a gorgeous night. Still no one came. I went to bed.
Continue the walk
Great British Walk