Mount Everest Base Camp Trek

Summary: This is a report of Neal Lever's spectacular trip and walk to Base Camp of Mount Everest, a trip he made in February 2012. During the journey of a lifetime Neal met many new friends, walked in the footsteps of explorers and experienced sights many people can only dream of. Follow Neal's personal report on these pages which includes a good selection of superb photographs. They are an inspiration to all of us who love walking and value the amazing natural world we have.
---
Day 9: Saturday 18 February 2012 - Dingboche and Nangkartshang Peak
8.00 am. After lying in for a while we have a casual breakfast with no rush today after the morning climb we have the rest of the day to ourselves. We walk North West out of town and then straight into the climb to Nangkartshang Peak at 5,100m for great views of Makalu, Lhotse, Chalotse, Tawoche and Ama Dablam. It is a brutal ascent one that would have been hard enough in our beautiful Lake District but here with very little oxygen is proving to be very tough indeed. Only six of the sixteen of us make it to the summit and I do not mind saying with 400ft to go I stopped every thirty or forty paces, this is murder especially with this bloody cold. It is so hard, so hard, with no oxygen. Just trying to keep my heart inside my body is hard, its pounding within my chest enough to feel with my heavily gloved hand. I drink more water wishing I had taken Diamox but it is all too late by now and would do me no good at all.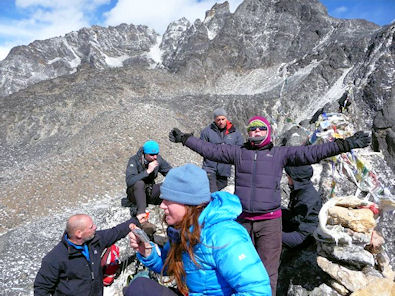 Nangkartshang Peak at 5,100m my toughest climb ever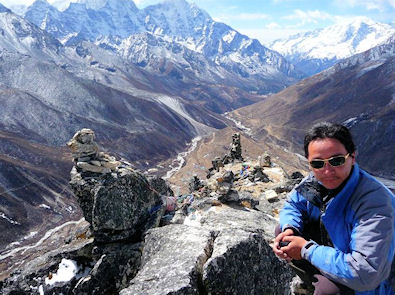 Mr Dowa, the coolest man on earth
Eventually I summit and sit down. Dowa (our trekking guide) is not even out of breath and there certainly is no sweat on his brow but why should there be, he does this every week of his life. When I gather myself after a serious drink of water I gaze around along with everyone else, quietly. The views are amazing especially because here we can see three valleys now all converging into one with more high mountains than I have ever seen and all heavily laden with snow and ice. The sky is a rich almost royal blue canvas with these enormous mountains painted all over it. The silence is broken but then Joanne and Katy are usually pretty vocal and why not now, everyone is filled with a sense of wonderment and achievement, hugs and congratulations explode all around. Its far from over yet as we have a long gruelling descent which is difficult on your knees, still a cup of tea on arrival, nice.

After lunch a few of us strolled through the village settlement to the top where the internet café is but unfortunately it was shut and would not be open for a couple of weeks till the trekking season gets busier which is no good for us. Strolling back down the street we call in at a few shops and I manage to replenish my by now fourth, very bloody and dirty hanky which has not gone unnoticed by my fellow trekkers.

We arrive back in the lodge and all I want to do is sleep. Trying to sleep at altitude at night is not easy. You are encouraged to stay awake until 9pm and it is only 4.40pm still dinner is at 7pm so I read a little and chat but my appetite has diminished. Not many of us want food and would accept bed as a substitute any day.
Copyright © 2003-2020 Walking Englishman. All rights reserved.