Mount Everest Base Camp Trek

Summary: This is a report of Neal Lever's spectacular trip and walk to Base Camp of Mount Everest, a trip he made in February 2012. During the journey of a lifetime Neal met many new friends, walked in the footsteps of explorers and experienced sights many people can only dream of. Follow Neal's personal report on these pages which includes a good selection of superb photographs. They are an inspiration to all of us who love walking and value the amazing natural world we have.
---
Day 10: Sunday 19 February 2012 - Dingboche to Lobuche
9.00 am. The trail climbs steeply out of Dingboche past a Chorten and ascends the valley gradually to Dugla. The mountain view on our left is stunning looking at Tabuche Peak (6495m) to name but one with glacial valleys meeting us by the dozen. The track is a wide plane today with softer walking as there are paths but most wander onto the forgiving banks.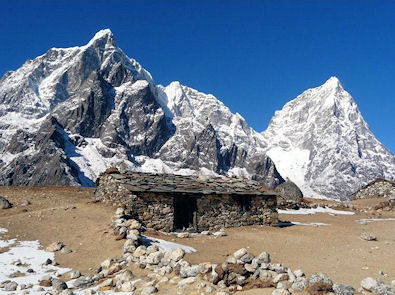 My weekend retreat, I wish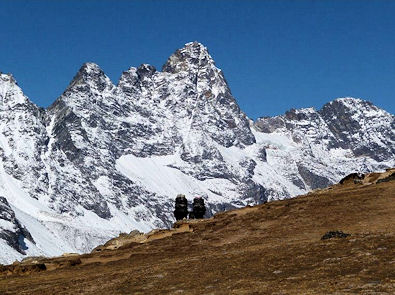 Heavily laden Sherpa's
We soon reach Dugla at the end of the terminal moraine of the Khumbu Glacier. From here we have a short, steep climb up to Chukpo Lari, a beautiful, yet poignant place where there is a line of memorials in tribute to the climbers who have died on Everest. This is an eerie place and as you take in these memorials you realise the enormity of what Hillary and Tenzing achieved in 1951. There is a deadly silence here which is only broken by soaring eagles that seem to watch over those lost souls. Sadness is soon apparent on the faces of our sixteen strong expedition, its the realisation of all of those tragic deaths. As I read the inscriptions it is hard for me to choke back the tears that are by now falling uncontrollably from my eyes, especially when you read the incident of May 9th 1996 where 10 climbers lost their lives. I gather myself together and hope no one has seen me. Catastrophic is all I can think. From here we have a beautiful panorama of the peaks lying on the Nepal-Tibet border. This is a well-chosen place for these memorials to commemorate those brave climbers who lost their lives.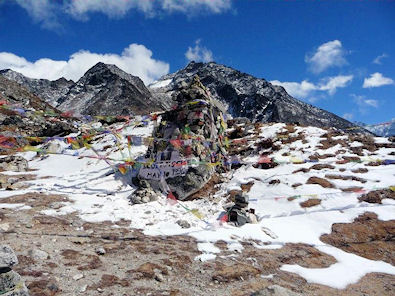 Scott Fisher's memorial who died 9 May 1996 on Everest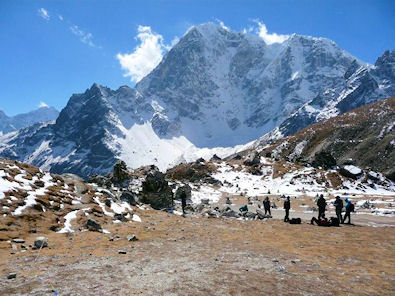 Memorials near the Khumbu Glacier
As we move on the trail then eases off as we follow the valley to Lobuche (4,910m) our next destination, a tiny hamlet with a few teahouses. After tea on arrival a few go out to investigate the ridge on the opposite side of the Khumbu Glacier but I need my rest, this cold is relentless and energy needs to be replenished. It's a big day tomorrow, final push to Base Camp. I watch the sunset on Nuptse which is not to be missed. That night the rooms were really cold estimated minus twenty minimum, thank heaven for my five season's sleeping bag, toasty. Just hope I don't need the toilet. 3.05 am toilet is needed and I cannot believe how cold it is. I have to travel the whole length of the dormitory to the toilet and when I get there the floor is completely frozen like an ice rink. It was a difficult wee. Thank heavens that I can stand and wee!
Copyright © 2003-2023 Walking Englishman. All rights reserved.